Ex-IT Engineer Revolutionises Plastic Upcycling, Turns Rs 1 Lakh Investment into Rs 2 Crore Eco-Social Brand
Somma Banerjjee
&nbsp | &nbsp
28-July-2023
Vol 14&nbsp|&nbspIssue 30
"Ever thought of using a bag or a backpack woven from hand-spun yarns of plastic waste, handcrafted by rural artisans using a traditional charkha?"

Ten years back, Amita Deshpande, who was working as an IT Engineer, made a big decision. She left her high-paying job in America and came back to India in 2013 when she was just 30 years old.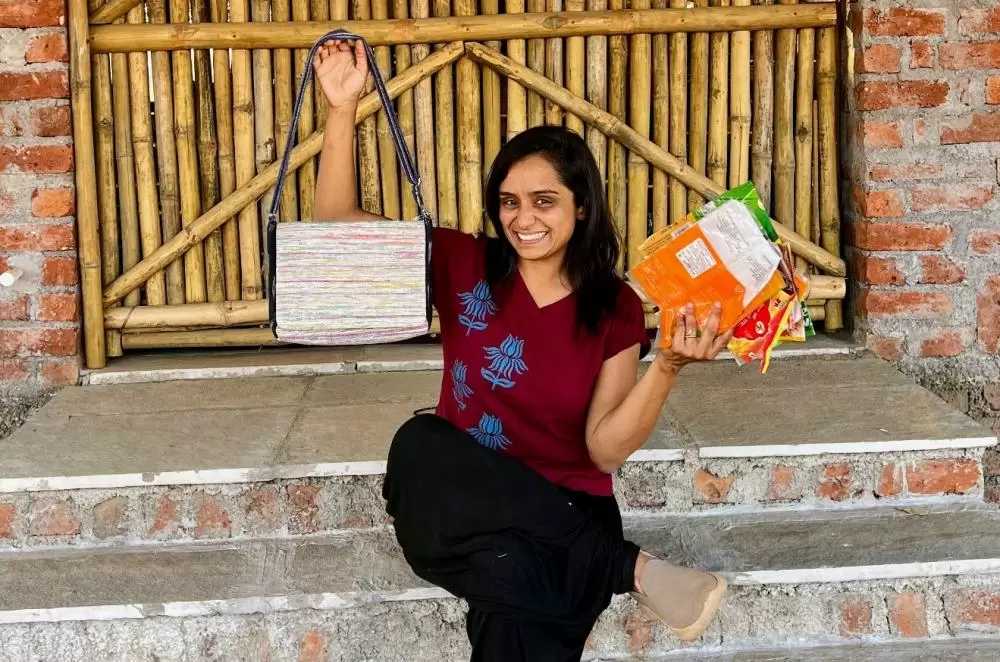 Amita Deshpande launched reCharkha along with her husband Abhishek Paranjape in 2015 (Photos: Special Arrangement)

She dreamed of contributing to the betterment of the environment and community life in India. In 2015, Amita, along with her husband Abhishek Paranjape, founded their company, The Ecosocial Tribe Pvt Ltd, with Rs 1 lakh and launched their brand, reCharkha
reCharkha makes different handmade products with upcycled plastic waste. With a range of products from beach bags, potli bags, wallets, lunch bags, laundry bags gym duffle bags, yoga mat bags to planters and cutlery kits, each item transforms 15 to 100 pieces of otherwise non-biodegradable plastic waste.
They have two shops, one each in Pune and Mumbai, known as 'reCharkha - The Ecosocial Tribe'.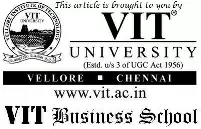 The cost of reCharkha's products varies between Rs 550 and Rs 3800. This price range reflects the time, effort, and skill required to create each piece. From humble beginnings, the company has grown steadily with a current turnover of Rs 2 crore.
Now, reCharkha has a dedicated team of 61 members, including 55 artisans working at their two manufacturing units.
The first unit was set up in a village around 20 km from Silvassa in Dadra-Haveli Nagar, a union territory near Maharashtra. The other unit is in Bhor taluka, which is 60 km away from Pune. Both units together cover an area of 2000 sq ft.
"We began with just a single handloom. I learned spinning and warping from a course conducted by a blind school in Pune," shares Amita. "Alongside me, Kumba, whom I hired from a village near Silvassa, and Kiran, an unskilled rural man we trained, were my first partners in this weaving adventure.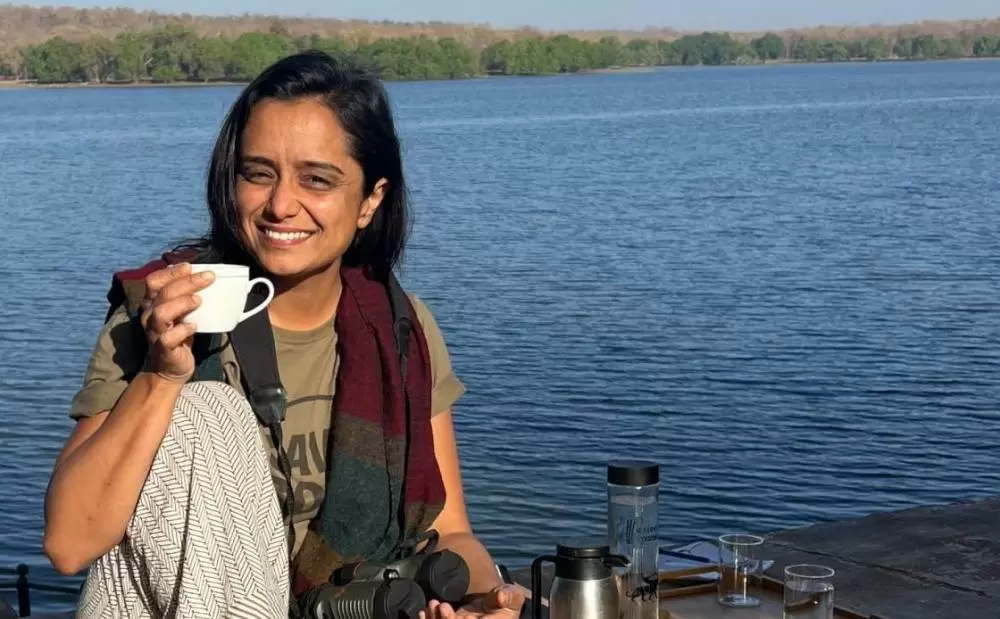 reCharkha provides livelihood for rural women and relies on hand-spinning and handlooms to make its products
"Just the three of us, initially, learned how to make sheets from hand-spun plastic yarn." reCharkha not only mitigates environmental damage but also supports rural women empowerment and sustains the heritage craft of hand-spinning and handlooms.
About 90% of the raw materials used by the company come from homes and societies. People can give their clean plastic to these shops in Pune or Mumbai, or they can also courier it.
Every month, reCharkha reuses around 50,000 pieces of plastic waste. They sell the products made from this waste in their two shops and also online on their website.
Amita walks us through the journey of each product. In the initial days, plastic waste was sourced from rag pickers in Pune, a laborious and dirty process. Over time, conscious customers and supporters began to supply cleaner materials.
The plastic is washed and cleaned using eco-friendly detergent, sun-dried, and then manually cut into strips. These strips are spun into yarn using charkhas and then woven into fabrics on handlooms.
These fabrics are stitched onto cloth or canvas by tailors, while other parts such as zips, slings, buttons, and handles are assembled following the designs provided by their consultants.
Their mission encapsulates "Conserving our Environment and Heritage," "Enabling Rural Livelihoods," and "Creating Conscious Consumers."
"My first big sale was at an exhibition, worth Rs 30,000," recalls Amita. "We have been growing our business using our own earnings since then. The profits and a few CSR grants we received are reinvested for expanding the business."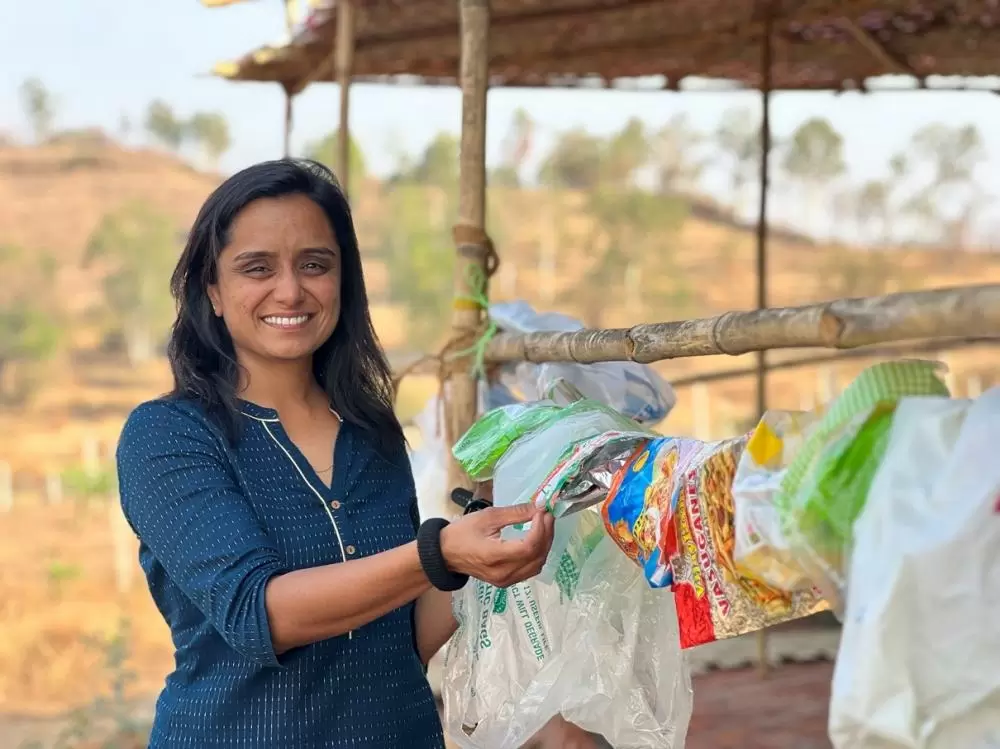 Amita with the plastic waste that would soon be upcycled into fashionable products
Amita's efforts have borne fruit over the years. reCharkha's turnover has grown steadily - from Rs 5 lakh in 2015-16, Rs 14 lakh in 2016-17, Rs 80 lakh in 2019-20, Rs 1.2 crore in 2021-22 and to Rs 2 crore in the last financial year.
Amita's journey was filled with twists and turns. Born to Ajit and Arundhati Deshpande at a village near Lonavala, Maharashtra, Amita grew up witnessing her father's struggles as a first-generation entrepreneur, manufacturing fishing nets, and her mother's dedication as a homemaker.
She and her younger sister spent their formative years in Lonavala before moving to Pune, and then Silvassa, due to her father's business.
"We had a holistic upbringing. While we excelled academically, my parents also made sure we had exposure to spiritual scriptures, Sanskrit slokas, and yoga. I even taught tribal children English when I was around twelve or thirteen," Amita shares, reminiscing her childhood.
"Despite facing a skin condition, vitiligo, during our school years, my sister and I never let it dampen our confidence and self-esteem, thanks to our nurturing upbringing," she adds
Amita's first brush with environmental conservation came while she was in Class 8 during a state-level competition. She recalls focusing on solid waste management during a discussion on pollution and environmental conservation, a topic often overlooked at the time.
Women Power: Amita with her workforce
Without internet, she interviewed government officials in her small city to gather information, which earned her a consolation prize for her presentation. Terms like 'biodegradable' and 'solid waste' became significant to her from that point onwards.
Following her Class 10, Amita returned to Pune to attend Ferguson College for her junior college. Subsequently, she pursued engineering at the Cummins College of Engineering for Women in Pune, specialising in IT from 2001 to 2005.
"Engineering was not my first choice. I wanted to study subjects such as geography or geology. But my parents advised me to first pursue a professional degree," shares Amita,
While in college, Amita engaged in various volunteering activities including tree plantation and clean-up drives. She also embarked on several treks to various forts around Pune and into the Himalayas.
However, she was disheartened by the amount of plastic waste she encountered during these treks, particularly in the forests. Amita learned that most of this litter came from tourists and trekkers.
This experience triggered a deep concern for environmental conservation in her and intensified her desire to find solutions to minimise waste generation.
After her graduation, Amita joined KPIT in Pune, where she worked as an IT professional from 2005 to 2009. Aside from her main job, she also took an active role in the company's CSR team and continued to volunteer for numerous environmental and social causes.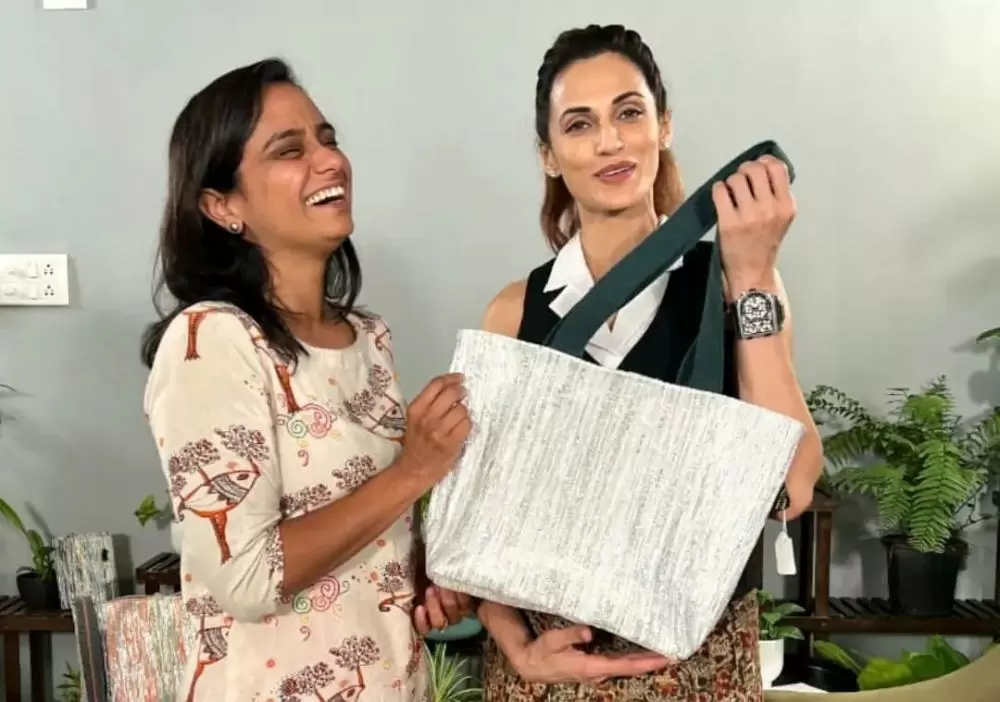 reCharkha's products have become popular with eco-conscious customers
However, she soon realised that IT wasn't her true calling. "I decided to pivot my career in 2009. I pursued a Master's in Management focusing on sustainable development and CSR at Purdue University in the US," shares Amita.
Post her master's degree, she worked in Chicago for about three years for an MNC specialising in corporate social responsibility. As an account manager, she provided consultancy to Fortune 500 companies like Starbucks, McDonald's, Staples, and others.
Her responsibilities included making sustainability reports for these companies, which encompassed tracking various sustainability metrics like reducing plastic in packaging, addressing deforestation, and handling issues like child labour in their supply chains.
By 2013, Amita decided to return to India, joining a start-up company, Samhita Social Ventures, working in the field of CSR and Sustainability consulting.
However, an unfortunate incident during a trekking trip in the Himalayas proved to be a turning point. Stranded due to heavy rainfall and landslides, Amita was airlifted to safety but couldn't help noticing the hardship faced by the villagers, who lost everything including their livelihood. Upon her return, she felt a strong urge to work more at the grassroots level with rural communities.
She quit her job, freelanced as a consultant, and embarked on her journey across remote rural parts of India, studying the livelihood patterns and problems faced by villagers. Finally, the idea of reCharkha took shape in 2014.
With an investment of Rs 1 lakh, Amita established her first manufacturing unit in a village near Silvassa.
"My father had a small orchard there. He permitted me to use a part of the land for my factory," Amita shares. Initially, the operation involved a small team, including Amita, who handled everything from sorting and processing the raw materials to fabric production.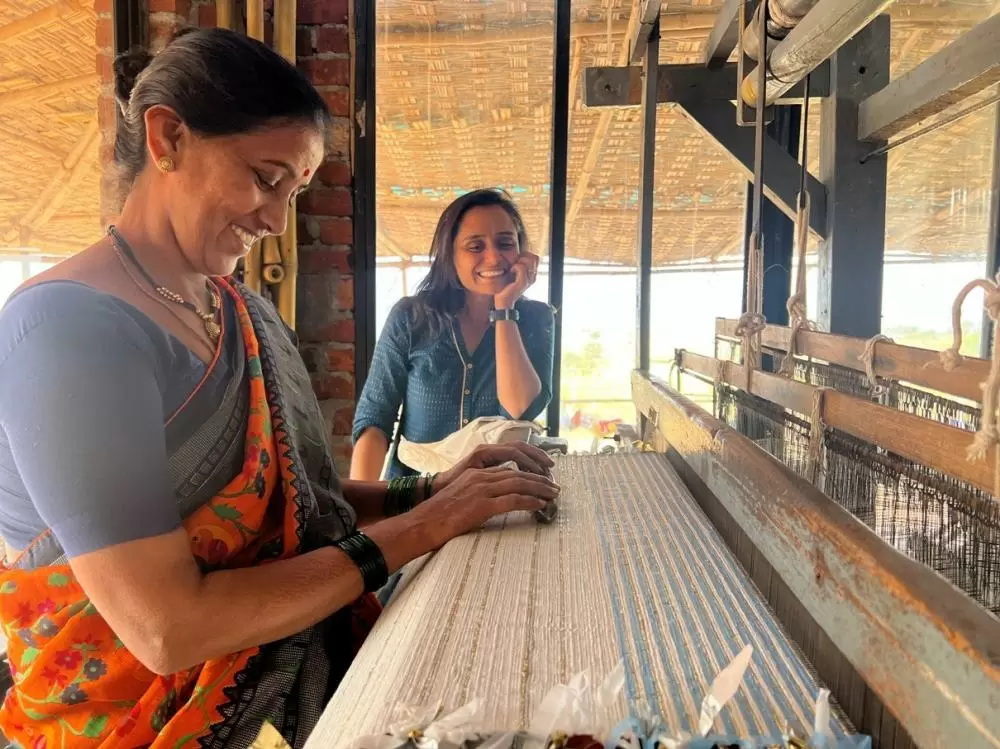 Amita watching a woman at work in one of their units
Soon, local women began to join the team, facilitated by Amita's family's longstanding ties with the local and tribal communities.
Today, the Silvassa unit houses five handlooms and employs 15 people, mostly women. Also contributing to this eco-friendly venture are a few men with hearing and speaking disabilities.
This initial step laid the foundation for Amita's successful enterprise, reCharkha, emphasising the power of local community involvement and the potential of upcycling. - ©
TWL

Trending Now: