She Said 'No' to a Rs 1 Crore Job and Went On to Create a Rs 500 Crore Cosmetic Brand
26-June-2023
Vol 14&nbsp|&nbspIssue 26
The incredible tale of Shark Tank fame Vineeta Singh is filled with determination and strong will. At the young age of 23, she chose to refuse a 1 Crore job from an investment bank and took a bold step to commence her journey as an entrepreneur.

After a decade, she stands tall as the co-founder of a Rs 500 crore brand, SUGAR Cosmetics.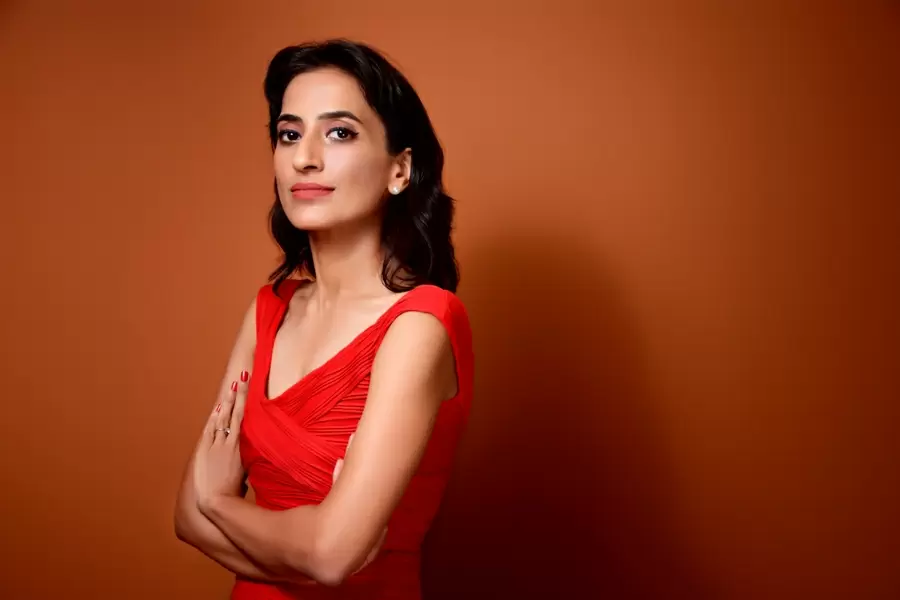 Vineeta Singh launched SUGAR Cosmetics in 2015 as a direct-to-consumer brand
SUGAR Cosmetics began its journey in 2015 as a direct-to-consumer brand. Within just two years, the company took a leap into offline sales. As of now, the brand boasts over 45,000 retail touch points in more than 550 cities.
After her studies at IIT Madras and IIM Ahmedabad, Vineeta set out on her entrepreneurial path, strongly believing in the concept - 'The only way to be an entrepreneur is by actually becoming one'.
With a Rs 1 Crore personal loan from an early supporter, Vineeta launched her unique range of crayon lipsticks, made in Germany.
When we met Vineeta Singh, she personified her vibrant brand -- Sugar Cosmetics -- in her ensemble of a pink top, orange pants, and white shoes.
During her visit to Ahmedabad, she took a moment to connect with -- Simply Salad -- a local salad brand she had invested in through Shark Tank.
Accompanied by her husband and co-founder, Kaushik Mukherjee, and their two young boys, Vineeta spared some time for an interview amidst the excited crowd, over fresh lemon juice.
Delving into her roots, Vineeta shared her connection with Gujarat. "I was born in Anand and lived there for three years before my family relocated to Mumbai. My mom is from Gujarat, so I am half-Gujarati.
"My maternal grandparents, Nana-Naani, reside in Bhavnagar. I cherish memories of spending vacations sleeping on the terrace and climbing mango trees. Later, I pursued my post-graduation at IIM Ahmedabad," she reminisced.
When asked about the driving force behind her success, Vineeta attributed a significant part of it to her ability to handle numbers, a skill she inherited from her Gujarati roots.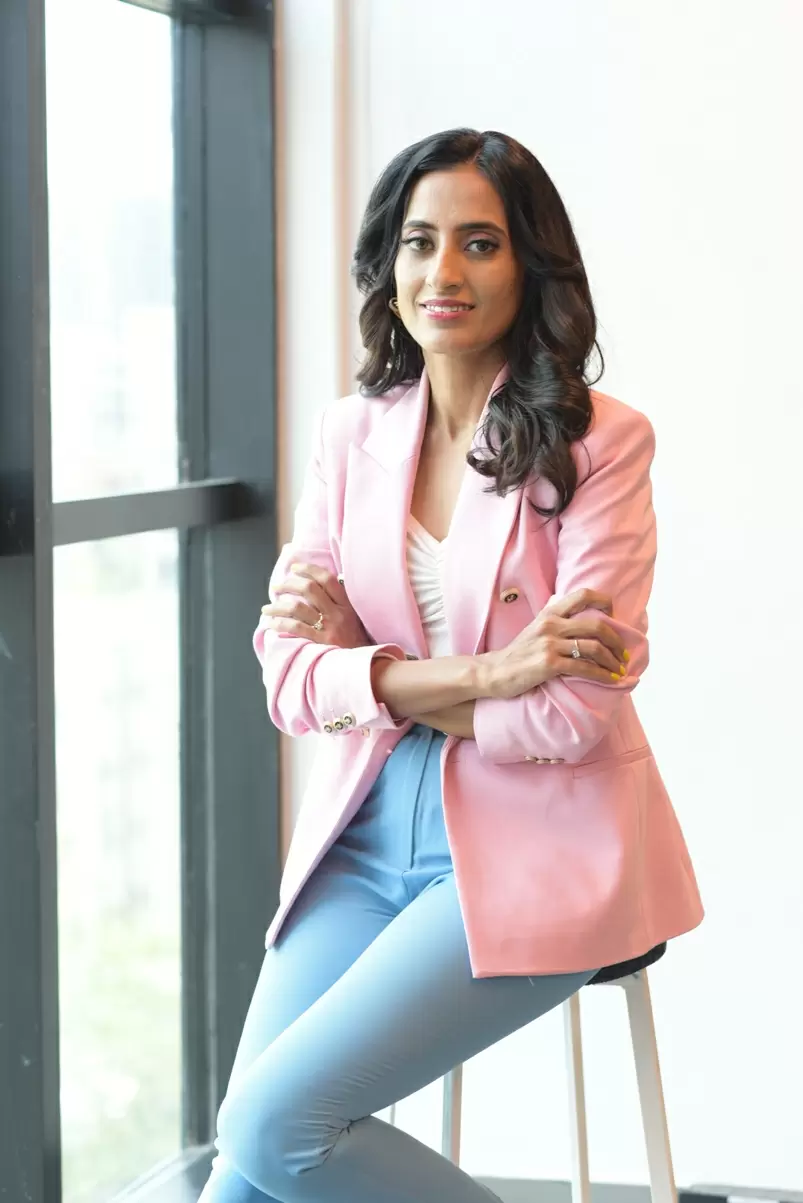 Vineeta's parents are both scientists
"I am good with numbers, thanks to my Gujarati mom. Calculating the worth of everything is ingrained in Gujarati culture and that skill has been passed down to me through generations. Most Gujarati girls excel at numbers, and my mom is no exception," she revealed with a smile.
Leadership, according to Vineeta, is something that can only be learned through hands-on experience.
"I genuinely love seeing people reach their full potential. Witnessing them push their limits and achieve what they never thought possible brings me immense joy. I strive to raise the energy and optimism in the room. Rather than telling people how to navigate, I show them the destination of their dreams, and they figure out the way," she explained.
To keep on growing and upgrading herself, Vineeta immerses herself in reading and listening to podcasts.
"I read a couple of books every month. During my morning run, I always have a podcast playing. On social media, I follow individuals who have valuable insights to share. I learn from the experiences of others.
"Additionally, I have the privilege of having several mentors. Mr. Sunil Handa from Ahmedabad is one of them, and I'll be visiting him after this. He has been a tremendous guide at every stage of my business. The other sharks on Shark Tank are also like mentors to me. Whenever I seek advice, I reach out to Piyush, Aman, Namita, and the rest," Vineeta said.
Sunil Handa is an industrialist who founded Core Healthcare and Core Emballage, Ahmedabad. He has set up the Eklavya Education Foundation with the mandate of contributing to school education in India. He is a visiting faculty at the Indian Institute of Management, Ahmedabad.
"I never thought I would run a cosmetics brand. Both my parents are scientists, so I was always focused on my studies. It wasn't until I was over 16 years-old that I first used a beauty product.
"My love for this category grew when I witnessed how young women approached their lives and careers. I saw an opportunity here," Vineeta shared, reflecting on her journey in the beauty industry.
Discussing the balance between work and personal life, Vineeta emphasised the importance of spending quality time with family.
"There is no work-life balance all the time. I constantly strive to prioritise my family. Women have a strong intuition, and if we follow our gut instincts, we will find our way.
"Family is the most significant aspect of life. They remain true to you until your last day. People often regret not spending enough time with their families, not spending less time at work. I am not in any rush; I am here for the long run," she expressed.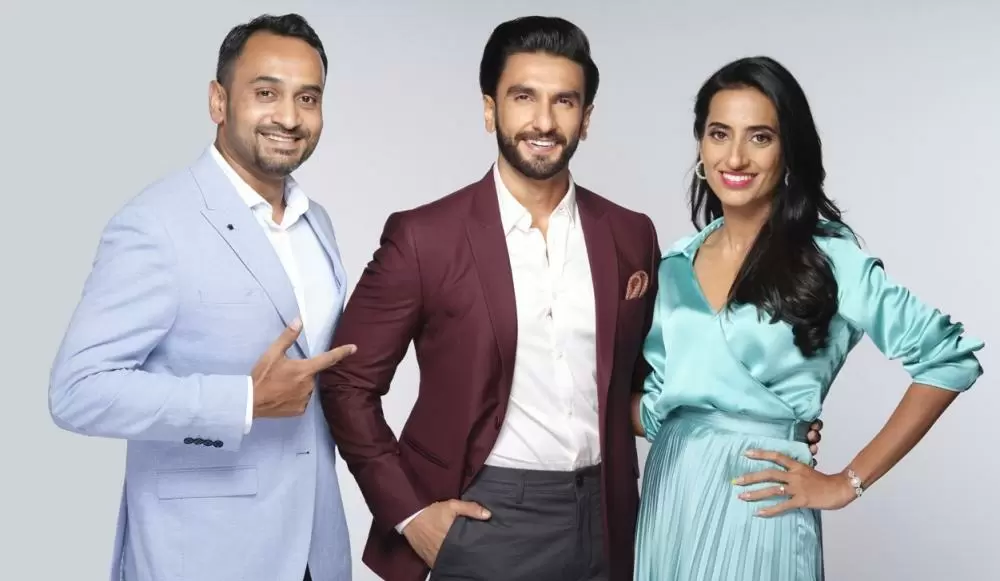 Vineeta with Ranveer Singh (centre) who has invested in SUGAR Cosmetics and her husband and co-founder Kaushik Mukherjee

In September last year, Bollywood superstar Ranveer Singh invested in the company. "Defying the conventional has been embedded in my DNA and I take pride in partnering with a brand that believes in empowering women," said Ranveer.
"I have admired SUGAR's ability to build a tremendous fan-following over the years and I'm excited to be a part of this journey and help the brand achieve its mission of providing Indian women access to premium & quality makeup products specially formulated for them."
As a brand built by women, for women -- Sugar Cosmetics -- stands tall with a dedicated focus on core business fundamentals and an innate understanding of its customers' needs.
With an impressive workforce of over 3000 employees, of which more than 75 per cent are women -- Sugar Cosmetics -- is a shining example of empowerment and representation in the industry. - IANS with inputs from TWL Bureau

Trending Now: