How a 23-Year-Old Transformed a Rs 10 Lakh Loan into a Rs 220 Crore Turnover Apparel Brand
31-May-2023
Vol 14&nbsp|&nbspIssue 22
Some twelve years ago, Anant Tanted, an ambitious young man of just 23 years, embarked on a journey to establish his apparel brand.

With a loan of Rs 10 lakh, secured through a government scheme, he set up his venture, The Indian Garage Co (TIGC), in a small office in Koramangala, Bangalore, with only four people on board.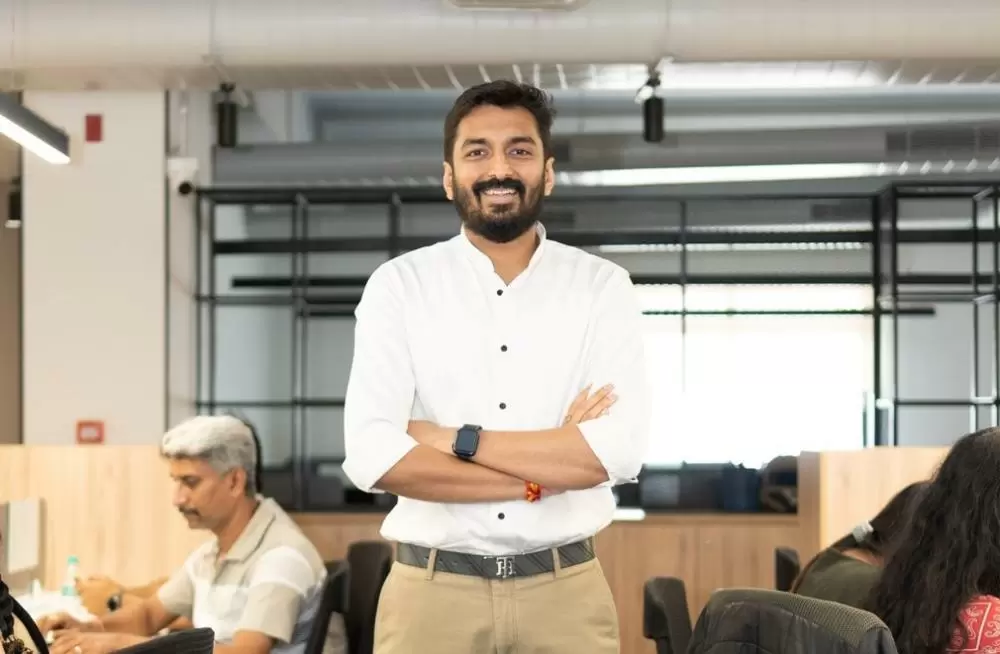 Anant Tanted launched TIGC at age 23 with an investment of Rs 10 lakh loan amount (Photos: Special Arrangement)
Today, TIGC has emerged as a formidable brand, with a whopping Rs 220 crore turnover, a sprawling 20,000 sq ft office in Bangalore, and a robust team of 400 employees.
TIGC has relied on outsourced manufacturing since its early days. "We began with men's denim and gradually expanded our portfolio to include other types of men's wear. We tied up with retailers to sell our products," shares Anant.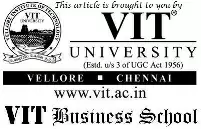 The brand's unique selling proposition lies in its ability to offer designer-quality clothing at affordable prices. They offer a comprehensive range for menswear, which includes denim jackets, shirts, t-shirts, jeans, shorts, and pyjamas.
"We are an end-to-end fast fashion brand. Our procurement process involves sourcing fabrics and other raw materials from across Indian cities such as Mumbai, Ludhiana, Tiruppur, Ahmedabad, and Bangalore," says Anant, giving an insight into their processes.
"After our in-house design team sketches out the products, we outsource the manufacturing. The finished products are then consolidated at our Gurgaon unit for a thorough quality check, followed by distribution to retailers and online platforms for sale."
Anant, who hails from Indore, was born to a father who made his living as an apparel distributor. His family led a humble life, with their earnings just about enough to cover their needs.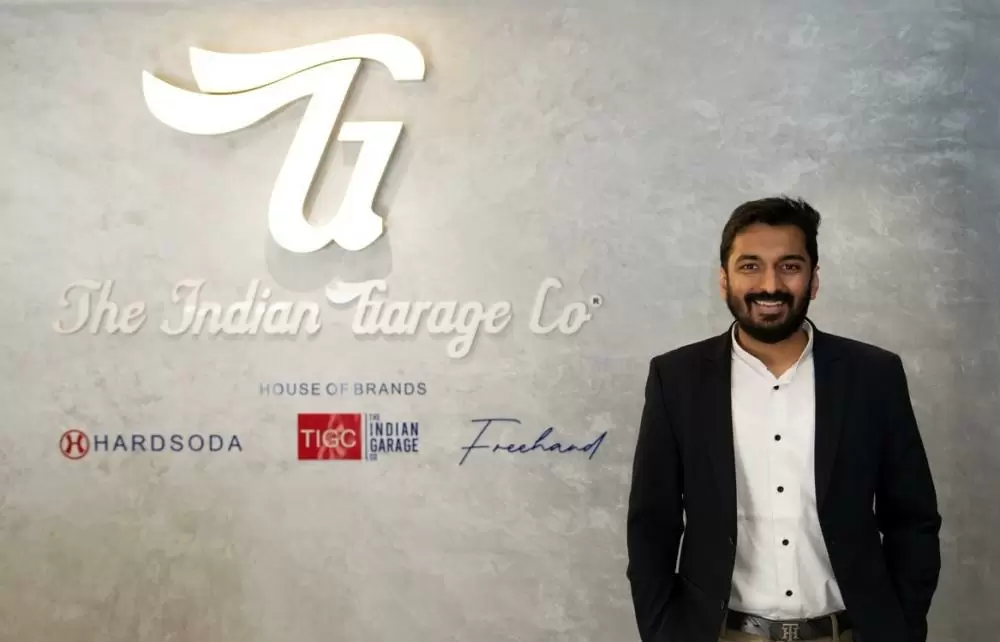 Anant sold surplus shirts for a few months during the final year of college and gained valuable business experience
"My father worked hard to improve his distribution business. However, things took time. I still vividly remember how my mother would sell sarees for a Rs. 100 profit, contributing to our household expenses," shares Anant.
Speaking about his family background, Anant says, "My grandfather left his native place, Jawad, a small town roughly 275 km away from Indore, to start a new life in Indore city. He started by selling sarees on a bicycle.
"But, when he saw that it wasn't working out well, he got into fabric trading. His business involved procuring fabrics from different parts of India and selling them in Indore." His father joined the family business and later set up his own apparel distribution business.
Anant finished Class 10 from Daly College, Indore, in 2004, and Class 12 from Sri Sathya Sai Vidya Vihar, Indore, in 2006. Then, he moved to Bangalore for further studies.
He did BBM (Bachelor of Business Management) from Sri Bhagawan Mahaveer Jain College, Bangalore and finished in 2009. After that, he did a postgraduate diploma in management from Alliance University, Bangalore.
While in BBM final year, he started a small business with his friends selling surplus shirts. This gave him some money and also a lot of knowledge about how to run a business.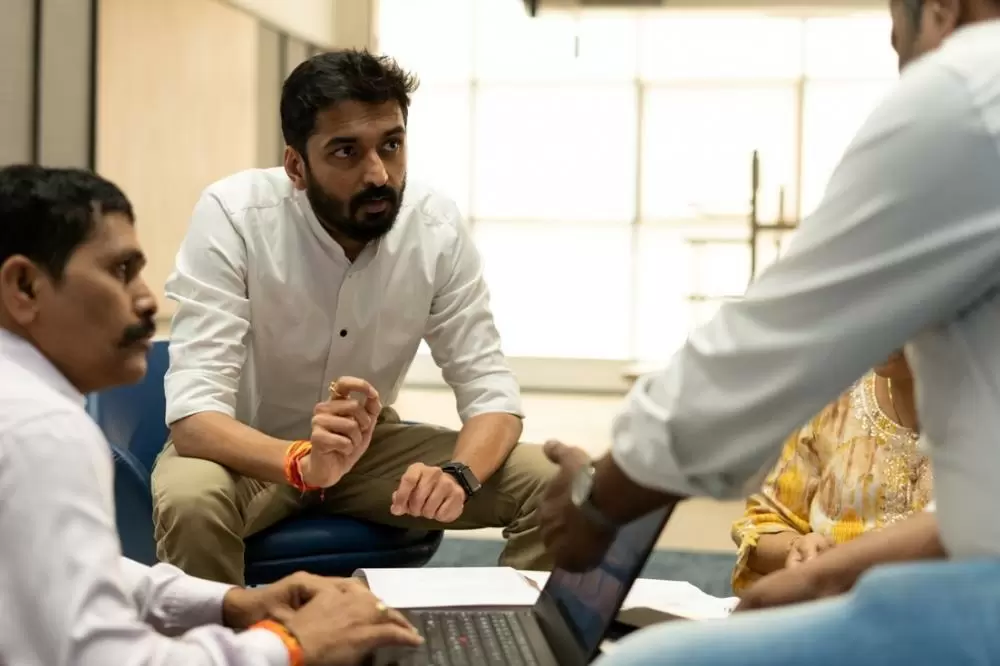 Anant brainstorming with his team members
"Aware of my father's financial situation, I teamed up with some friends, rented a small hall in Bangalore and started selling surplus shirts," Anant recounts. It's a common practice in the apparel industry for manufacturers to dispose of their surplus and rejected stock at cheaper prices to vendors, who then sell them at sales.
He embarked on this venture in 2009, during his final year of BBM, and ran it for about six months, earning around Rs. 30,000.
"My uncle had a shirt manufacturing setup for a particular brand. We purchased the 'surplus' shirts and trousers from him at about Rs. 150 each and sold them at Rs. 200 each, shares Anant, who managed this business for six months.
"I was able to reduce some financial burden from my father's shoulders and also learn a lot about business.
"While I was making some pocket money selling these surplus shirts, I observed that people purchase a product if they perceive it to be good value for their money. This realisation sparked the idea of starting a value-driven denim fashion brand."
Without the necessary capital to start his business, Anant turned to the Credit Guarantee Fund Trust for Micro and Small Enterprises.
This initiative, spearheaded by the Ministry of MSME, Government of India, provided him with a much-needed Rs. 10 lakh loan. Using these funds, Anant successfully launched 'The Indian Garage Co.' (TIGC), in Bangalore in 2011 at the young age of 23.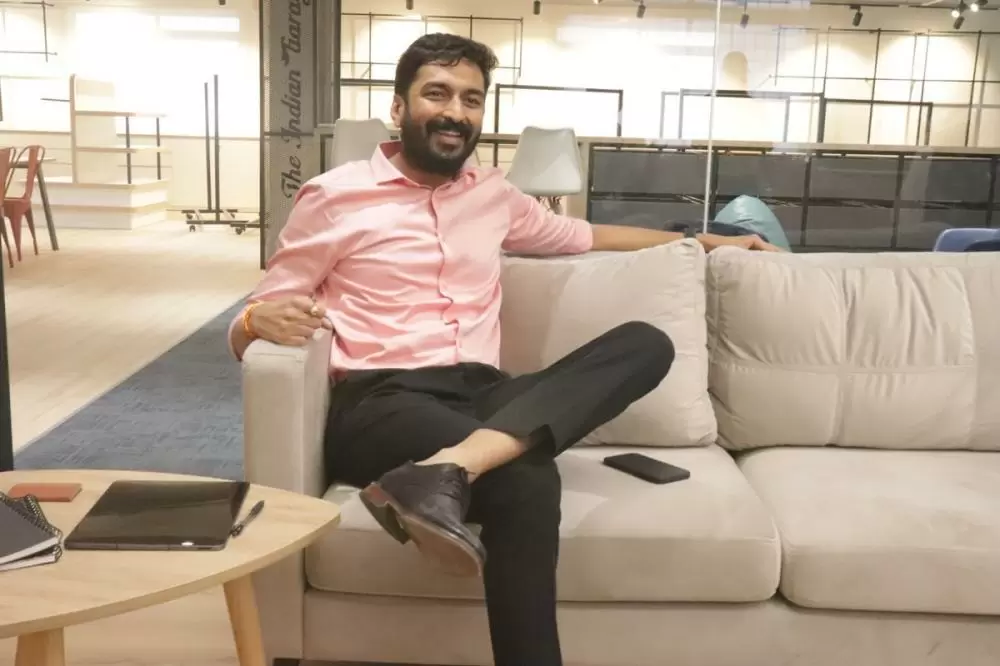 TIGC's revenue skyrocketed during the pandemic as the brand increased its online presence
In the beginning, TIGC sold clothes through retailers and distributors. However, when Anant spotted the rise of e-commerce in India, he decided his brand shouldn't be limited to offline sales only.
"We listed our brand on all e-commerce platforms that were selling clothes, like 99labels, Naaptol, and more," he explains.
Sharing the financial milestones of TIGC, Anant says, "In 2012, we crossed the Rs. 1 crore turnover. Before the Covid-19 pandemic, TIGC's revenue was Rs. 12 crore. During the pandemic, this jumped to Rs. 30 crore, and by the end of the last financial year, our turnover touched Rs. 220 crore."
Their revenue increased during the pandemic mainly through online sales. "95% of our sales came from online platforms like Flipkart, Amazon, Myntra, and others, including our own website," says Anant.
TIGC continuously observes fashion trends and comes up with appealing designs and clothes. "We have also increased our SKUs over the years," he adds. Six months ago, Anant introduced women's wear, and currently, there are 3000 SKUs for men's wear and 500 SKUs for women's wear.
Half their sales come from big cities and the other half from smaller towns. They are listed on all major e-commerce platforms and even ranked among the top 10 fashion brands on Myntra, and number one on Ajio in 2022.
From selling surplus shirts for Rs. 200 to building a Rs. 220 crore company, Anant has come a long way.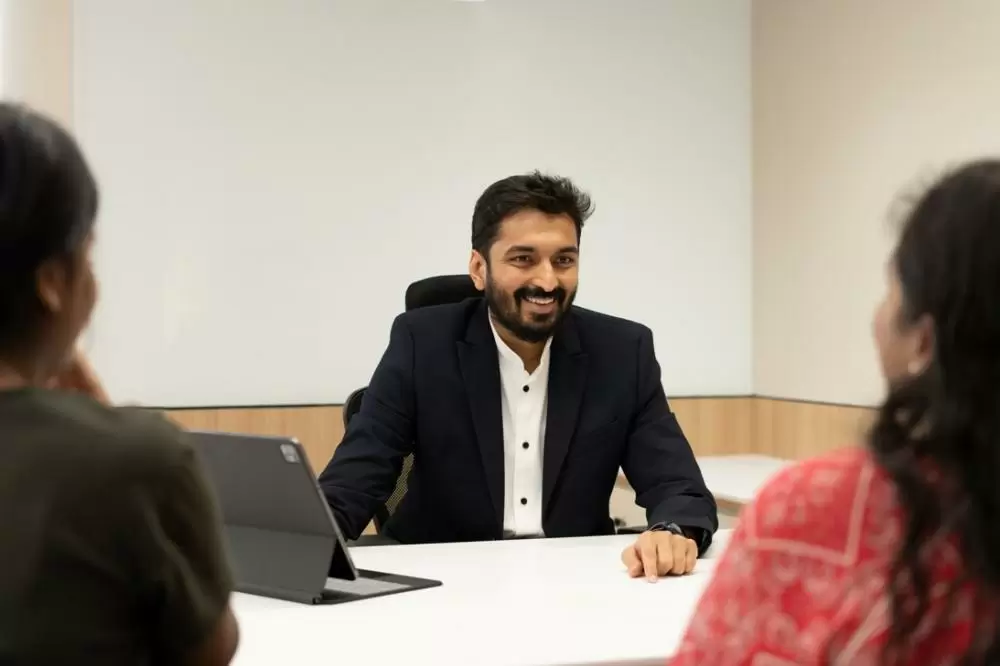 Anant has recently brought on board cricketer Suryakumar Yadav as their brand ambassador
"I work every single day to make the brand a success; I don't even take Sundays off," he says, reflecting on TIGC's journey. The company recently signed cricketer, Suryakumar Yadav, as their brand ambassador.
Anant lives in a 1300 sq ft house in Koramangala, Bangalore, with his wife, Ishita, and their two children, Dhruv Pratap Tanted and Miesha Tanted.
He practices yoga, enjoys music, and remains deeply passionate about staying updated with fashion trends, which he believes contribute significantly to his business growth. - ©
TWL
Wish to share your story?
Trending Now: