From Running a Coaching Institute He Zoomed Up To Build a Rs 200 Crore Turnover E-Bike Brand
11-May-2023
Vol 14&nbsp|&nbspIssue 19
In the bustling world of entrepreneurship, certain stories inspire us to transcend our limitations and dream big. One such story is that of Rajib Gangopadhyay, the founder of EMotorad, a leading manufacturer and seller of e-bikes.

Under the banner of Inkodop Technologies Pvt Ltd, EMotorad has surged into the forefront of the e-bike industry, boasting a phenomenal turnover of Rs 200 crore within just three years of its launch.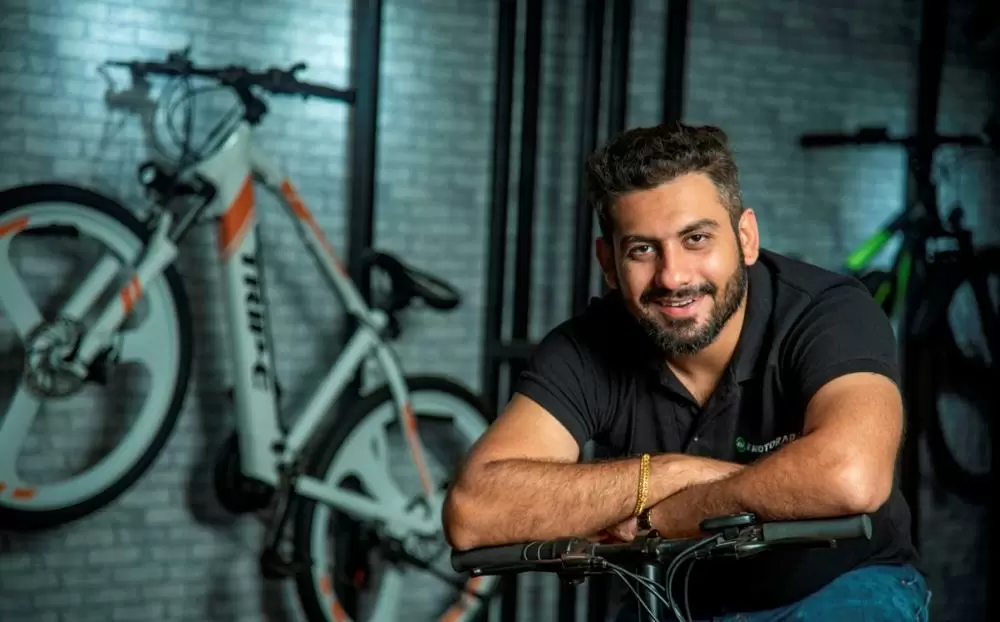 Rajib Gangopadhyay launched EMotorad from Pune in 2020 (Photos: Special Arrangement)
Born into a humble family in Chandannagar, West Bengal, Rajib's journey to entrepreneurship was marked by a challenging childhood, personal resilience, and an unwavering commitment to innovation.
Today, his company has an extensive network of 284 dealers across India and is present in 72 cities and 314 pin codes throughout India, as well as in 19 other countries.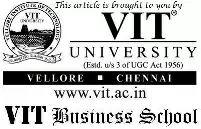 EMotorad bikes have the throttle as well as the pedal; the throttle assists the rider like in mopeds, whereas the pedal can be used as a healthy choice or when the battery is low.
On an average, the charging time for an EMotorad bike is 3-4 hours, depending on the voltage. The maximum speed of the e-bikes can vary from 25-45 kmph.
Rajib's early life was marked by frequent relocations due to his father's transferable job with the Indian Railways. Yet, even amidst these disruptions, Rajib displayed an innate curiosity and a knack for problem-solving.
"During my school days, I had a small lab or science experiment table at home," Rajib recalls. "I would often tinker with household equipment and repair simple things there. As a result of this hobby, my large extended family called me a mechanic. This hobby definitely helped me learn what I do today."
An unfortunate accident that left his father unable to walk or speak for eight months plunged the family into financial difficulty. During that time Rajib was in his second semester at MS Ramayya College in Bengaluru where he was doing his BE in Electronics & Communication (2009-2013).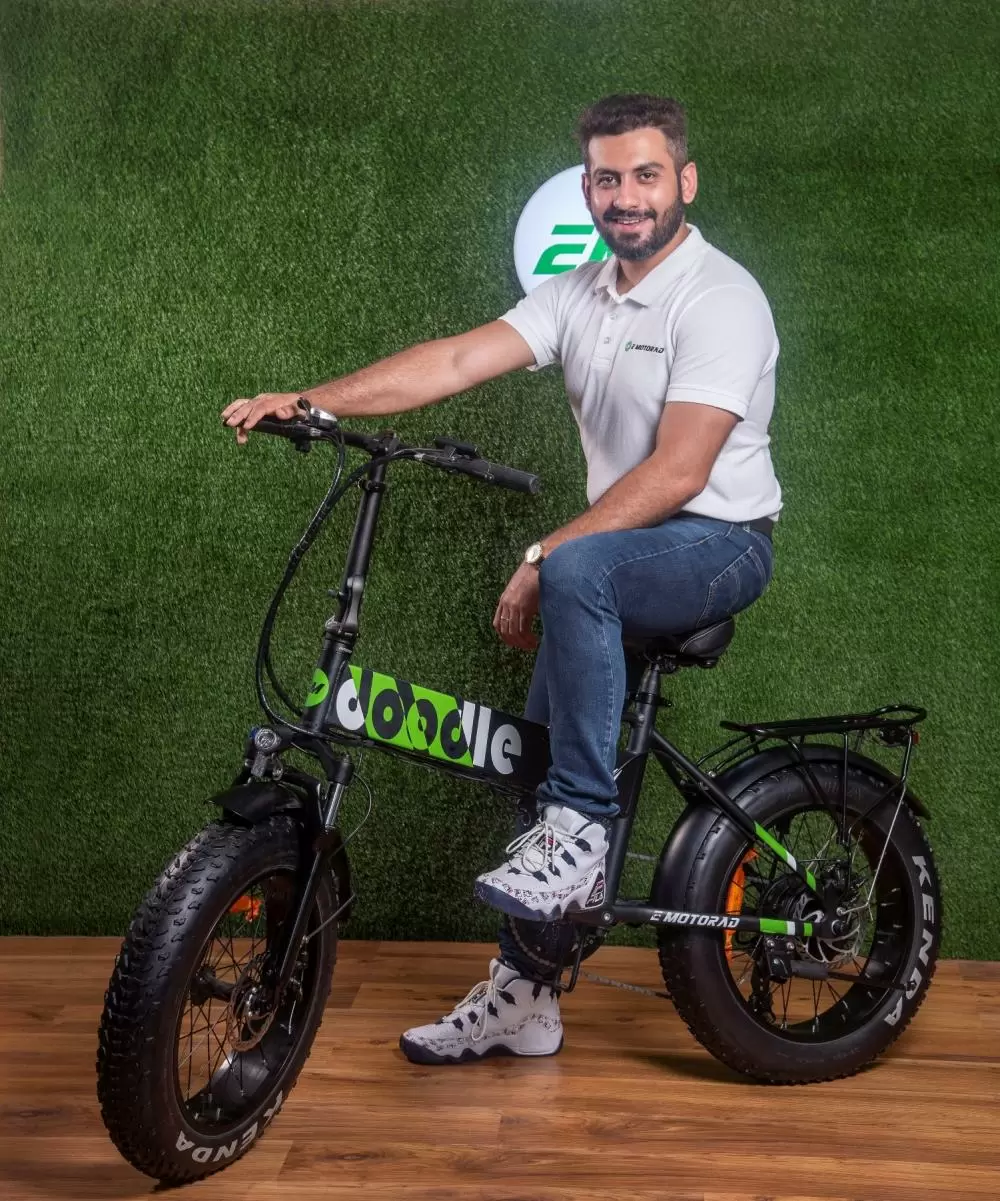 EMotorad bikes can go at maximum speeds varying from 25-45 kmph

Undeterred, Rajib began offering home tuitions in physics and maths to support his family and himself, balancing his college studies with his coaching commitments.
His coaching proved successful, and the students he tutored received good grades, which led to positive word of mouth referrals and more students seeking his coaching.
Rajib's life took an unexpected turn when his tutoring abilities caught the attention of a couple who were particularly impressed with his tutoring. They saw potential in him and presented an opportunity to establish a coaching class within their 40,000 sq ft building located in Bengaluru's upscale Bel Road area.
In 2012, Rajib, along with a group of co-founders, launched "Score: The Study Lounge," an innovative coaching institute catering to students from classes 9-12.
This venture was spearheaded by Rajib while he was still an engineering student, juggling college during the day and the management of the coaching classes in the evenings.
The coaching institute was spread across four floors, with the ground floor comprising a café and lounge, the first floor housing a conventional and digital library, the second floor featuring a gaming zone and swimming pool, and the third floor providing general and personal coaching classes.
This unconventional approach to tutoring was a hit. In the first year alone, Score welcomed 99 students. A team of 13 teachers, each specializing in different subjects, was brought on board.
By combining innovative teaching methods with a dynamic environment, Score started turning profitable, earning about Rs 25 lakh annually.
Rajib's success did not go unnoticed by his investors, who offered him stakes in the thriving business.
However, with a growing interest in mobility sparked by an e-bike he imported from China for a final year engineering project, Rajib decided to exit Score in February 2016.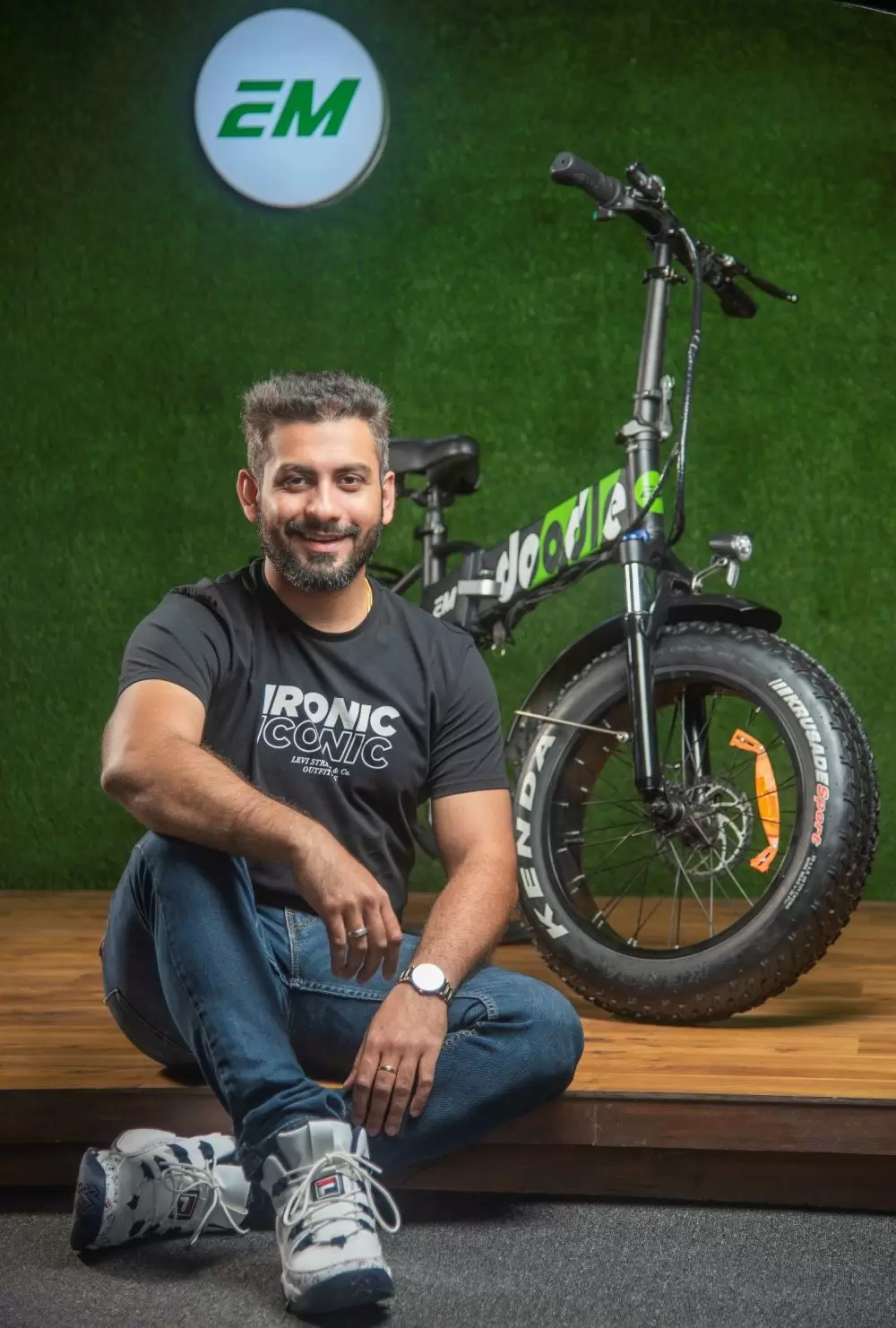 Before launching EMotorad, Rajib sold Chinese e-bikes on e-commerce sites such as Alibaba
His journey was just beginning, and his sights were now set on revolutionizing the world of e-bikes.
This decision led him to join ONN Bikes, a bike rental start-up, where he honed his skills in operations and supply chain management. "ONN Bikes was providing bikes for intra commute in the city. Within a year we placed around 1000 bikes in and around Bengaluru, Hyderabad and Pune," says Rajib.
His stint at ONN Bikes, which he quit in 2017, and his subsequent visits to e-bike factories in China and Italy laid the groundwork for his next big venture.
In a strategic move, Rajib tied up with a Chinese company, securing sales orders and earning a commission from each transaction. The e-bikes, launched under the brand name 'GDS e-bike,' quickly gained traction in the market.
Recognizing the potential of online B2B platforms, he listed the e-bikes on sites like Alibaba.com, which further accelerated their sales.
Having made the money from his various ventures and his brief stint at ONN, Rajib launched EMotorad, marking his foray into the Indian e-bike market in 2020 at age 31
Started with an initial personal investment of Rs 8 crore, the company has since grown exponentially, having sold around 75,000 units since its incorporation. The company's 84,000 sq ft factory is located in Jambe area of Pune where their e-bikes are manufactured.
Operating in both B2B and B2C markets, EMotorad primarily sells its products online and through general cycle dealers, a strategy that allowed the company to become infrastructure-free.
"Setting up the infrastructure of retail stores would levy a lot of financial burden," explains Rajib. "We collaborated with existing bicycle dealers and encouraged customers to provide reviews and feedback, which we then shared on social media."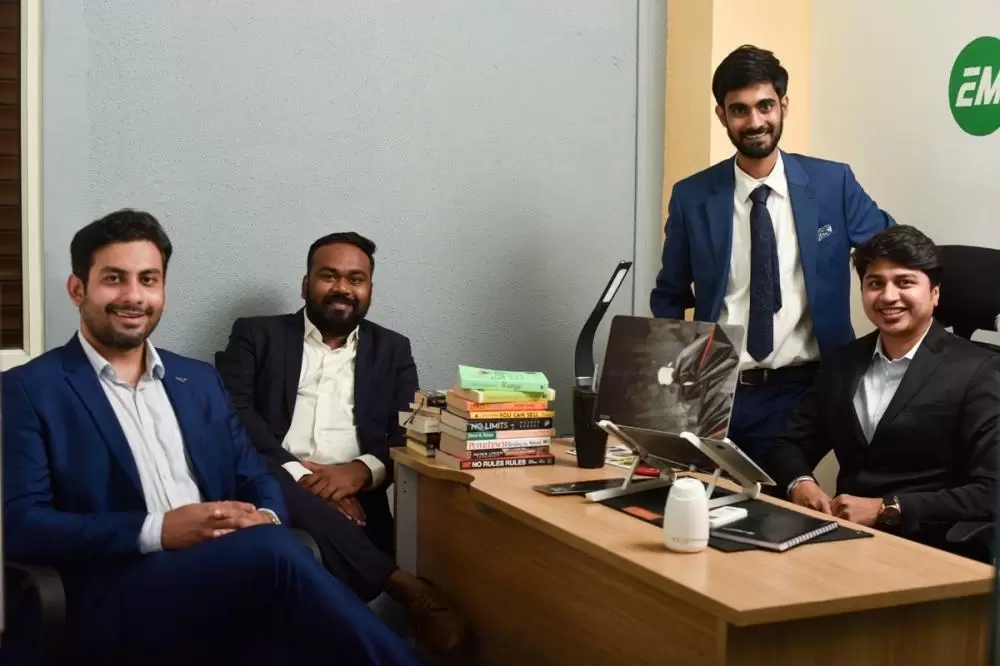 The top brass at EMotorad: (from L to R) Rajib Gangopadhyay, Sumedh Battewar, Aditya Oza, and Kunal Gupta

The EMotorad e-bikes cost between Rs 25,000-70,000. However, the company has also introduced an elite bike segment with two e-bike models priced at Rs 4.75 and 5 lakh per unit.
Their first model, EMX, was initially launched at Rs 50,000 and is still the fastest-selling one.
EMotorad has about 141 employees in India and an additional 23 employees across Japan, Europe, Australia, and the UAE.
The company generates 70% of its revenue from exports and 30% from the domestic market. In its first year of operation, EMotorad had a turnover of Rs 3.6 crore, which increased to Rs 6.6 crore in the second year and Rs 132 crore in the third year.
It has a presence in every state of India and operates in 19 countries, including UAE, Nepal, Japan, Europe, Spain, Portugal, Italy, Finland, Germany, Belgium, Australia, and New Zealand.
While Rajib serves as the Founder and Managing Director of EMotorad, his former colleague at ONN Bikes, Kunal Gupta, dons the CEO hat, and Sumedh Battewar, a former vendor for ONN Bikes, serves as the Chief Business Officer.
Aditya Ojha is the Chief Marketing Officer and Roshni Gangopadhyay, Rajib's younger sister, with an eight-year age difference, oversees the international market.
Tying the knot with Anisha in November 2020, Rajib found not only a life partner but also a teacher who introduced him to the nuances of supply chain management. Anisha, a Lead Analyst in Business Supply Chain for GE in Budapest, has been instrumental in shaping Rajib's understanding of this crucial business aspect.
Outside the confines of business, Rajib is an ardent traveller and has left his footprints in 59 countries, including unconventional destinations like the Atacama Desert, the Arctic, the North Pole, and the Annapurna peak.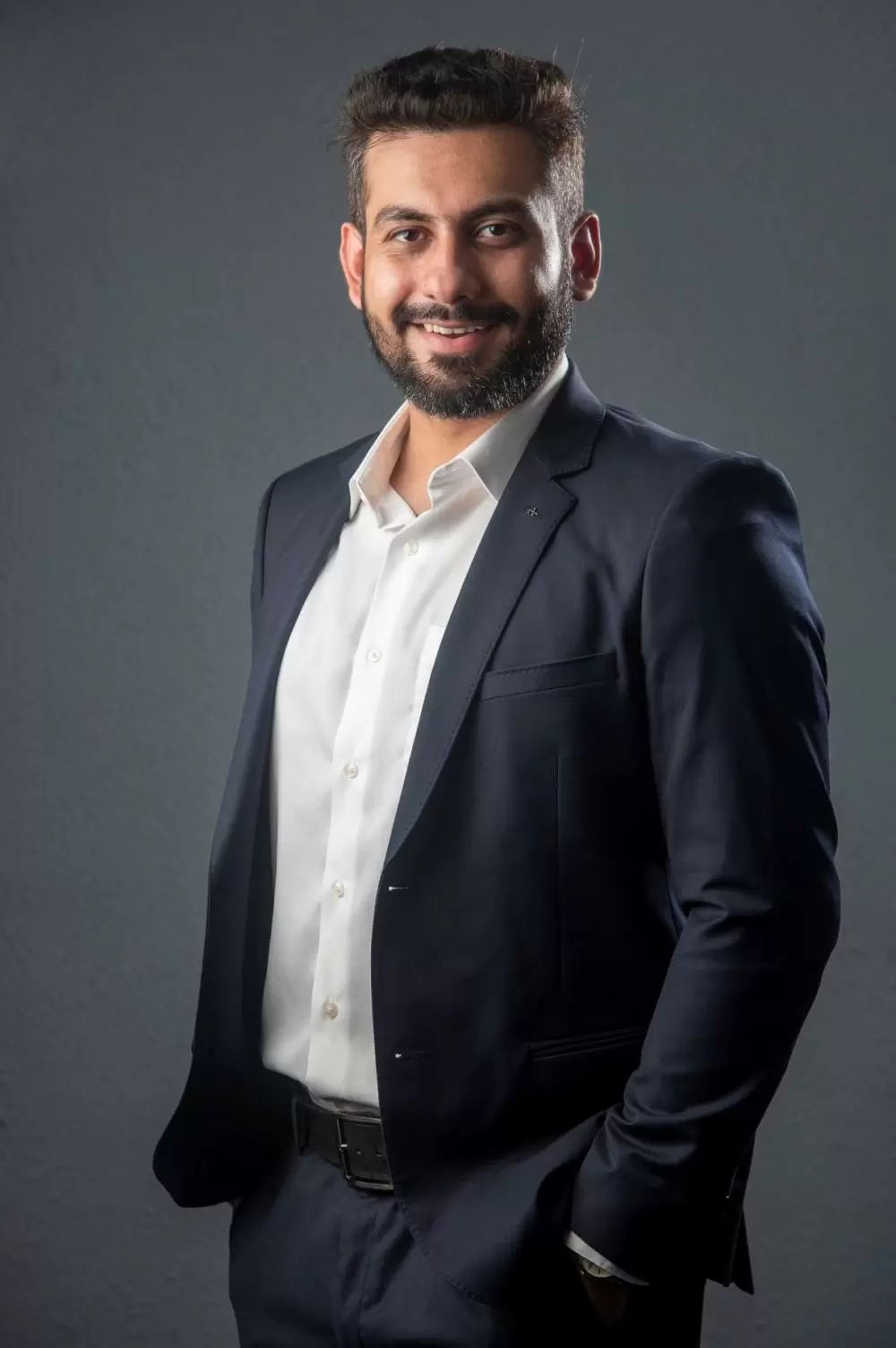 Rajib is passionate about food, travel and meeting new people
His love for food, meeting new people, and exploring diverse cultures is as vivid as his entrepreneurial spirit.
"Every year, I disconnect from everything for a 20-day vacation," he shares. "Post-vacation, we invariably take several steps forward in the company's journey. The break recharges me."
His advice to budding entrepreneurs is a testimony to his unyielding spirit. "Never stop dreaming, and never limit your efforts," he advises. "Let your imagination take flight without boundaries. Even if the world tries to dissuade you, claiming your idea will not succeed, do not let it quell your enthusiasm." - ©
TWL
Wish to share your story?
Trending Now: