From Rs 50,000 to Rs 50 Lakh: How a Woman Professional Quit Her Job to Build a Thriving Fashion Business
Chaithra Srinivas
&nbsp | &nbsp
17-March-2023
Vol 14&nbsp|&nbspIssue 11
Manisha Monga, a former media professional, has successfully transitioned from reporting to fashion designing.

Disenchanted with her previous career, she took a leap of faith and pursued her passion for design, ultimately becoming an entrepreneur and brand owner with a turnover of Rs 50 lakh.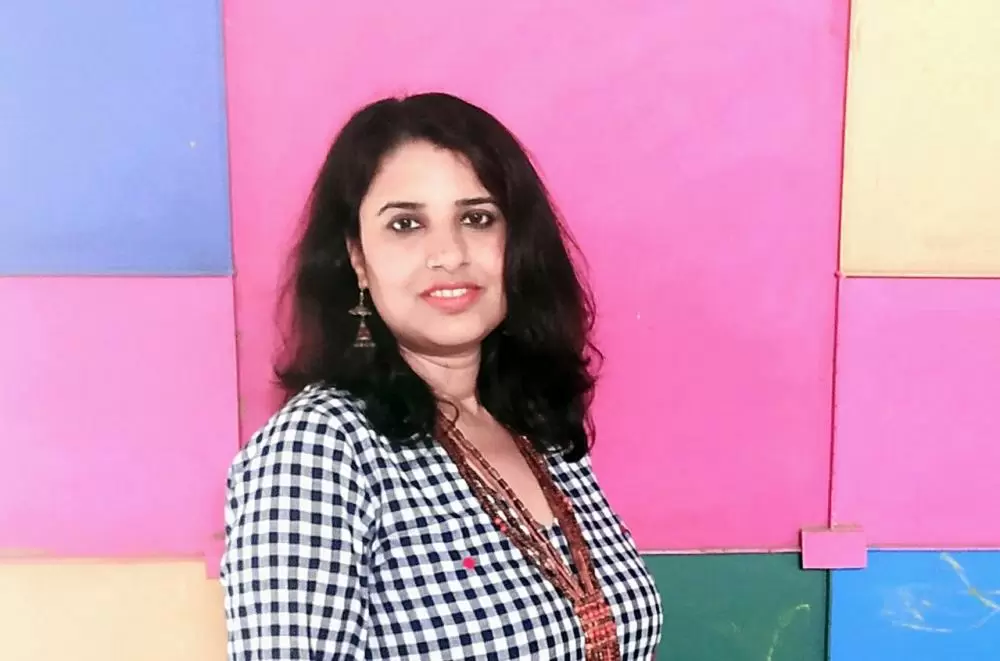 Manisha Monga started D'Art Studio with Rs 50,000 from her home in Gurugram (Photos: Special Arrangement)
In 2016, she started her business with Rs 50,000 from her 3-bedroom apartment in Gurugram.
The following year, she relocated to her own 5-bedroom house in Vasant Kunj, New Delhi and has since continued her business from there. She has set apart a 350 sq ft room in her residence where the clothes are made.

"I founded D'Art Studio with the aim of crafting sustainable garments from fabrics like khadi, cotton, linen, viscose modal, and chanderi, while also supporting traditional artisans," explains Manisha.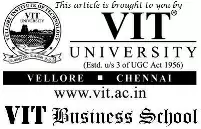 She sources her fabrics from rural artisans across several states in India, such as Rajasthan, Gujarat, and Madhya Pradesh.
Manisha specializes in working with artisan-made materials, such as Ajrak, Dabu, and Bagh printed fabrics, as well as Kasuti embroidery. She also has expertise in working with naturally dyed and woven fabrics.

To realize her vision, she invested in two Brother sewing machines and an interlock sewing machine, procured rolls of fabric, and enlisted a master tailor to oversee the stitching process.

"With the growth of the business, I steadily broadened my network of artisans. Today, we collaborate with over 25 artisans and employ 10 individuals who work from packaging to online order management."

Manisha, 40, hails from a middle class family in Patna. "My mother was a teacher in a government school. My father was involved in social service and didn't go for a full-time job," she explains.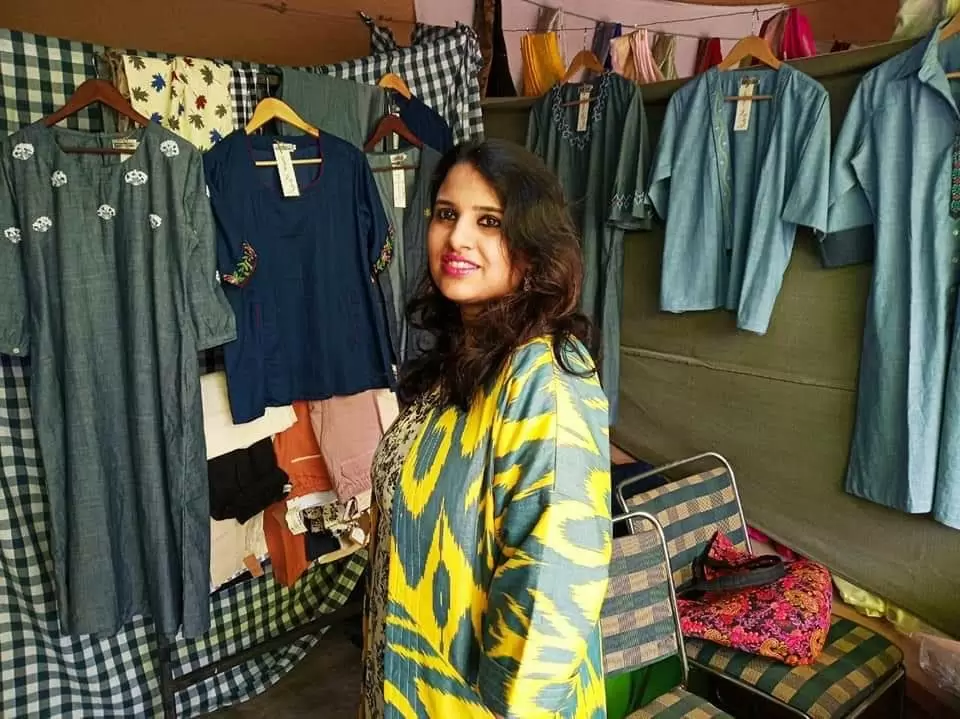 Manish works with rural artisans from different parts of the country
"While we didn't have a lot of extra money for things like vacations, my family always made sure that we had good education. Education was very important to us."
She attended St. Joseph's Convent High School in Patna and completed a degree in applied psychology from Sri Aurobindo College, Delhi University, in 2002. Later, she graduated from Xavier's Institute of Communication in Mumbai with a Masters in journalism in 2005.

From 2005 to 2009, she worked with a couple of Indian publications, where she reported on a wide range of topics. "It was a fulfilling experience that taught me a lot about the world," she reflects.

Following her marriage, Manisha relocated to Singapore where she worked for a media outlet until 2012 before returning to India. Her husband, Vikas Monga, pursues a career in sales and marketing.

"When I returned to India during my pregnancy and had my daughter (Samaira Monga), my husband and I found it challenging to balance work and parenting in a nuclear family setup," Manisha explains.

"As a result, I made the decision to leave my job as a journalist. While parenting was a factor, I also realized that journalism was not my true calling. That's when I began exploring my interest in fashion design," Manisha continues.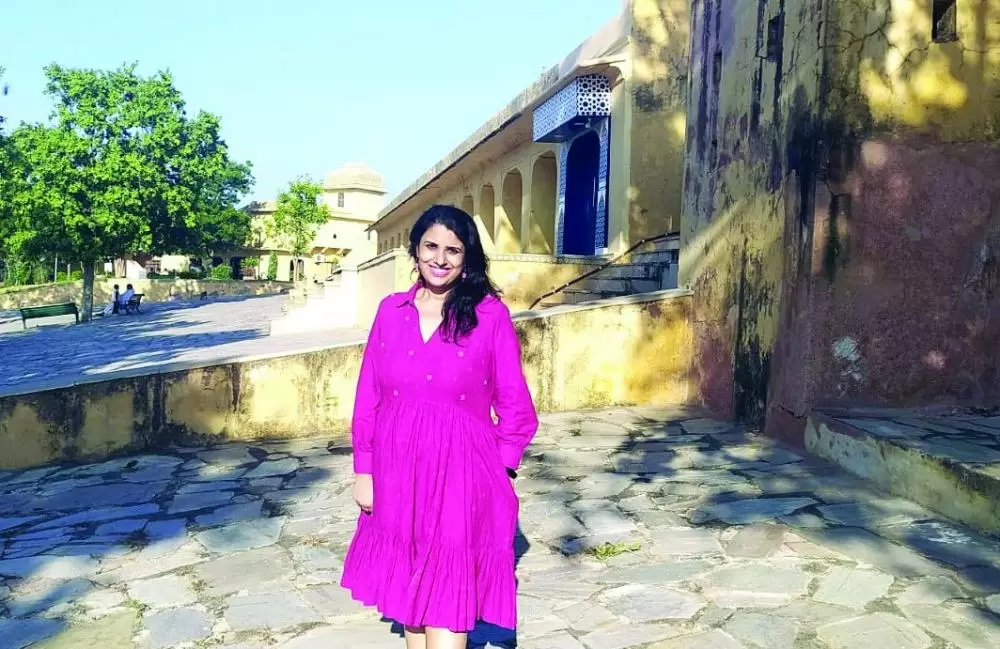 Manisha traveled to interior parts of India to research artisans and their artwork
"After considering my options, I made the decision to pursue it as a new career path. Though it was a major change from my previous profession, I was excited to embark on this new journey."
Two years after the birth of her daughter, she enrolled in a short-term fashion designing course at Institute of Apparel Management, Gurugram, in 2014, and gained the technical knowledge and skills that were necessary to pursue her passion for sustainable fashion.

"During the course, I learned about different fabrics, traditional Indian crafts, and sustainable fashion practices," says Manisha, explaining about her shift from the media field into the fashion industry.

"It was an eye-opening experience that helped me understand the potential of combining traditional Indian crafts with modern fashion design. By the end of the course, I felt more confident in my abilities and ready to take the next steps in pursuing my dream."

After completing her fashion design course, Manisha was eager to gain more knowledge and experience in the field of sustainable fashion. To accomplish this, she decided to embark on field visits to the interior parts of India to research artisans and their artwork.

Her background in journalism proved to be a valuable asset as it helped her to effectively communicate and connect with people during her research. "It was immensely helpful to be able to reach out to people and get them to talk to me," she reflects.

She carefully selected fabrics that combined comfort and style to create a unique and fashionable line of clothing that included Kurtha tops, sarees, pajamas, and pants.

"At D'Art Studio, we design Indo-western clothing that transcends age barriers. Our products are tailored to suit women of all ages," she says.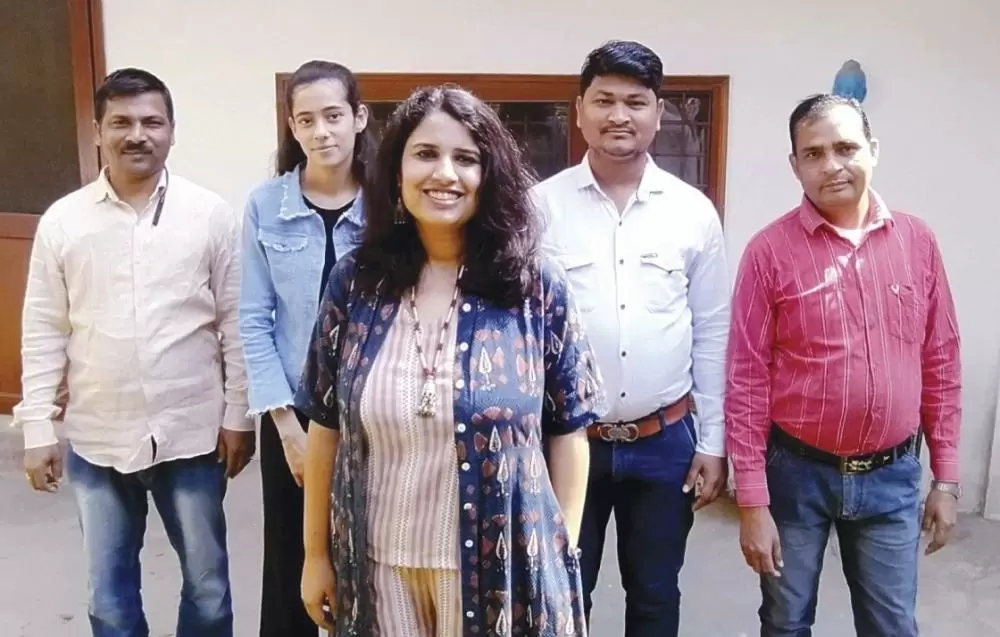 Manisha with some of her employees
"Additionally, we include pockets in our clothing designs. Although seemingly minor, this detail has a significant impact, since nowadays women too carry phones, wallets, and other essentials, just like men.
"With over 30 different styles to choose from, we're committed to making our clothing accessible to everyone. That's why we offer sizes ranging from XXS to 5XL."

In 2016, she took part in an exhibition organized by Dastkar, a non-governmental organization founded in 1981 with the primary goal of providing assistance to traditional Indian craftspeople.

"I was pleasantly surprised by the overwhelming response from the visitors," Manisha explains. "People really appreciated the fusion of traditional craft with modern designs that I had incorporated in my clothing line. This positive feedback gave me a lot of encouragement and confidence in my abilities, which was really gratifying."

Following the exhibition, Manisha decided to take her brand online and listed it on popular e-commerce platforms such as Amazon and Flipkart. She was elated when her products sold out in a short period of time, giving her the confidence that she was on the right track.

Manisha regularly participates in the exhibitions that Dastkar conducts all over the country.

"Exhibitions play a crucial role in our marketing strategy," Manisha explains. "They not only provide a platform for selling our clothes but also allow us to raise awareness about the significance of sustainable fashion. It's an opportunity for us to educate people about the importance of conscious and ethical clothing choices."

Approximately 60% of the brand's sales are from e-commerce, with the remaining 40% coming from the exhibitions that they conduct regularly.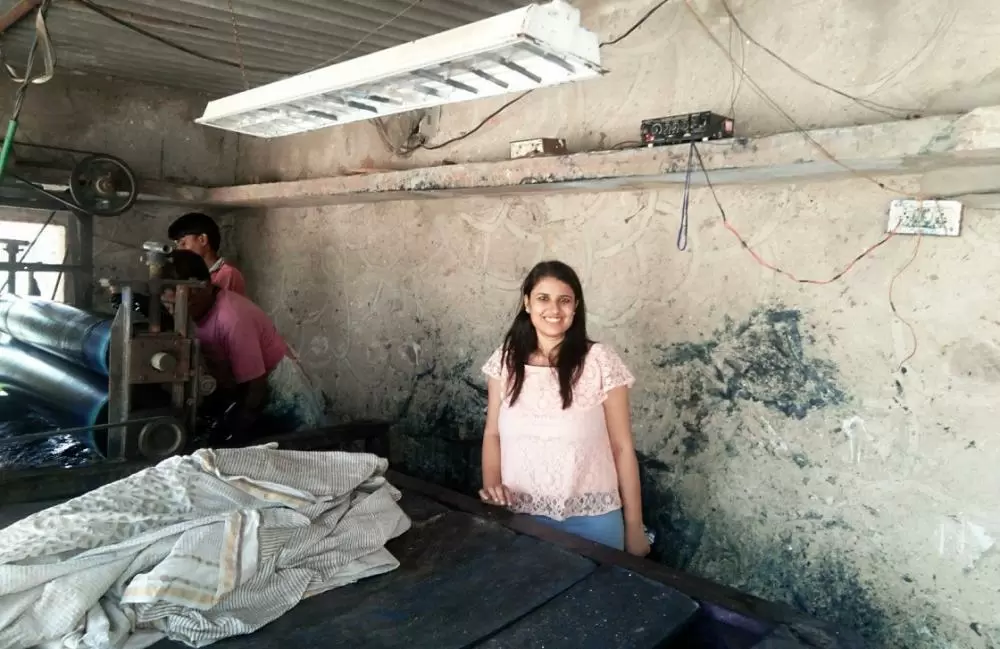 Manisha puts in a lot of hard work to make her products
Manisha is determined to work hard and succeed in her venture. "One of the biggest turning points in my life was when I was diagnosed with tuberculosis in class seven," she says. "It was a tough time, but I had faith that 'this too shall pass' and fought through it. I always believed in the power of positivity.
"Even during the lockdown, I broke my leg, but I didn't let it stop me from working. My mantra has always been to keep going, no matter what happens. This mindset has helped me overcome many obstacles.

"Although I know there may be failures in my entrepreneurial journey, I will always get back up and do whatever it takes." - ©TWL
Wish to share your story?
Trending Now: