The Monk Turned Entrepreneur Who Built a Rs 120 Crore Turnover Toy and Stationery Brand
23-February-2023
Vol 14&nbsp|&nbspIssue 8
A young MBA graduate, who spent about a year and a half living like a monk in an ashram, returned home bowing to parental pressure, got married, and today owns a toy and stationery brand with a turnover of Rs 120 crore.

Shobhit Kumar Singh launched Stone Sapphire India Pvt. Ltd. in 2016, and the company started marketing children's toys and stationery under its own brand Skoodle, apart from acquiring exclusive India licenses for international brands like Play-Doh, My Little Pony, Playskool, and Transformers.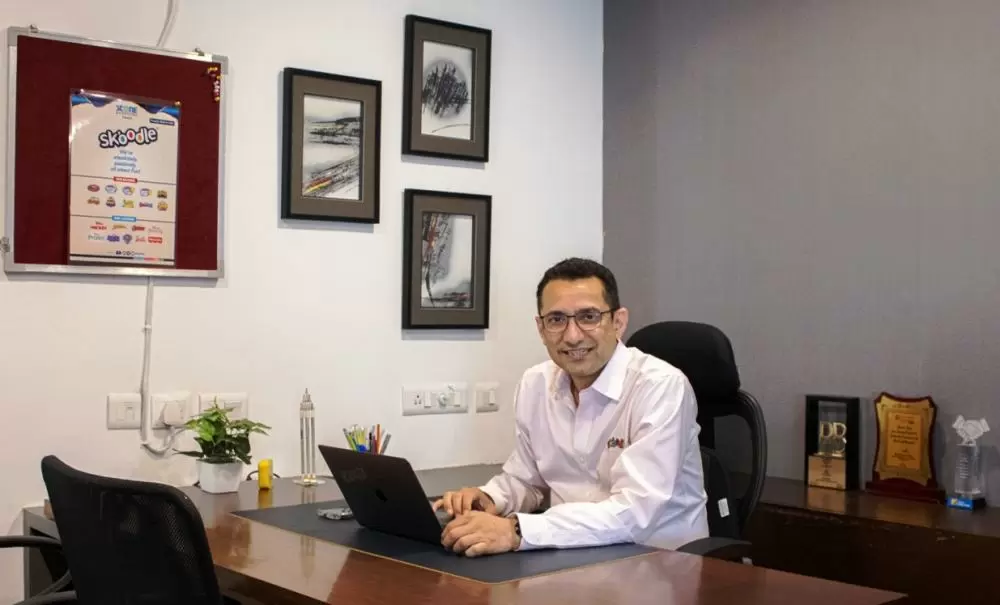 Shobhit Kumar Singh launched Skoodle in 2016 from Vadodara with 50 workers (Photos: Special Arrangement)
At one stage in his life, in 2001, when he was around 26, Shobhit became a follower of Maharishi Mahesh Yogi and shifted to his ashram in Rishikesh. He always had an affinity for philosophy and celibacy, but ashram life changed him even more.
"I completed a four-month Vedic management program, which made me more philosophical," says Shobhit. "I used to sit with maulanas and listen to Islamic teachings when I was a student in Aligarh Muslim University (AMU). I have also studied Christian theology.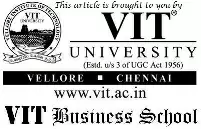 "I wanted to become a yogi and find meaning in life in the ashram. After the four-month Vedic management program at the ashram, I became a trained meditational practitioner and also went for advanced courses."
Shobhit was born in Kanpur, UP, into a middle class family. His father was in a transferable job with the New India Insurance Company, so the family lived in different cities.
His mother was a homemaker, and he is the youngest of three siblings and the only boy among them.
Shobhit completed his BA Honours in Economics from AMU in 1997, and then his MBA in Finance in 1999 from the same college. His first job was at a German software company in Delhi, where he worked as an assistant manager of finance.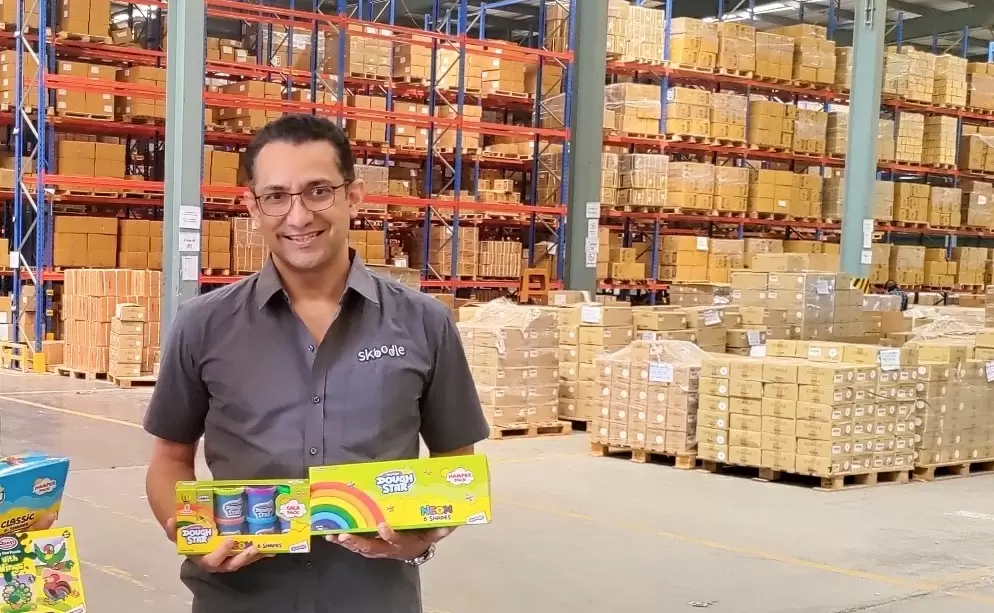 Skoodle makes stationery products and a range of toys for children
He joined the ashram in 2001 and by end of 2002 returned home after his parents requested him to come back. In October 2002 he got married to Nina Singh, who was from a business family in Vadodara.
Shobhit joined a Singapore-based company in Delhi as Business Manager. The company dealt with timber and a few other commodities.
When Shobhit's father-in-law passed away in 2003, his brothers-in-law encouraged him to join their business in Vadodara.

Shobhit joined the company in Vadodara; however, the manufacturing unit was in China. The company was into manufacturing and export of Christmas gifts to the US and they made products such as wrapping papers, greeting cards, tissue rolls, stick notes and gift boxes.

"It was a start-up and my two brothers-in-law were looking for someone from the family to handle the operations in India. They approached me, and my wife was also willing to avail this opportunity and shift to Vadodara," he says.

In 2012, the US increased duties on Chinese products and their business took a massive hit.

"Most of the foreign players who had production units in China shifted their base to different countries. We moved the production facility from China to Indonesia after much deliberation," says Shobhit.

"It took a year to shift the machinery and train the new staff. The production started after a year in 2014."

In 2015, international stationery brand Hasbro got in touch with Shobhit and asked him to handle their distribution in India. Shobhit seized the opportunity and has not looked back since.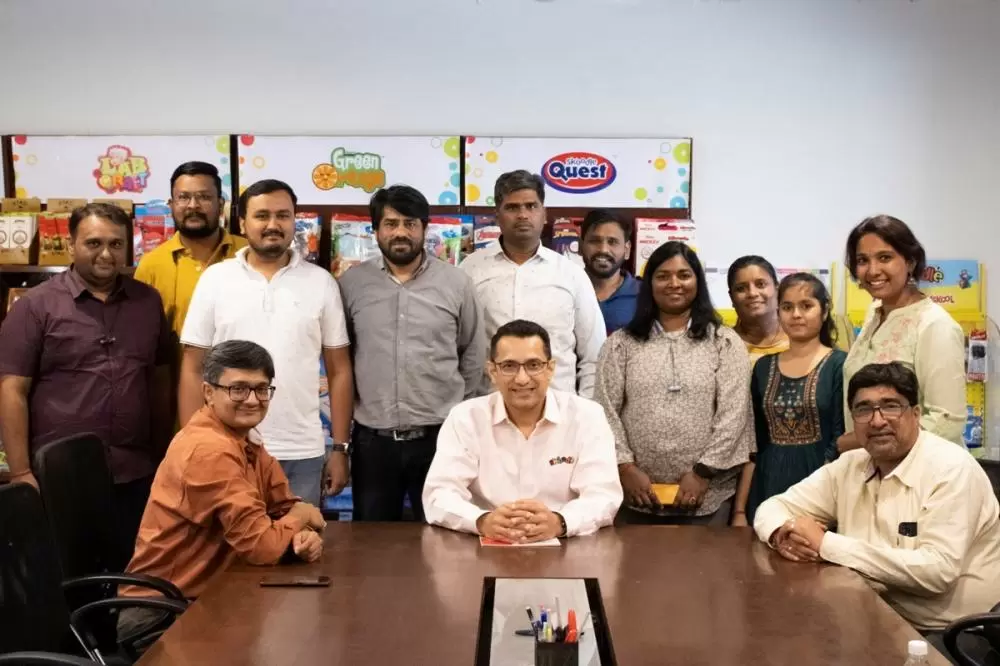 Shobhit with some of his key team members at his office in Vadodara
"Hasbro sells its products to upmarket players like Tata, Hamleys, Crossword, and other big retailers in the market," he says. "But after a year I realised that niche players had little market penetration and that I ought to engage in massive volume, higher turnover, and mass retailing.
"With this in mind, I established my brand Skoodle in 2016 under the company Stone Sapphire India Pvt. Ltd." He invested Rs 1.2 crore in the business, of which 30% came from his personal savings and 70% through bank loan. The company started with stationery products.
He set up the factory in Vadodara and started with 50 workers. In the same year, Hasbro now approached Shobhit to take over their Indian toy distribution operations.
Hasbro sells products under the Funskool, Nerf, Avenger, Frozen Doll, and Plot 4 brands.
"Gaining the trust of an international business giant like Hasbro for the second time was a proud moment for me," Shobhit recalls. "They took a risk and gave a chance to a new entrant in the industry and entered into a contract with my company. Hasbro for sure took a punt on us."
Despite all the learning, challenges, and outcomes, what Shobhit never forgets is how his father trained all the children early to live and succeed in life.
"There were too many restrictions and limited resources in the family. But now when I look back, I think it worked for our betterment. The self-controlled and money-conserving mentality helped me in every bit."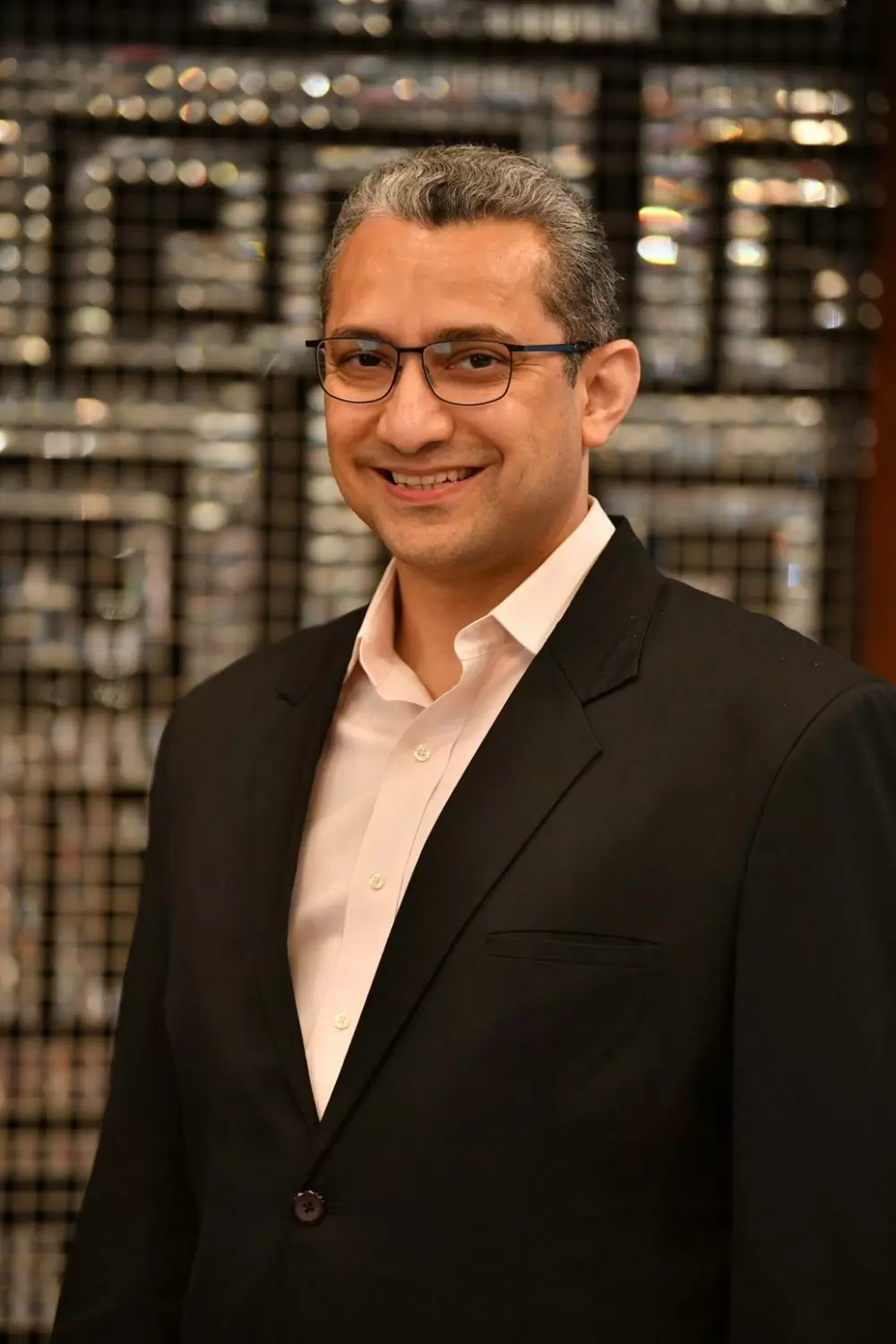 Shobhit got into manufacturing of toys in late 2019
In late 2019, Shobhit decided to diversify his Skoodle stationery business and launch Skoodle toys using the money he had. They also became licensed manufacturer of brands like Disney, Marvel, Hot Wheels, Fisher Price, Mega Blocks, Nerf, and Barbie.
Shobhit continued with the distribution of Hasbro toys till 2020. And post Covid parted ways with an exit clause.
"We did not have any pay cuts or job cuts during Covid in Skoodle. In fact, we started recruiting key professionals for the company in that period as the market was slow and many people faced job loss," says Shobhit.
"We recruited good talent, and it paid us later. After Covid, our team forayed into the market aggressively." He claims that word of mouth, retailer trust, and the image that the company established while working with Hasbro all greatly helped in the company's growth.
In 2021, Skoodle bagged the opportunity to solely manage the import and distribution of US-based Corelle Crockery brand.
Shobhit's company has its corporate office on four floors in the Makarpura industrial area of Vadodara. They also have offices in Mumbai and Delhi.
The warehouse and production centres are housed in a 2 lakh sq ft facility, along with a 13 lakh sq ft open area about 25 km from Vadodara. Around 250 employees work in the company's stationery and toy divisions.
The company plans to launch its own 24-carat gold-plated crockery brand and also foray into the FMCG sector. Shobhit wants to explore products that are related to children in the FMCG sector.
Shobhit has plans to foray into the FMCG sector
Shobhit's wife Nina, who is a hotel management graduate, is the company's MD and she handles the sales and customer service departments. The couple is parents to school-going girls Tanya, 17, and Alisha, 7.
Shobhit enjoys writing poems and reads the philosophies of Gyanvatsal Swami and Maharishi Mahesh Yogi in his leisure time.
His suggestion to the upcoming entrepreneurs is, 'Startup has become a fad; don't take it as a short-term plan of making money today and then selling it tomorrow. Make a long-term plan.
"Be honest with yourself and manage your time well. Keep your SQ (Social Intelligence Quotient), AQ (Adversity Quotient), and EQ (Emotional Quotient) strong; they are far more significant in life than your IQ." - ©TWL
Wish to share your story?
Trending Now: