Failed Once, He Restarted with Rs 6 Lakh from Mom's Savings and Built a Rs 35 Crore Business in Three Years
Sofia Danish Khan
&nbsp | &nbsp New Delhi
08-February-2023
Vol 14&nbsp|&nbspIssue 6
When your dream doesn't let you sleep, and makes you push the boundaries, setbacks or failures can't stop you from chasing your goals.

Hailing from a middle class family in the small city of Meerut, Ankur Tyagi started a restaurant at age 21 along with a friend, but had to shut it down two years later due to labour issues.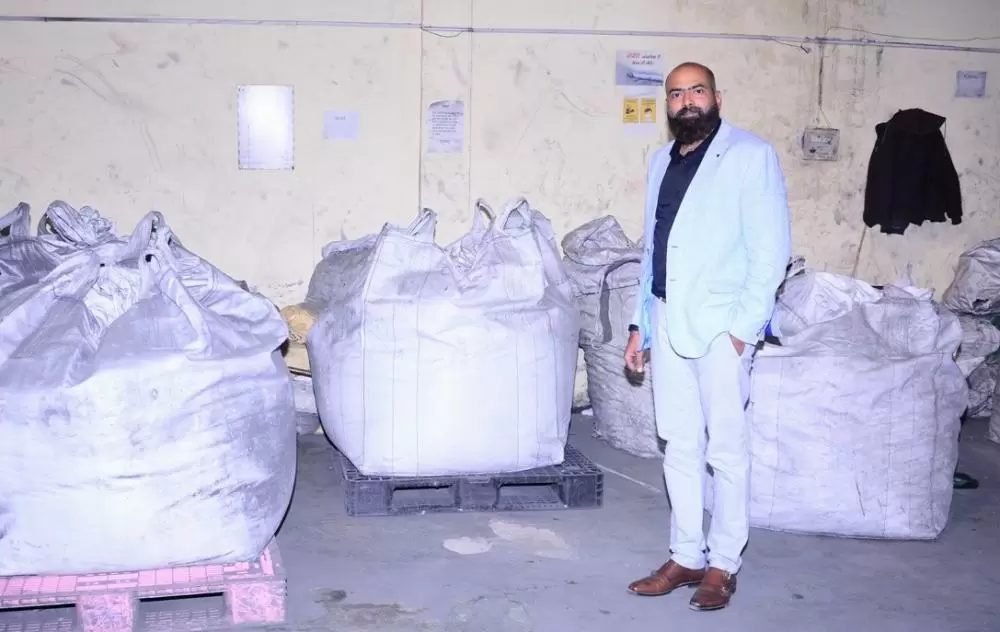 Ankur Tyagi started Prithvi Cleantech Private Limited in 2020 with Rs 6 lakh (Photos: Special Arrangement)
He soon found a job at Just Dial and simultaneously did his MBA. Later, while working at Panasonic he was exposed to electronic waste, which turned the course of his life, and today, he owns a lithium ion battery recycling plant in Ghaziabad.
Lithium ion batteries are used in electric vehicles, cell phones, and laptops apart from other electronic gadgets.
Started in 2020 with Rs 6 lakh, which he borrowed from his mother's savings, Prithvi Cleantech Private Limited has generated revenue of Rs 35 crore in less than three years. In the first year, the company achieved a turnover of Rs 12 crore and in the current year has already crossed Rs 14 crore.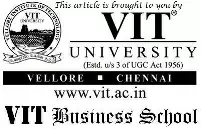 With increasing number of electric vehicles, the lithium ion battery waste is expected to add to the mounting volumes of e-waste in the country. Prithivi is one of the earliest entrants in the field of lithium ion battery recycling.
"I borrowed Rs 6 lakh from mom to set up the company, which was registered in July 2020," says Ankur, 35. "It was my mother's lifetime savings, but she had immense trust in me.
"After taking the money from my mother I always knew that I need to return it in multiples, whether it will be Rs 6 crore or Rs 60 crore, even I don't know. Till now I have been pumping all our earnings back into the company." He started with five employees, but now they have 40 employees and 35 other contract workers.
Ankur grew up in Meerut with two elder sisters. His father Vinay Tyagi is into organic farming in a village near Meerut and his mother Anita Tyagi was a teacher at the well-known Meerut Public School.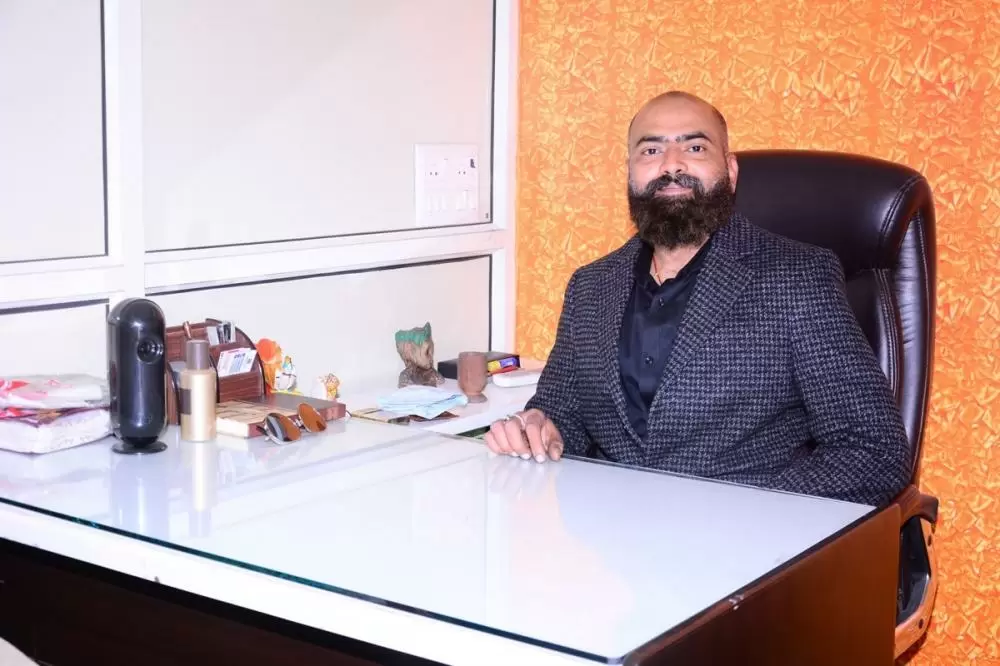 Ankur started with five employees. Now, the company employs 40 people
He finished Class 12 from Nobel Public School, Meerut, in 2005. "It may have been easier for my mom to have her children in the same school as she was teaching, but we had a humble background and lived in our ancestral house with four rooms, so this school fitted our budget better," says Ankur.
"I was always an average student at school, but helped my mom and cooked food for her when she returned late from work. The money might have been less in our family, but we were content and never demanded too much from our parents."
Their ancestral house is at Garh Road, Meerut, in Jai Devi Nagar. His father owned a bullet bike and the family travelled in it.
Ankur went to College of Professional Education, Meerut, in 2005, to do his B Com. "Alongside, I worked part time at Machra Degree College as a clerk for two years, for a salary of Rs 6000 per month," he reminisces.
Later, he worked at a supermarket, handling the visual merchandising of the apparels section for two years. In 2009, he joined MBA at Punjab Technical University, Meerut, with HR and Finance as subjects.
Parallelly, Ankur started a restaurant in Ghaziabad, along with a friend. "I invested about Rs 1 lakh, and we sold chaat, noodles and dosas there, but we had to shut down the restaurant in two years due to labour issues," he says.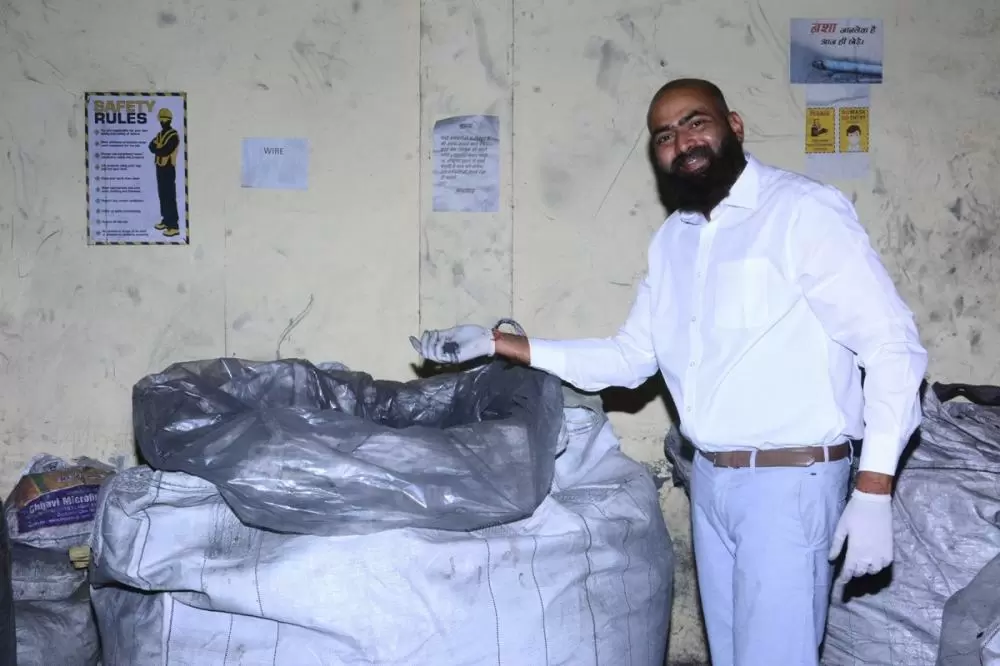 Prithvi Cleantech has the capacity to recycle 2500 tonnes of e-waste annually
In 2012, Ankur went to Jaipuria Institute of Management, Ghaziabad, to do his PGDM in International Business and joined Just Dial, Ghaziabad, as a Sales Manager, after finishing the course in 2014.
A year later, he shifted to Panasonic in Gurugram, where he was appointed as warehouse manager and took care of electronic scrap. "It was the first time I was introduced to electronic waste in the form of batteries. Soon, I started doing my research on e-waste," says Ankur, explaining the back story to his entry into the e-waste recycling industry.
"In 2016, I joined with a friend and launched Ziptrex Cleantech Pvt Ltd. We supplied lithium ion battery waste to Sungeel India Recycling Pvt Ltd, which recycled the batteries."
By 2020, Ankur decided to start a separate company that would focus on recycling the batteries. He continues to remain as a director at Ziptrex, which is now refurbishing the batteries and reselling it in the market.
"I wanted to recycle the batteries, where the scrap and damaged and useless batteries are scientifically crushed to form a powder, which is reused in the manufacture of batteries," explains Ankur.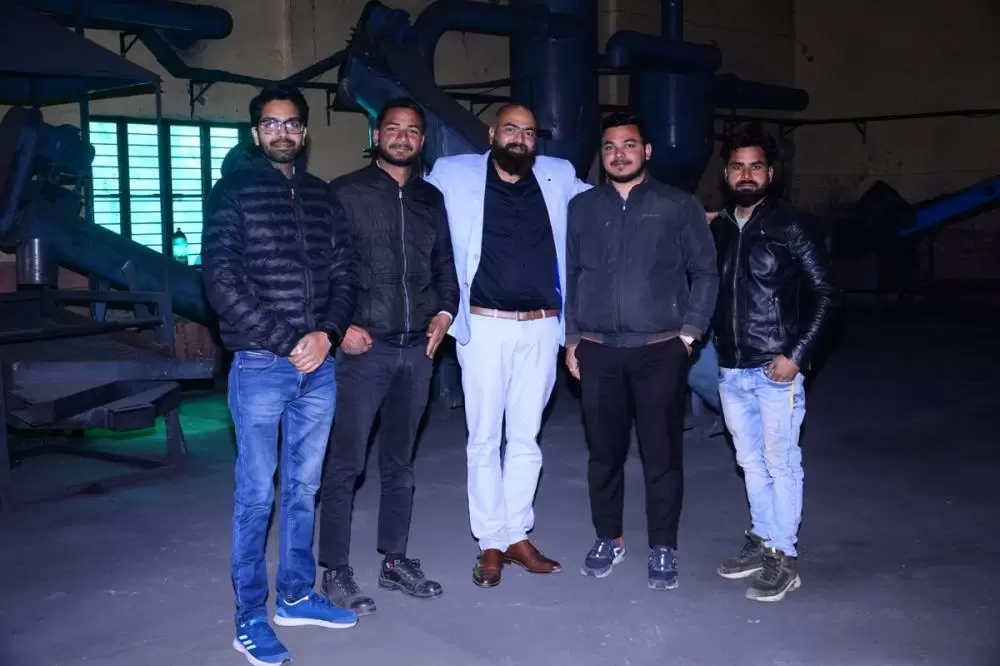 Ankur with his team members at Prithvi Cleantech
"I set up our factory in Kavi Nagar, Ghaziabad, sat with fabricators and made the design for the recycling machines." He formed a team of around eight scrap dealers, who would regularly supply lithium ion battery waste to him.
Ankur supplies the crushed powder to Sungeel India Recycling Ltd, for whom he was earlier supplying the batteries through Ziptrex.
He started a factory in Morta Industrial area, near Meerut, with a capacity to recycle 40 metric tonnes of e-waste, in February 2021.
"I set up another factory in Duhai, Ghaziabad in October 2021. It is fully automated and devoted exclusively to recycling of batteries of EVs," says Ankur, who later shut down the first plant in Kavi Nagar.
The Morta and Duhai units have a combined capacity to recycle 2500 tonnes of e-waste a year. The company has done business of Rs 14 crore in the current financial year and is expecting to close at Rs 50 crore.
Ankur is married to Anshu, who was his classmate at Jaipuria College, and the couple has a 4-year-old son named Prithvi. Prithvi means earth and Ankur took the same name for his company too.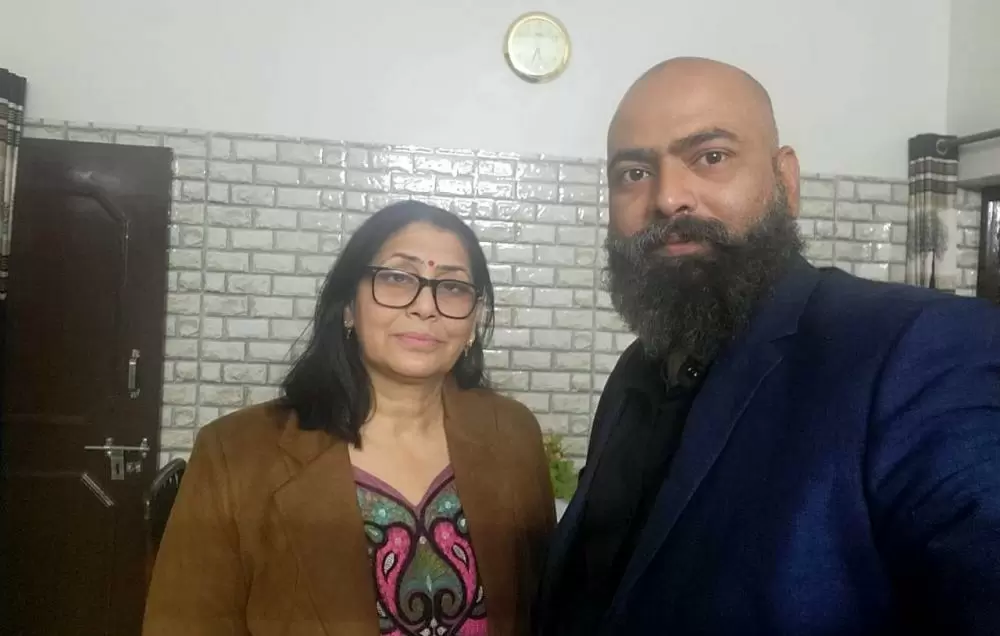 Ankur with his mother Anita
Ankur and Anshu love to travel and they say they have travelled all across Uttarakhand and covered about 1.25 lakh km. Raised in a family that just had a Bullet bike to move around, Ankur owns three cars today - Honda City, Swift and Tata Harrier.
"I love kite flying too. I celebrate Basant Panchami (spring festival) in Meerut every year, which is celebrated with kite flying and the festive fervour is unmatched. And that is the time I am always in Meerut, because I am still very much tied to my roots. I also visit my mother who still lives in Meerut every weekend," says Ankur. - ©
TWL
Wish to share your story?
Trending Now: