How an MBA graduate disrupted the paper bag industry to build a Rs 28 crore turnover business
Sofia Danish Khan
&nbsp | &nbsp New Delhi
03-December-2022
Vol 13&nbsp|&nbspIssue 48
By the time Sushant Gaur joined college, he could play 10 musical instruments and he had become the drummer in the college band, where the now popular singer Samar Puri was a lead vocalist.

But unlike Samar who turned into a professional musician, Sushant put his creative skills in business and went on to disrupt the paper bag industry with his innovative sales and marketing strategies.


Sushant Gaur started his packaging business at the age of 25 with Rs 15 lakh (Photos: Special Arrangement)
Delhi-based Sushant started Urja Packaging in 2012 with Rs 15 lakh at the age of 25. Today, the company that became Adeera Packaging Pvt Ltd in 2019 has achieved an annual turnover of Rs 28 crore. The company has already touched Rs 37.5 crore this year and is expected to close at Rs 55 crore.
"I was a creative student during school time. I was part of the school marching band and in those days learned to play many instruments, including the bugle, saxophone and congo," says Sushant, remembering his childhood days.
"Congo made the transition to drumming easier in college. My grandfather saw my interest in music and arranged a music teacher for me and my sister, and I learned to play classical flute too." Interestingly, his sister Roli now runs a You Tube channel with about 80k subscribers, where she talks about parenting and love.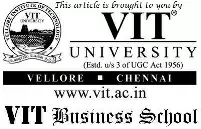 Hailing from Patparganj in Delhi, Sushant completed his Class 12 from Delhi Public School, Noida, in 2004. He joined an engineering college, but dropped out a year later since he didn't find the course interesting.
He then got enrolled in MBICEM, a Delhi based media institute affiliated to Hissar University, where he completed his Bachelors in Mass Communication (2005-2008).
At MBICEM, he was part of the college band where he met Samar Puri. "He taught me to play the drums. In the course of time, I found I enjoyed business management of the band more than drumming," says Sushant.
"I prepared for CAT and got into Lal Bahadur Institute of Management in Delhi, where I did my MBA in marketing and finance." After finishing his MBA in 2010, he joined his father who was having about four vehicle service centres in different parts of Delhi.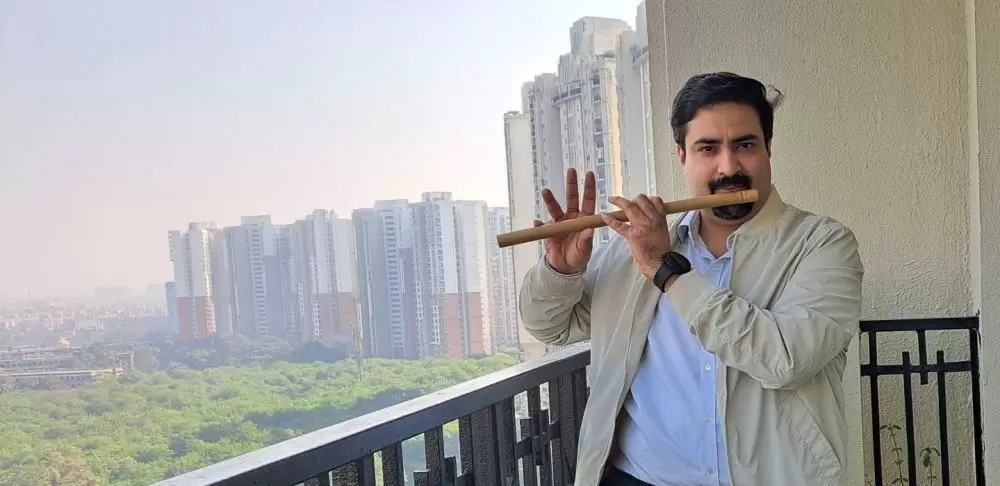 Sushant could play about 10 musical instruments by the time he was in college
It was a short-lived stint, because he soon realised that he had to go to his dad for every small decision. "That's when I decided I wanted to do something of my own. In 2012 I started Urja Packaging as a proprietorship firm," recounts Sushant.
"I invested Rs 15 lakh in setting up machinery and dad guided me at every step. I learnt from him how business is done in India, as it is very different from what we learn in B-School. Nobody told us that 75% of our time would be spent in chasing after payments and managing employees. And this became my training ground."
How he got into the paper bag manufacturing business is as interesting as the product itself. He had gone to the Ministry of Environment to seek permission to purchase technology for a renewable energy generator.
There, he came to know that the single-use plastic was going to be banned soon, though the official announcement had not been made yet
"With this insight in mind I shifted to paper bag manufacturing. According to research, the global plastic market is at USD 250 billion, while global paper bag market is USD 6 billion right now though it was at USD 3.5 billion when we started," says Sushant. He believes the paper bags have a great opportunity to replace single use plastic bags.
Sushant started Urja Packaging with two machines and 10 employees. Their products are made with recycled paper and paper made from agro waste that is procured from third parties.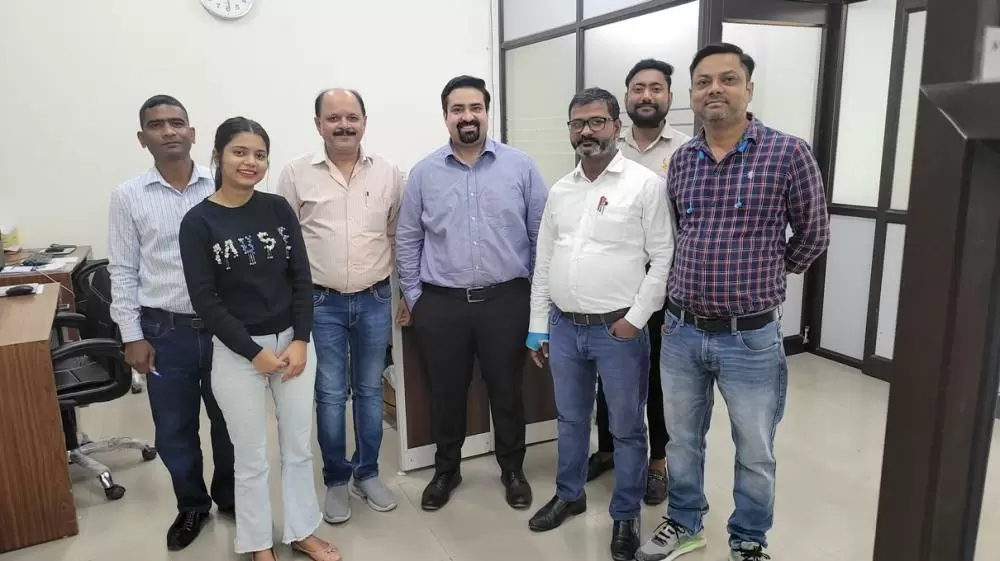 Around 350 employees work for Adeera Packaging today
"We use about 1,000 tonnes of paper every month and saving an estimated 17,000 trees per month," he says.
Getting orders in the initial days of struggle was tough. "Initially I covered the Delhi NCR region myself in my Maruti 800 where I kept the material too; I was doing door to door sales. I showed the samples to the clients; when approved I would deliver the order myself. "
The company achieved a turnover of Rs 15 lakh in the first year. They had to encounter plenty of challenges, though.
"I realized competitors were short-changing customers," he says. They would give lesser GSM paper while charging for a higher quality and would reduce the number of bags in bulk purchases or make the bags an inch or so shorter than the actual size, cheating the buyers.
Sushant came up with a brilliant idea to disrupt the market and started selling the paper bags by weight. "This took care of the malpractices. Our products were also cheaper (unlike handmade products) since they were machine made and were of better quality," he says.
He introduced more innovations, like providing generic branding on the bags that became a hit with customers. Since Delhi had many sweet shops with the names of Agarwal Sweets or Bikaner Sweets, he printed these names on the bags. The strategy worked well and increased sales.
They introduced more sizes and models of bags. "Till then there were only about five standard sizes in the market, we introduced 55 different sizes and styles," says Sushant.
"I learnt that value is in service. We directly reached the doorstep of buyers with daily deliveries. Since we supplied directly to end stores, on-time delivery was important to ensure repeat customers. For this we worked on our logistics and ensured timely delivery."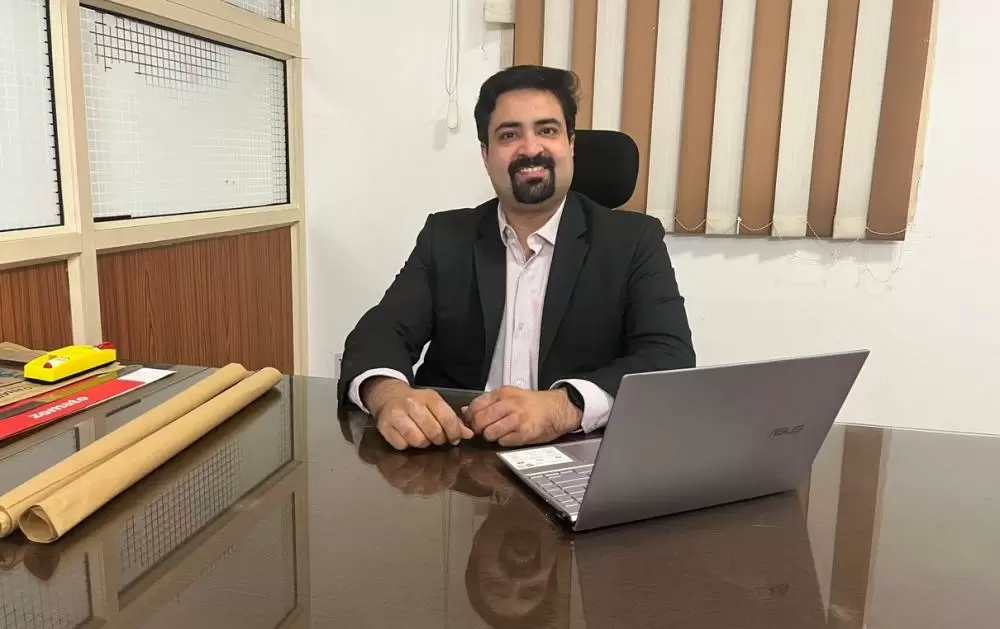 Sushant disrupted the market selling his products by weight instead of by number of pieces
As home delivery of products came to India with the likes of Grofers and Big Basket, the need for paper bags increased. Soon, they became exclusive suppliers for Apollo Pharmacy and Big Basket.
They now have clients across 70 cities, 30,000 pin codes, with major presence in Delhi, Maharashtra and Karnataka.
Around 2019-20, two of his friends, Atulya Bhatia, and Ashish Agarwal, joined his business and they became a private limited company with a new name - Adeera Packaging Pvt Ltd.
"Atulya, owner of Cartonwala, a paper bag trading company, was our largest customer. Over the years we realized that we had a lot in common, including our work ethos. He looks after operations now," says Sushant.
"In 2020, Ashish Agarwal, an IIFT (Indian Institute of Foreign Trade) graduate joined us as the third partner. He handles all the sales and is the driving force behind the company going international. We have scaled up business in seven countries.
"Today, we supply to KFC in USA and UK, and Taco Bell in UK. 50% of our sales happen through exports now." The company now has 350 employees located across five factories in Greater Noida and Delhi.
In 2014, Sushant got married to Vaishali, who is a dietician and runs her own online diet consultation company that has a huge client base in Europe and Australia.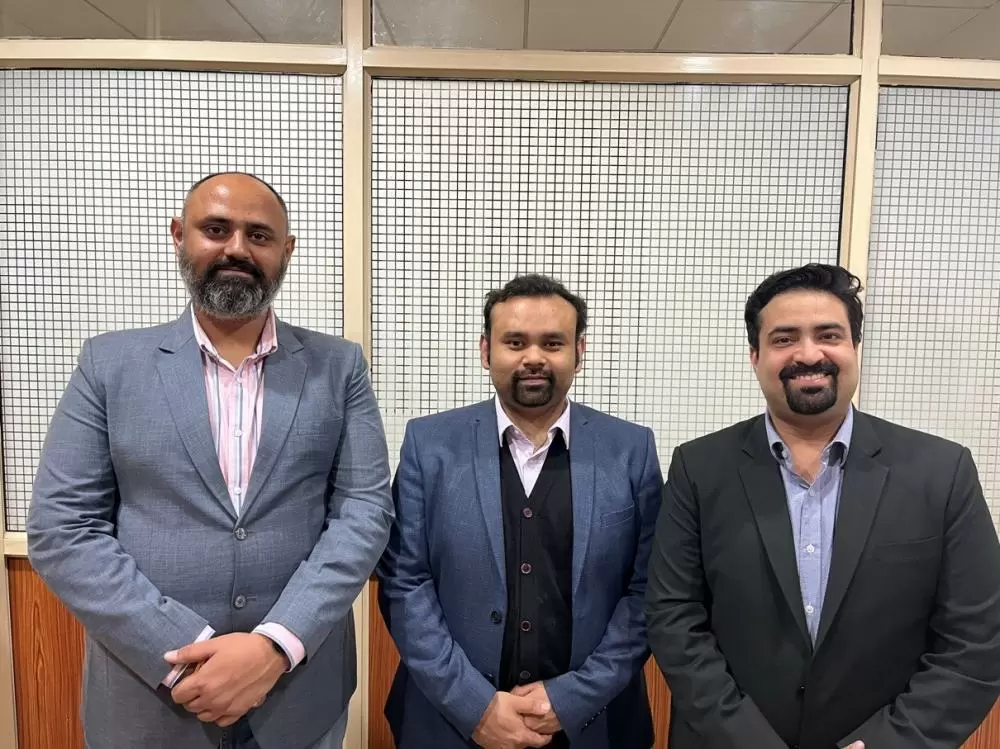 Sushant (extreme right) with his partners, Atulya Bhatia, and Ashish Agarwal
The couple has a two-year-old daughter Jigyasa and they love spending time with her.
Sushant likes to unwind with his daughter and loves going for long drives with his wife, which is almost every other day. The couple went to Dehradun for their last holiday.
Sushant talks about the latest deal they have cracked, which has a sentimental value for him.
"Now we are also supplying to Khan Chacha, a popular eatery in the posh market of Delhi, where I have often eaten with my friends during my college days." Sushant signs off, knowing there is more to his journey, and many more milestones to be achieved. - ©
TWL
Wish to share your story?
Trending Now: