Building a brand around Kolhapuri sandals, he built a Rs 2.2 crore turnover business starting with Rs 5 lakh
15-September-2022
Vol 13&nbsp|&nbspIssue 37
When Pune-based Harshwardhan Patwardhan joined his father's transport business soon after finishing his Masters in Management from the University of Nottingham in 2013, he realised that it was a well-established organisation and he was not needed there.

He then turned his attention to the traditional handcrafted Kolhapuri sandals and explored the possibility of manufacturing them. While in UK, the Kolhapuri sandals he had worn had received a lot of compliments and he had sensed a business opportunity.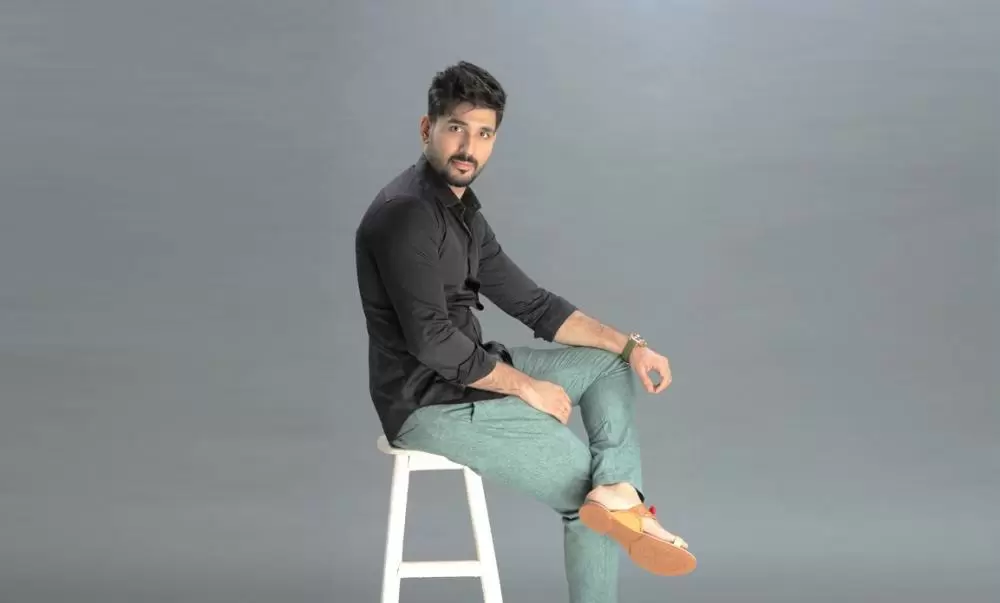 Harshwardhan Patwardhan started Chappers, a brand that aimed at reinventing the traditional Kolhapuri sandals for the modern man, in 2014 (Photos: Special Arrangement)

After doing a lot of research on the leather industry and identifying soft leather to make Kolhapuri sandals and the thermoplastic polyurethane (TPU) material for making soles, Harshwardhan started Chappers in 2014 at age 24 with about Rs 5 lakh working with a few artisans in Kolhapur.
Today, Chappers is a profitable brand with an annual turnover of Rs 2.2 crore with four exclusive stores in Pune and presence in another 20 retail partners - all in Maharashtra.
Remembering the family's humble roots when they used to live in a chawl until he was about 10 years old, Harshwardhan chose to build the brand without receiving any financial help from his rich dad.
"Even the Rs 5 lakh I took from my father was not borrowed in one shot. I took them in small amounts. In fact, I bought the first set of sandals with Rs 15,000 from Kolhapur and sold it to my friends and family members," he says.
He was careful about spending every single rupee. "I used to take the early morning bus to reach Kolhapur from Pune, which used to take about five to six hours.
"My calculation then was if I took my car I would have to fill up petrol for a few thousand rupees. I thought I would rather use the money to buy a few extra pairs of Kolhapuri sandals.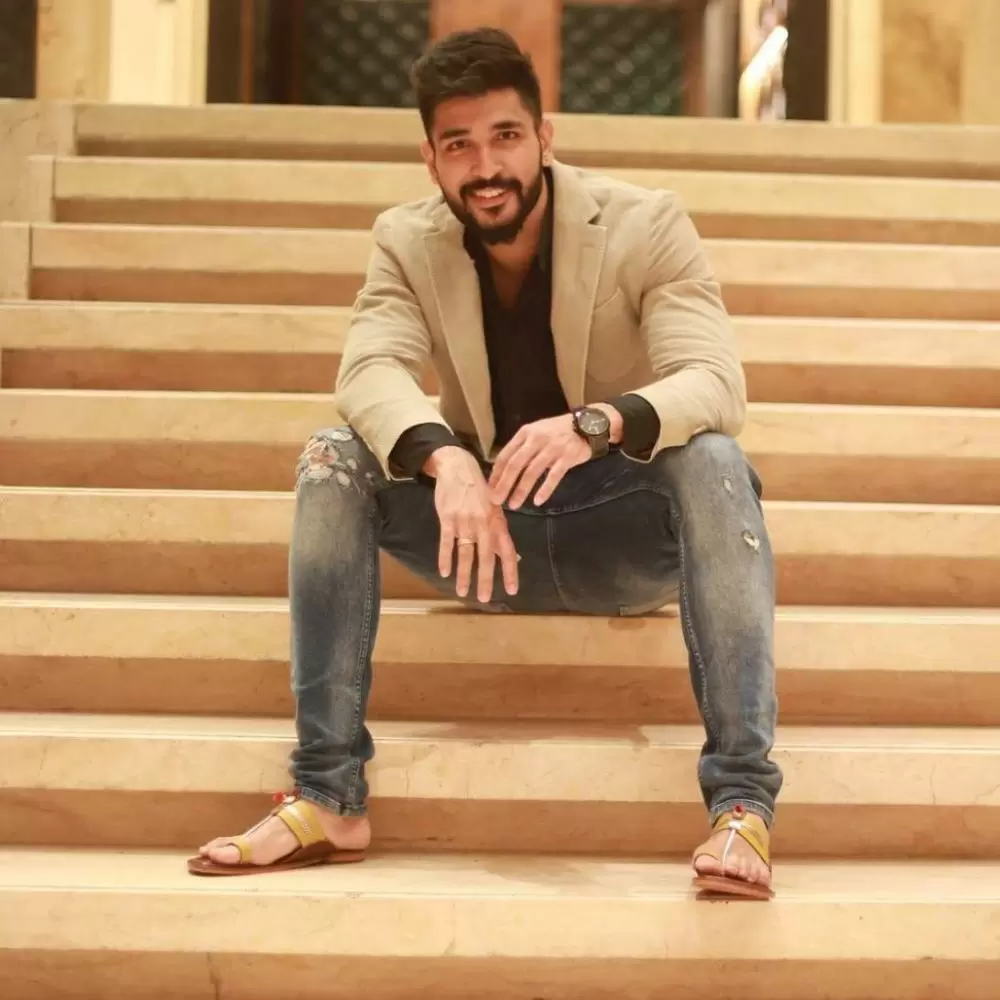 Harshwardhan tried to save every rupee and invested the amount in the business
"I used to buy leather from Dharavi in Mumbai and walk down to Sion - about 1 km away - to catch the bus back to Pune with about 50 kg of leather and save the rickshaw fare."
Harshwardhan shares his journey of building Chappers brand from starting with Kolhapuri sandals to now experimenting with loafers, moccasins and mules.
"I have always believed in doing things I enjoy and not getting stuck on something I dislike. Well, I guess life had the same plans for me too. Never a 9-5 person and hailing from a business family, it was inevitable that I would, too, have the business gene in me.
So, that's what I did. I followed my dreams, started my venture, and slogged days and nights, and today I can proudly look back and say it has been a fantastic journey.
I was born to a middle-class family when my father had just started working in the family transport business. Soon it began to grow exponentially, and our lives changed.
A fabulous childhood after that in love, fun, and laughter taught me to enjoy life but stay grounded simultaneously.
I started working in my father's business in 2013 after completing my Masters degree in the UK. I wasn't enjoying it a bit the entire year I worked there and began to contemplate starting something independently.
Nurturing the idea of starting up, I was looking ahead to do something in my small way that would solve any problem faced by the country. And then, suddenly, the Kolhapuri crossed my mind.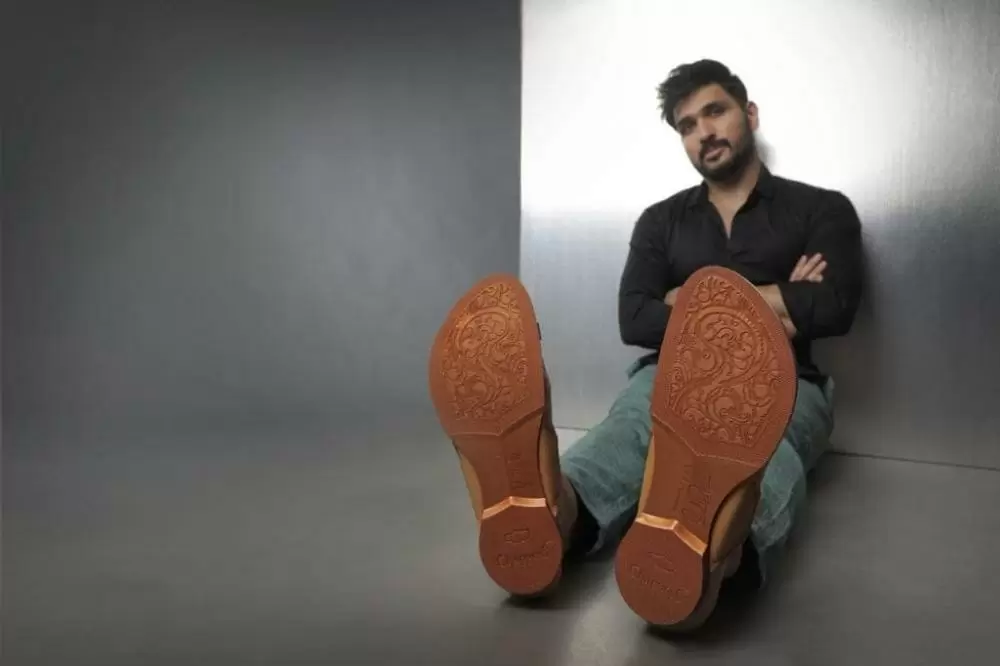 Starting with Kolhapuri sandals, Chappers is now making loafers, moccasins and mules as well

I always loved wearing Kolhapuris and would travel the world wearing them. But one day, while teaming it up with a leather jacket, I noticed something new. Both were made of leather, but while the jacket was soft, the Kolhapuri was hard.
I was soon inquisitive about tracing the reason behind the difference and started studying leather. I even visited a few tanneries in Kanpur and Chennai and got Kolhapuris made in soft leather and bright hues like red, neon green, orange, and so on. And that's when it struck me! How about making Kolhapuris global?
I started the business in 2014. I worked with a few artisans in Kolhapur and would buy the sandals from them and sell it to my friends and family members in Pune.
Back then, I wondered what to name the business and was perplexed over at least a hundred names I made a list of. And no, Chappers was indeed not one of them.
One day it struck me that almost all the western footwear types have 'ers' at the end of their name, like loafers, slippers, etc.
As I was attempting to westernize Kolhapuri per se, I thought it would be a great idea to name my brand Chappers- the 'chapp' from Chappals and add 'ers' to it! And that's how Chappers made its first footprint, literally.
I used to send the photos of the products on Whatsapp to all the groups I was part of and also set up a Facebook page and posted images of the sandals.
I even set up stalls on flea markets in different places and sold my products. In 2016 I opened my first store in Pune. Now, we have four stores, when you can pick up ready-to-wear footwear and also get customised ones.
Today, we are a 12-member team of committed dreamers and ten craftsmen to support us. Our hard work has paid off too. In the first year, our turnover was Rs 10 lakh, which grew steadily and touched Rs 2.2 crore during FY 2021-22.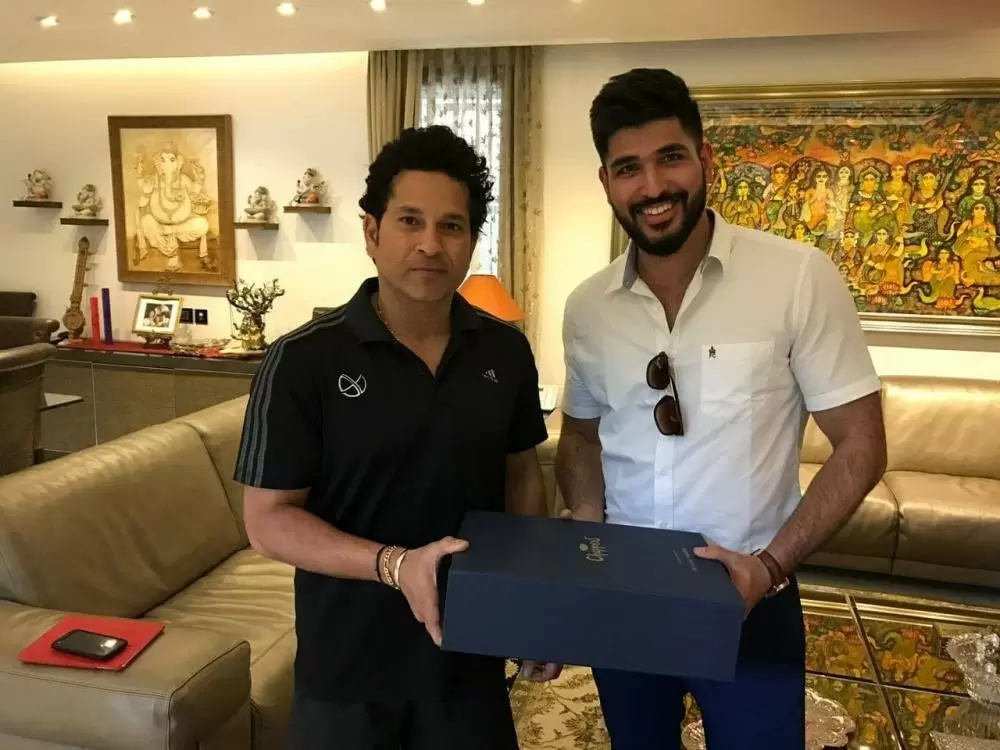 Harshwardhan presenting kolhapuri sandals to cricket legend Sachin Tendulkar
Life has undoubtedly changed from what I was to what I have become. I was keen to take minimal financial help from my family for my venture; thus, the initial days were formidable.
Challenges were right there from the beginning: sourcing raw materials, making the product, selling it at reasonable prices, and finding the right mix of a like-minded team.
But luckily, I braved them all. Back then, I would save on auto-fares, walk to my suppliers, and travel by second-class non-AC trains instead of flights. Despite tasting success and being able to afford all the comforts, I still feel the fire burning inside me.
From a boy whose life revolved around an elementary school called SPM English School, badminton classes, a couple of tuitions, and the mandatory family dine-out on Sunday, I have grown into a married man today.
Today with my 8-month pregnant wife, I am still the happy soul who doesn't believe in balance in life and prefers doing whatever he finds to be right at any point in time.
I still love football and traveling to new places and I firmly believe that if you're not having fun at work, it's time to quit it.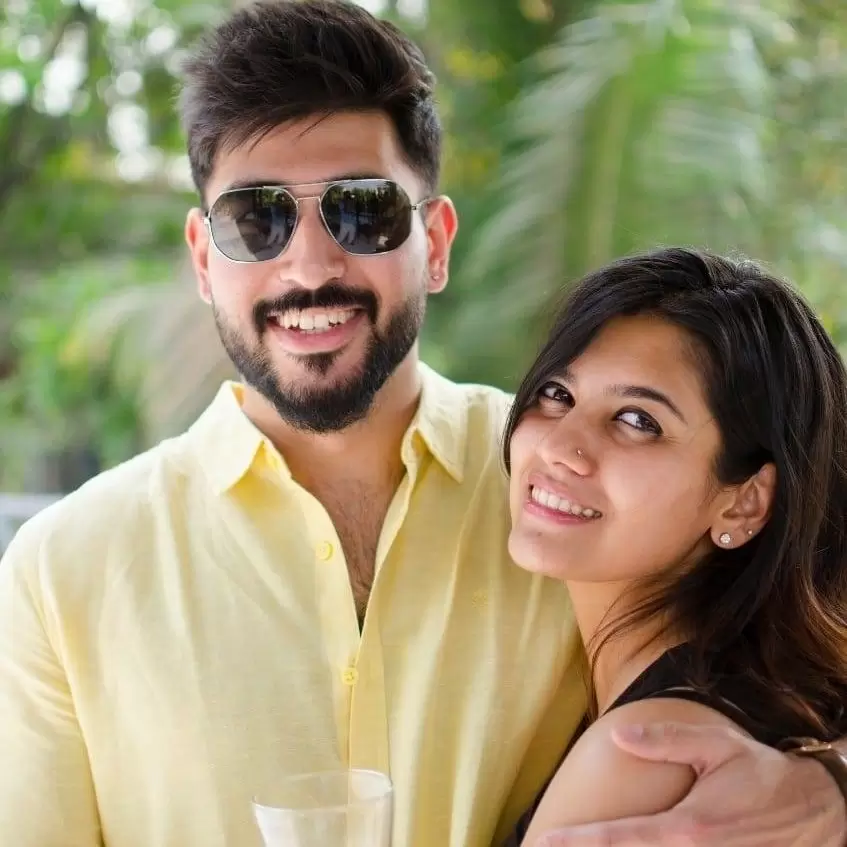 Harshwardhan with his wife
To the new and fresh entrepreneurs, I would like to say, 'Believing in yourself and your ability to make ends meet is a key skill. Even if you're earning low now, you should be able to survive and thrive in that environment. That's where dreams are built.
Stay consistent and keep doing what your heart tells you to. It knows where you want to go and guides you toward the right things. Don't think about the money. It will always be low for the first few years. Focus on building a good business. Money will come.' - ©
TWL

Trending Now: