With Rs 1 lakh he started a stabiliser brand, which has now grown into a Rs 3,750 crore turnover conglomerate
C J Punnathara
&nbsp | &nbsp
18-August-2022
Vol 13&nbsp|&nbspIssue 33
It was a typical February afternoon in Kerala; hot and sultry. But the Chittilappilly family from Thrissur in Central Kerala was in a tizzy.

Their son, Kochouseph Chittilappilly had asked for a princely sum of Rs one lakh to start a business venture on his own. But, his father, Thomas, had other plans.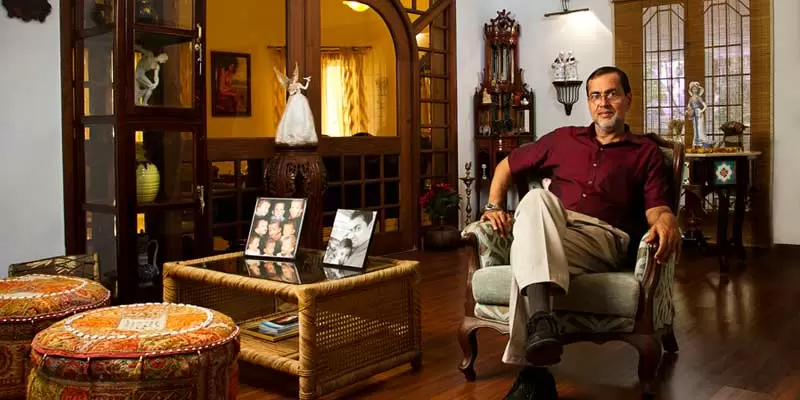 Kochouseph Chittilappilly started V Guard Industries from a 400 sq ft shed in Kochi with four employees (Photos: Special Arrangement)

"That was way back in 1977. My father wanted his post graduate son to pursue the conventional career of banking or college lecturer and not venture out into the untrodden, uncertain and often murky world of business.
"Ours had been a traditional agricultural family for generations - with roots firmly in the soil," recalls Kochouseph, who was born in Parappur, a village near Thrissur town.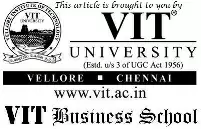 But fate would have it otherwise. As the Forbes magazine stated: Starting out with a seed capital of $ 1,500 V Guard industries had built up a huge empire of $ 1.2 billion (net worth) four decades later. In 2018, Kochouseph ranked 1867 in the list of billionaires (India).
Back then, power supply was literally on a short fuse in Kerala: highly erratic, unreliable with itinerant voltage fluctuations. "The weakness of the Kerala State Electricity Board (KSEB) became the strength of our newly set up business enterprise," says Kochouseph.
"We started out from a 400 sq feet shed adjunct to a home in Kochi, with three-four staff to help us out." The small venture began quietly assembling voltage stabilisers.
The company has come a long way from those humble beginnings. Today it has production units in Kerala, Tamil Nadu, Uttaranchal and Himachal Pradesh.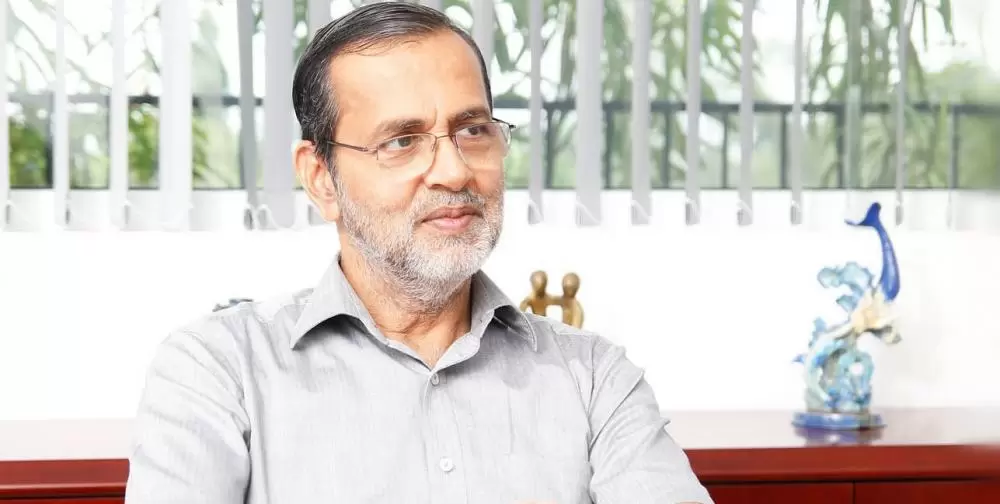 Starting with just four employees, V Guard has a workforce of 3,500 people today

It also has a strong nationwide distribution of 29 branches, 624 distributors, 5562 channel partners and 25,000 retailers spread across the length and breadth of the country. Also, it has over 3,500 direct employees!
Sales of refrigerators and television sets were a roaring business in the state of Kerala during the late 70s and early 80s. And while voltage fluctuations continued to persist, there was no let up in demand for stabilisers. The market conditions were ideal!
Whenever there was a blow-out of TV, fridge or music system from voltage fluctuations, the need for stabilisers was further reinforced in the mind of the customer.
And the cost of V Guard stabilisers remained just a fraction of the costly household equipment that it often protected. The weakness of KSEB had become the strength of V Guard Industries. And, business was good.
Over four decades later, in 2021-22, the sales turnover of V Guard Industries stands at Rs 3,498 crore.
By the nineties and early 21st century, the world was moving on from electrical to electronic gadgets. The configuration and composition of TVs, refrigerators and music systems were also changing.
Electronic chip was becoming all pervasive in household equipments. This made them far more sensitive and vulnerable. And, KSEB itself was changing. It was able to contain voltage fluctuations far more effectively in the urban metros.
But, demand for white goods started sweeping into the countryside. And voltage stability in rural towns and villages left much to be desired. For V Guard Industries, demand continued to be good.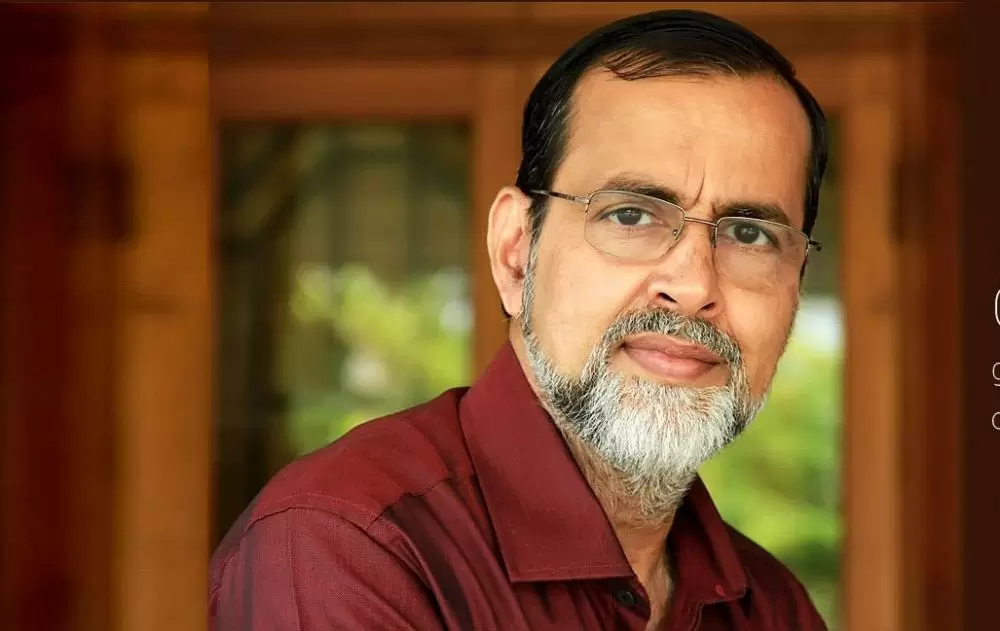 Kochouseph kept adding new products to the V Guard portfolio and expanded his market

However, Kochouseph refused to rest on his laurels. The business environment was changing quite rapidly.
Demand for V Guard stabilisers had peaked. But he knew he had to expand his product profile to keep pace with the competition and the dynamic market. The market was flooded with thousands of new electrical and electronic products ever year.
"In order to keep pace and hold our own, we had to expand our product profile," recounts Kochouseph. "Change was the new mantra. New product launches created new challenges. For V Guard, new products had to be identified. New factories had to be set up.
"Product acceptance by the market had to be ensured. New markets had to be conquered, expanded and stability ensured before even contemplating the next range of products. We began the cycle of launching new products almost every third year."
After voltage stabilisers came an array of new products: pumps, water heaters, solar water heaters, fans and electrical cables, to name a few.
This diversity in product range enabled him to not only hold his ground in the voltage stabiliser market but also to expand into new terrain and segments.
V Guard had become a national player. A name to reckon with! And despite the plethora of players, it still holds 20% of the national market for voltage stabilisers.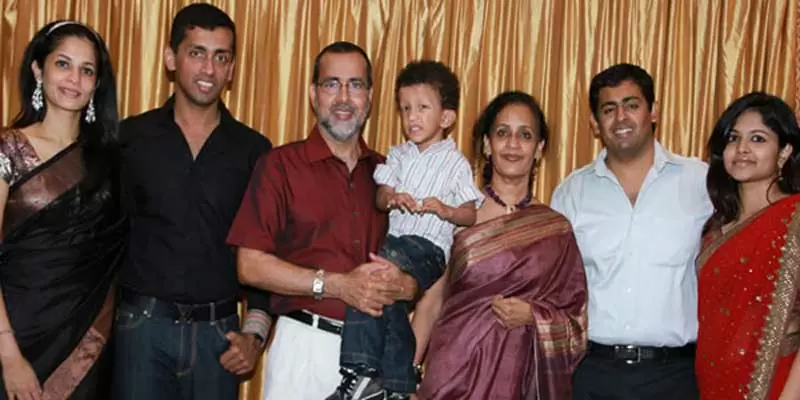 Kochouseph with his wife, two sons, daughters-in-law and grandson

As the product profile grew, so did the competition. Even as the market continued to churn and expand, it was getting fiercely crowded.
Weaker players were vanquished. But V Guard continued to hold its own. And Kochouseph realised that it was time to change, to expand into new territories.
Today, the electrical segment constitutes 46% of the business, comprising of wires, pumps, switch gears and modular switches.
The traditional electronic segment constitutes 23% with stabilisers, UPS's and invertors, and consumer durables like fans, water heaters, kitchen appliances and air coolers account for about 31% of the business.
Kochouseph realised he needed to branch out into new spheres of operations. So, in 1995, V Star Creations started out its journey as a ready-to-wear ethnic clothes manufacturer and soon got into innerwear and lifestyle products for men, women and children.
It soon branched out from its home turf in Kerala, expanded into South India and further to GCC countries. Today, the company has established its own unique stores, selling exclusively its own products. As of March 2022, V Star had a turnover of Rs 142 crore.
The year was 2000 and it proved to be yet another turning point in the life of Kochouseph. That was the year when the new `avatar' of a water theme park was born, which was later named Wonderla.
It was an entry into an entirely new business vertical. Today, it is the largest chain of business parks in India, opreated by Wonderla Holidays Limited, headquartered in Bidai, 28 km from Bengaluru, Karnataka. It operates three amusement parks in Kochi (2000), Bengaluru (2005) and Hyderabad (2016).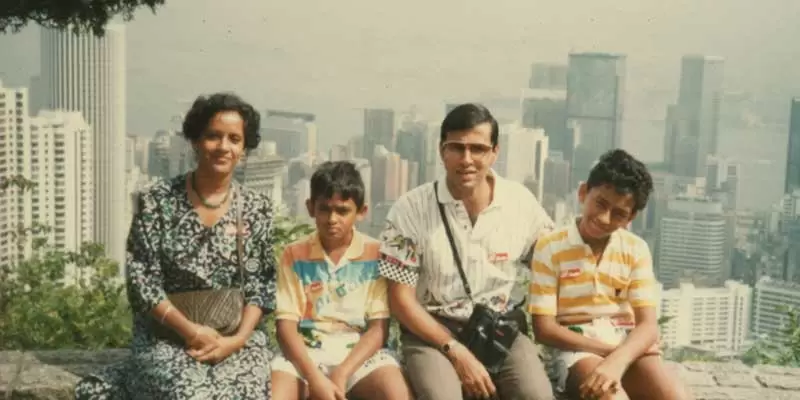 Many years Ago: Kochouseph with his wife and two young sons
Footfalls into the water theme park continued to grow and stabilise. The reception to the leisure and entertainment business was quite good. By 2020 the combined business turnover of the three parks had climbed to Rs 282 crore.
But then the Corona pandemic struck. And business plummeted to Rs 128 crore in 2022 (though the combined turnover of the group is Rs 3768 crore).
"It is a small business blip," confides Kochouseph confidently. "As industrial and commercial activity increases, people need a break to recharge their internal batteries from their daily stress. That is why entertainment and amusement parks will revive and flourish."
In the year 2018 when he made it into the Forbes list, he realised that the business success of his enterprise depended on proper succession planning.
Despite India remaining the fountainhead of family enterprises in the world, many business enterprises had simmered and burnt for decades due to family disputes and quarrels.
Thankfully, the succession plans for the Chittilappilly enerprises was firmly and equitably in position. And it's all because of Kochouseph's canny business mind and his sense of timing in taking appropriate decisions at the appropriate moments.
"Timing is critical to every business," he observes. "Enter the market too early without sufficient demand and you confront an early burn out. Enter too late and the market is flooded with a plethora of players. Some will get edged out and a few will survive and grow."
With his two sons Mithun Chittilappilly and Arun Chittilappilly now active in the business, Kochouseph plays the role of the grand old advisor, the Chairman Emeritus of the family enterprise.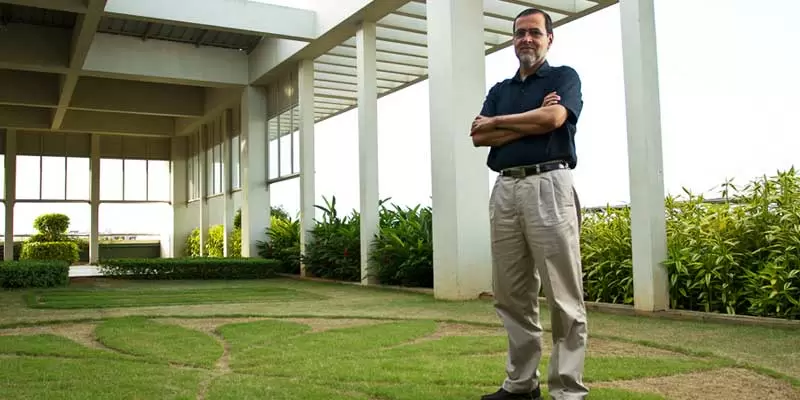 Kochouseph is now focusing on the family's real estate business, Veegaland Homes

In the final stages of his active business ventures, Kochouseph has carved out a new fiefdom for himself: Veegaland Homes. With a business turnover of Rs 135 crore, he is happily looking after the real estate arm of the family business.
Equally or even more important, he has dedicated the final stage of his life to pursuing charitable and social work for the public. A pursuit he is finding deeply satisfying and self fulfilling.
He has set up the family trust, the Chittilappilly Foundation - a foundation that is providing medical help for the economically weaker sections, as well as building small houses for the needy.
Meanwhile, his whole family is carrying on his legacy. Kochouseph's wife, Sheila Chittilappilly had created, nurtured, and established V Star Creations as an independent vertical and profit centre.
Mithun has taken over as the MD of V Guard Industries while Arun is the MD of Wonderla. Truly a family enterprise, since their wives, Priya and Joshna, are equally interested and involved in running the legacy of the Chittilappilly Empire. - ©
TWL

Wish to share your story?
Trending Now: