'With Rs 5 lakh I launched a homemade Ghee brand; we are making Rs 10 lakh per month in a little over a year'
12-August-2022
Vol 13&nbsp|&nbspIssue 32
Nitya Ganapathy, 47, grew up in South Delhi and shifted to Mumbai to pursue a career in the Media and Entertainment industry and worked in some of the top brands like MTV and The Times of India for around 23 years before calling it quits and launching her own business in May last year.

Banking on the popularity of her family's secret ghee recipe, which always received rave reviews from all those who tried it, Nitya launched Nei Native, a ghee brand with an investment of Rs 5 lakh.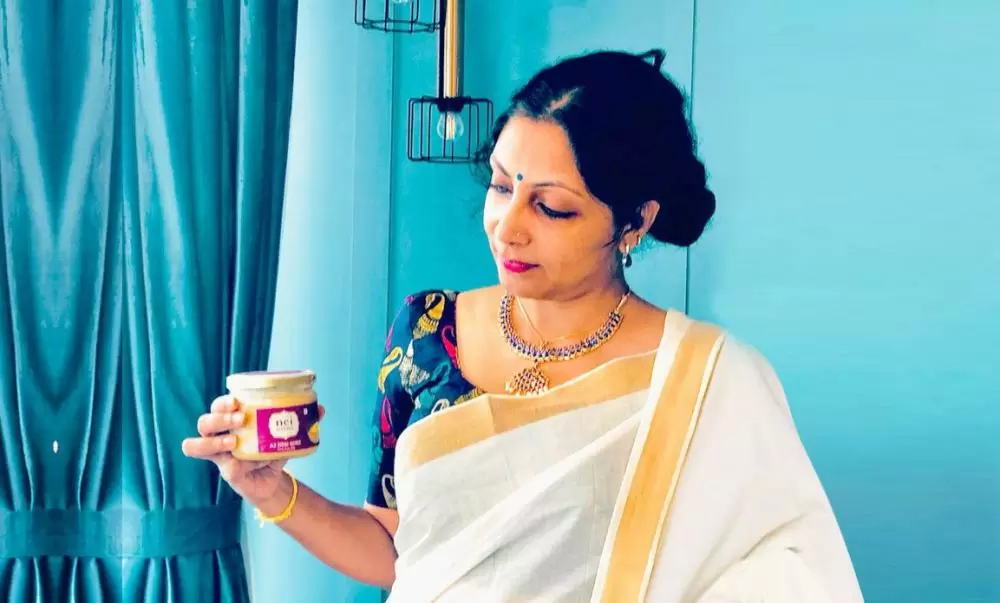 Nitya Ganapathy launched Nei Native with Rs 5 lakh after quitting her 23-year corporate career (Photos: Special Arrangement)
"Nei Native aims to reinvent the long-forgotten aromas and flavours along with their core purity and goodness intact. We make arguably the finest A2 Cultured Cow Ghee in 250 ml, 500 ml and 1 litre SKUs," says Nitya.
The ghee is made in the family farm at Vikramgad in Palghar district, a two and a half hours drive from Mumbai. From selling about three jars of ghee daily, Nei Native today sells around 2,000 jars per month.
Besides ghee, they have launched a whole host of Superfoods, Filter Coffee Powder, Therattipal - a lesser known, mouth watering Tamil dessert made of milk and sugar, Gir Forest Raw Honey, Cold Pressed Coconut oil, A2 Peanut Butter and Fruit and Nuts soaked Honey.
The company is generating a revenue of about Rs 10 lakh per month now.
Much of the labelling, sticking, packaging, maintenance of the farm and workspace is done by the local tribal workers at Vikramgad who are now gainfully employed with Nei Native.
Nitya has now started buying milk from farmers in nearby places as the milk from the 18 cows in their farm is no longer sufficient to the meet the needs of an expanding market.
"We have taken a two-room 700 sq ft warehouse at Wadala in Mumbai where our products are stored," says Nitya, whose 19th floor 4-bedroom apartment in Wadala had functioned as an office cum storehouse during the initial couple of months.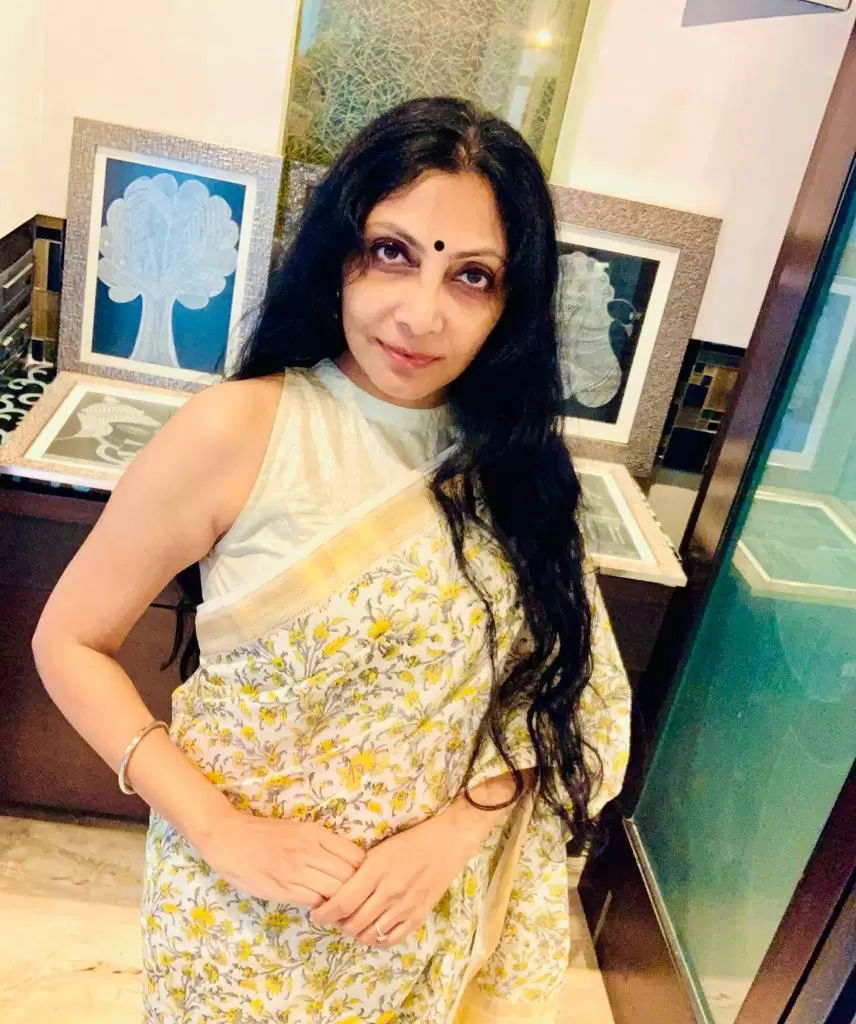 Nitya is expecting to touch a turnover of Rs 2 crore by the year end
"With diversification into more markets and more products, by the year end we are aiming to touch a turnover of Rs 2 crore."
Nitya says it's been an absolutely satisfying journey for her, shifting from a corporate life with an assured monthly income to working for her own brand, constantly looking for ways to expanding the market, breaking barriers, and touching new milestones every day.
She narrates her story, from her childhood days to adjusting to life in Mumbai and eventually becoming an entrepreneur.
"Growing up in South Delhi in the 80s and 90s was all about exposure to myriad cultures with rich diversity. My father was a Senior Engineer with a private sector automobile company and my mother was a homemaker, both outgoing and gregarious personalities.
They had a large and vibrant social circle where almost every weekend would be spent in the company of friends, neighbours and extended family with unlimited fun, food, chatter and singing.
For my younger brother and me, academic excellence was non-negotiable and my parents ensured we got the best education possible. After finishing Class 12 from St. Marys School, I graduated in Psychology Hons from Lady Shri Ram College for Women in 1995.
The lure and wanting to be a part of the Media and Entertainment industry brought me to the city of dreams – Bombay.
While Delhi gave a sheltered upbringing, Mumbai was about being thrown into a sea of humanity where you had to find your own path from scratch. The pace and professionalism just jolted you into a sink or swim mode.
The excitement of finding your bearings in a new city, jostling for space in the local trains or with three other roommates in a PG accommodation, adapting to corporate work life, making new friends and exercising 'responsible freedom' - all this was the start of a whole new life.
And just like that, Mumbai became home, with 23 years of experience as a Revenue and Business Management professional at different leadership roles with stellar brands like MTV and The Times of India.
Along with my work I also got a post graduate degree in Media and Entertainment Management from SP Jain Institute of Management and Research, Mumbai.
An entrepreneurial journey was nowhere in the horizon even until the last week of April 2021. It was all home and office as usual; and adjusting to the work from home schedule along with managing my daughter's online schooling due to Covid restrictions.
But all that was about to change during a casual family conversation when an aunt of mine observed how she was unable to invite family and friends over for her grand-daughter's first birthday and that she would like to gift something auspicious and unique directly to their homes for the occasion.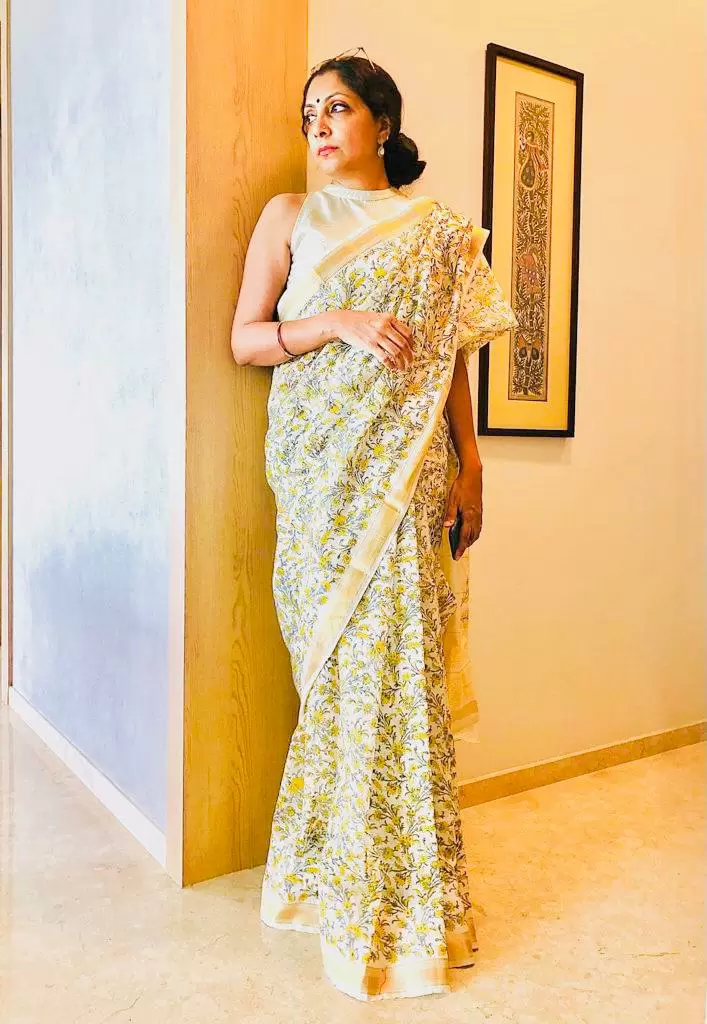 From selling three jars daily, Nei Native sells around 2000 jars of ghee per month now
My aunt then started praising the ghee we make at home and how nothing came even close to what we make. And of course that's all because of a secret family recipe which my grandmother, mother and I have kept very close to our hearts and have never revealed!
The aunt then suggested if we could make some 20 jars for her so she could gift them. I reluctantly agreed wondering how we would be able to make so many jars within a week's time. But I decided to go ahead.
The full cream A2 cow milk was procured; the process of boiling the milk, making it into curd, then taking the cream of the curd and hand-churning it to butter and finally making the butter into ghee in our traditional way was all done in an unhurried manner.
The result of the literal labour of love was pure homemade ghee which instantly induced unparalleled nostalgia among those who received the jar.
My assumption was that the ghee we have had for decades at home is pretty much what every other Indian home would also have - either they would buy the best there is in the market, or though rare nowadays, would be making it at home.
The revelation and the Aha moment for me was that our ghee has something which stands out, which no other can offer and that is the nostalgia it universally creates.
I mustered the courage and put in my papers, took a leap of faith and launched Nei Native in May last year.
The first step for Nei Native was to have proof of concept. Just because a small bunch of people loved the ghee didn't mean it could become a business idea overnight, so we went about an elaborate sampling and price discovery activity by calling and presenting the product to my own set of friends, relatives and acquaintances, to over 1000 plus individual contacts.
The next two months were spent in getting licences, permissions, procurement, raw material, labelling, packaging, SKUs and most importantly ensuring that the quality reigned supreme in every jar that was sold.
Nitya with her daughter, mother and grandmother
While on paper I am the sole founder, Nei Native is actually a family enterprise in the true sense.
A lifetime ritual of making ghee at home led to making many more jars of it and the creator was my mother. The second product, filter coffee powder was curated by my father who is a coffee afficionado.
The name Nei Native itself was suggested by my daughter. Nei is Ghee in all south Indian languages and Native means indigenous, hence Nei Native literally means Desi Ghee.
Soon three more close family members got involved in production, product development, critical analysis, logistics and accounting. The hall became the packaging room, the kitchen was the production unit and the utility room served as the warehouse for the first three months.
My driver managed all deliveries and inventory management and the cook and maid worked and earned overtime doing labelling and packaging until we reached some scale and moved the entire production facility to the farm in August 2021.
We now have a small and robust team comprising the Production head, Logistics and CRM Head, Brand and Ecommerce Manager and Retail Activations Manager.
Our largest client base is from Mumbai city as we are also based here; we are gaining popularity in other metros like Delhi, Bengaluru, Kolkata, Pune, Chandigarh, Chennai and we are now shipping more and more to consumers everywhere.
The highest consumer base is from our website. We have tied up with over 40 artisanal and gourmet grocery stores across Mumbai and on the modern retail front, Nei Native is available on the shelves of Nature's Basket nationally.
We are also available on ecommerce platforms, such as Amazon, GOQii, OneGreen, WellVersed, and BigBasket, to name a few." - ©
TWL
Wish to share your story?
Trending Now: