From scrap was born an idea that has now grown into a Rs 60 crore turnover furniture and home décor business

Partho Burman
&nbsp | &nbsp
11-August-2022
Vol 13&nbsp|&nbspIssue 32
Hritesh Lohiya lost several lakhs of rupees in a couple of businesses he started as a youngster soon after graduating from college. But thanks to his never-say-die spirit and persistence, his fortunes turned around after he and his wife Priti hit upon the idea of seeking wealth from waste.

The couple started making furniture from metal scrap in 2005. Some of their remarkable scrap innovations include Ambassador Car Sofa and Rajdoot Bar Table.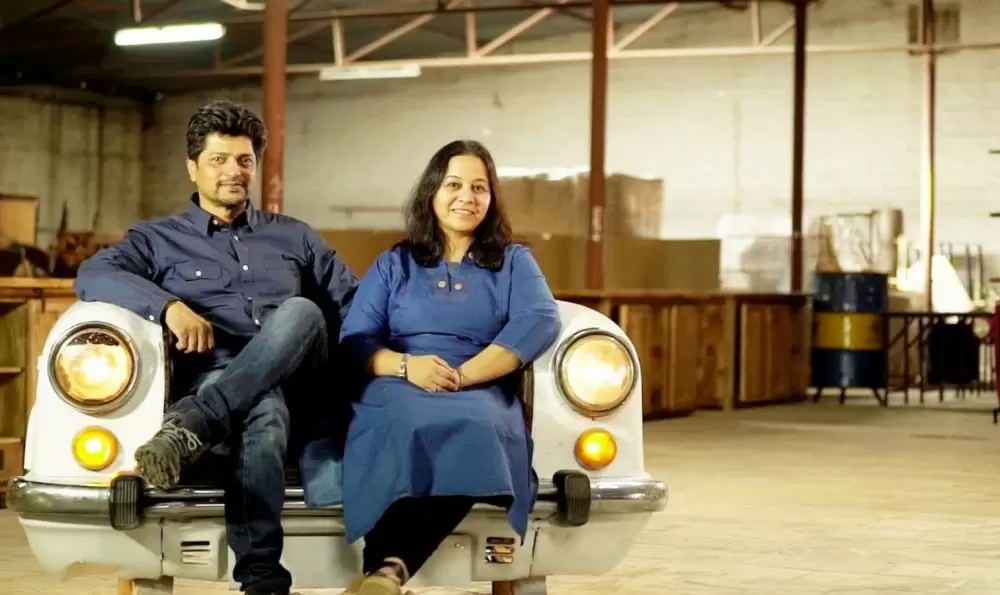 Hritesh Lohiya started Priti International along with his wife Priti Lohiya making furniture from scrap items (Photos: Special Arrangement)
"We up-cycle the old Rajdoot bike into Bar Counters for keeping wine jars, bottles, goblets and glasses. It is called Rajdoot Bar Table," says Hritesh.
"We have used the front portion of the Lambretta Autos to make bar cabinets and have named it Tuktuk Bar Cabinet. We also used Priya scooters to design various kinds of tables."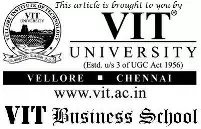 The company also makes a variety of home décor products. "We primarily use blankets and army uniform waste that we get in bulk from the Jodhpur military scrap yard at extremely low prices," says Priti.
Today, they make all types of furniture and home décor items and their company Priti International Ltd is listed on the NSE with an annual turnover of Rs 60 crore.
Their products are exported to 40 countries and they have now begun to focus on the domestic market as well.
"The road to success wasn't easy. I failed at every business I tried, but never gave up," says Hritesh, 50, who was exposed to business at a very early age when he started assisting his father while studying in college.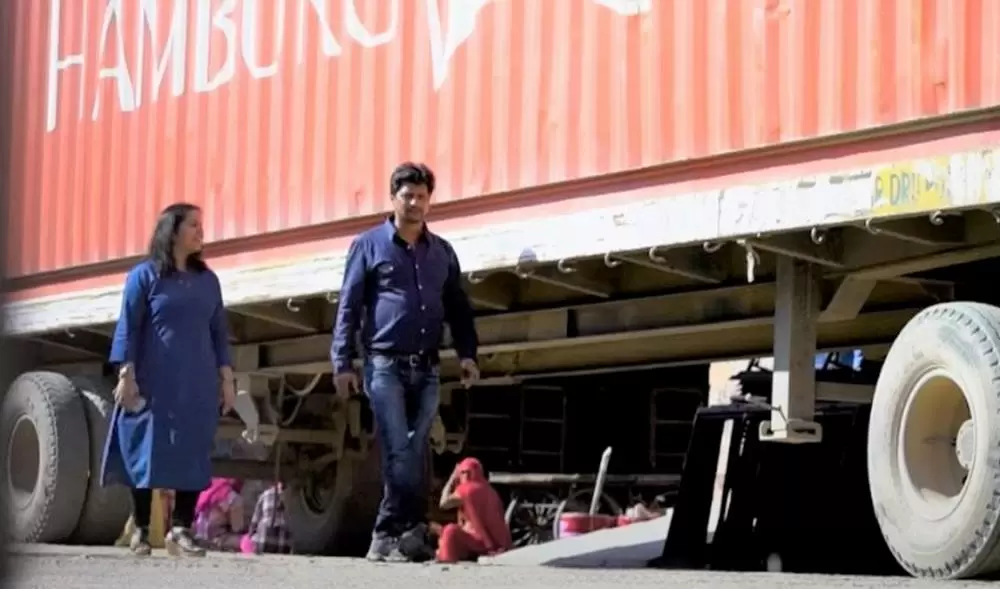 Hritesh and Priti scouring for scrap items at a container yard
His father had a company that made chemicals for the textile processing units. "I barely attended classes during my college days," says the Jodhpur businessman, who finished Class 12 from Jodhpur's Mahesh Public School. He then joined Jai Narain Vyas University, Jodhpur, where he did his B.Com.
After his graduation, Hritesh didn't wish to continue in his father's company. He secured a bank loan of Rs 7 lakh and started a granite cutting business.
"On the very first day, the cutting machine broke into pieces as it came in contact with the stone. The cutting machine was the most expensive investment in the business," says Hritesh, who was devastated by the loss.
"Although it was shocking, I quickly got over it. Shortly after that I began dealing with granite stones in the South India region, since I had explored the industry before starting my stone cutting unit."
His business involved purchasing stones on credit from wholesalers in Jodhpur and selling them to merchants in Hyderabad, Chennai and Bengaluru.
But that business too fell into hard times due to delayed payments and the failure of buyers to submit Form C, which forced him to pay 24% sales tax instead of 12%.
After two years, in 1996, he exited from the granite business and dabbled in stock market trading along with a friend. The same year he married Priti.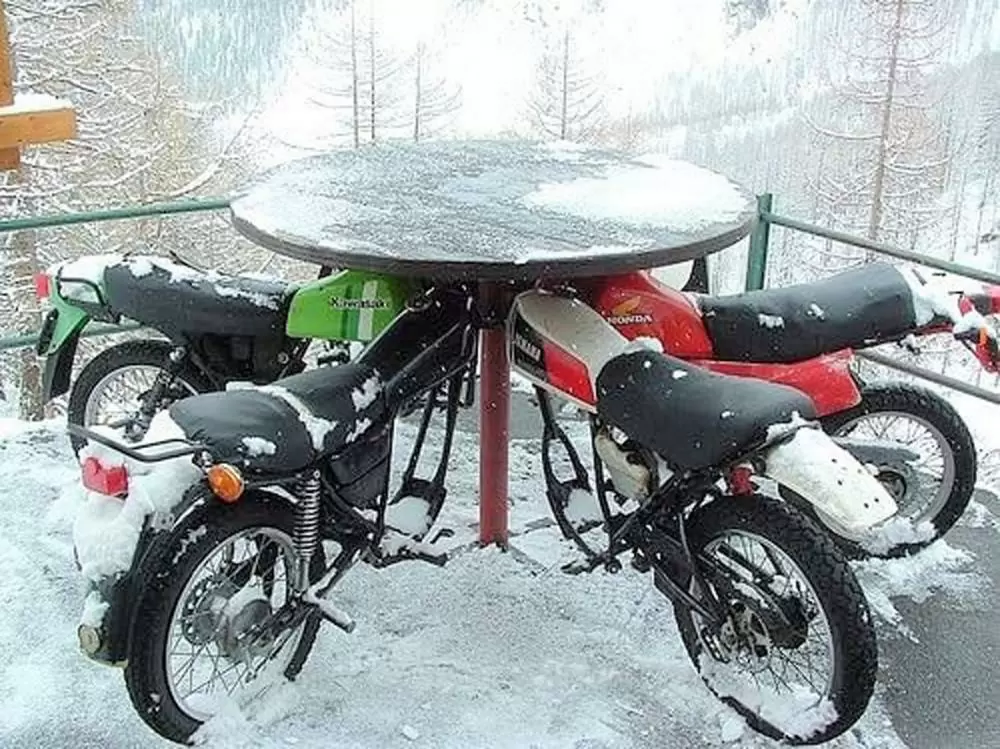 A Motorcycle Table created by Priti International
"The first year of trade was successful, but the second year saw a decline. In 1997, I suffered severe losses and became bankrupt. Four FIRs and many lawsuits were filed against me. It took me five grueling years to get out of it all," says Hritesh.
In those years he worked at his father's chemical plant. It was around 2002 that he noticed the empty chemical containers lying around at his father's factory and a brilliant idea came to his mind.
He thought of turning the drums into useful furniture and discussed the idea with Priti who jumped in immediately.
The couple turned the drums into sitting stools putting a leather seat on top. They also made samples of Nagara tables, kitchen hutches, couches and chairs from scrap materials.
"We took pictures of the samples and posted the photos on our blog that we had created," shares Hritesh. "Fortunately, a customer from the US contacted us." The US client expressed interest in visiting Jodhpur and asked Hritesh whether he had a manufacturing plant.
"I lied to him and said that I owned a factory. In fact, I had no idea he would arrive in Jodhpur from the US," says Hritesh.
"But when the man arrived, I took him to several factories that belonged to some of my friends. He was quite upset by that. However, he came to the conclusion that our samples were far better in terms of both appearance and quality than the ones he had seen in those factories."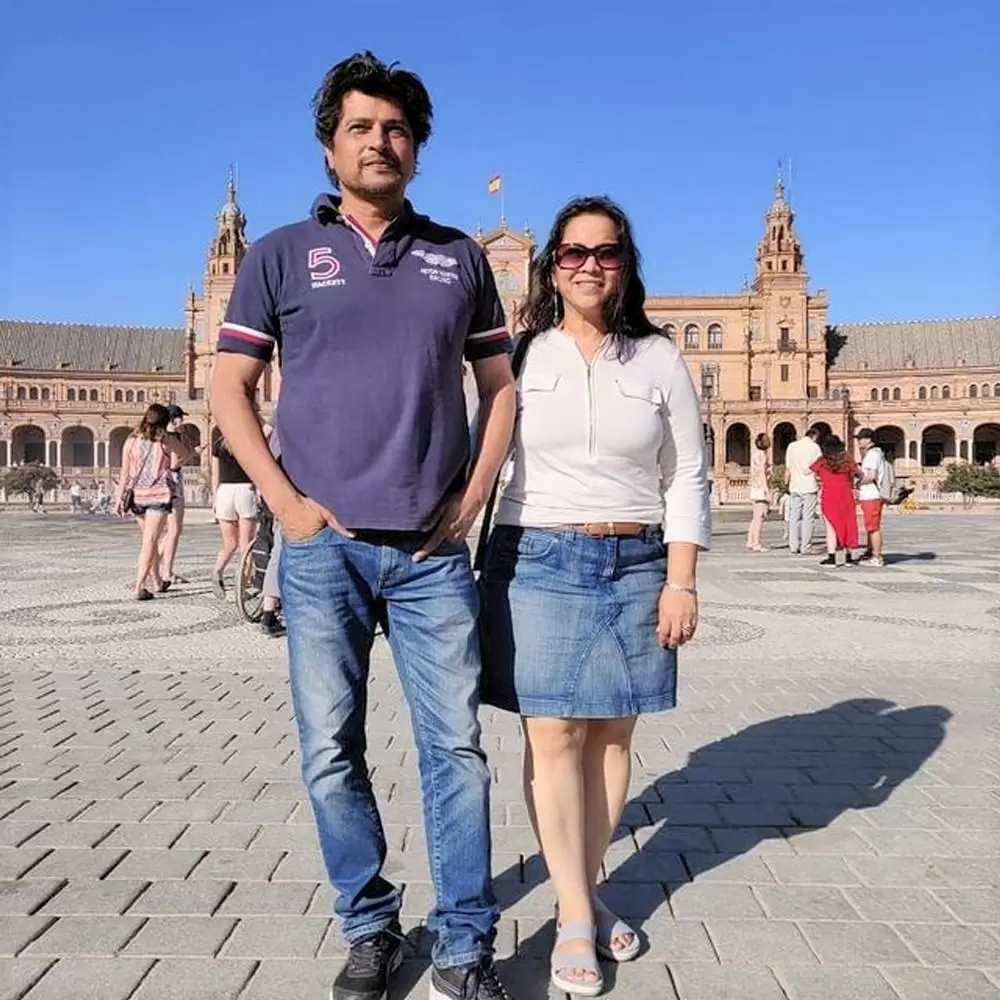 Hritesh and Priti in Spain during one of their European trips
If Hritesh had faced bad luck and misfortune in all his previous ventures, Lady luck was smiling at him this time around. The US client, Loren Spendlove, who was an entrepreneur, placed the first order in 2004 for Rs 25 lakh worth of furniture.
"I had no money to execute the work. I shared with him my problem and told him I needed his help to finish the order," recalls Hritesh, on how he cracked the deal with no factory setup or money in hand.
"I still don't understand why he agreed to help me. But Loren agreed to pay 60% advance upfront, with which we completed the work. I kept the remaining 40% as my profit. Loren is my godfather in this industry."
Loren continued to help them to develop their business. He invited Hritesh to accompany him to China during his business trips and let him observe how the Chinese operated.
"The Chinese were making antique furniture items. They made fresh models of antique furniture and also refurbished old furniture," says Hirtesh, who makes similar items at Priti International today.
"Our furniture blends luxury, ethnicity, royalty and tradition into one and provides any environment a look of brilliance."
Their business received a big boost after they participated in the Handicrafts Export Promotion Council event at Pragati Maidan in New Delhi in 2008.
With orders flowing in, the company began to hire people in 2007. Until then they had outsourced manufacturing to third parties. Today, the company has 300 workers on a contract basis, and 80 employees on its payroll.
They have three manufacturing plants in Jodhpur. "We didn't need to borrow any money to fund the expansion; we paid for it all with our own funds," says Hritesh.
In 2017, Priti International became a listed company and their turnover touched Rs 60 crore in 2021-22.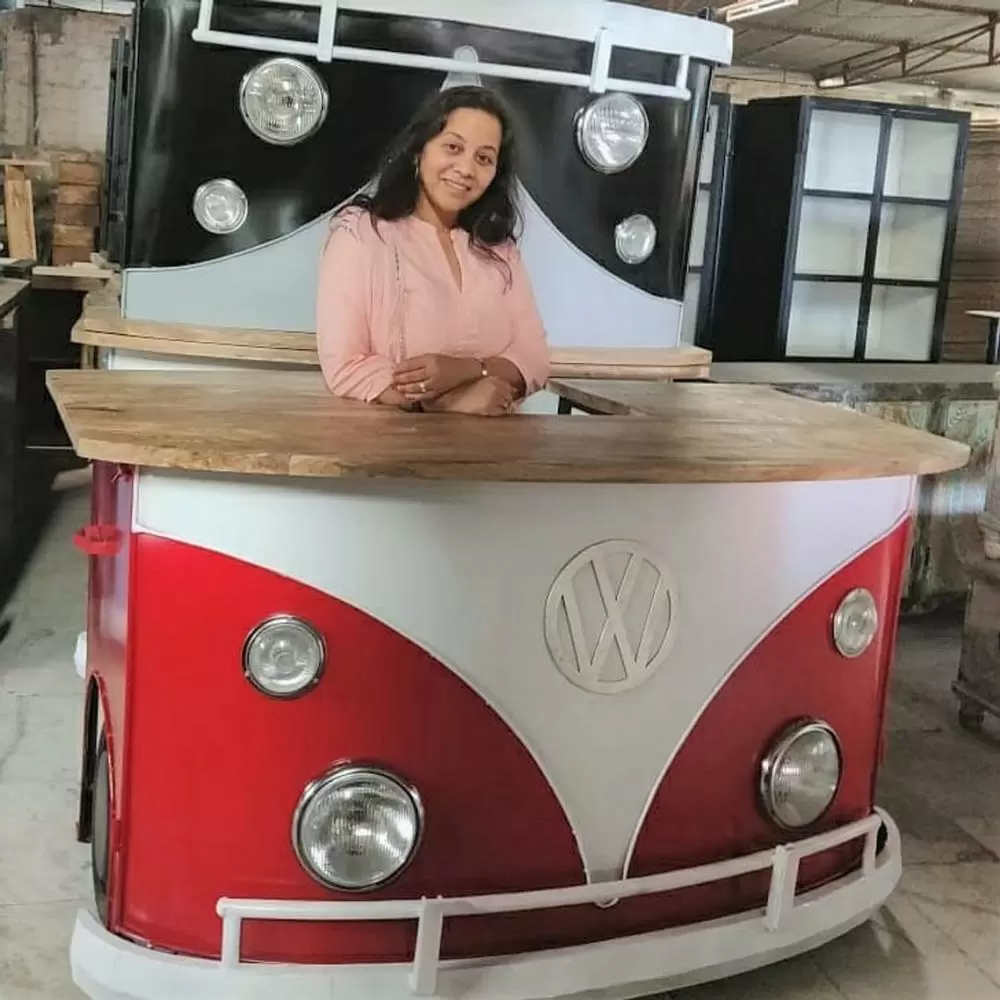 Priti posing behind a Car Cabinet designed by them
Priti International Limited is now focusing on the domestic market and has plans to open stores in Jodhpur, Bengaluru and Pune.
Hritesh and Priti have two daughters, Ritika (24) and Ruchika (21). Ruchika is interested in acting and has appeared in some TV commercials, while Ritika has completed her design programme from NIFT, Mumbai.
Hritesh's message to aspiring entrepreneurs: "I started my business from minus not even zero. I had to repay debt of Rs 50 lakh to people who were after me. If you have an instinct to do something and start chasing your goal, you will find success even after difficulties."
Wish to share your story?
Trending Now: