Former Snapdeal man launches own brand with wife and scales to Rs 40 crore turnover in short time
Partho Burman
&nbsp | &nbsp
09-July-2022
Vol 13&nbsp|&nbspIssue 27
Around 2017, while reports in the media suggested a possible merger between ecommerce firms Snapdeal and Flipkart, Anurag Singh Khangarot, one of the employees at Snapdeal felt insecure about his future in the company.

Anurag was working as a senior marketing executive at Snapdeal in Mumbai and he was worried about the rumours doing the rounds that many people would be sacked in the company in the event of a merger.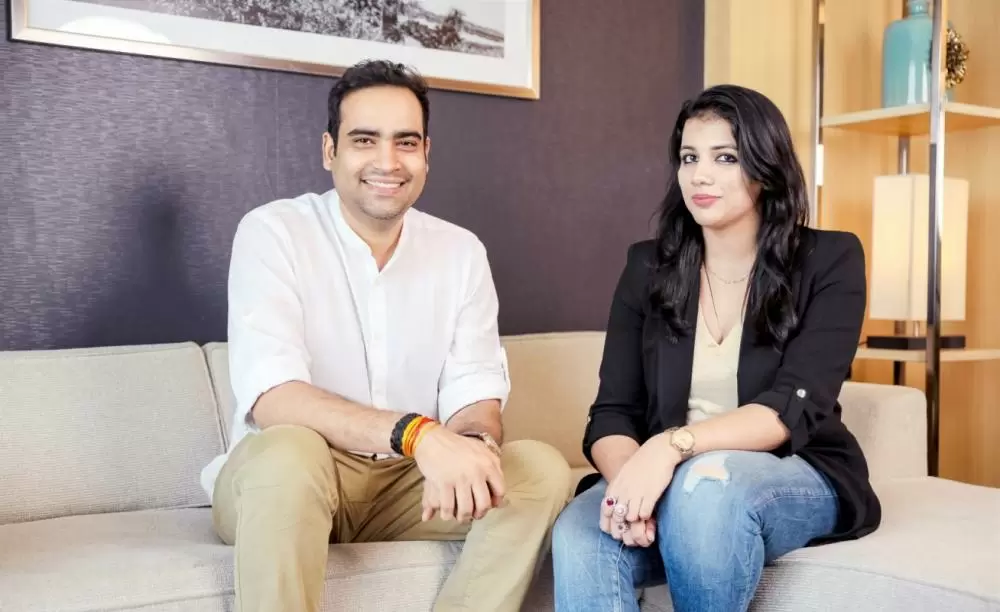 Anurag Singh and Rimjhim Hada launched Aachho in 2018 with an investment of Rs 10 lakh (Photos: Special Arrangement)
He consulted with his wife Rimjhim Hada, and decided to quit his job. Rimjhim suggested that they could start a business in the ecommerce space.
The couple relocated to Jaipur and launched Aachho, an ethnic fashion brand for modern women, in February 2018.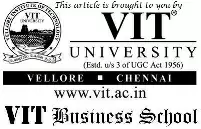 Four years later, the brand that was started with an investment of Rs 10 lakh from a 100 sq ft space with three employees and a single Jack sewing machine, closed FY 2021-22 with a turnover of Rs 40 crore.
The company now operates in a 25,000 sq ft space with 150 Jack machines and 225 employees.
Rimjhim, 31, and Anurag, 35, have successfully created a brand in a field that none of them had any expertise in.
Before her marriage in 2015, Rimjhim worked as a software developer at Virtusa in Bengaluru. She had joined the company after finishing her B.Tech in Computer Science from SRM University in Chennai.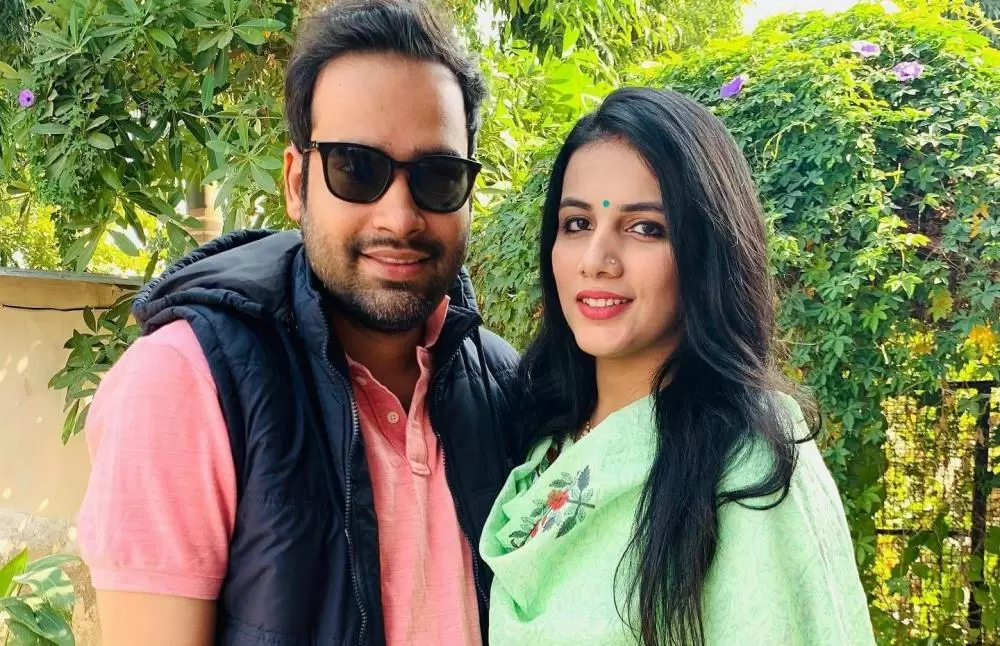 Anurag and Rimjhim started with three employees and did a lot of work themselves in the early stages
Rimjhim recounts their entrepreneurial journey that started when their first daughter Vaideshwari was less than a year old.
"In the initial days, like any other entrepreneurs, Anurag and I did everything ourselves. Right from sourcing to photoshoot, we were managing everything but my mom was there with us to take care of Vaideshwari and home while we were away," she reminisces.
"During my second pregnancy, Aachho was gaining a lot of traction and we had to be completely focused on scaling our operations and processes. Sampling, photoshoot, setting up the unit in Jaipur, and managing the orders— everything was happening at the same time.
"I remember I had worked until one day before we had Bhagyashree in May 2019 and I was back in office in just 15 days after the delivery because our new collection was to be launched."
The brand grew mainly through their promotions in social media platforms like Instagram and Facebook, where they have a large following and even managed to draw the attention of cine celebrities who have become their customers.
Besides having 5 lakh loyal customers across 220 countries, Aachho has around 6 lakh Instagram followers as well.
In the Rajasthani language, 'Aachho' means something that is 'too good.' Aachho is a D2C brand and its products are solely sold online through their website and on Nykaa.
Their products include kurta sets, lehenga sets, sharara sets, ghagra-cholis and sarees, as well as a variety of matching accessories like faux jewellery, bags and shoes. They are priced between Rs 1,000 and Rs 10,000.
Their bags are made from the waste cloth materials that are generated during the manufacturing process of their various products. "We are using the material to make different types of bags," says Rimjhim.
Aachho offers 18 different types of bags like baguette bags, pouch bags, satchels, shoulder bags and sling bags, which are priced up to Rs. 1,758.
Since Anurag was always interested in marketing and strategy, he understood the company's foundation.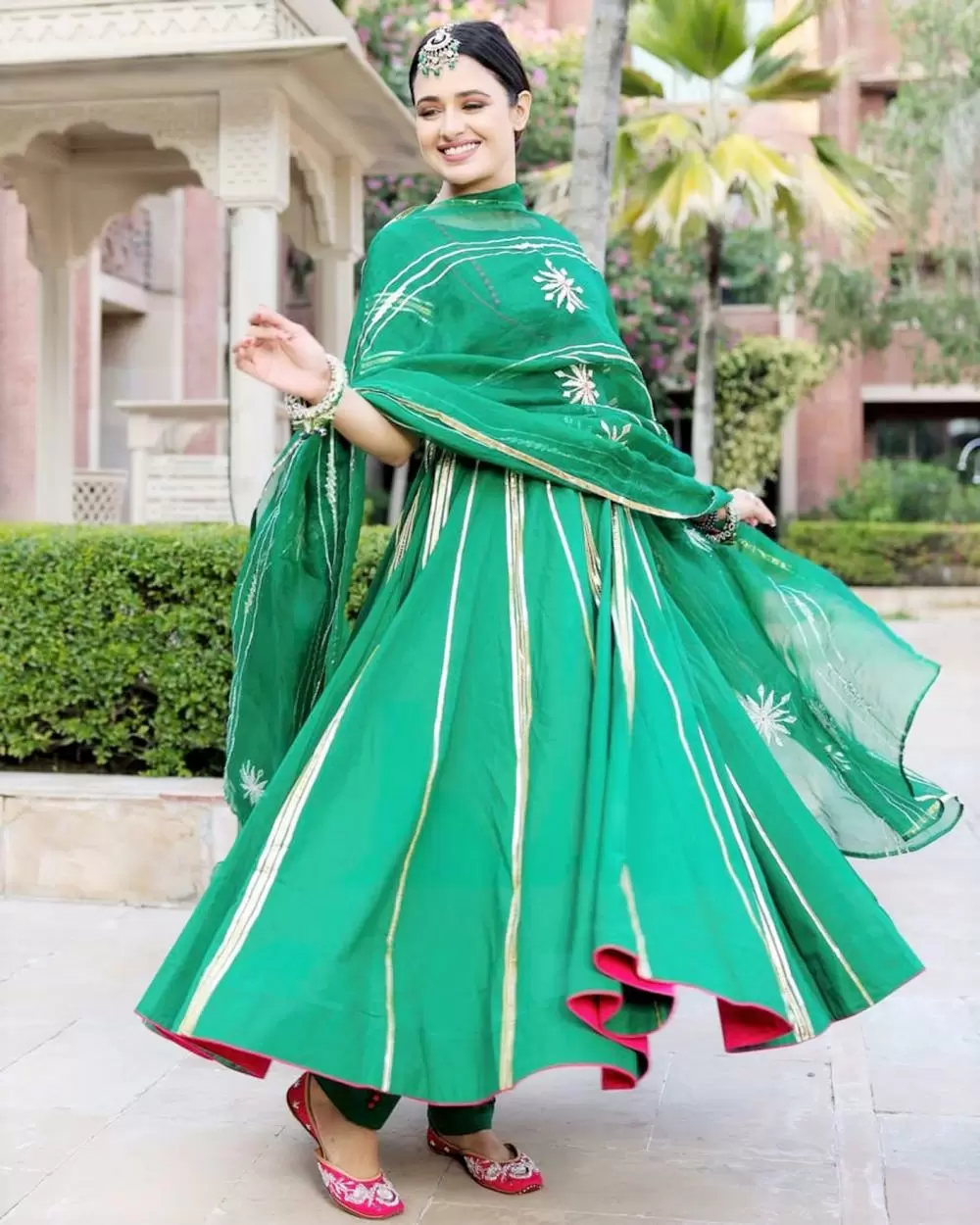 Actress Yuvika Chaudhary in an Aachho outfit

The husband-wife duo constantly reinvents and blends traditional designs with modern elements to appeal to the modern women.
In order to achieve a pleasing harmony between the past, present and future, the designing procedures and methodologies thoroughly explore and experiment with ancient and current technology.
"At first, it was difficult for us to assemble the proper team and the right kind of people. The actual formation of the team was challenging," says Anurag, who also shares the challenges of running a D2C brand where they are in direct touch with their customers.
"We need to rapidly address any concerns we receive from consumers on social media and serve the client till she is satisfied, so that we build a positive online reputation of our company."
According to Rimjhim, co-founder and creative director of Aachho, every design that they bring out achieves the ideal harmony between ethnic sensitivities and modern aesthetics.
Rimjhim says while making their clothes they use mostly cotton, chanderi fabric and organic materials that are skin-friendly.
"The foundation of our company is the high quality and bright choices we provide. Given that Rajasthan is the centre for handcrafted and hand-block items, we chose to focus on these elements in all our designs," says Anurag.
"We received amazing response to our products from both our domestic consumers as well as those from the US, Canada and Davos in Switzerland." Even in the first financial year, the brand crossed the Rs 1 crore turnover mark.
The turnover touched Rs 3 crore in 2019-20, Rs 19 crore in 2020-21 and Rs 40 crore in 2021-22.
Aachho is now planning to open brick-and-mortar stores in cities like Delhi, Mumbai, Kolkata and Bengaluru, based on customers' demand. There are always customers who want to feel the fabric before making a purchase.
Talking about his childhood life, Anurag says that their family decided to settle in Jaipur after his father Pushpendra Singh Khangarot retired from the army.
Anurag and Rimjhim wearing bright costumes with an ethnic flavour, which is Aachho's focus as well
He completed his Class 10 from Army Public School in Delhi in 2000. He then did his Class 12 and B.Com from Maharshi Dayananad Saraswati University in Ajmer and later, his MBA from Pune University.
As far as interests go, Anurag enjoys reading biographies and spending time with family, while Rimjhim concentrates on bringing new designs and colour schemes to the brand, and striking a balance between family and work.
She observes that while the Covid pandemic "greatly affected our work and mobility, it also gave us precious time to be around our girls."
"Now that everyone's back to work from office, we are trying our best to strive for a balance between work and personal life," says Rimjhim. "I feel extremely grateful to both my families for being my strength and my biggest support system in raising Vaidheswari and Bhagyashree.
"I also think that it is important for mothers to realize that they need to develop a support network and not feel that they can do everything by themselves.
"What has helped me get greater clarity is to prioritise between things as per the situation and then focus on the need of the hour."
Wish to share your story?
Trending Now: