How a bakery counter boy rose to build a Rs 13.5 crore turnover 40-outlet pancake chain
Sofia Danish Khan
&nbsp | &nbsp
09-May-2022
Vol 13&nbsp|&nbspIssue 19
From working part-time after school hours in a bakery to support his family, to starting a unit of his own at age 22 and then building a Rs 13.5 crore turnover 40-outlet pancake chain, Mumbai-based Vikesh Shah has come a long way as a self-made entrepreneur.

Vikesh, founder of 99 Pancakes, started his first pancake outlet in Mumbai's Kala Ghoda area, with an investment of Rs 9 lakh in 2017. Today, they have 24 outlets in Mumbai alone.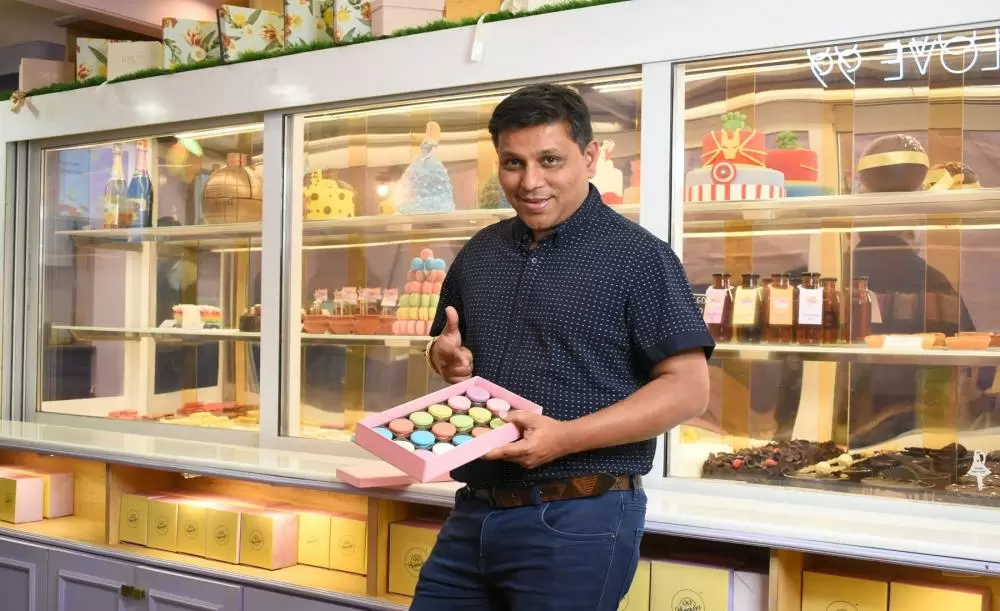 Vikesh Shah, founder, 99 Pancakes, started his first pancake outlet in Kala Ghoda, Mumbai, in 2017 (Photos: Special Arrangement)

The outlets are spread across five states and 10 cities, including Pune, Indore, Bhopal, Jabalpur, Hyderabad, Kanpur, Lucknow and Varanasi.
Their pancakes come in different flavours like chocolate, strawberry, Nutella, cream cheese and blueberries. They are priced between Rs 99 and Rs 250. Six months ago, they have launched waffles to go with them.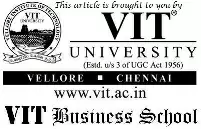 Vikesh's pancakes have caught the fancy of Indian gastronomers. Pancake is a popular dessert in many western countries and is prepared from a batter that contains eggs, milk and butter, among other ingredients.
The toppings could include fresh fruits, cream or chocolate or nutela as per personal preference.
Prior to launching 99 Pancakes, Vikesh was supplying bakery products and continental desserts like cheese cake to caterers in Mumbai.
He also owns a cake shop called 'Happiness Deli' in Kam Devi, South Mumbai, which he had started in 2009.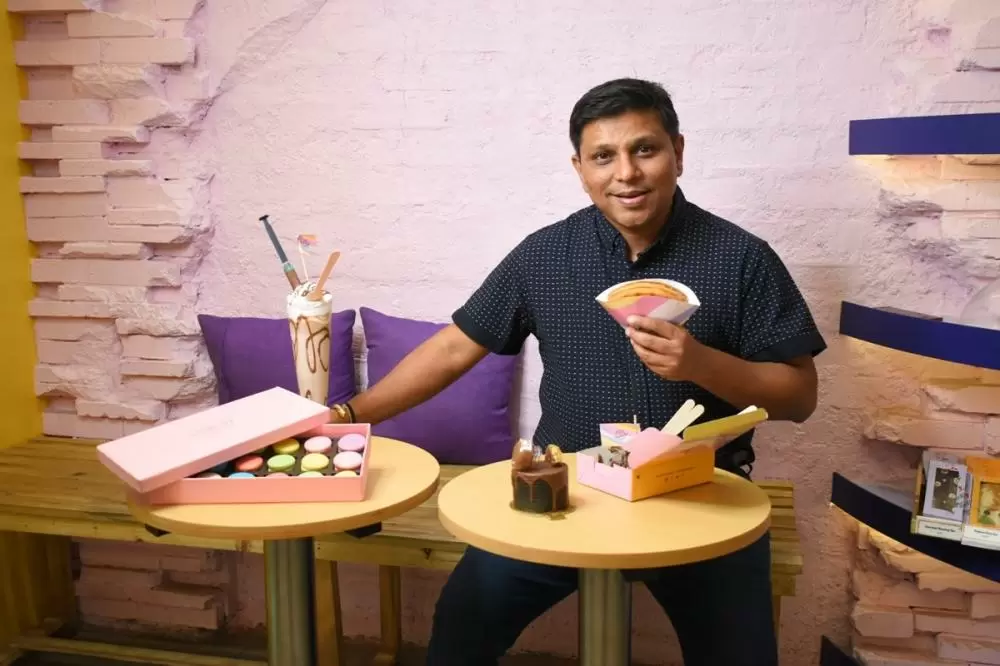 Vikesh learned to make pancakes from a roadside stall owner in Amsterdam
"I would often travel to China and Europe to learn about new cuisines to bring innovations in making desserts and food items," recounts Vikesh, 44, tracing the birth story of 99 Pancakes.
"During a visit to Amsterdam in 2014, I saw a roadside stall owner making pancakes. I was zapped by the concept. I got talking with the owner and ended up learning to make pancakes within three days.
"The way he taught about the toppings of the pancake and flipping it, I am yet to find somebody so passionate about pancakes."
His catering business took a blow post-demonetization in 2016 as people began to cut down on expenses in wedding banquets and his niche dessert counters bore the brunt of their cost cutting.
In 2017, an Ukranian neighbour tasted the pancakes he had made and was blown away by them.
"She suggested that I should launch it as a retail product. I initially thought of selling the pancakes along with bakery products, but then decided to go for an exclusive outlet.
"Victoria, a friend, helped me to put the plan into action and start the first 99 Pancakes outlet," says Vikesh
In June 2017, he incorporated Euphoriya Hospitality Pvt Ltd and launched 99 Pancakes with six employees.
"The initial days were pretty difficult. Everybody who tasted the pancakes liked the product, but we were doing just about Rs 500-1000 daily sales," recalls Vikesh.
"Since the chairs weren't filling up, we called a lot of our friends, and suddenly the place was buzzing with good vibes. It looked as if the place was full and it created a buzz in the market.
"After the second month things got smooth, as word spread around about the excellent quality of the pancakes.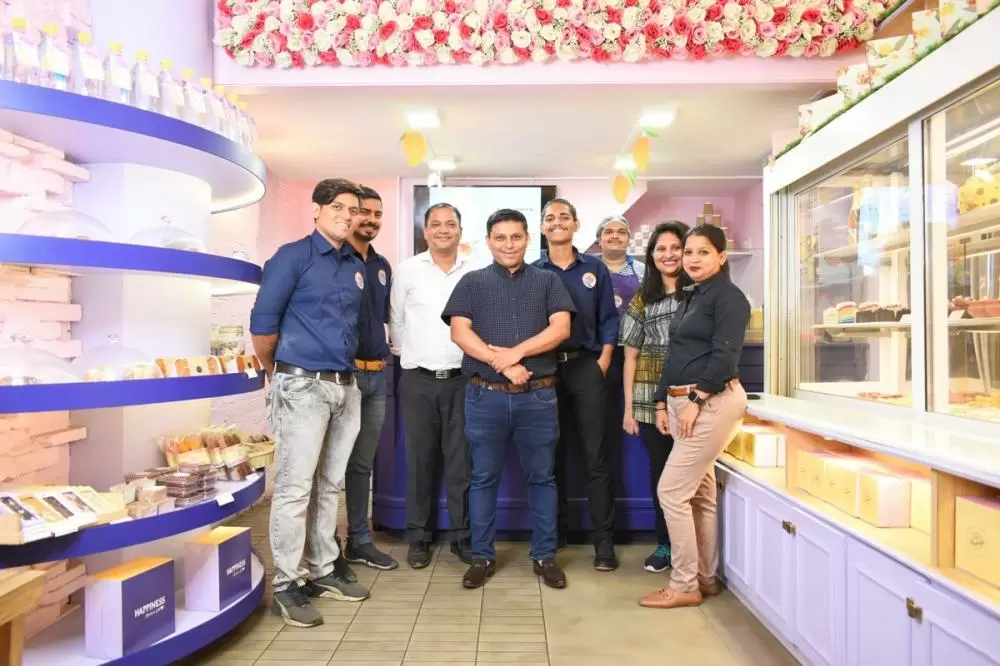 Vikesh started with six staff, but today employs around 70 people
"People started enquiring about getting a franchise. I had no idea about it, so I googled and made a model to sell franchises. In the beginning, the franchise fee was Rs 3 lakh, now we charge Rs 6 lakh."
The business picked as the footfalls increased and the franchise model too was put in place. They opened eight outlets within the first eight months of operations.
Today, out of the 40 outlets, 30 are franchise owned. There are now around 70 employees working in the company.
The business had slumped during Covid and then bounced back. "We had 65 outlets in 12 cities with 35 stores in Mumbai alone before the pandemic," says Vikesh. They had achieved a turnover of Rs 16.5 crore during FY 2019-20.
The turnover had dropped to Rs 7 crore during FY 2020-21, but Vikesh was able to bring the business back on track within a short time.
Vikesh has faced tougher situations in his life. His father, Raman Lal Shah, used to be a diamond trader, but suffered major losses in stock market when Vikesh was around five years old.
Since then his father stopped going to work and the burden of running the family fell on the shoulders of his mother. She started taking home tuitions for school children to support the family.
The family lived in South Mumbai in a 200 sq ft house which had just one room and a kitchen.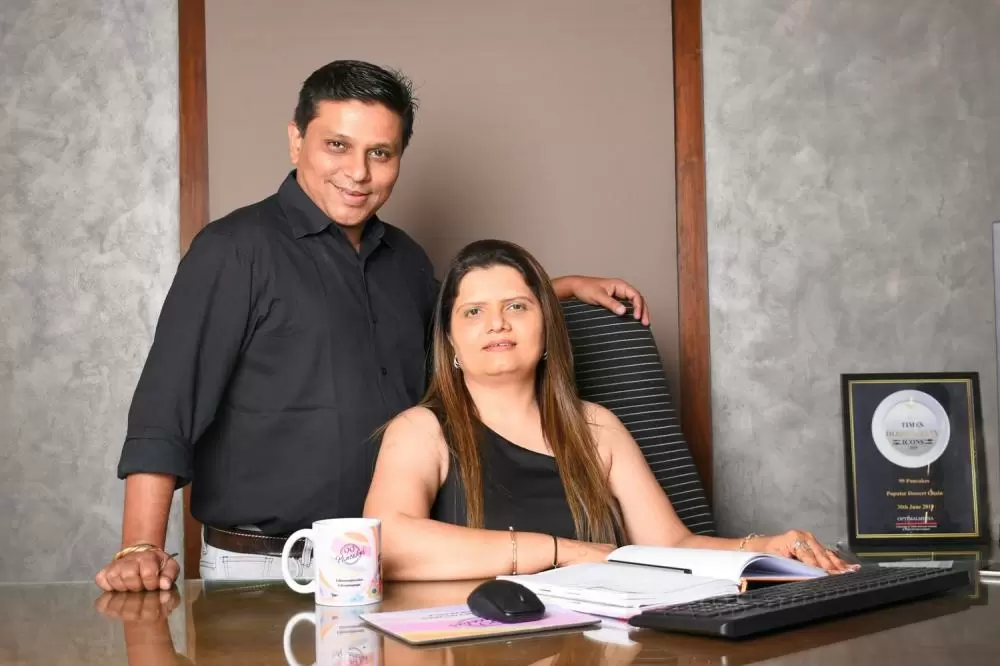 Vikesh with his wife Binita, who is a now a key member of 99 Pancakes
Vikesh completed Class 12 in 1994 from BKM High School, and did his B Com from Sidharth College of Commerce and Economics. "I wasn't a very good student and with low attendance, I managed to barely pass," says Vikesh.
From the time he was in Class 10, he started working. His first part-time job was as a counter boy at a bakery in Churchgate for a salary of Rs 700.
"I continued my studies and worked there. By the time I turned 18, I became the manager at the cake shop," says Vikesh.
He also worked at travel companies, helping in the dispatch of cars and buses early in the morning, and sold lighters and perfumes just to earn some extra money.
In 1998, a year after Vikesh completed his graduation, the cake shop he was working at shut down and he was in deep trouble.
"I had no money, no job. An uncle gave me a diamond assorting job, but I found it extremely boring. I was used to running around, and could not sit in one place all day long," says Vikesh, about the most difficult time of his life.
"So I quit the job. For a month I didn't have money to eat even vada paav, and would just have buns as they were cheap."
However, things took a turn for the better after he spoke to the owner of the bakery shop he had worked at, and asked him for the baking equipment that was remaining idle.
They willingly gave the equipment and he set up his first venture, 'Bake Point' in 1999 at the age of 22 from a friend's place. It was a B2B venture where he supplied continental desserts and pastries to leading caterers in Mumbai.
The business started doing well and in 2009, he started 'Happiness Deli', a cake shop, which is still functional.
In 2002, he got married to Binita, a former choreographer who is now a key member of 99 Pancakes. The couple has two daughters, Khushi, 18 and Yashvi, 16.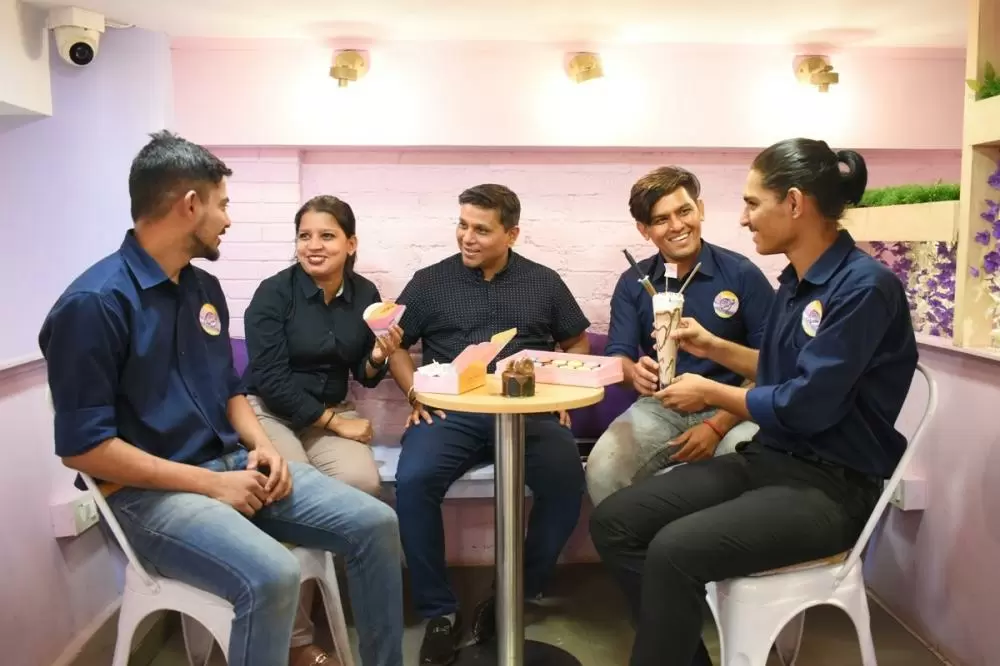 99 Pancakes outlets are spread across five states and 10 cities
"Today I am living a comfortable life and my wife has been a very big support in my life," says Vikesh. "In 2016 we were finally able to shift to our own 2 BHK 1450 sq ft house in Parel. My parents were elated and had tears of joy in their eyes."
Vikesh, who had purchased a Bajaj scooter for making deliveries during the early days of his catering business, now drives a BMW.
"I love to travel for work and pleasure. At times I end up clubbing both. Visiting new places helps me to discover new food items and then plate them up for Indian tastebuds," he signs off.
Wish to share your story?
Trending Now: