Former child loom worker builds electric scooter brand, rakes in Rs 6 crore in less than a year
03-May-2022
Vol 13&nbsp|&nbspIssue 18
From dropping out of school after Class six, clearing Class 10 through an open school program and then finishing a diesel mechanic diploma course, Devireddy Venugopal continued to progress in life despite the odds.

Later, he started his career at the age of 19 as a humble collection executive in a finance company for a salary of Rs 5500.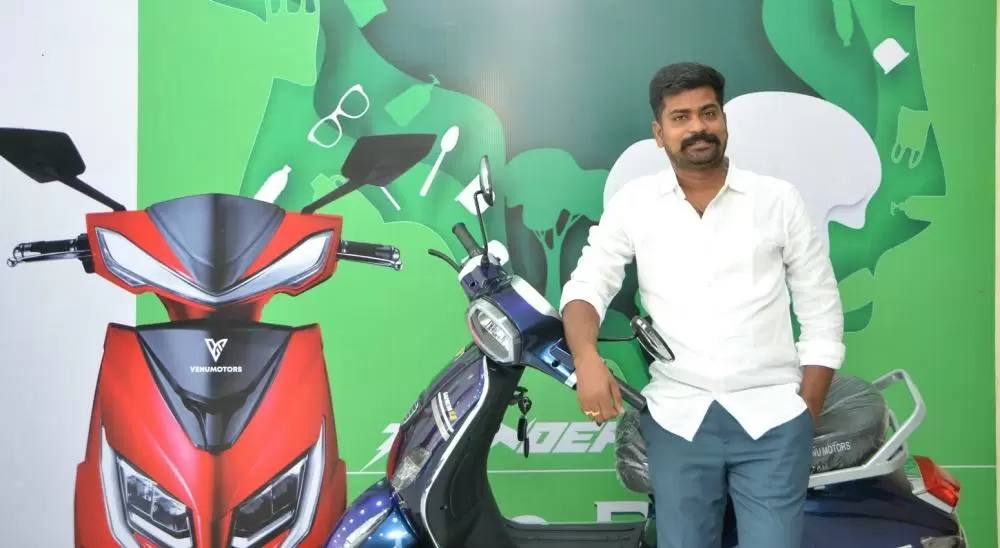 Venugopal launched his electric scooter brand in August 2021 with two models, Thunder and Wenu (Photos: Special Arrangement)
Today, 11 years later, he owns an electric two-wheeler company, based out of his hometown Dharmavaram, known for its silk sarees, in Andhra Pradesh's Satya Sai District.
His company Venu Motors hit the market in August last year with two models, Thunder and WenU. It has sold around 1145 vehicles with revenue of Rs 6 crore in less than a year.
"Thunder is priced at Rs 53000 and WenU at Rs 55000," says Venugopal. "The Lithium-ion batteries in the vehicles charge in 3-4 hours and can travel 80 km on a single charge."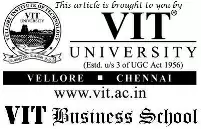 The factory produces about 160-200 vehicles per month, with monthly sales of around Rs 66 lakh. In August 2021, they handed their first vehicle to Tirumala Tirupati Devasthanams (TTD).
The manufacturing unit is located in Dharmavaram, which lies about 31 km from Anantpur. The company has a 2500 sq ft showroom in the town.
"Most of the components are sourced from several Indian towns and cities and also from China," says Venugopal. "We have 35 dealers across Telangana, Andhra Pradesh, Tamil Nadu, and Karnataka. Ten of them are our exclusive dealers, while the others are multi-brand dealers."
They have dealers in many Tier 2 and Tier 3 cities such as Salem, Madurai, Bellary, Rajahmundry, Guntur, Gudivada, Warangal, Karimnagar, and Hospet.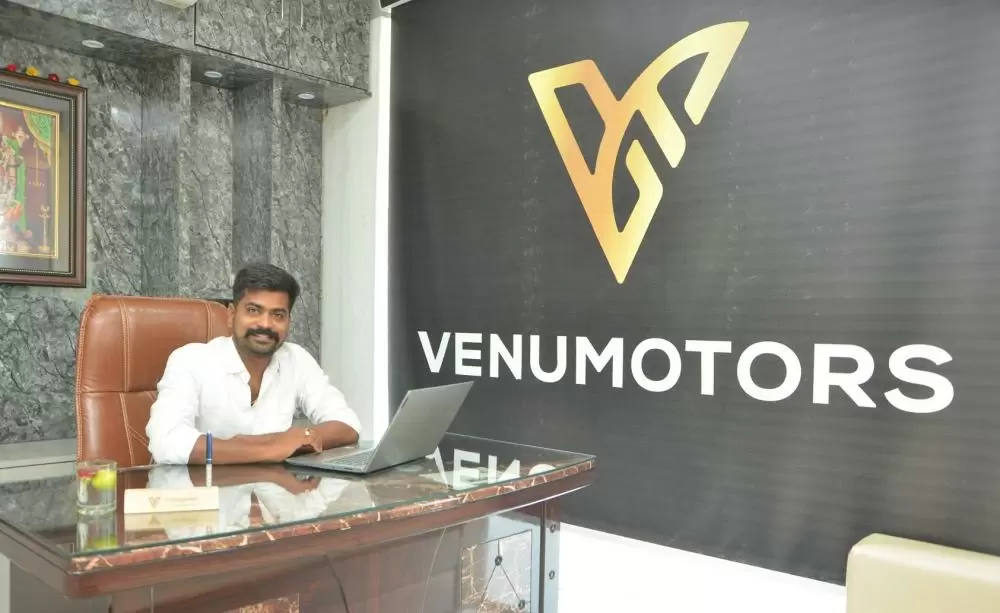 Venugopal worked in a loom along with his mother dropping out of school after Class six
Venugopal shares his life journey for the first time with the media and remembers his struggles as a child when he had to work in a loom to support his family after his father left his mother to marry another woman.
Venugopal was born into a family of hand-loom owners, and the family led a simple and peaceful life. However, the family's fortunes changed after his father's second marriage.
He was just three years old at that time. He also had a toddler sister. Initially, his mother worked in his father's loom, but she was not able to manage it alone and the business eventually disintegrated.
His mother was forced to work as a weaver at someone else's loom. It had a big emotional impact on little Venugopal.
Venugopal went to Gnana Jyoti School, an English/Telugu medium school, where he studied till Class six. Due to financial constraints he quit school after Class six and began to work in the loom along with his mother.
He completed Class 10 through an open school program and a diploma in diesel mechanics.
He then went to Guntakal, located about 120 km from his hometown and found a job at Spandana Sphoorty Finance Ltd as a collection executive for a salary of Rs 5500 in 2011.
Two years later, he came back to Dharmavaram, where he joined Indusind Bank as a collection officer for a salary of Rs 7500. After about two years, he joined a two-wheeler finance company.
From a young age Venugopal had a special love for two-wheelers. So, in 2014, with a dream to own a two-wheeler showroom, he approached a Bajaj dealer to seek a sub-dealership.
But he failed to get the dealership. "I was told that I was too young to lead the business," he recalls. In 2015, he joined Muthoot Finance at a monthly salary of Rs 12,000.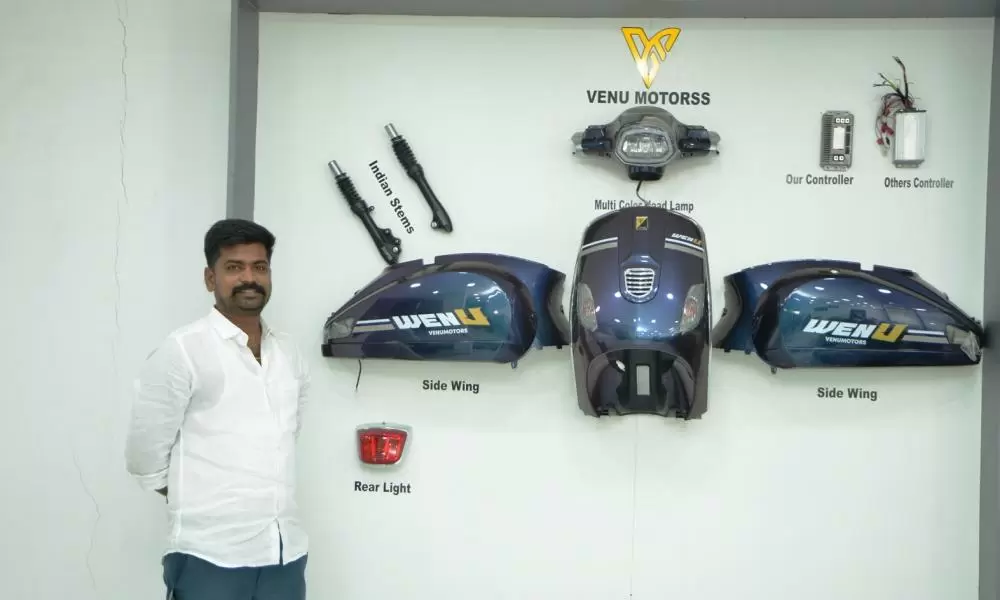 Venugopal has appointed 35 dealers across Tamil Nadu, Karnataka, Andhra Pradesh, and Telangana
His life took a remarkable turn since 2016 after his marriage to N Padmavati, a clerical staff at Indian Overseas Bank, Anantpur.
"I came in contact with her when I was working in Anantpur and used to visit the bank regularly," says Venugopal.
Padmavati became his biggest supporter and motivator. Her bank job not only gave the family a higher gross income, but also provided the source of funds for him to start a business.
His wife was eligible for a bank overdraft (OD) of Rs 5 lakh. Using the amount and an extra Rs 3 lakh he borrowed from friends and relatives, Venugopal opened a Vespa scooter sub-dealership in Dharmavaram under the name of 'Venu Motors' in 2016.
In 2019, Venugopal decided to start an electric two-wheeler company and visited some companies in Haryana to understand the industry.
By the end of 2019, he came in contact with a Hyderabad-based company, where he underwent training for about a year and a half in various aspects of building electric scooters.
Venugopal got license from Government of India to manufacture electric two-wheelers in June 2021 and began production in August 2021. He invested about Rs 50 lakh in the project.
"The Indian Overseas Bank had increased my OD limit to Rs 30 lakh. I raised Rs 20 lakh by selling a property," says Venugopal, who quickly appointed dealers in many cities and towns.
"Initially, we did not take any deposit for a dealership, now we are charging Rs 50,000. The deposit enables the dealer to place a buy-now, pay-later order for spare parts with us.
"The products are dispatched without payment in order to make the process easy for both the dealer and the customer."
The dealers pay around Rs 6-8 lakh to get the first lot of around 10 vehicles for their showrooms.
Venugopal concedes that the biggest challenge in the industry now is the fears of electric vehicles catching fire on road.
His vehicles have not faced any such issue till date and he recommends that customers do safety checks regularly on their vehicles to avoid such mishaps.
"I would recommend performing a safety check every 3-4 months. We charge a minimum servicing fee of Rs 150 to maintain a scooter's essential systems," says Venugopal, who has gotten to this point in his life without the assistance and encouragement of anyone other than his wife.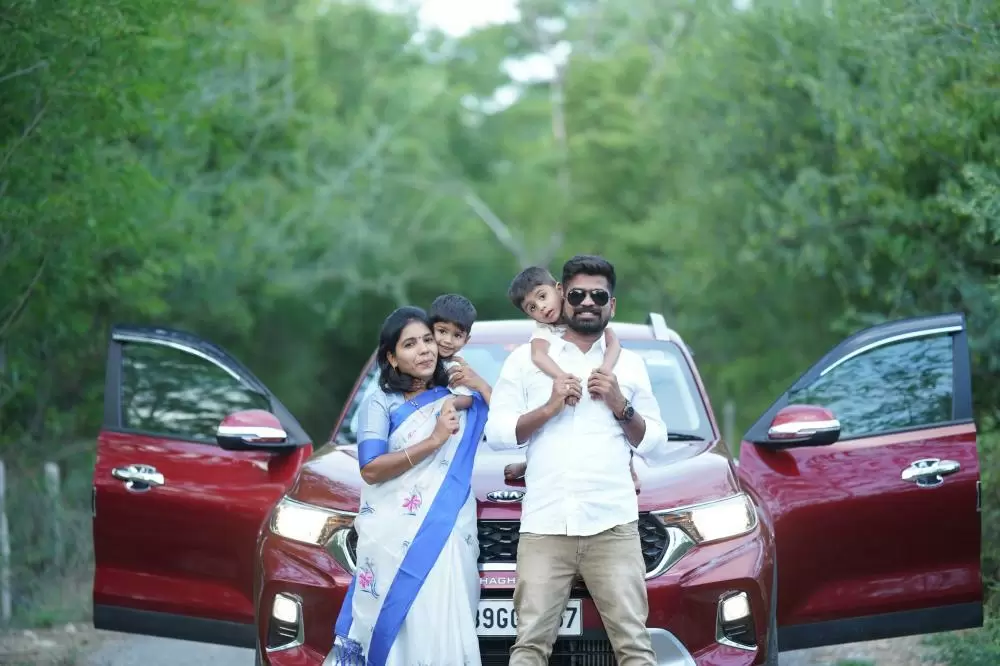 Venugopal with his wife Padmavati and two sons
His father is now incredibly proud of him, and his mother relishes telling others about his wonderful journey.
Venugopal has plans to produce a high-speed model, with the goal of having 100 dealers in South India by March 2023.
"People used to look down on me and say things like, 'you're lucky to have a wife in a government job. Their views have since been reversed. They now think my wife is 'lucky' to have me in her life," says Venugopal, on how his success has changed his life.
Despite the fact that he only gets one day off a week for family time on Sundays, his family remains his top priority.
Venugopal and Padmavati have two sons. Shanmukh Devireddy, the elder, is 5 years old, and Thaghore Devireddy, the younger, is 3 years old.
He desires a secure, joyful, and healthy environment for his children. "I'd rather say that they didn't have to go through what I went through. But I believe in the principle of 'don't celebrate too soon'," he says with a chuckle, striking a note of caution.
Wish to share your story?
Trending Now: