At 50, she started a luxury fan brand and made it into a Rs 100 crore turnover business in 10 years

06-April-2022
Vol 13&nbsp|&nbspIssue 14
There is no dearth of excitement in stories of how entrepreneurs have stumbled upon their business ideas. Around 12 years ago, Sangeeta Lala was in the US to find a college for her younger son.

While enjoying hot coffee at a Mexican restaurant in San Diego, California, her eyes caught sight of a beautiful ceiling fan with unusual blades.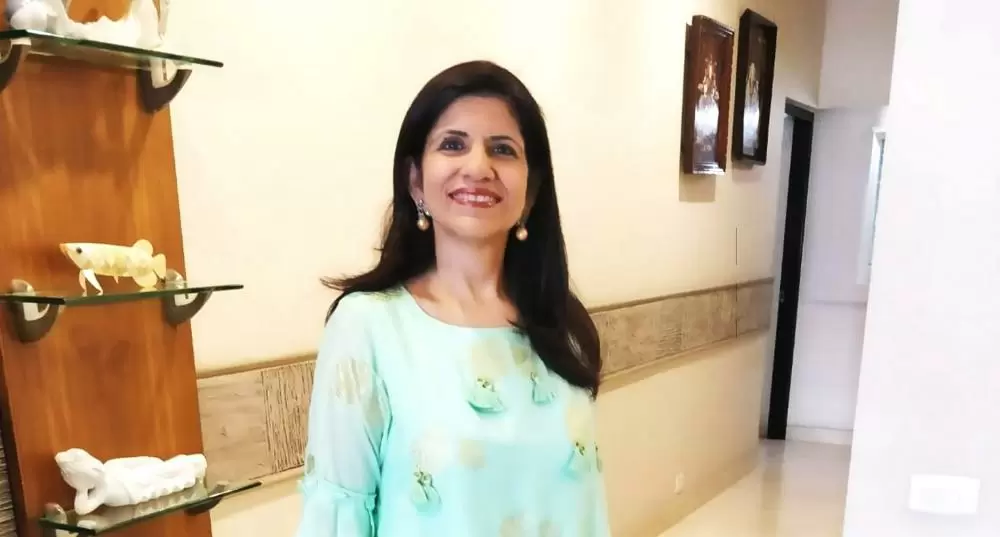 Sangeeta Lala started Fanzart in 2012 from a 3000 sq ft showroom in Bengaluru (Photos: Special Arrangement)

It sparked her interest in designer fans and led to her launching Fanzart, a luxury fan brand in 2012 with her husband Anil Lala as a co-founder.
She was 50 at the time she started the company, and now at the age of 60, her company, a Limited Liability Partnership (LLP), has touched a turnover of Rs 100 crore in FY 2021-22.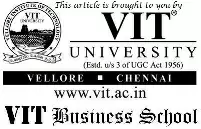 "Age is only a number," says Sangeeta, who keeps working with designers from Spain and the US to launch new models. "We meet twice in a year and put our heads together to come up with new designs."
The Bengaluru-based company has around 100 showrooms across India. The fans are made in factories located in many parts of the world, including France, Russia, Turkey, and China.
The fans are made with wooden, metal and ABS (Acrylonitrile Butadiene Styrene) blades. The different models include bluetooth-enabled fans, as well as clockwise and anti-clockwise rotating fans.
They have fans with a minimum of two blades to a maximum of 14 blades. The Venetian chrome Fanzart 14-blade fan costs Rs 79,990. Their most expensive fan is Aquajet, a 6.6 ft outdoor misting fan that costs about Rs 1.30 lakh.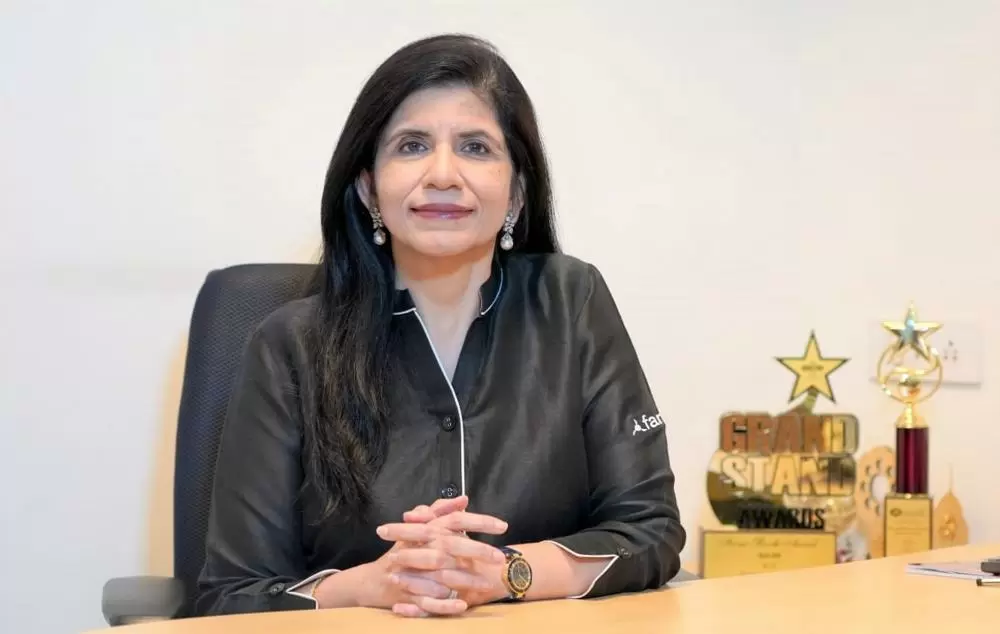 Sangeeta works with a team of top international designers to design new fan models every year
"Aquajet is the best in its class mist fan available in the world with a 94-litre tank capacity to run with mist flow for up to 15 hours," says Sangeeta, who started her first outlet in 2012 on a 3000 sq ft space in Bengaluru's Krishnanagar Industrial Area.
"We clocked our first crore within three months of launching. Any good product has a buyer; we learnt from our experiences for the first one year and then slowly started expanding through franchise stores."
Out of the 100 Fanzart stores around the country, only two are company owned and the rest are franchises. The company directly employs 45 people, including a design team.
"Our in-house design team only brainstorms and comes up with requirements of models to suit the Indian market, but the actual designing is done abroad," says Sangeeta.
She argues that fans are now being seen as decorative pieces in addition to their utility value. "It's a piece of art on your ceilings," she says, and explains how fans score over the air-conditioners.
"Covid taught us the importance of having proper air circulation. Sitting in a closed room under air conditioning spreads viruses. The only way to ensure adequate air circulation is to use a fan."
She remembers that Gurjeet Singh, a Bengaluru-based businessman was her first client. She still preserves the token amount he had given for the purchase in the cashbox.
The brand grew due to word of mouth referrals and soon they began to sell their fans to people from around the country. Visitors to the city would drop in at their outlet to buy a fan.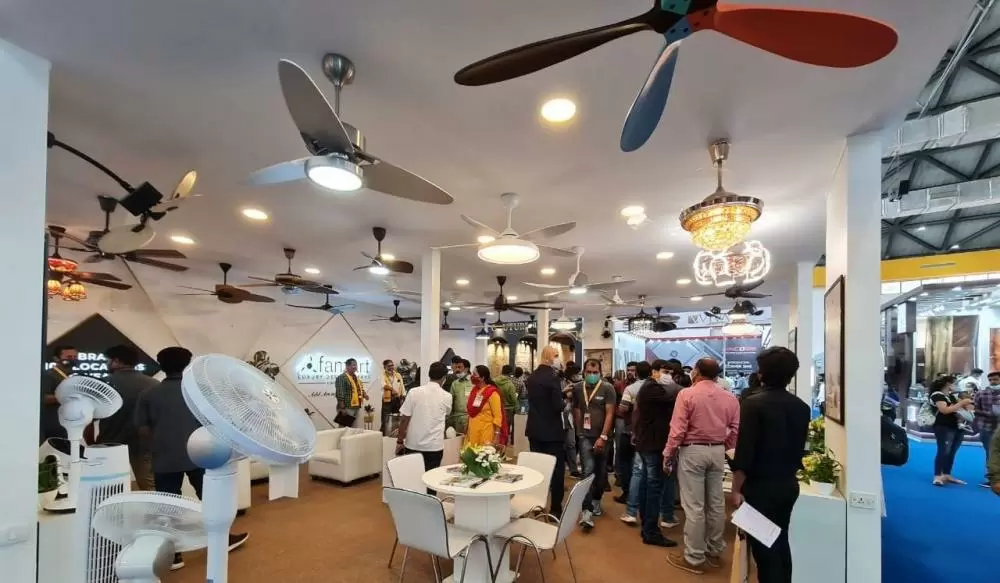 A glimpse of a collection of Fanzart fans at an exhibition
That is when she decided to open outlets with service centres in other cities as well by offering franchises.
"We have service centres all over India," says Sangeeta, and goes on to elaborate on the challenges she faces.
"It is difficult to run a business in India. Finding the proper franchise partner, surviving amid large sharks doing traditional fans and design copyright issues are some of the difficult challenges I confront on a regular basis."
As a luxury brand, Fanzart caters to the upper middle class and affluent sections of the society. Her clients include cricketers, actors and other celebrities. Her fans can be found in airports, clubs and commercial locations.
Fanzart fans are also exported to Sri Lanka, Nepal, Bangladesh, Singapore and parts of Europe.
As a woman entrepreneur, who started at the age of 50, while being a supportive spouse and a responsible mother of two grown up sons, Sangeeta believes that women can be better entrepreneurs.
"Women entrepreneurs need to know that we're a lot better at multitasking, dealing with work stress calmly, and being more innovative at work than our male counterparts," she says.
In Sangeeta's case, even if she had them all, she had that extra courage to start an enterprise at 50, even though she had run other businesses earlier.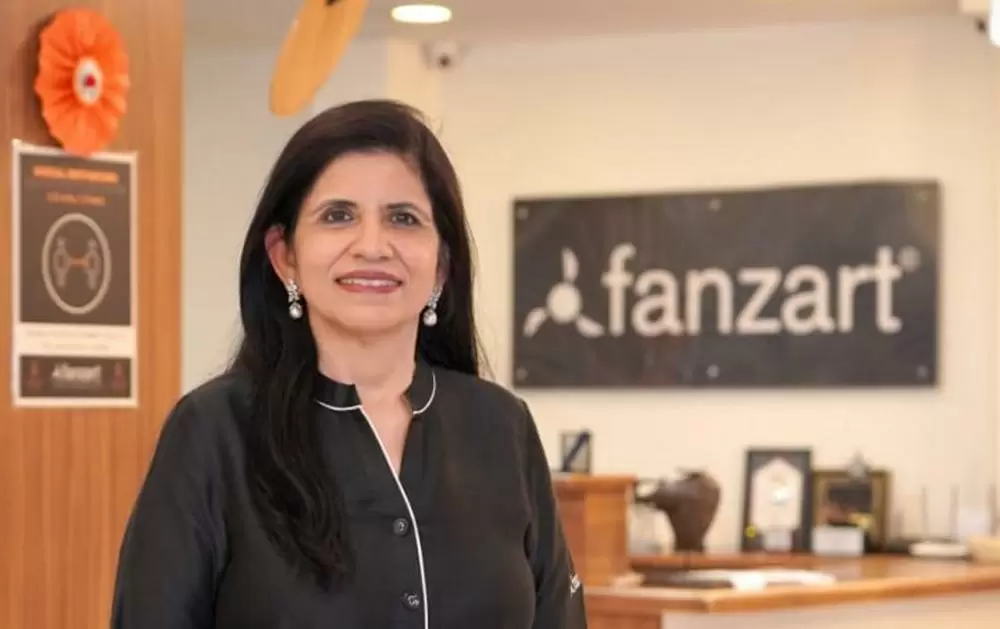 Sangeeta graduated in hotel management from Dadar Catering College, but had only a short stint in hotel industry
Born in the Sindhi community, Sangeeta grew up in Mumbai with her only elder brother. Both her father (late) Indur Keswani and mother Nirmala Keswani had been professors at one point in time.
They were both gold medalists in organic chemistry and taught at Mumbai's Jai Hind College. Her father later joined The Times of India and was working in the circulation department.
Then he started his own plastic unit and a printing business.
After finishing her Class 12 from Jai Hind College, Sangeeta enrolled in a three-year (1979-82) Hotel Management, Catering Technology & Applied Nutrition course at Dadar Catering College.
During this period, she also worked part-time in her father's plastic and printing businesses.
In 1982, she graduated from Dadar Catering College and joined the Taj Group of Hotels. But her long hours at work made her father unhappy. "After a year in the hotel sector, I joined my father's business fulltime," says Sangeeta.
"We manufactured plastic containers for the paint industry and so I got a chance to meet the MDs of Goodlass Nerolac, Asian Paints and other companies.
"We also used to publish Economic and Political Weekly magazine and print books for the Maharashtra State Board."
She got married to Anil Lala, a mechanical and industrial engineer, in 1986 after dating him for two years. Anil was into garment business and the couple moved to Bengaluru in 1993.
In Bengaluru, Sangeeta offered consultancy to restaurants for some time when her children were small, and then got into event management. She later ran a computer training centre.
Though she was successful in everything she did, the big break came in 2012 with Fanzart, which she started with an investment of Rs 5 crore.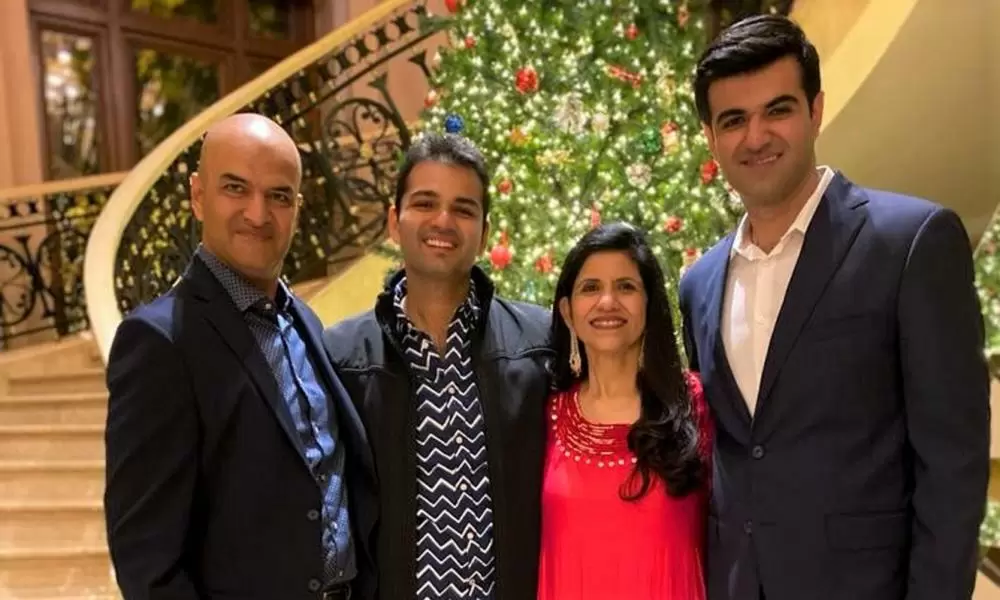 Sangeeta with her husband Anil and sons Karan and Tarun
Both her husband and children have been supportive. Her elder son Karan, 29, is a software engineer and younger one Tarun, 33, is an electrical engineer.
"Mom, you've done enough for us, now do it for you, my children insisted, and that's how I got into Fanzart," says Sangeeta.
"However, I believe I owe a great deal to my father who instilled in me the sense of timing, the sense of independence, the sense of business aggression and all of these things."
Sangeeta enjoys a wide range of activities, including listening to music, reading, travelling, watching television and cooking.
She enjoys getting dressed up and walking for fitness. Sangeeta has received several honours, including the FICCI Flo Women Achievers Award 2019 for her excellence in entrepreneurship.
Wish to share your story?
Trending Now: