Starting with Rs 5 lakh he built a Rs 35 crore turnover tea chain and created nearly 3,000 franchise owners
23-March-2022
Vol 13&nbsp|&nbspIssue 12
It must have taken plenty of courage and confidence for Uday Srinivas Tangella to quit a high-paying job in Dubai and return to India to do business and then set up a humble tea shop, of all things.

Uday had worked in different software companies after graduating in electronics and communications engineering from TRR Engineering College, Hyderabad, in 2006. His last job was in Dubai, where he lived a luxurious life and drove a Jaguar.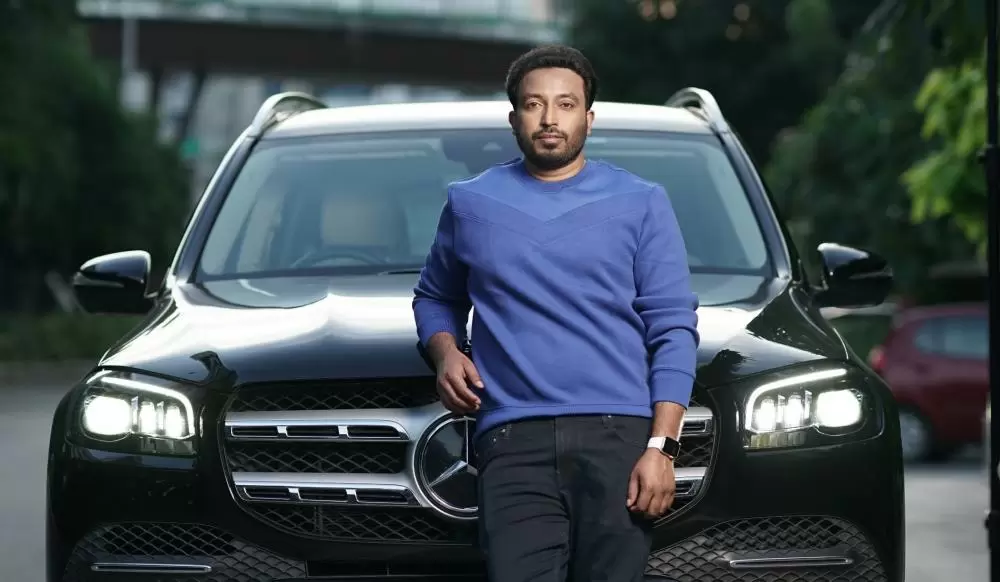 Uday Srinivas Tangella started the first Tea Time outlet in 2016. Now there are close to 3,000 outlets in the country (Photos: Special Arrangement)

So, when he quit that job at age 29 and returned to India, his family was not amused by his decision.
"They thought I had made a wrong move in my career," says Uday, founder of Tea Time, one of the fastest growing tea chains in the country.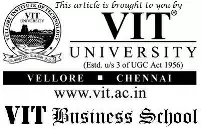 His wife Bakul Tangella, an ayurvedic doctor, was the only person who supported him.
Back in India, Uday opened his first outlet with Rs 5 lakh in a 150 sq ft space in Rajahmundry, a small city in Andhra Pradesh, in 2016.
Six years later, he has not only succeeded as an entrepreneur, but also created close to 3,000 small business owners by choosing to expand his tea chain through a franchise model.
"Within the first year we touched 100 outlets and a turnover of Rs 2 crore," says Uday.
There are now around 3,000 Tea Time outlets across India and Desi Tea Time Pvt. Ltd has touched a turnover of Rs 35 crore. Except the first outlet, the rest are all franchises.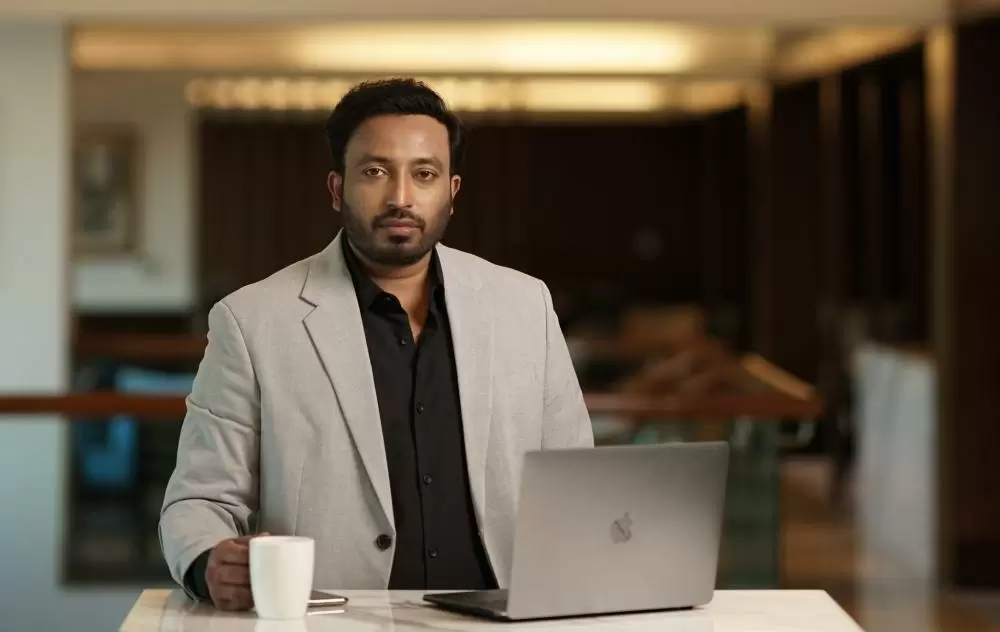 Uday started the first outlet with just three people. Now 45 employees work for Tea Time
"If we calculate the overall turnover, it will be Rs 25 crore per month," says Uday, which would be a whopping Rs 300 crore annually.
The business that was started with just three people now has 45 employees, who manage the franchises, handle the sourcing and supply of raw materials to various outlets, and look after the marketing and R&D.
Uday's 25,000 sq ft office located at Banjara Hills, Hyderabad, has a pleasing spread of greenery with potted plants sharing space with employees and workstations.
The Tea Time outlets are spread across Andhra Pradesh, Telangana, Kerala, Maharashtra, Gujarat, Madhya Pradesh, Uttar Pradesh, Manipur, Karnataka, Rajasthan, Manipur, Puducherry, Tamil Nadu, Delhi, Haryana, and Odisha.
In Hyderabad alone 280 Tea Time outlets are located. "We also have outlets in tier-one and tier-two cities like Lucknow and other places," says Uday.
He has kept the overheads of the outlets very low. The average size of an outlet is around 150 to 200 sq ft. "My business idea is simple. I don't want to spend a lot of money in setting up a big cafe and then charge more than a reasonable price for the tea," says Uday.
On an average, around three employees work in an outlet. They serve 10 different types of tea in their outlets, starting with their Dum Tea, priced at Rs 10, Ginger Tea at Rs 15, and Green Tea at Rs 25.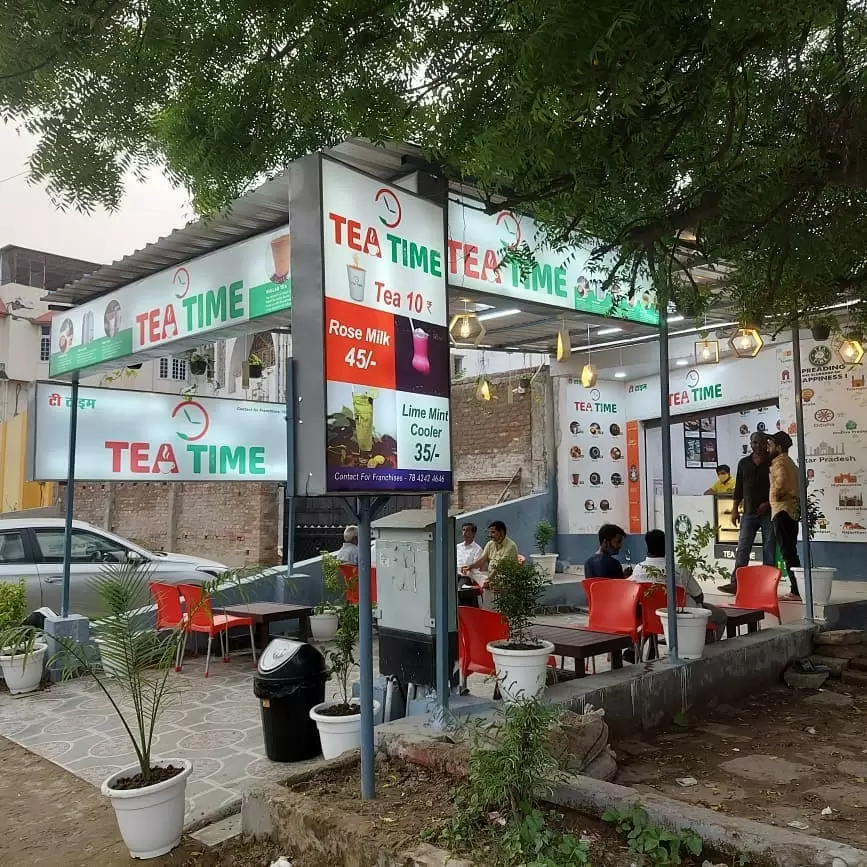 A Tea Time outlet at Varanasi
They also serve masala tea, lemon tea, badam tea, kulhad tea, black tea, Kashmiri tea and a few other flavours. The outlets also sell soft drinks, milkshakes and snacks such as Samosa and biscuits.
Another USP of the brand is that they use their own brand of tea powder, Tea Time, in all their outlets.
They get their tea leaves from farms in Assam. The tea is then tested and approved by tea tasters before they make it to the outlets. Uday calls this process 'farm to glass.'
"The tea will reach the outlets within a month of their procurement from the farms. The other brands in the market won't be that fresh," he says.
However, the secret for the rapid growth of Tea Time is the franchise model that Uday has chosen from the beginning for expansion.
The franchise fee is Rs 4.25 lakh per outlet, for which he provides a start-up kit that includes movable equipment like refrigerator, deep freezer, stoves, utensils and an initial stock to start the business.
Besides the franchise fee, the company takes 5% of the sales from the outlets.
"Only two to three people are required to look after an outlet. We also provide training to the employees to ensure that the taste remains the same across all Tea Time outlets," says Uday.
He says the average payback period is around five to 10 months. "The idea behind using the franchise model to grow my business is because I don't want to grow myself only. I want others to grow as well," he says.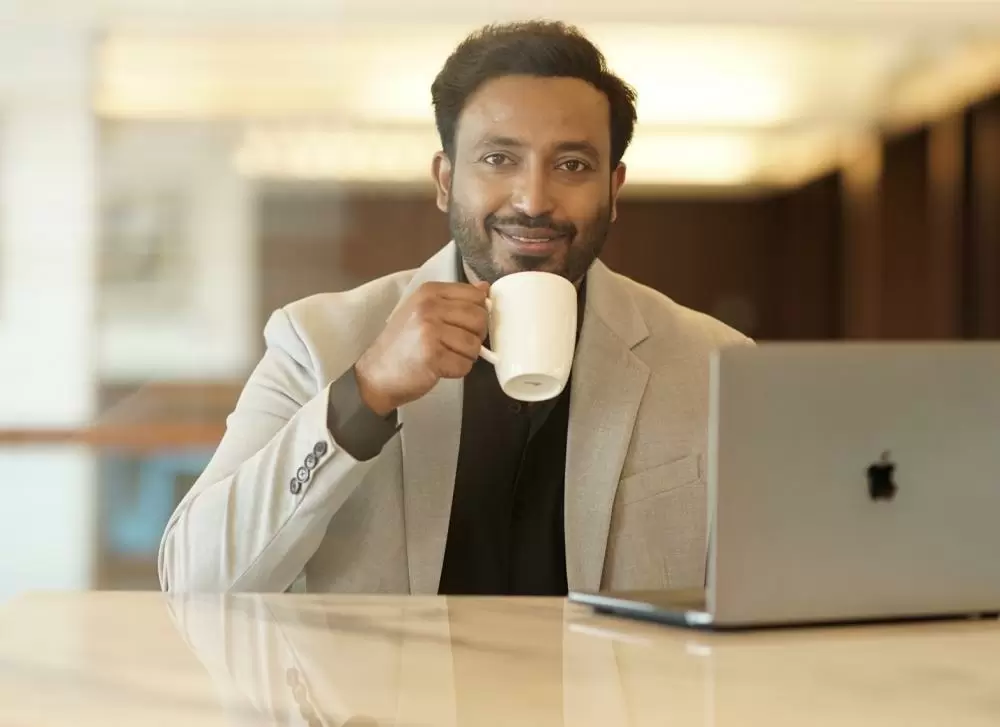 Uday believes in creating more business owners than in creating individual wealth for himself
"I have kept the franchise fee low so that anyone who wants to start a profitable business can afford it. The more they grow, the more I grow."
Tea Time franchise owners include professionals from banking and IT sectors, engineers, NRIs, retired army personnel and unemployed youth.
"About one million searches are made for 'Tea Time near me' on the internet every month," claims Uday, talking about the brand's popularity.
Tea Time is environmentally conscious too. They use biodegradable cups at their outlets. "We are striving to become a zero waste and zero carbon footprint brand," says Uday. His wife is assisting him in this mission.
Uday hails from Kadiyam village in East Godavari district of Andhra Pradesh. He studied in Shiridi Sai Vidya Niketan, Kadiyam, and finished his Class 12 from St Mary's School in Karaikal, Puducherry.
His father was a government civil contractor and the family had moved to Karaikal when he got a contract there.
After graduating from TRR Engineering College, Hyderabad, he worked in a few IT companies till 2013 before leaving for Dubai, where he worked in a company drawing a huge salary. In 2015, he quit his job and returned to India.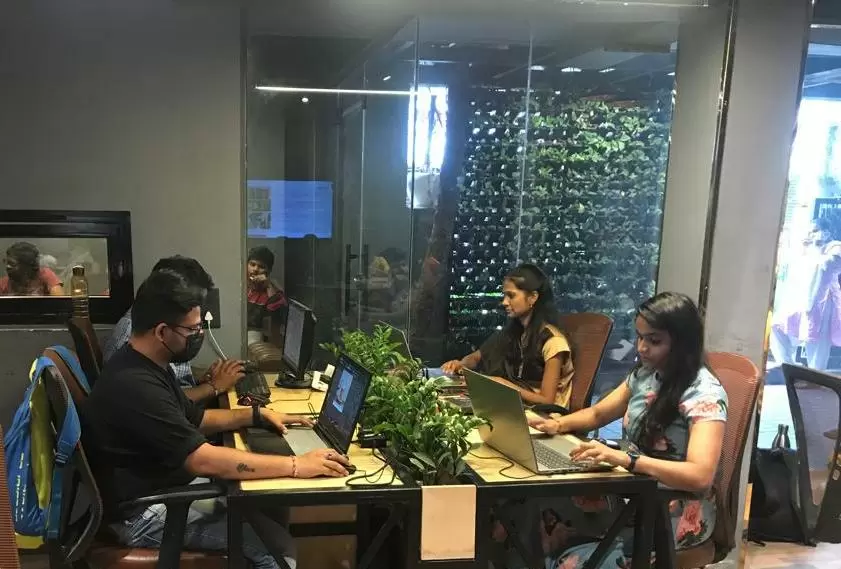 Tea Time office in Hyderabad has a pleasing spread of greenery amidst the workstations
Uday has achieved his dream, quicker than anyone expected, because of his policy of creating many small business owners instead of trying to amass individual wealth for himself.
Today, he lives in a lavish 4000 sq ft house in Hyderabad's posh Jubilee Hills area and owns a Mercedes. Uday and Bakul have a 4-year-old daughter called Aanya.
"I like to invest in products that can add value in the lives of people instead of investing in properties and stock markets that can only help me to grow," says Uday, sharing his philosophy of life.
His dream is to have Tea Time outlets "at every nook and corner across India without compromising on quality, taste, and reasonable price."
Wish to share your story?
Trending Now: