Small-town Designer builds Rs 2.5 crore turnover Khadi Brand with a brilliant business idea
Bilal Khan
&nbsp | &nbsp Lucknow
19-February-2022
Vol 13&nbsp|&nbspIssue 7
Hailing from the small town of Sultanpur in Uttar Pradesh, Abhishek Pathak, a textile designer by training, has earned the distinction of becoming India's first solar vastra (garment) entrepreneur.

Abishek's Lucknow-based Greenwear Fashion deals with apparels made of yarn spun from solar charkhas, fabric made from solar looms and clothes stitched on solar stitching machines. The whole process of making clothes is solar powered and hence the name solar vastra.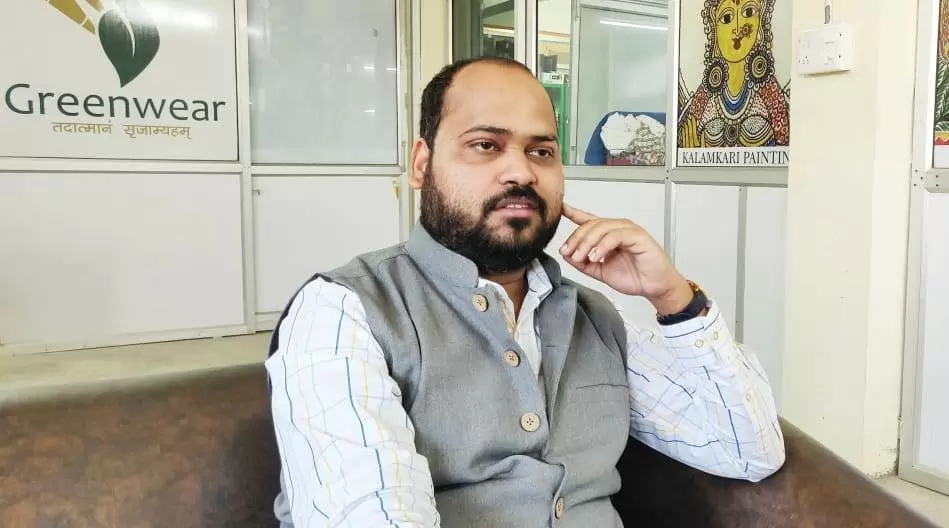 Abhishek Pathak started Greenwear Fashion to provide livelihood for rural women artisans working with solar charkhas (Photo: Special Arrangement)
How a man born into a middle-class family as the youngest among four siblings in a small town, attending Hindi medium schools, went on to study textile designing in one of India's premier fashion institutes in Delhi and set up his venture with a seed funding of Rs 50 lakh from IIM Calcutta Innovation Park (IIMCIP) proves that the power of purpose is what decides your destiny and not other factors.
Incorporated in 2019, Greenwear Fashion Private Limited has achieved a turnover of Rs 2.5 crore for two consecutive years.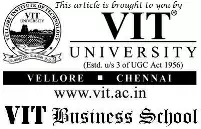 "We expect the revenue to increase in the coming years as we reach out to more customers," says 32-year old Abhishek.
He points out that their performance in the last two years has to be seen in the light of the pandemic when sale of garments took a big hit due to the long periods of Covid-triggered lockdowns.
Greenwear products are sold at two company-owned outlets in Indira Nagar and Tilak Nagar at Lucknow. They offer khadi kurtas, palazzos, and sarees at prices starting from Rs 500 to Rs 5000.
They also make maternity clothes for pregnant women and nursing mothers and 'adaptive clothes' for the differently-abled.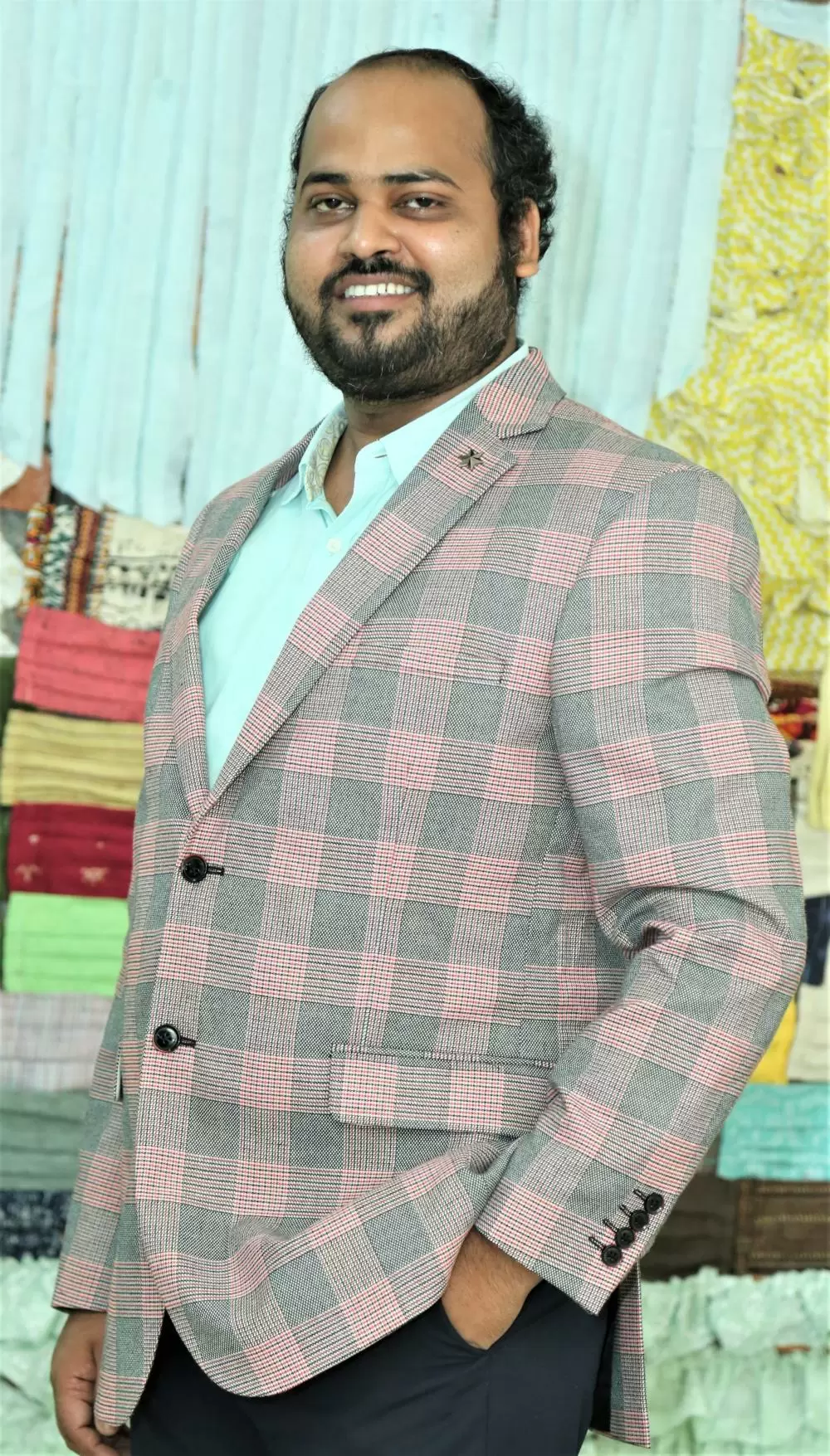 Abhishek has provided livelihoods to about 500 women living in rural Bihar and Uttar Pradesh

However, about 85% of their sales come through B2B. They take up job works for bigger brands and make the products for well-known mainstream fashions brands like 'W for Women' and 'Aurelia'.
Abhishek has provided livelihoods to about 500 women in the rural areas of Bihar and Uttar Pradesh.
"Earlier, these women were doing nothing and were struggling for money to run the house. Now, they are earning between Rs 5000 and Rs 8000 per month," says Abhishek.
The clothes are stitched at their manufacturing unit in Safedabad near Lucknow using solar powered stitching machines. Around 152 employees are involved in tailoring work and 18 more handle other responsibilities in Lucknow.
Abhishek's connection with Lucknow goes a long way back. He had come to this city from his small town after his Class 12 to prepare for his engineering entrance exam.
He had stayed in a hostel in the city for about year. However, he never made it to engineering, but ended up cracking the NIFT entrance exam and landing at NIFT, Delhi.
Abhishek hails from a modest middle income family. His father is an advocate and his mother is a housewife. His elder brother runs a school and his two sisters are employed as teachers in government schools.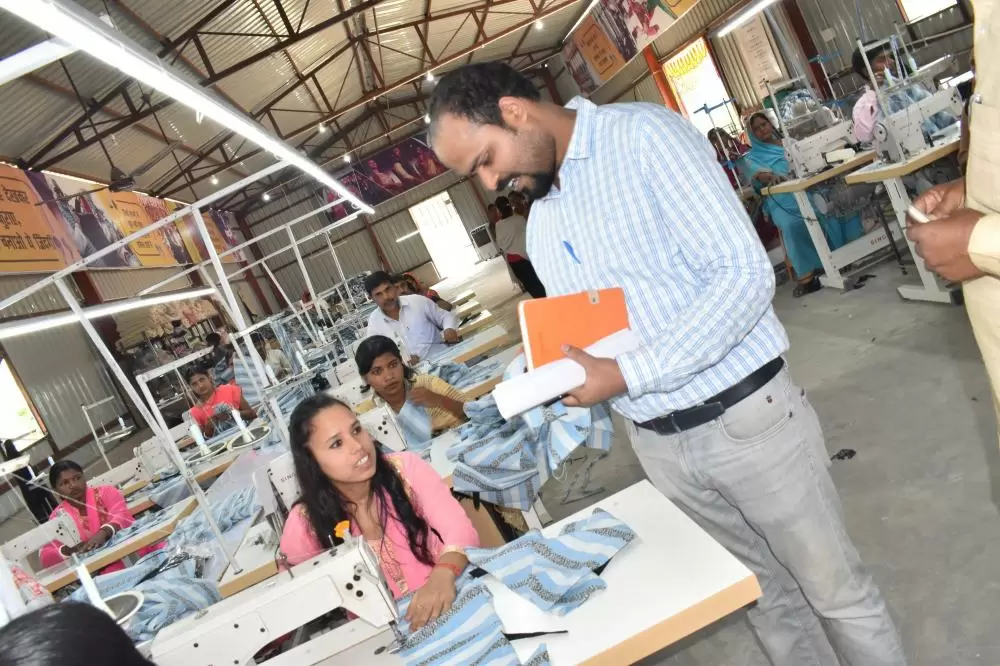 Greenwear's tailoring unit in Uttar Pradesh
"My father practices in the district court and earns to merely meet the necessary expenses. Lawyers don't earn good money here in Sultanpur," he says.
"During our childhood, there was nothing like vacations or eating out. We would only go to our grandparents' houses during the holidays."
He completed Class 12 from Saraswati Vidya Mandir Senior Secondary School, Sultanpur, in Hindi medium and joined NIFT, Delhi, in 2007.
He felt a bit out of place at NIFT because of his Hindi medium background and small-town roots. He had no idea about fashion, though he was a very creative person.
However, Abhishek was a quick learner and adapted to the new environment very fast.
He had enrolled for the four-year bachelor's degree in textile design and learned all about textile designing, textile technology and also got an exposure to the rural artisans and weavers through NIFT's Craft Cluster Initiative program.
He had opportunities to visit many rural clusters in different States to document their culture and art. That's when he realised the potential of rural India. "I began to think of doing something with the artisans and rural women to empower them, while using the women's skills in the textile industry," says Abhishek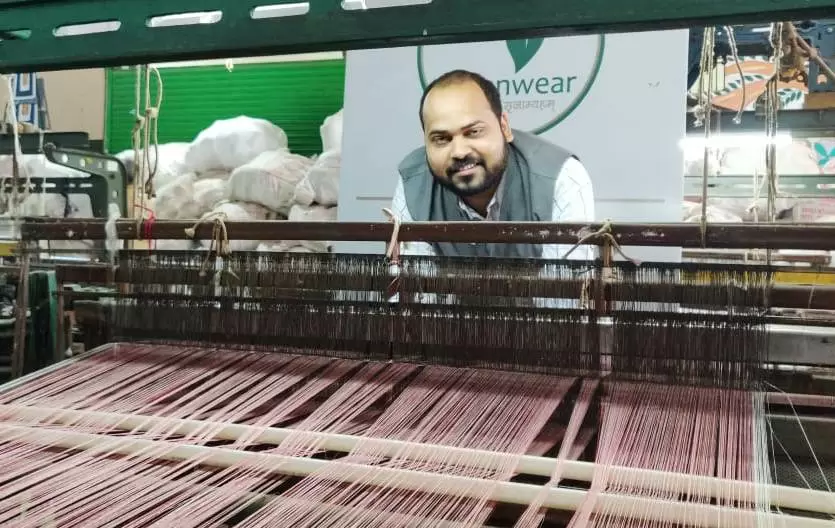 Abhishek's first venture was a short-lived one after which he decided to get some work experience
He was in the last year of his course when he got an opportunity to work with a US-based home furnishing brand called Croscill Living in Delhi. He worked on design and product development there.
He resigned from the company in 2013 and then started his clothing brand called Prakriti along with a friend. They created hand block printed jeggings working with artisans of Pipar village in Jodhpur.
"Although we started it with a lot of passion and vision, it came to a halt after we realised we lacked experience in running a business," says Abhishek. They decided to take up jobs and gain work experience.
"I did get an opportunity to move to the United States while working with that US based company. However, I didn't take it up since my father was diagnosed with throat cancer and I wanted to be with my family," says Abhishek.
In 2013, he joined a non-profit organisation called Drishtee Foundation in Noida and led their textiles and crafts department till 2016. "My job involved working with female artisans in Bihar, Uttar Pradesh and Assam," he says.
It was while working with the non-profit that he saw the solar charkha designed by IIT-Delhi and the Mahatma Gandhi Institute for Rural Industrialization (MGIRI), Wardha, at an international trade Fair in Pragati Maidan, Delhi, in 2016.
"I met with the solar charkha innovation team and shared my idea of starting a business with khadi fabrics involving the women from rural areas after training them to use the solar charkha," says Pathak.
That's how the concept of Greenwear Fashion was born in 2016. He worked on the idea in collaboration with Lucknow-based Bhartiya Harit Khadi Gramodaya Sansthan (BHKGS), an organisation working for khadi development.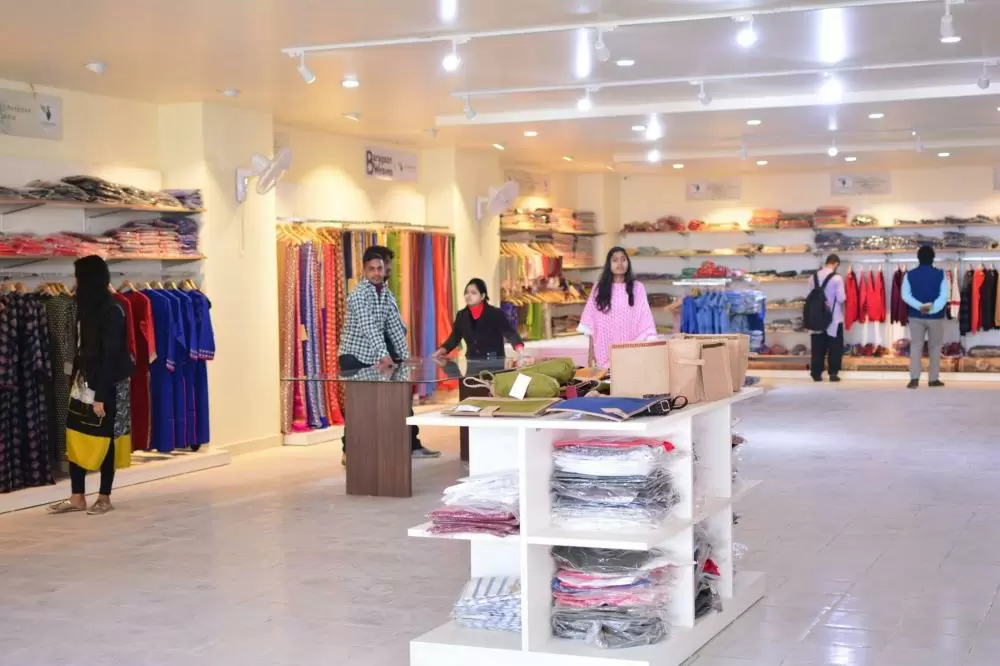 A Greenwear outlet in Lucknow
He joined BHKGS and executed a pilot project for Mission Solar Charkha launched by the Union Ministry of MSME and trained 4000 rural women on using the solar charkha for spinning work.
"Although we trained so many rural women, there was no regular work for them to earn a living. Greenwear was launched with support of IIM Calcutta Innovation Park to provide them work," he says.
Abhishek says that although the business is currently at a small level, he is aiming to provide livelihood to about 5,000 rural women through his textile brand in the next five years.
"Even if 5% percent of the villages of India become solar charkha clusters, they can meet the demand of 50% of India's cotton consumption with very low carbon footprint. And most importantly, it will improve rural India's economy," says Abhishek.
Wish to share your story?
Trending Now: