Harassed at workplace, she hit back by creating a Rs 1.5 crore turnover awareness enterprise
26-January-2022
Vol 13&nbsp|&nbspIssue 4
When Shikha Mittal decided to quit her corporate job after suffering continuous sexual harassment in the places she worked at, she was not running away scared, but was preparing for a fightback.

She would set up an organisation to sensitise women on sexual harassment and make workplaces safer for women.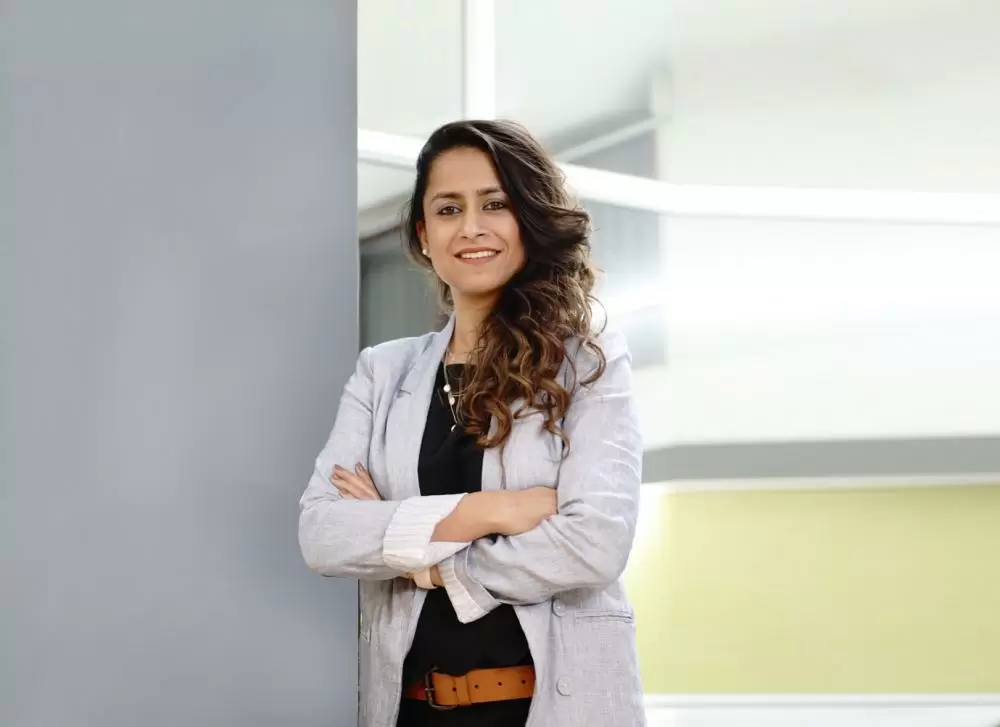 Shikha Mittal founded Be.Artsy to spread awareness at corporate offices on the topic of POSH (Prevention of Sexual Harassment (Photos: Special Arrangement)

"I had changed eight jobs to save myself from workplace harassment. However, it did not work out. I experienced sexual harassment at every company I joined.
"So, one day in 2010, I decided to quit my job and start an organisation to create awareness on preventing sexual harassment in workplaces," says Shikha.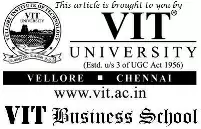 Twelve years later, she can look back with satisfaction. Her organisation, Be.Artsy, a for-profit enterprise, has conducted more than 3500 programmes through street theatre in both public and private sector companies.
She has conducted her programmes in American Express, Air India, National Stock Exchange, Volvo, Pepsico India, Tata Motors, Asian Paints, Reckitt Benckiser, and more.
The best part is that she has created a self-sustaining business model. "Our first year's turnover was Rs 4 lakh. In the second year it was Rs 11 lakh. The last three years' average turnover is Rs 1.5 crore," says Shikha, 38.
The company that was started with only Shikha has 16 regular employees now and a network of 800 nukkad natak (street play) artists in 14 languages who are hired when required.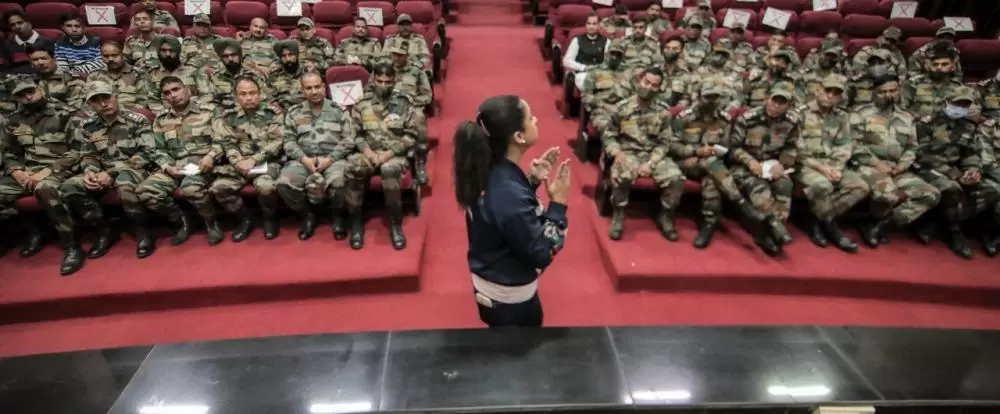 Shikha conducting a programme for the army in Manipur
Shikha became a victim of sexual harassment during her first internship at a radio station when she was just 21.
She remembers how she had no idea about her boss's intention when he offered to drop her home in his car. The young girl was shocked when her boss slipped his hands under her skirt.
"I was not a child then," says Shikha. "I understood his intention. He was saying it was alright and there was nothing wrong in it. At a traffic signal, I opened the car's door and escaped from him."
Shikha says she suffered sexual harassment in other jobs as well, but didn't know how to respond to it. She believes she was a victim because her harassers knew she was from a middle class family and she couldn't afford to lose the job.
"Some bosses said that if I needed a promotion and a salary raise I had to sleep with them," says Shikha, who hails from a very humble family.
Her father was into small construction work and the family found it hard to make ends meet with his meagre income.
"He worked for long hours," she recalls. "I saw him sleeping around 2 at night and waking up at 7 in the morning and going to work. He worked hard to give us good education."
Shikha's elder brother is now a fashion designer and her younger sister is working on a project to create wigs for cancer patients.
Shikha studied at Cambridge School, Srinivaspuri, Delhi, and did her graduation in history from Khalsa College. Later, she did a PG diploma in Mass Communications and a diploma in Entrepreneurial Studies from IIM, Bangalore.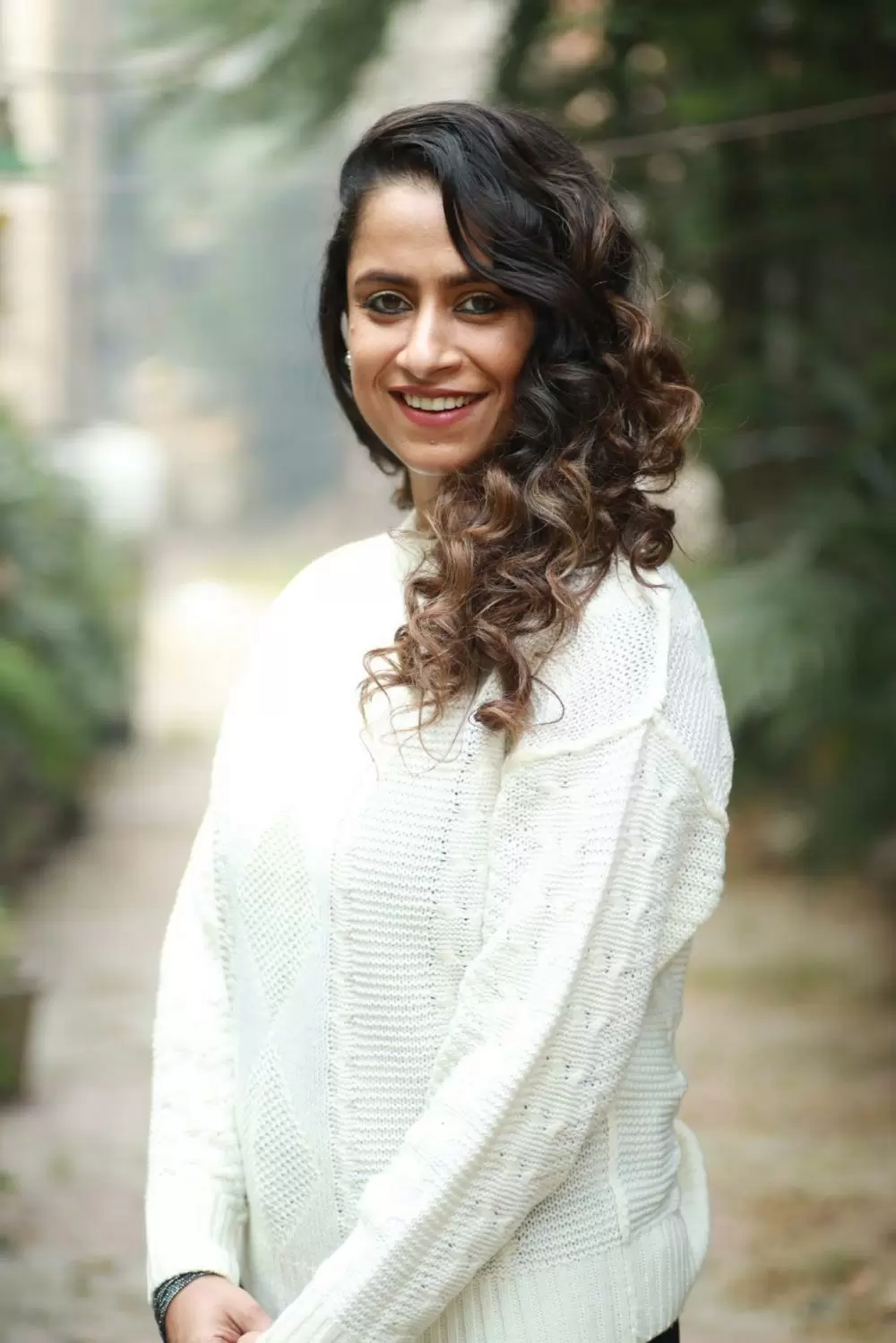 Shikha did her first POSH programme for PepsiCo India in 2011
In 2010 she started Be.Artsy. She did her first awareness programme at PepsiCo (India) in 2011. "I received a financial support of Rs 4 lakh from Vodafone and since then, I haven't looked back," says Shikha.
So far she has done awareness programmes at 14 renowned companies in India and connected with around 25,500 employees.
"It was tough. I approached about 5000 companies and only managed to do my programmes in 14 companies, even though at least 95% of the women face sexual harassment at workplace in one way or the other," claims Shikha.
She feels the companies are reluctant because they don't have a proper setup to deal with sexual harassment cases in their offices.
"The companies don't have a trustworthy body where women can approach to register their complaints about sexual harassment. Even if they have one, it is just for formality, nothing else," says Shikha.
Through her programmes, she creates awareness as to what constitutes sexual harassment and how to report cases of harassment to the company's Internal Complaints Committee (ICC).
She says any company that has more than 10 employees should have an ICC and women can approach it through emails, in person or through calls.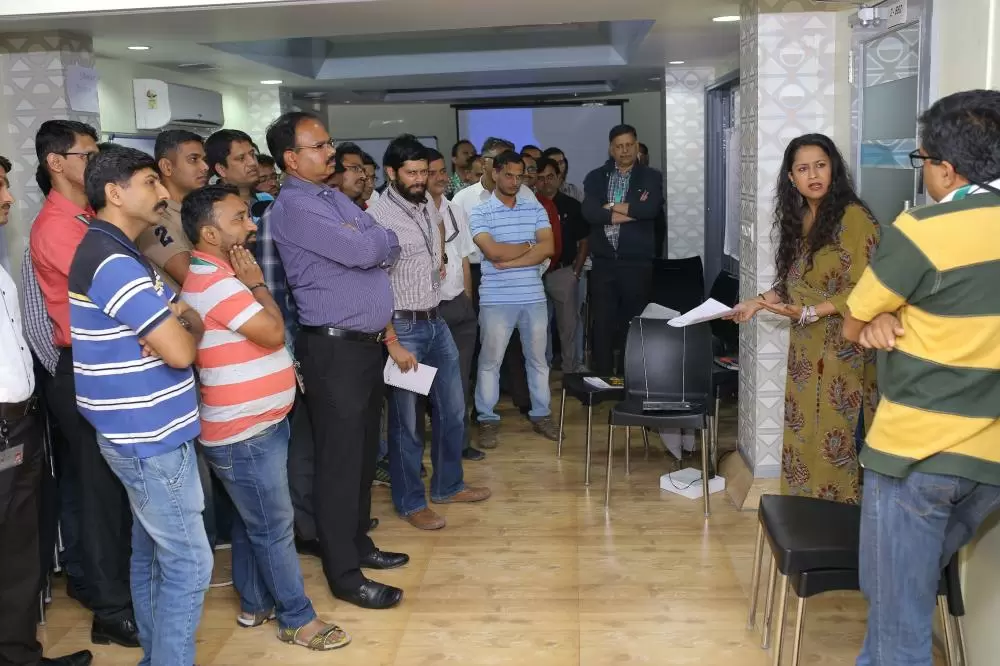 Shikha giving a speech at a corporate session with employees
"However, in many companies, employees don't know about the ICC body and if they know about it, they are clueless as to how to lodge a complaint."
But the feedback has been positive from all the companies where she had done her programmes.
"Though the companies that took our programmes were serious about workplace harassment, our programmes helped them understand the topic better and broke the social stigma among the employees about the subject."
Shikha quoted the feedback from Kevin Cox, American Express: "In 22 years of my HR practice, I have never seen such an impactful training and communication campaign for such a sensitive topic like POSH (Prevention of Sexual Harassment)."
Besides POSH, Shikha has also created a programme called 'Be Your Own Lakshmi' which provides financial literacy for women.
It is a 40-hour programme where she makes individuals understand where they stand financially and then teaches them to manage and grow their finances better.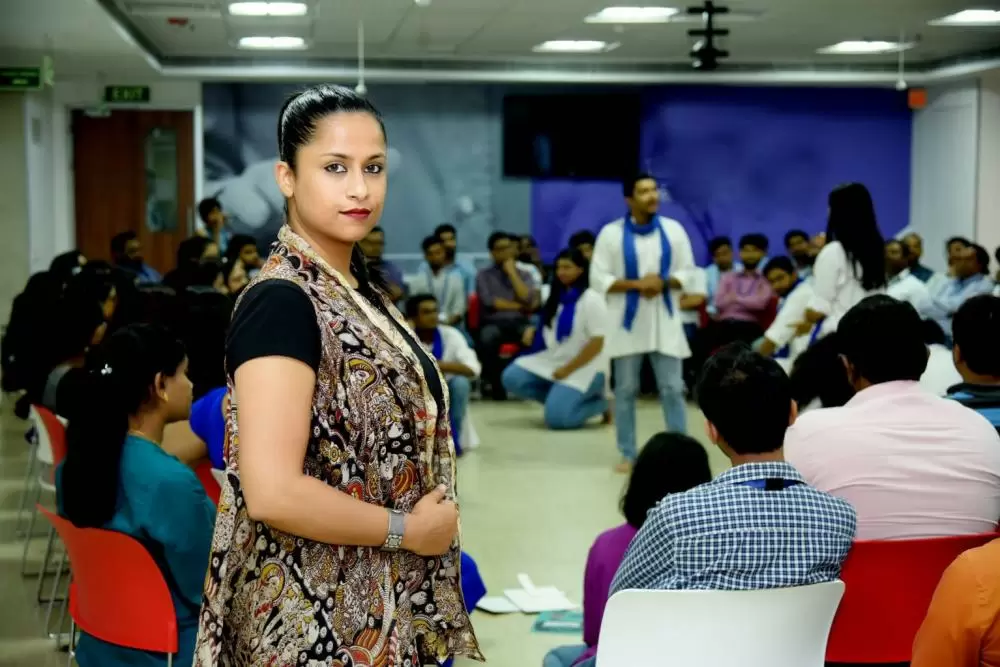 Shikha with her team that is performing at a corporate programme
"The charges are different for POSH and other programmes. The charges vary from client to client because of the size of the employees we communicate with and other factors," she clarifies.
"However, for the online POSH programme, the charges start from Rs 25000 and for the physical sessions it starts from Rs 85,000."
But for Shikha the financials are just incidental in the larger goal of empowering women and protecting them in the workplace.
Wish to share your story?
Trending Now: