How serendipity brought Covid hero who spent Rs 90 lakh on Rice ATM venture into social service
24-December-2021
Vol 12&nbsp|&nbspIssue 51
A childhood dream to serve the nation inspired Ramu Dosapati, founder of Rice ATM, to dedicate his life for service to the community and to commit 50 per cent of his income for social causes.

Rice ATM is a project that was launched during the Covid lockdown in Hyderabad to feed the hungry people.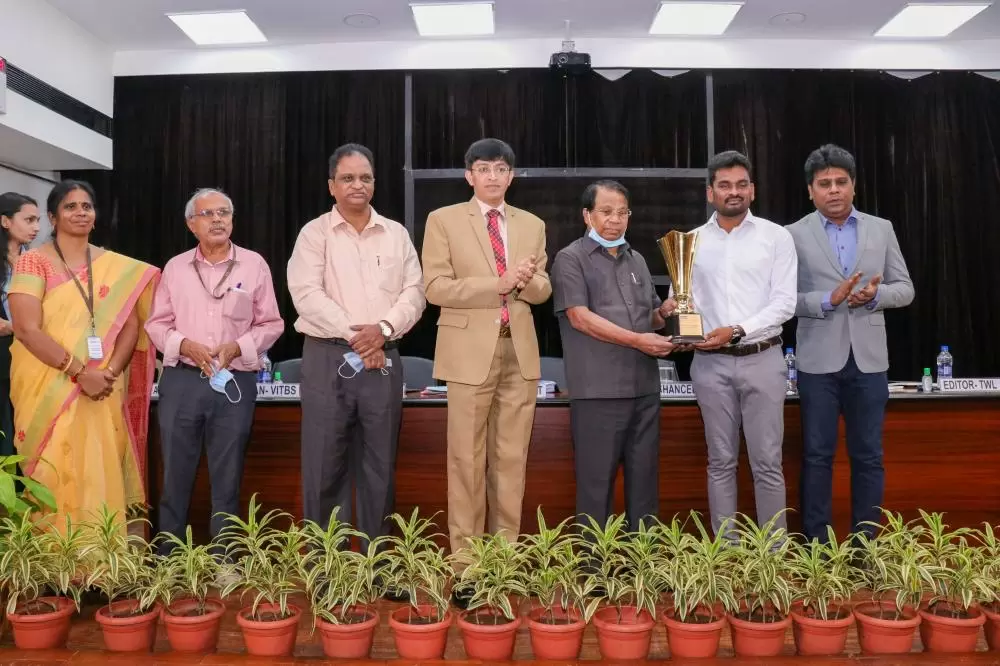 Ramu receiving The Weekend-Leader-VIT Person of the Year trophy from Dr J Radhakrishnan, Health Secretary, Tamil Nadu and VIT Chancellor Dr G Viswanathan. From l to r Dr Vasumathi, Associate Dean, VITBS, Dr Goutam Kumar Kundu, Dean, VITBS, Sankar Viswanathan, Vice President, VIT, P C Vinoj Kumar, Editor, TWL (Photo: Bosco)

"When I was in Class five I had a dream of being with leaders such as Mahatma Gandhi, Bhagat Singh and Subhash Chandra Bose during the pre-independence days.
"From that time I began to think I had missed a golden opportunity to serve the country," Ramu recounted, after receiving
The Weekend Leader – VIT Person of the Year
award at a function held at VIT, Vellore.
"I wished I had been born in 1938 instead of 1978 so that I could have been part of the freedom movement." Ramu appears to have made up for that through his service during the pandemic.
As a senior HR professional in a Hyderabad-based software company, Ramu had a secure job and stable income. But his heart was moved seeing the condition of hungry migrant workers and other jobless people around him.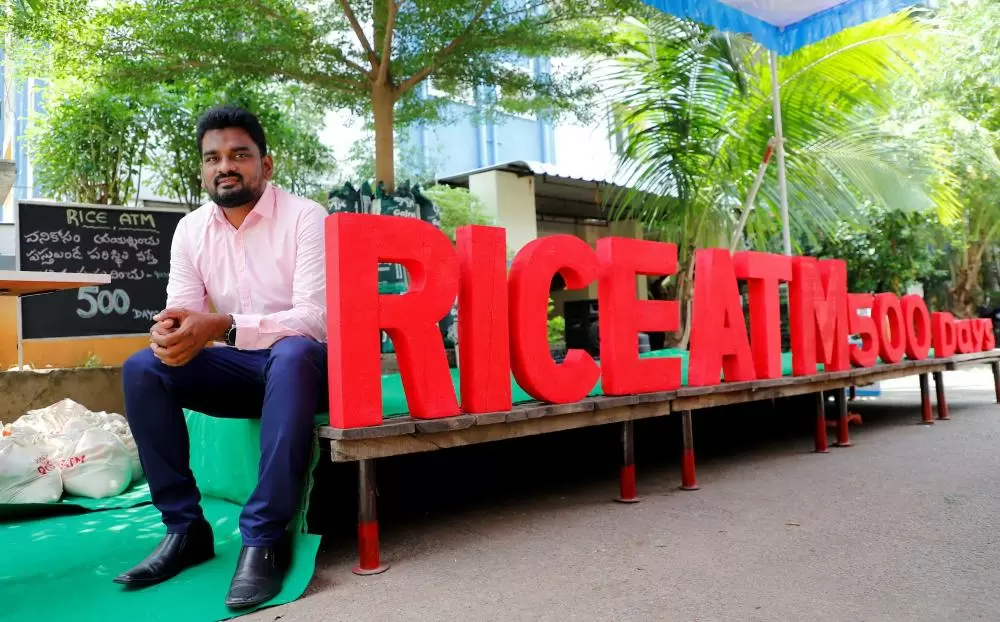 The Rice ATM has now been open for more than 60 days
He started by serving cooked food to jobless migrant labourers, but later began to provide dry ration from a kiosk he set up near his house. He named the kiosk Rice ATM and kept it open 24/7.
He distributed grocery kits consisting of rice, daal, oil, Atta, tea powder, sugar, salt, turmeric and a few other items.
Initially, he used Rs 25 lakh that he had set aside to buy a home for his charity work and later spent his salary of close to Rs 2 lakh each month in running the Rice ATM.
He has spent an estimated Rs 90 lakh on the project so far.
As the Covid situation began to ease, he used his HR skills and helped several people find jobs and with the help of volunteers donated money and materials to many others to start small businesses.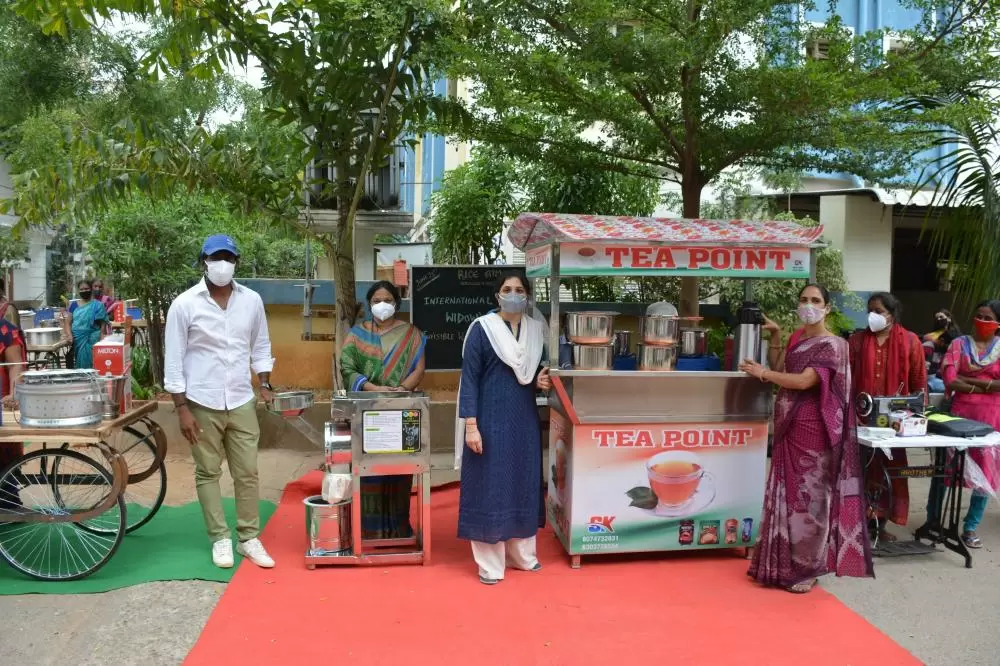 Around 950 people have been provided some form of livelihood. Ramu with a beneficiary who has been provided with a tea shop
According to Ramu, around 950 families have been rehabilitated with livelihoods and 1,500 people have found jobs through his initiative.
Speaking after receiving the award from Dr. J Radhakrishnan, health secretary, Tamil Nadu, and Dr G Viswanathan, Chancellor, VIT, Ramu revealed that he had forgotten all about his childhood dream to serve the society and only a life-threatening accident changed the course of his life.
"I forgot my dream after finishing my MBA. I found a job and got married and was enjoying my life when I met with an accident in 2006," said Ramu. Doctors told him he might not survive.
"It was two years after my marriage. I was worried about my family. My wife was pregnant. I told God, give me another opportunity, another life and I will serve the nation.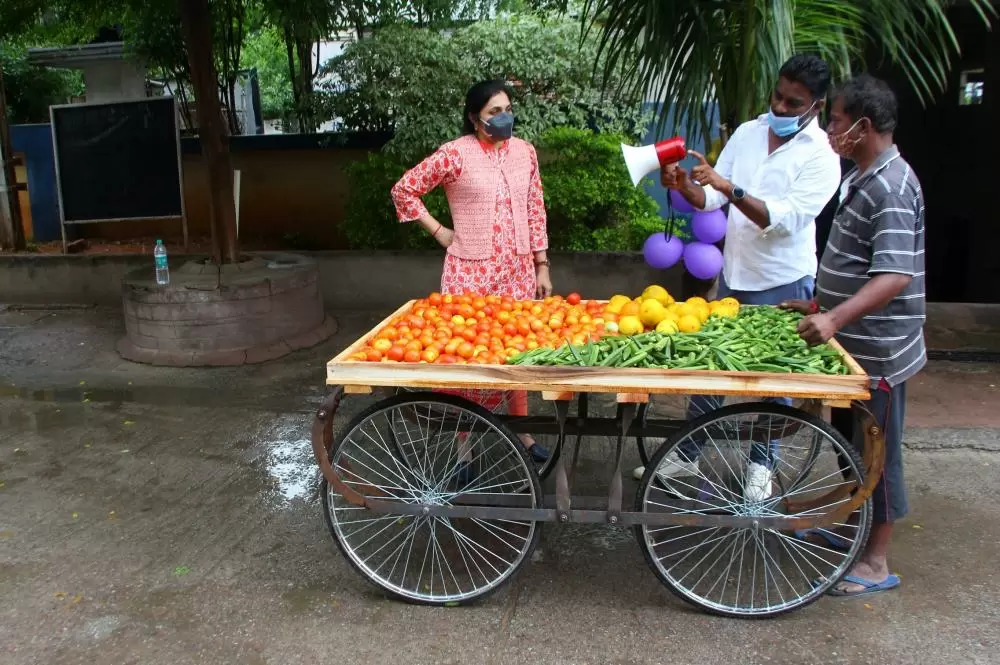 This man can now earn his income through the vegetable cart
"Then, suddenly doctors said I just needed a small surgery. I was discharged three days later. I never forgot my promise to God. I decided to give 50 per cent of my time and salary to society."
He started his service by spreading awareness in wearing helmet while going on motorbikes, and one thing led to another. Last year, when the pandemic struck, he started the Rice ATM.
During his address, Dr Radhakrishnan urged the audience, most of them students of VIT Business School and VIT faculty members, to draw inspiration from people like Ramu Dosapati and learn the art of giving.
"People find it difficult to give. The trend is even when people go to a restaurant they go Dutch. Each pays for what they ate. It takes guts to set up something like the Rice ATM and to sustain it for such a long time," he said.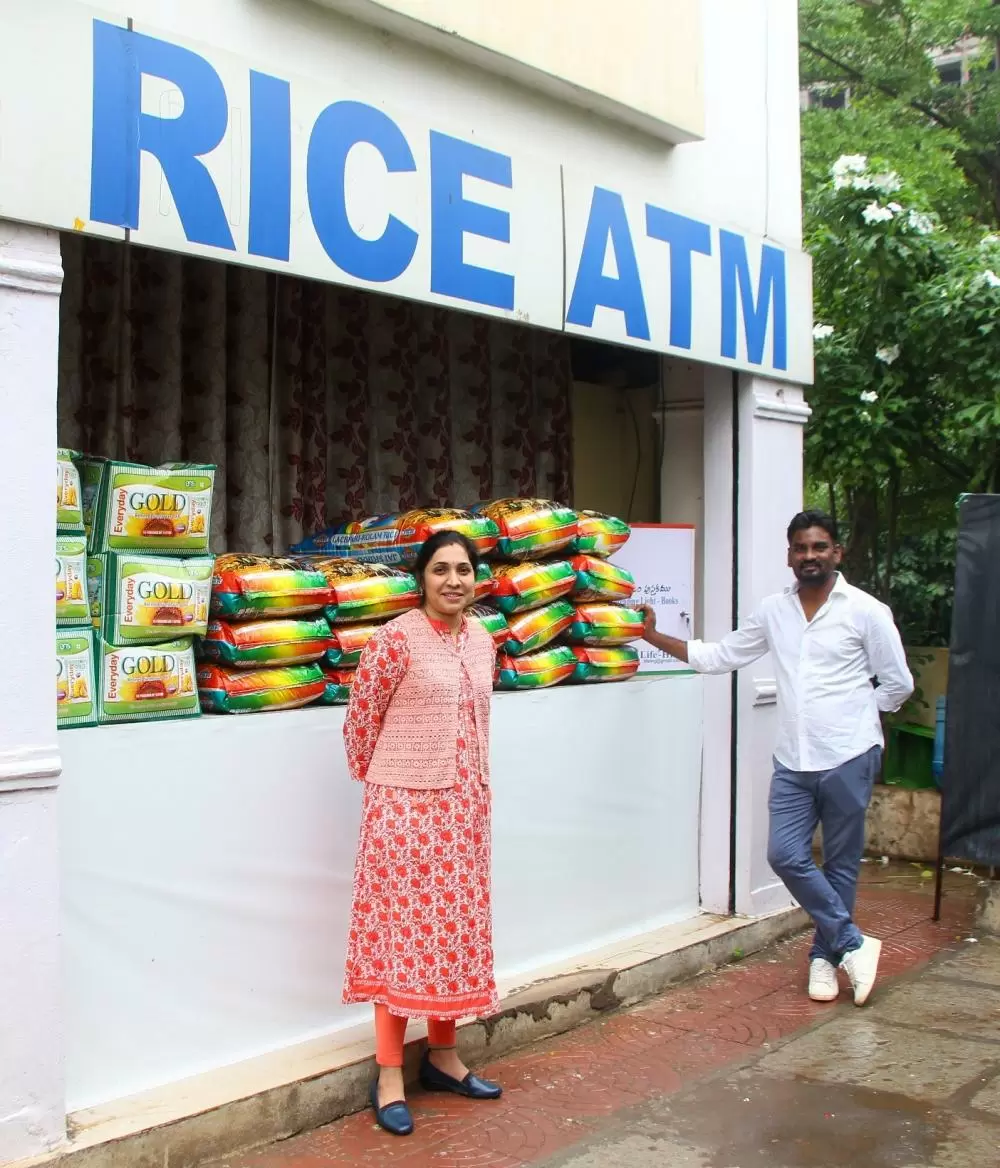 Ramu Dosapati set up Rice ATM to provide grocery items to people who lost their livelihoods during the Covid lockdown
Dr Radhakrishnan himself had received accolades for his role as district collector of Thanjavur and Nagapattinam districts in the relief and rehabilitation work during the 2004 Tsunami.
Dr. G Viswanathan, Chancellor, VIT, urged everyone to remember and help the poor. "I always feel there is a struggle between the heart and the brain.
The heart always says help somebody, give away whatever you have, but the brain will say don't give, keep it for the future, keep it for your children. Mostly, the brain wins and only in some cases the heart wins, like Ramu's."
The Chancellor, a two-time Parliamentarian recalled his close association with top (undivided) Andhra leaders such as former President Sanjiva Reddy and former Governor of Tamil Nadu Channa Reddy during his days as a Parliamentarian.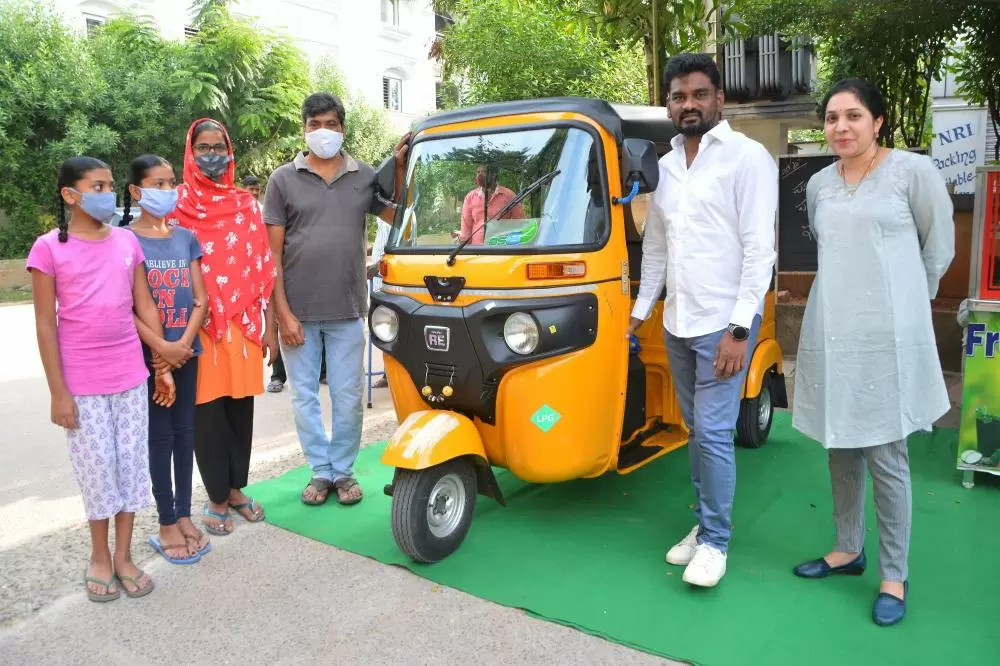 Ramu with a family that has just received an auto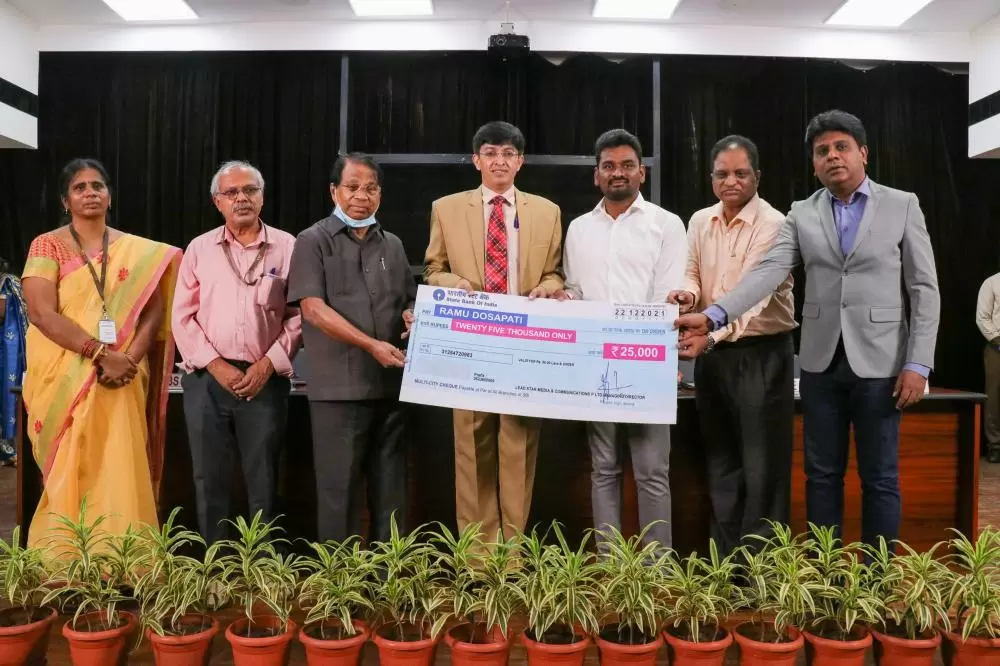 Honouring the hero : Ramu with dignitaries at the award function
He recalled the circumstances under which the hall where the function was held was named after Channa Reddy. He encouraged the students to emulate Ramu in serving the poor and said, "We want many more Ramus in this country."
Sankar Viswanathan, Vice President, VIT, P C Vinoj Kumar, Editor, TWL, Goutam Kumar Kundu, Dean, VITBS, and Vasumathi, Associate Dean, VITBS, were among the dignitaries who spoke at the event. Ramu was presented with a trophy, citation and a cash prize of Rs 25,000.- TWL Bureau
Wish to share your story?
Trending Now: