How a kid who hung out at mechanic shops built a Rs 10 crore turnover riding gears brand

Usha Prasad
&nbsp | &nbsp
23-October-2021
Vol 12&nbsp|&nbspIssue 42
From a young age Ansar loved to ride fancy motorbikes and would hang out at the neighbourhood mechanic shop in his hometown of Kailasapuram in Trichy district, Tamil Nadu.

"The mechanic was a hero to me. While he would make us do every odd job in his garage, I got to ride the bikes," says Ansar, founder of Biking Brotherhood, a Rs 10 crore turnover Chennai-based company that makes high quality riding gears such as jackets, boots, gloves and racing suits for adventure bikers.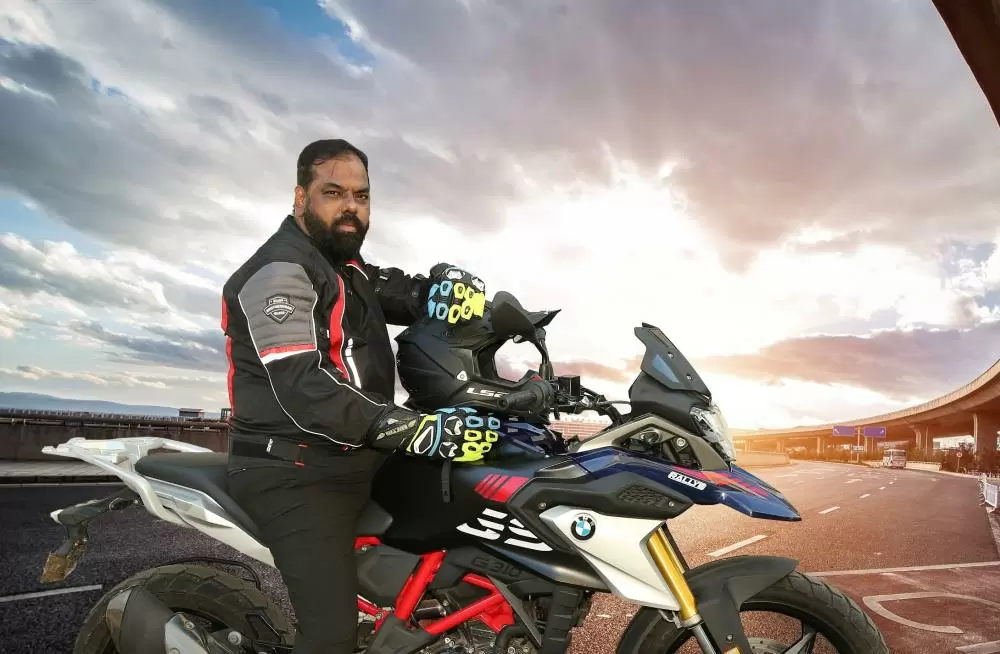 Ansar launched Biking Brotherhood, a riding gears brand, with two used stitching machines and two tailors (Photos: Special Arrangement)

How a son of a welder with a craze for bikes not only built his own business but also came to own several high-end bikes such as KTM, Tiger Triumph, Hayabusa, and finally a BMW R1200 GS, worth Rs 20 lakh in 2019 makes an inspiring story.
Ansar, 44, had a difficult childhood, as his father, the only earning member in the family, hardly made about Rs 750 per month as a welder. He was the last among four siblings and was born seven years after the third child.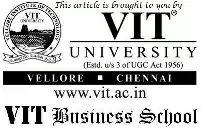 "I never got to wear new clothes in my younger days. I wore the used clothes of my elder brothers," says Ansar, whose family moved to Chennai when he was 10 years old after his father went to work in Saudi Arabia.
In Chennai too, Ansar spent time in mechanic shops. "I learned the nuances of biking and racing through these mechanics and was a regular in the night street racing circuit in Chennai in the 90s," says Ansar.
Chennai has the culture of young bikers organising high-octane races during the night on lonely stretches, though law enforcers do not take kindly to it.
Ansar studied in a school run by YWCA till Class seven in Kailasapuram. In Chennai he joined MGR Adarsh School where he studied till Class 12 and then graduated in electrical engineering from PSG College of Technology, Coimbatore.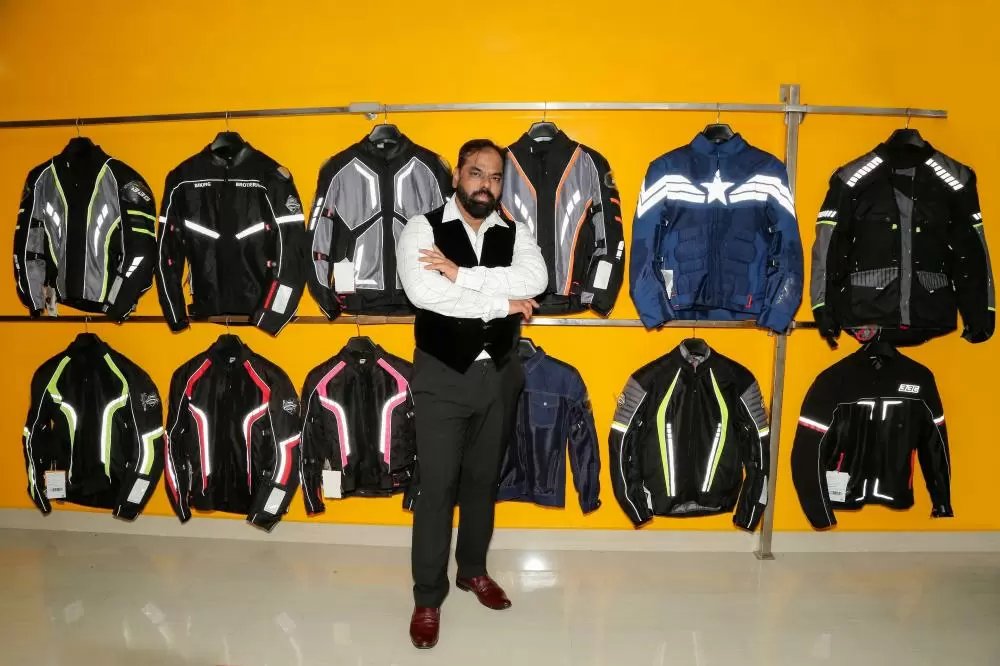 Ansar makes jackets at prices that are lower than international brands, but suited to Indian conditions and with focus on safety and comfort
In 1998, he got a job in a construction company in Chennai for a monthly salary of Rs 2,500 and worked there for three years. In December 2001 he quit his job and opened a store to sell branded T-shirts with his savings of Rs 50,000 and about Rs 2.5 lakh he had borrowed from his friends.
"The shop did well. Since I had borrowed money from friends, I was in a hurry to return it. I was making a decent profit of Rs 8,000 to 10,000 a month, so I started returning the money," he says.
"Within a year, I was debt-free but had no money to buy new stocks. I learned a lesson then that you should pump back your profits into your business to keep it growing."
Around this time, the sale of mobile sim cards was picking up and Ansar tied up with Airtel, Hutch, and Aircel to sell their prepaid cards from his shop. For every postpaid card sale, he got Rs 1,000. Ansar sold at least one postpaid sim every day.
"When every other shop in the neighbourhood started selling sim cards, within a year even this business lost its sheen," he shares.
In 2004, he joined Sutherland, a BPO, for a salary of Rs 20,000 through a friend's referral and helped set up their operations in Chennai.
Later, he joined INSYS Inc and then moved to Xoriant, a software company, in Pune in 2011 as Assistant Vice President with an annual pay package of Rs 30 lakh.
From Xoriant, Ansar joined 8KMiles in 2013 as Vice President in Chennai handling their IT staffing recruitment.
During his stints at various IT companies, Ansar continued to nurture his passion for bikes.
The first bike he bought was a Yamaha RX 100 when he was a teenager. His first superbike was a KTM costing Rs 2 lakh which he purchased in 2011 while he was in Pune.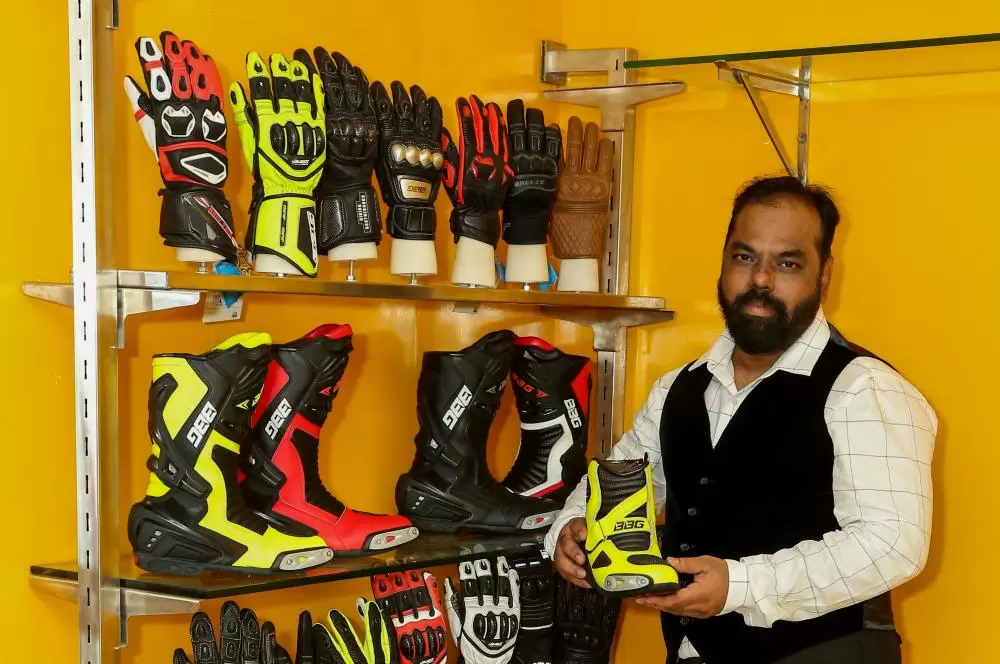 During its earlier days, Biking Brotherhood repaired riding gears of bikers who sent their things from around the country
"Despite having a Scorpio jeep, I made frequent trips to Mumbai on work in my KTM, and also did several rides to Chennai as well from Pune covering a distance of about 1200 km in 12 to 13 hours, riding solo," recounts Ansar
Ansar was instrumental in starting 'Dukes of Pune', the first organised superbike riders' group of its kind in 2012.
When Ansar started Dukes of Pune, Alpinestars, an international brand of clothing and protective gear for motorsports, was the only store where bikers could buy their riding gears in Pune.
Their products were expensive. A jacket would cost about Rs 25,000. That's when he hit upon the idea of making affordable jackets.
With the urge to start Biking Brotherhood, Ansar, while still in Pune, bought two used stitching machines and one hemming machine in Chennai at half the cost in mid-2013 for one lakh rupees to experiment with his idea.
He hired two tailors, of whom one was a cobbler who had been mending leather jackets of bikers in Chennai for many years.
Initially, they undertook repair work of jackets. Ansar started putting before and after pictures of the repaired jackets on his Facebook page. Riders from around the country would send their jackets through India Post to Chennai.
While the postal charges for sending and receiving would come up to around Rs. 250, Ansar charged around Rs 400 to 500 for repairs.
"When we changed the entire panel of a jacket such as the entire sleeve, or a collar, or a cuff in the matching colour, the repaired jackets looked as good as new and the biker saved both time and money than going in for a new one," he says.
"Today, we are the trusted manufacturing partners for other riding gear brands too. We make protective gears for motorcycle manufacturers like Bajaj, TVS Racing, KTM, and Yamaha."
Ansar claims that Biking Brotherhood is the only Indian riding gears company to have its own full-fledged manufacturing unit, while also exporting their products to Europe, South America, and Central Africa.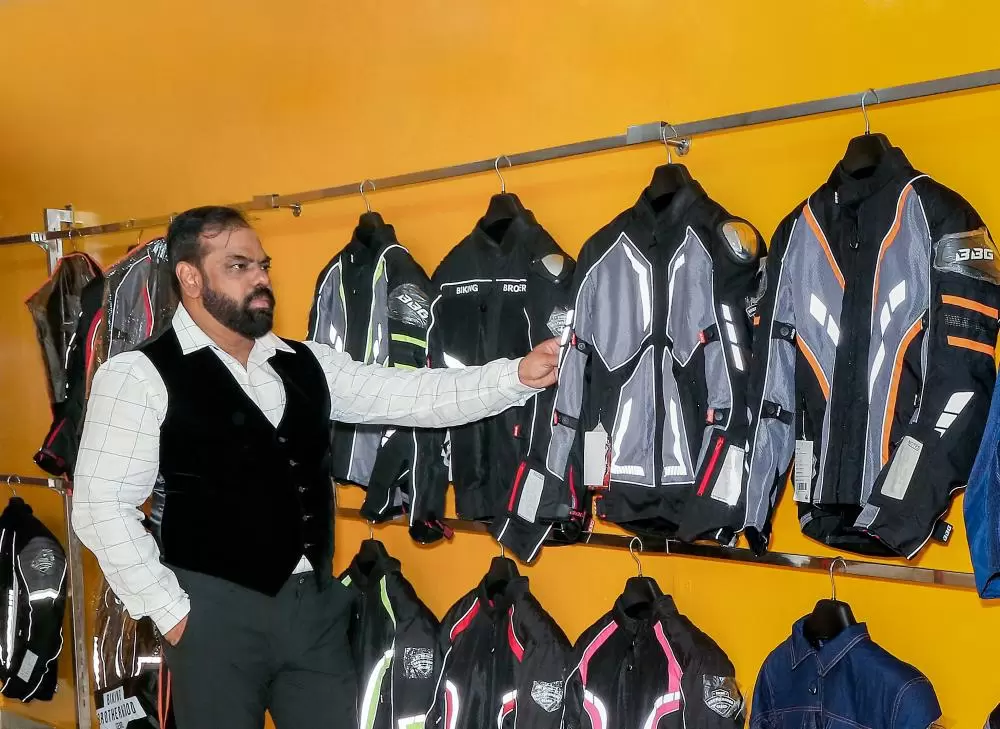 Biking Brotherhood's store is located at Mount Road, Chennai
Ansar started Biking Brotherhood from a 600 sq ft space on the ground floor of his house in Korattur, Chennai. Initially, he used to travel from Pune to Chennai every alternate weekend to monitor the repair works.
In 2014 he quit 8KMiles to focus on his business full-time. He also set up a 500 sq ft flagship store in Mount Road with an investment of Rs 25 lakh.
Ansar started making jackets, gloves, and boots. He initially made orange colour jackets complementing the colour of the KTM bikes.
However, they sold only four to five jackets a month initially. So, by 2015 he had decided to close the company. But his wife Ayesha suggested that they put up a sale during Diwali. It proved to be a game changer.
"I put up the entire product range for 50% discount on my personal Facebook page. Within a few minutes of posting, I was flooded with enquiries for various sizes," he says.
"Within a fortnight more than 80 per cent of the inventory was sold and we got around Rs 8 lakh into our account." From then on, they have been growing year on year.
The jackets sold by Biking Brotherhood are in the price range of Rs 6,000 and Rs 10,000.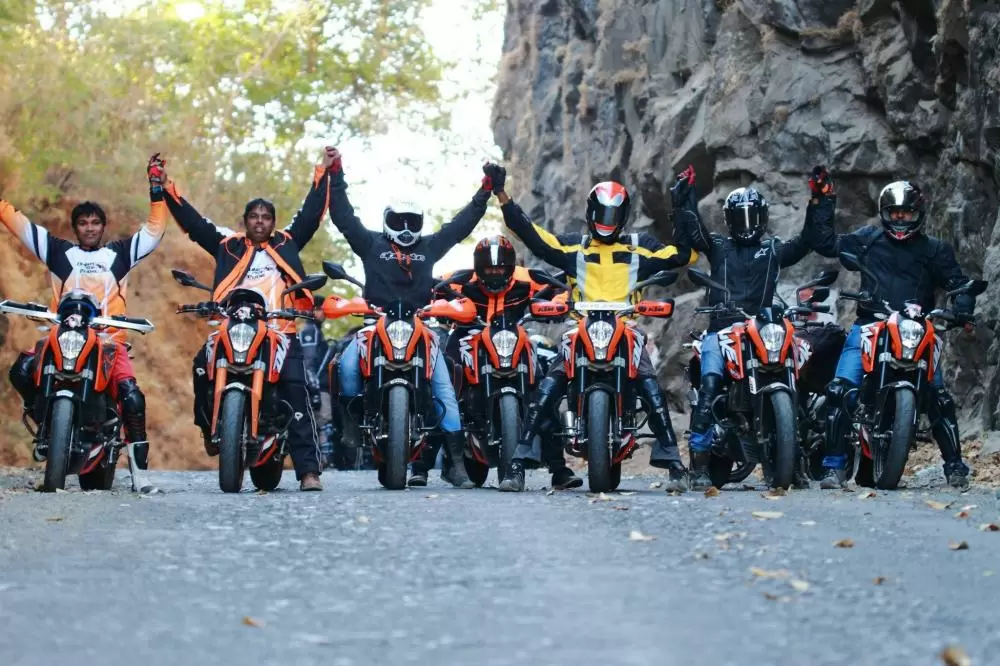 An avid biker, Ansar was instrumental in starting a superbike riders' group in Pune in 2012
Today, the company sells over 60 products with around 120 dealers selling them across India. The riding gears are also sold on the company's website and other e-commerce platforms including Amazon and Flipkart.
Biking Brotherhood operates from a 6000 sq ft own building in Korattur with 22 people, including a team of pattern masters and tailors.
Ansar lives in Chennai with his mother and wife Ayesha, while his father is now no more. All of Ansar's siblings are settled in Saud Arabia.
Wish to share your story?
Trending Now: