With Rs 1 lakh and a dream to better the lives of farmers, he built a Rs 525 crore turnover agricultural company
27-August-2021
Vol 12&nbsp|&nbspIssue 34
Refusing to give in to failures and disappointments, Vilas Shinde, who holds a post-graduate degree in agriculture with a gold medal, persisted in his dream to work for the betterment of farmers and succeeded in his efforts.

In 2010 he started Sahyadri Farms with an investment of Rs 1 lakh and with 100 farmers as a Farmer Producer Company (FPC) - which is a hybrid of a cooperative society and a private limited company. The company is entirely owned by farmers and non-farmers cannot be a part of it.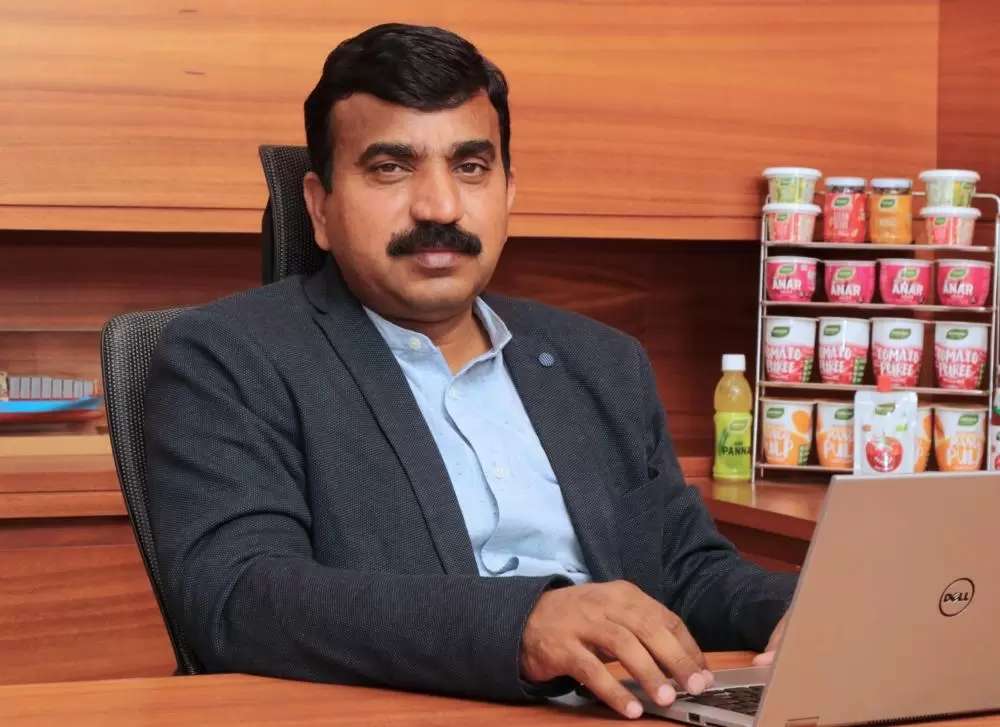 Vilas Shinde started Sahyadri Farms as a Farmer Producer Company in 2010 with 100 farmers (Photos: Special Arrangement)

Today, Sahyadri Farms is a massive success story with 10,000 farmers collectively owning about 25,000 acres in Nashik region of Maharashtra and producing 1,000 tonnes of fruits and vegetables daily.
Sahyadri Farms is the biggest exporter of grapes in India. The company exported 23,000 metric tonnes of grapes, 17,000 metric tonnes of banana, and 700 metric tonnes of pomegranates in 2018-19.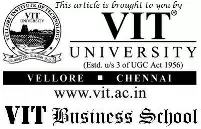 "We achieved a turnover of Rs 525 crore in the last financial year. We are also one of the biggest traders of tomatoes in the country," says Vilas, 47.
Sahyadri farmers cultivate varieties of grapes such as Thomson, Crimson, Sonaka, Sharad seedless, Flame and ARRA.
Around 60% of Sahyadri Farms' fruits and vegetables are exported and 40% is sold in India. "We export our products to 42 countries including Russia, the US, and various European countries," says Vilas.
Various varieties of Arra grapes such as white, red and black are grown in more than 40 hectares of farmland by the FPC.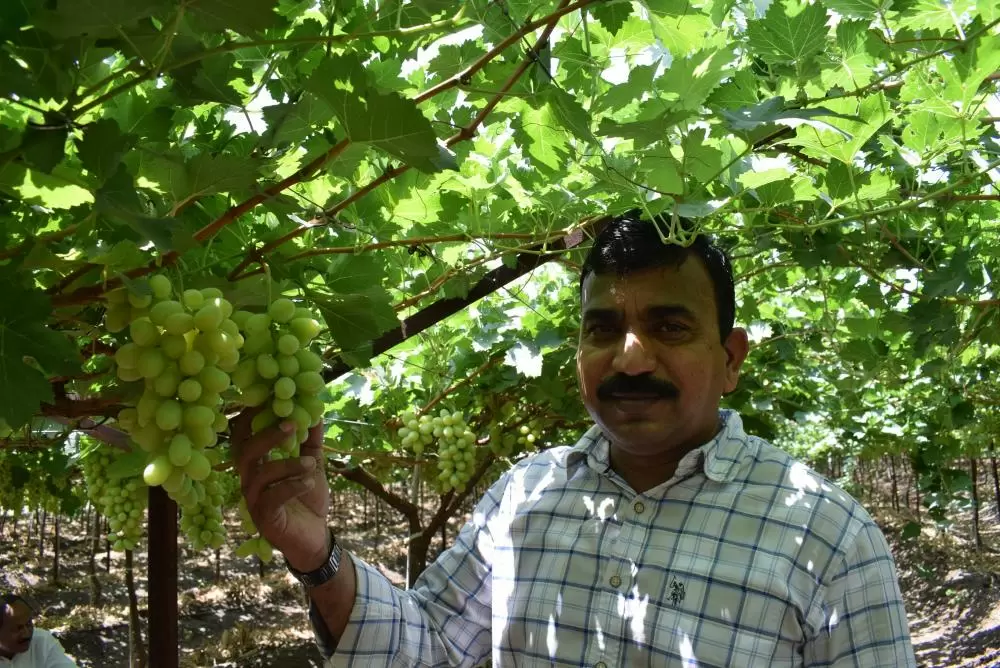 Vilas encouraged farmers to grow different varieties of grapes that are largely exported and also made into value-added products
In the initial years, Sahyadri focused mostly on grapes, because of its demand in foreign market.
Now, besides producing fruits and vegetables Sahyadri is also into manufacturing of different kinds of value-added products of vegetables and fruits such as pulps, dices, fruit juices, slices, ketchups, frozen vegetables and fruits jams under the brand name of Sahyadri Farms.
The company has 12 stores spread out in Mumbai, Pune and Nashik to sell its own branded products. The products are sold in other retail outlets as well. However, on the digital platform, their products are available only on their own website and nowhere else.
Vilas has been working on a direct marketing model which received a big boost since the Covid lockdown in 2020. They have more customers now placing orders through their website and app.
"We make about 38,000 home deliveries a month," says Vilas, adding that the company has been on a growth path in recent years. Their customers are located in Mumbai, Pune and Nashik.
In 2018, the company built a fruit processing plant at Mohadi in Nashik in a campus spread across 100 acres with an investment of Rs 250 crore.
The campus also has KISAN-HUB which is an initiative to support the farmers with various inputs to assist in their farming activities.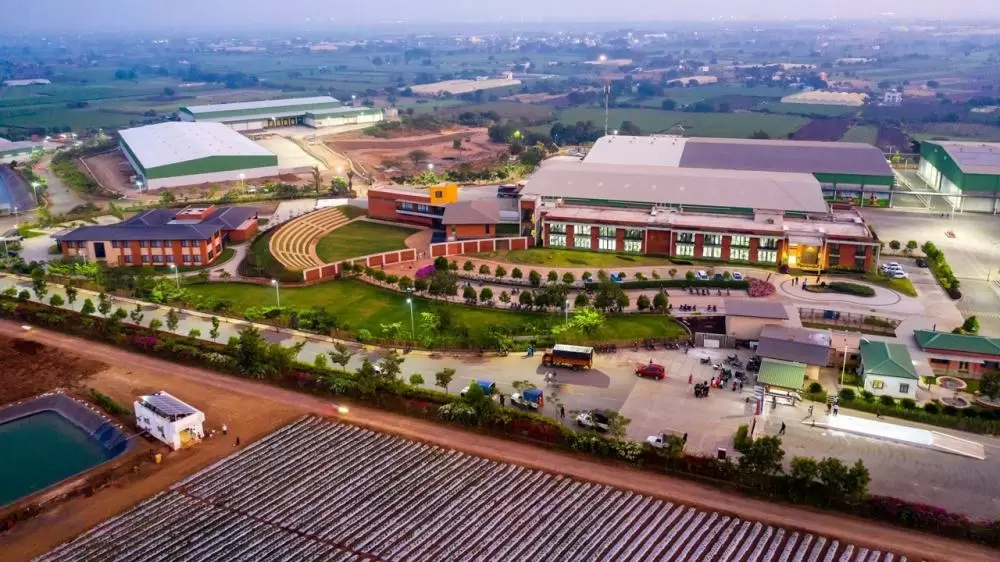 An aerial view of the fruit processing plant of Sahyadri Farms at Mohadi in Nashik
They include automated weather stations, sensors and satellite imaging. These systems provide the farmers with timely weather updates and help them save the crops from nature's fury.
"Sahyadri Farms has helped its farmers to increase yields by 25 per cent. Today, our farmers earn an average of Rs 67 per kilo for their grapes compared to Rs 35 in the wholesale mandis," says Vilas.
"The farmers who would just earn around Rs 1 lakh a year, that too not regularly, now earn more than double and their earnings are also stable. They don't have financial insecurity now."
It has been possible because now there are no middlemen between farmers and customers. "Moreover, we have increased the value of farmers' products by value addition and selling them to a larger audience including the foreign market," says Vilas.
Through Sahyadri, Vilas has also created jobs for thousands of people. There are 1200 direct employees working in various departments of the company such as research and development, production, finance, human resources and retail, and 3500 indirect employees including daily wagers and contract workers.
"I am really happy and humbled that I have been able to provide employment to so many people and making their lives better," says Vilas, who himself hails from a modest family and came up the hard way.
His father Vishnu Shinde was a struggling farmer in Nashik's Adgaon village and the family cultivated grapes, methi (fenugreek), palak, and tomatoes.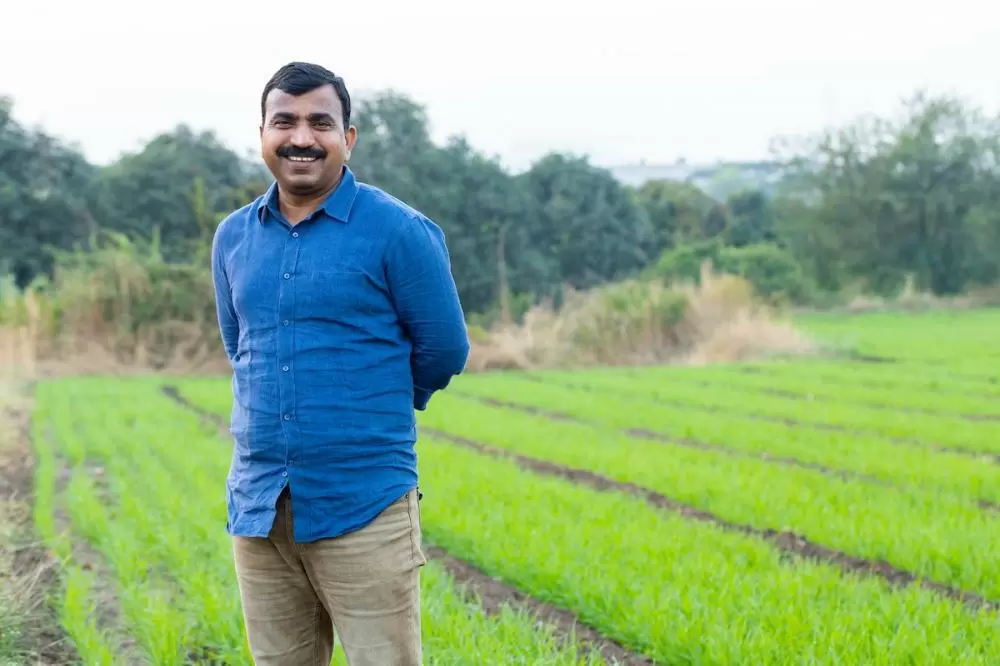 Vilas was born into a farmer's family in Nashik's Adgaon village

"We sold them in local markets to run the house. My family's situation was not in any way different from other struggling farmers' families," says Vilas, who used to be good in studies and managed to study on scholarships.
After completing his masters in agriculture at Maharashtra's premier agricultural university Mahatma Phule Krishi Vidyapeeth, Rahuri, with a gold medal in 1998, he returned to his village to take up farming as a profession.
He would grow various crops such as grapes, watermelon, and seed corn in the family's farmland and sell them in the district market, but he could hardly make a profit of Rs 10,000 from one acre of farmland in a month.
Vilas then ventured into dairy farming and bought around 200 cows taking some loans from private money lenders and banks.
He set up a small pasteurization unit at his farm and sold the milk in Nashik. Later he also began to make and sell vermicompost, but none of it was remunerative and at one stage he had Rs 75 lakh debt.
In this situation he got married in 2001. Then it struck him that it would be a good idea to collaborate with other farmers and target foreign markets.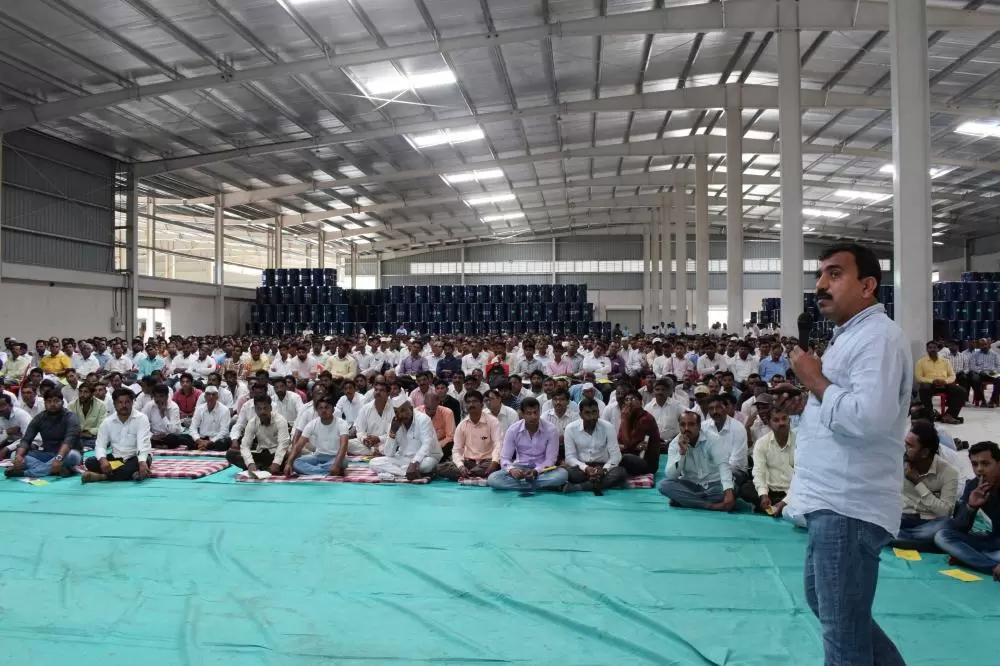 Around 10,000 farmers are now associated with Sahyadri Farms
In 2004 Vilas established a proprietorship company and collaborated with about 12 farmers. They grew grapes and in 2004 he exported about 72 metric tonnes of grapes to the European market through traders.
The stock was worth Rs 70-80 lakh, but his dream of a good profit came crashing down as he received payment for just one container of grapes (about 18 metric tonnes) from the trader.
At that moment Vilas decided to stop his dependency on middlemen and get the products directly to customers.
"I realised that we needed to build a module like Amul for vegetables and fruits," says Vilas. He started Sahyadri Farms in 2010 with about 100 farmers.
Their first consignment to Europe was rejected due to excess chemical residue found in the grapes. It was a devastating blow to the startup, but Vilas was not prepared to give up.
"I was heartbroken since we suffered a loss of Rs 6.50 crore," he says. "Sahyadri farmers had huge hope in me and this unfortunate incident happened. I did not want to disappoint them, so I sold my properties to pay off the farmers' loss."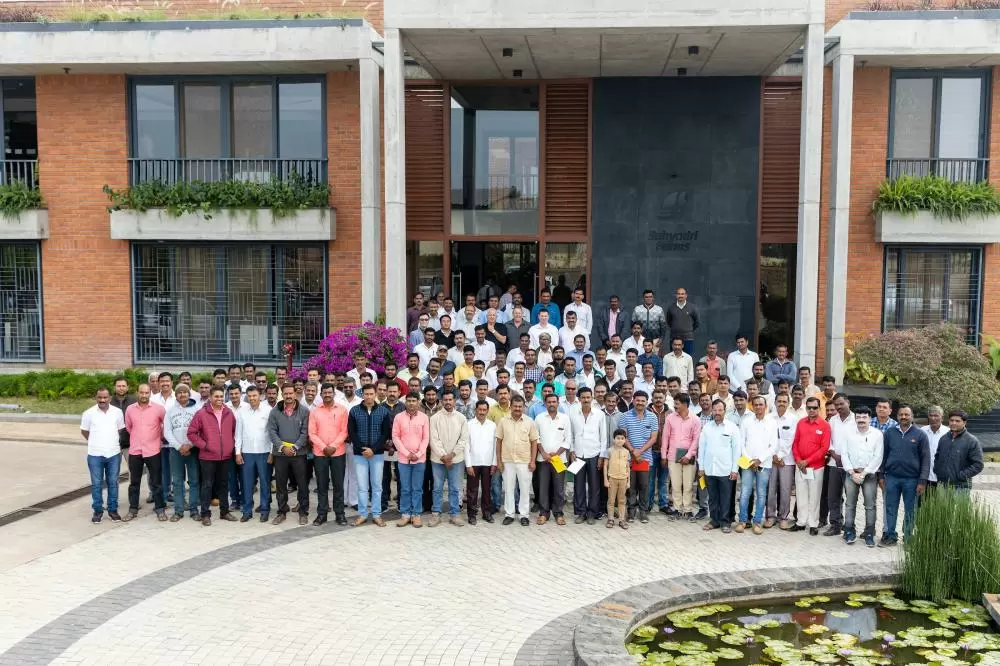 Sahyadri Farms provides employment to 1200 people. Vilas with some of his team members
It was the turning point in his life. From then on the company began to grow. In 2017, their turnover stood at Rs 76.04 crore and in the last year it jumped to Rs 525 crore.
"I am glad that I am able to impact so many lives through Sahyadri Farms. But it has been possible only because of the farmers' belief in me and their hard work," says Vilas, who has two children, Om Shinde, 19, and Gauri Shinde, 13.
His wife Aarati Shinde is also a farmer and runs her own tissue sampling business that was initially set up by Vilas.
Wish to share your story?
Trending Now: