How a former Intel employee in the US returned to India and built a Rs 44 crore turnover dairy brand
Sofia Danish Khan
&nbsp | &nbsp
17-August-2021
Vol 12&nbsp|&nbspIssue 33
At 32, Kishore Indukuri, an IIT graduate, with a Masters and a Doctorate from University of Massachusetts, who had worked at Intel in the US for six years, returned to India and set up a dairy farm with 20 cows on a leased farm near the Hyderabad international airport in Shamshabad.

Today, his business has evolved into Sid's Farm, a dairy brand that sells around 20,000 litres of milk to customers in and around Hyderabad with a turnover of Rs 44 crore.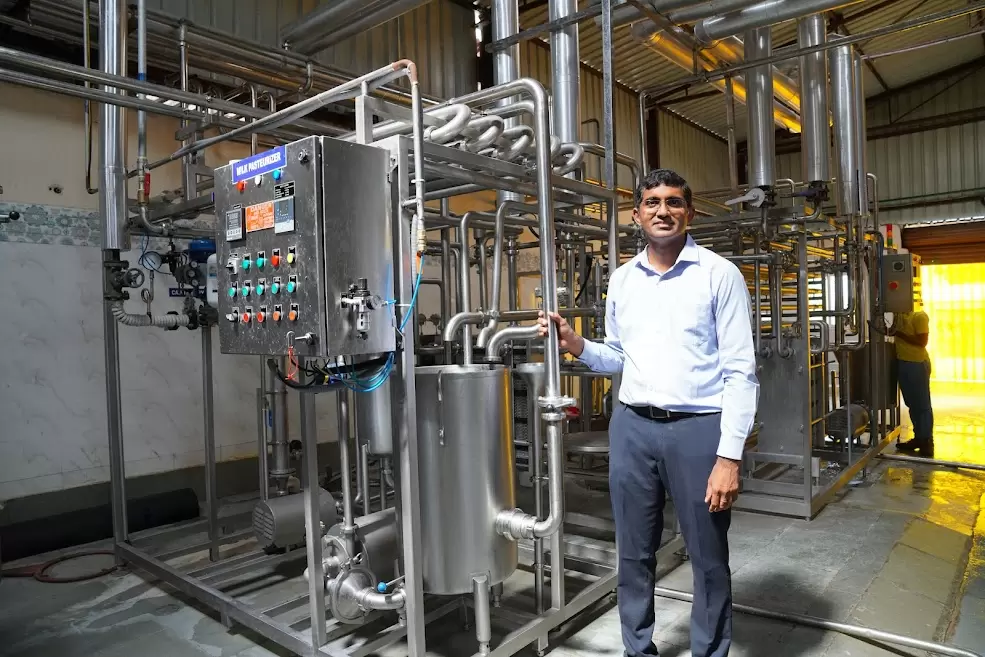 Kishore Indukuri started Sid's Farm with just 20 cows and eight employees (Photos: Special Arrangement)

"Initially we sold the milk in the wholesale market at Rs 15 a litre and suffered losses, since the production cost came to around Rs 30 per litre," says Kishore, 42, recalling his early days as a dairy entrepreneur.
"Then we decided to sell directly to customers, which was an uphill task. We visited housing societies and community centres to connect with people.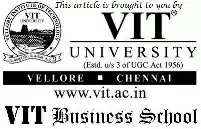 "We distributed pamphlets, designed by my wife Hima, which explained about the benefits of our milk that contained no preservatives, antibiotics, hormones or water. We asked them to taste the milk and then order."
Initially, they transported the milk in stainless steel bottles and the customers would collect the milk in their own vessels at the delivery point.
This practice turned out to be expensive and so they switched to packing the milk in plastic pouches.
Kishore enjoyed what he did and the business began to grow year on year. The farm that was started with just eight people today employs 110 workers.
Besides cow and buffalo milk, they sell cow and buffalo ghee, curd, and paneer as well.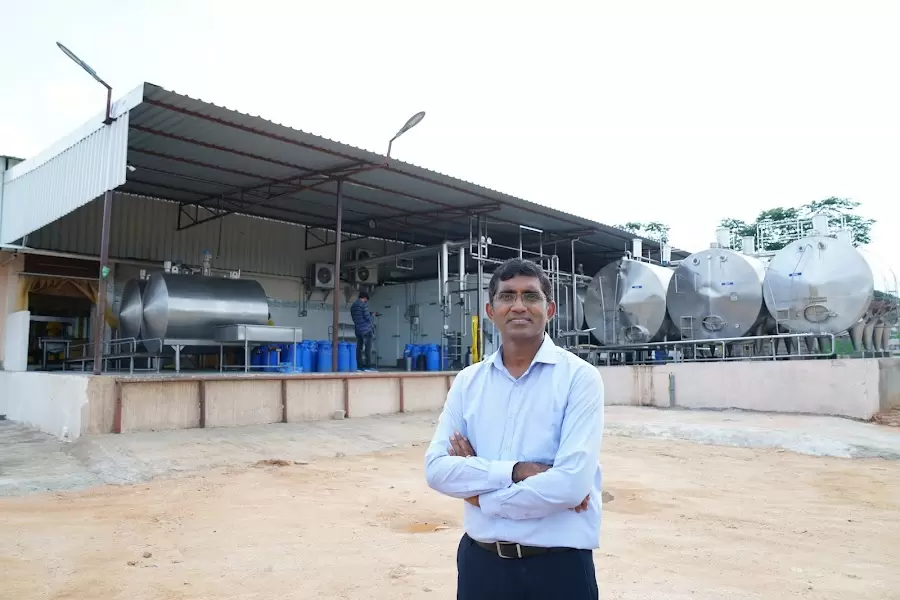 Kishore at his farm in Shabad, about 45 km from Hyderabad

For the foreign educated and former Intel employee, who was earning about Rs 50 lakh per annum when he decided to quit and return to his hometown, the last decade has been most fulfilling.
Kishore hails from a middle class family in Hyderabad. His father Narasimha Raju was an engineer at Mahindra and Mahindra, where he had worked for 25 years until retirement.
His mother Lakshmi was a housewife, and his younger brother now works as a software engineer.
He studied at Nalanda Vidyalaya High School till Class 10 and completed Class 12 from Little Flower Junior College in 1996 with 96%.
"Being from a middle class family, for my parents, education was the only way to do well in life. So they were very particular about my studies," says Kishore, who went on to do his B Sc in Chemistry from IIT Kharagpur.
Later, he did both his post graduation and doctorate in Polymer Science and Engineering from University of Massachusetts.
"The annual fee at IIT was Rs 800 per year, and I went to Massachusetts with full scholarship. My father just bought the flight ticket and gave me USD 500 to spend if I ever needed it," says Kishore, as he talks about his growing up years.
After completing his PhD, he joined Intel Corporation at Chandler, Arizona, as a Senior Quality and Reliability Engineer. He worked at Intel from August 2005 until he decided to return to India in 2011.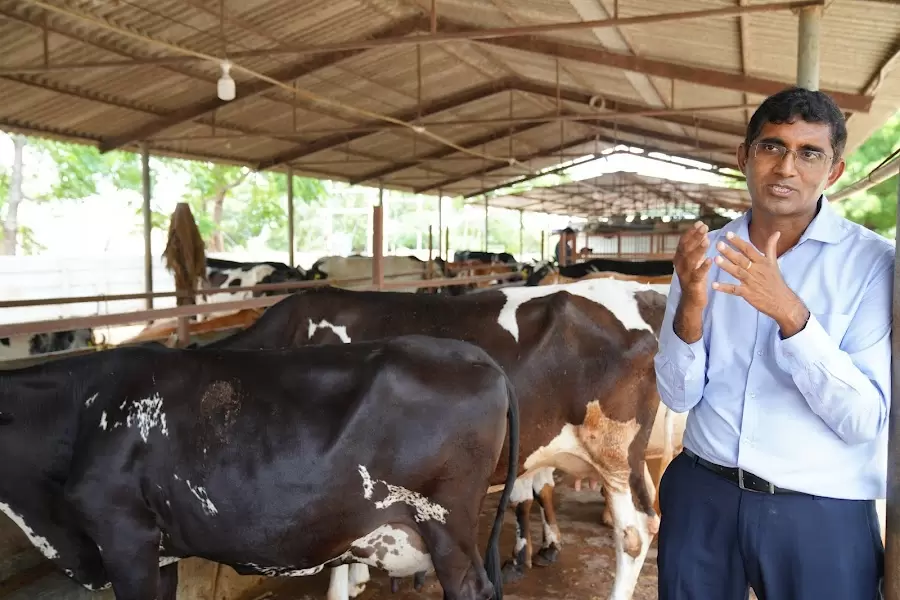 Kishore procures milk from around 1500 farmers in AP and Telangana. There are around 100 cattle at his farm in Shahbad
He had been promoted as a Senior Processing Engineer and his last salary was around Rs 4 lakh. "My job allowed me to travel across Japan, South Korea and other European countries," he says.
"Life in US can become very comfortable. I had bought a house in Chandler, near Intel office, but something was missing in my life… I was looking for a big kick (which I was not getting).
"When I decided to return to India my boss asked what I really wanted to do. I had nothing to say. But my wife was very happy about my decision."
Back in Hyderabad, Kishore dabbled in multiple things. "I grew vegetables and coached students to crack TOEFEL and GRE. I put my hands in as many things as possible, as I didn't know which would click," he says.
Then the dairy farm happened when he took a 24-acre land near the airport at Shamshabad. "I started with 20 cattle and by 2013 it started picking up. I quit all other work and began to focus on my dairy," says Kishore, who invested Rs 1 crore in the business over a period of two years.
"I raised money from family and friends and also from my own savings."
In the initial years he ran the company as a proprietorship firm, and registered it as Sid's Farm Pvt Ltd in 2016.
In 2018, Kishore purchased a 4-acre farm in Shabad, which is located about 45 km from Hyderabad.
"The farm is located amidst open fields. We have a modern processing facility and model dairy farm (with 100 animals) in a rural setting amidst paddy fields, few mango gardens and open fields," he says.
The farm procures milk from a network of 1500 farmers to maintain a daily supply of 20,000 litres to customers.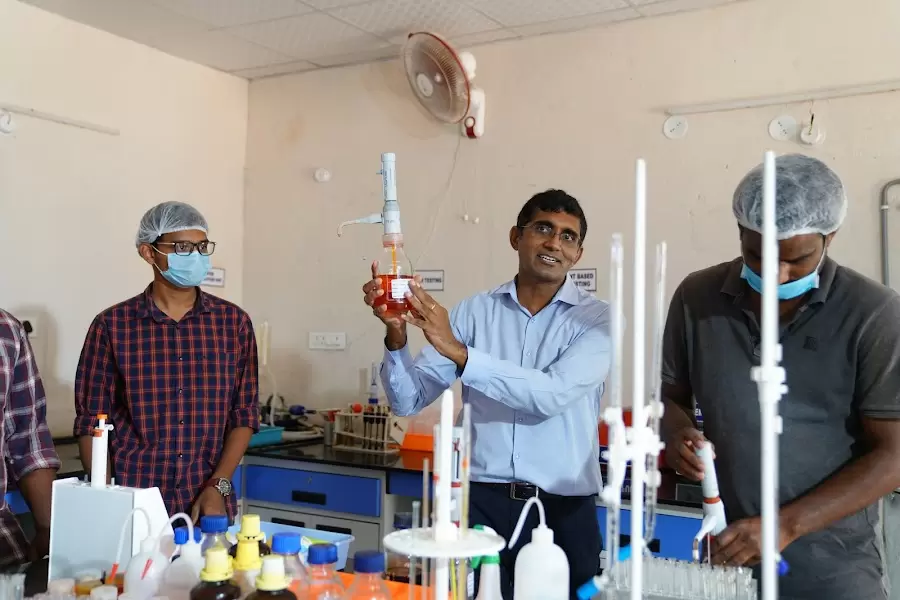 Sid's Farm products are subjected to stringent quality testing
"We have small farmers who own two to three cattle to farmers who have 20 or more cattle. Farmers get paid anywhere from few thousands to a lakh once every 10 days depending on the quantity and quality of milk they supply," he says.
The farmers are based at Shabad, Shadnagar, Keshampet, Mahabubnagar, Wanaparthy in Telangana and Kurnool in AP, with Kurnool being the farthest place, located about 200 km from their farm. The milk is transported to the farm in chiller vehicles owned by transport partners.
Around 12,000 customers are connected through their app, and they also sell through other e commerce portals such as Big Basket Daily and Super Daily.
Since last year Sid's Farm milk is also available at retail stores. Cow milk is sold at Rs 76 a litre and buffalo milk at Rs 90 a litre.
Interestingly, Kishore coined the brand name Sid's Farm from the name of his son, Sidharth, aged 11. "It is a promise to my son as well as the customers that we will serve the best, as we drink it too," says Kishore.
Wish to share your story?
Trending Now: