How an MBA daughter-in-law took a rural family business from Rs 10 lakh to Rs 6 crore turnover

Usha Prasad
&nbsp | &nbsp
09-August-2021
Vol 12&nbsp|&nbspIssue 32
Home is where the heart is for Sindhu Arun, an MBA graduate from Warwick Business School, UK, who has created a cold-pressed oil brand based out of a village in Tamil Nadu's Tiruppur district and taken the family business from a turnover of a meagre Rs 10 lakh in 2013 to Rs 6 crore in FY 2020-21.

Winning the confidence of her husband Arun's family, especially her father-in-law's younger brother V Gopalakrishnan, who was running the family's copra business without a name or a brand, Sindhu added employees, diversified the product portfolio and increased the turnover in just a few years.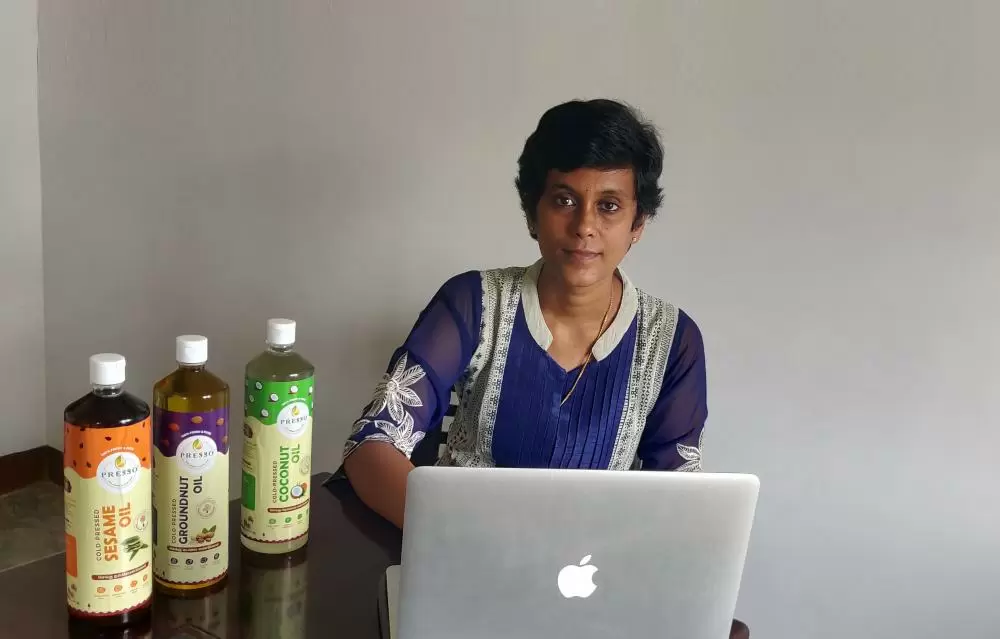 Sindhu Arun launched PRESSO, a cold-pressed oil brand in 2017, taking her rural based family business to a new level (Photos: Special Arrangement)

Today, the business has evolved into AgriPro Industries, a partnership firm that is into sales of copra, coconuts, coconut shells and husk and three types of cold pressed oil (namely, coconut, groundnut and sesame) under the brand name of PRESSO.
Sindhu, 37, hails from a humble, middle-class family in a village near Pollachi in Coimbatore district. Both her parents were government school teachers.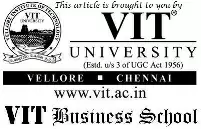 As a high school student, young Sindhu looked up to former Chairperson and CEO of PepsiCo, Indra Nooyi, as her role model.
"I always had her picture in my room. She has been like my remote mentor till this day," says Sindhu, who had always dreamt of becoming an entrepreneur.
Sindhu studied in Tamil medium till Class 12 and did her B Tech in Information Technology from Mahalingam Engineering College, Pollachi.
She got married to Arun, whose family was into copra business. They bought coconuts from farmers in and around their village Modakkupatti and turned them into copra with the help of labourers. The copra was sold in the local market.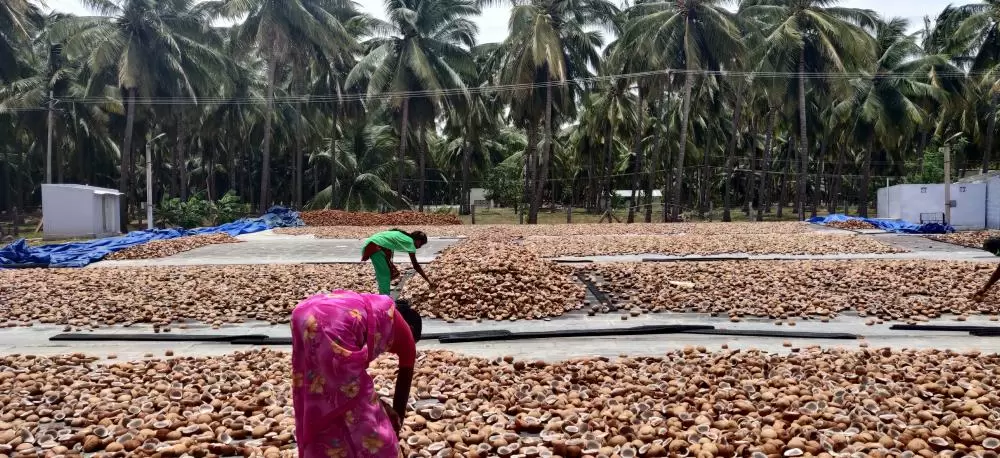 Around 15 people, mostly women, work with Sindhu
Arun's was a joint family of eight people. While Arun's parents - V. Ramanujam and R Rajaveni – took care of the lands, Gopalakrishnan took care of the family business.
Sindhu's mother-in-law encouraged her to join the business and supported her by taking care of her daughter – who was just six months old at that time - and the household work.
Sindhu and Arun decided to take the business to the next level. The copra and coconut business they were into had no registered name. It operated purely on the reputation and goodwill that Arun's family enjoyed in the area.
Sindhu first convinced her in-laws to name the company Evergreen Enterprises in 2013. "But for manual labourers, they had no administrative staff. I wanted my family to think big," says Sindhu. Initially, she hired two people – a supervisor and an accountant.
Her main role was to train the new recruits and look after the accounts. "I got the inspiration (to transform the family business) from the book 'The Magic of Thinking Big'," she adds.
Next Sindhu re-established contact with leading FMCG brand Marico to whom the family had been supplying copra since 2002. Arun had stopped supplying to Marico when he had ventured into iron scrap business about five years before his wedding in 2012.
"I felt collaborating with them would help us learn a lot of things if we wanted to scale our business," says Sindhu.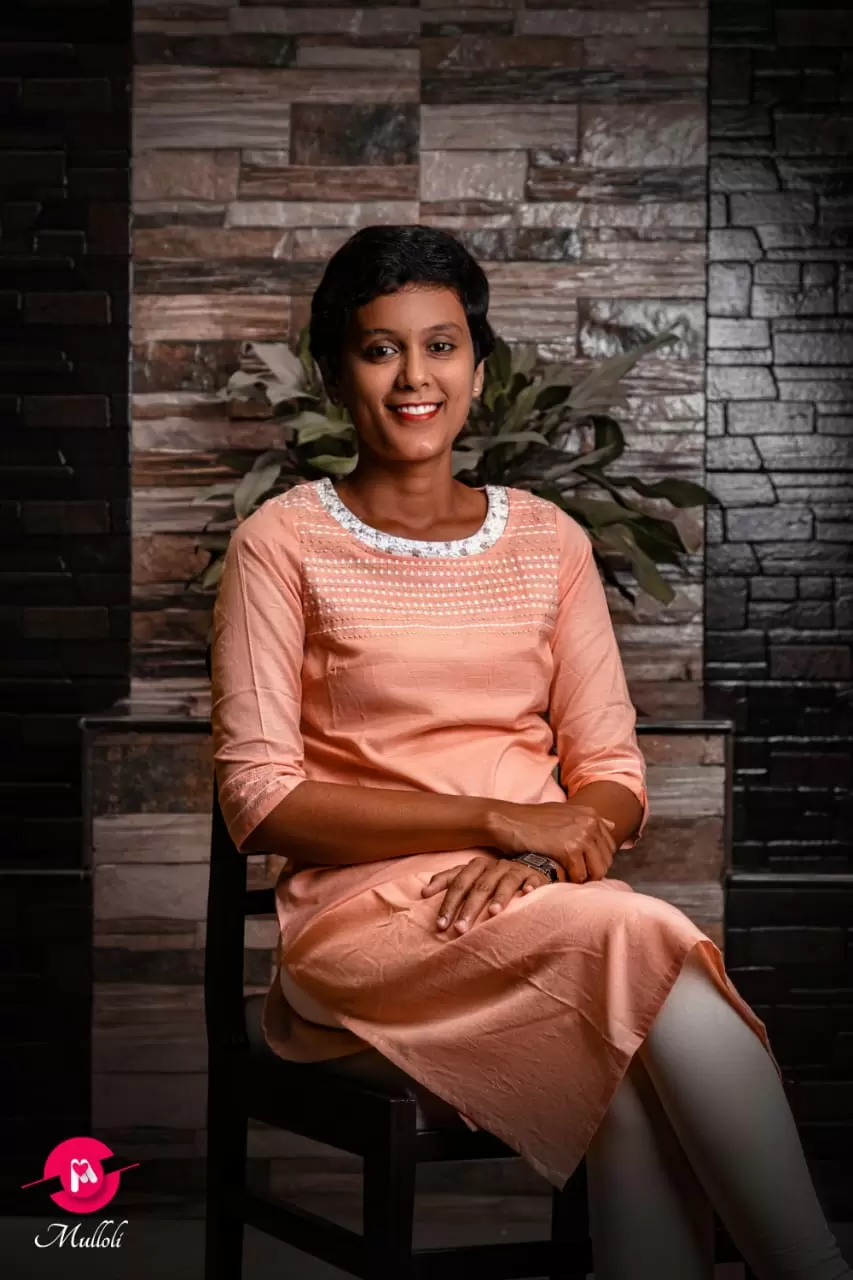 Sindhu worked in London for a few years after completing her MBA from Warwick Business School before returning to India in 2009
"We restarted our business with Marico in 2014. By then Marico had started procuring coconuts under a new scheme and we supplied coconuts to them instead of copra."
In 2017, Sindhu and Arun registered AgriPro Industries as a partnership firm and launched cold-pressed oils under the brand name of PRESSO.
They borrowed Rs 12 lakh from well-wishers and raised another Rs 8 lakh by pledging Sindhu's jewels to set up the production facility for the cold-pressed oils in Modakkupatti.
They procure coconut and groundnuts from local farmers, and sesame from an organic farmer in Vedaranyam. The oils are on various e-commerce platforms, their website, and physical outlets as well.
"We have a good market reach in Tamil Nadu, Kerala, Karnataka, Bhopal, and Haryana. We also export to Qatar and we are in talks with Malaysian and UK buyers now," says Sindhu.
Brand PRESSO contributed Rs 27 lakh during FY 20-21 to the company's total turnover of Rs 6 crore.
Sindhu has achieved every goal she had set for herself in life. As a student she wished do do her higher studies abroad in one of the top-ranking universities and she went to Warwick Business School in 2006 at the age of 23.
She did her MBA in Information Systems & Management there. While doing her course, she worked as a waitress in a restaurant after college hours from 6 pm to 11.30 pm for one year.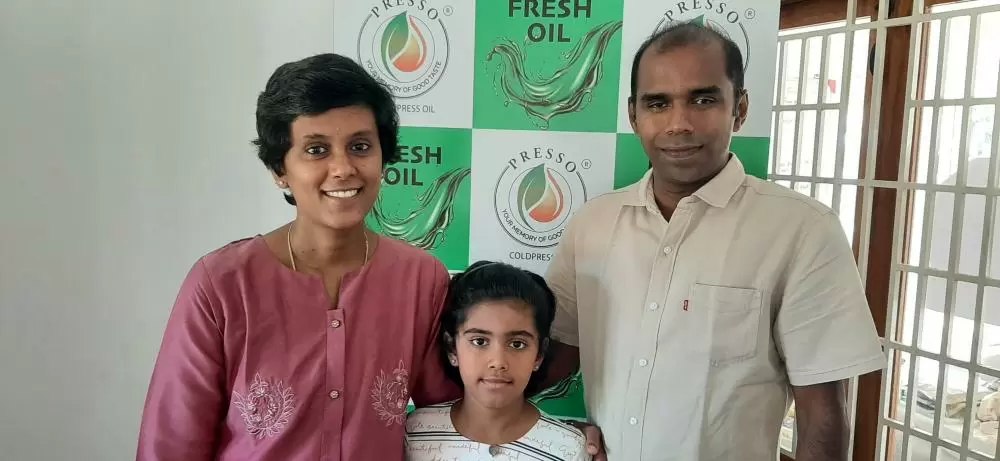 Sindhu with her husband and business partner Arun and their daughter Laya
"Having come from a rural background in India, it was a different experience for me," she shares. "I used to walk back from work alone at midnight. I guess I got the courage to face challenges from my mother, who was a courageous woman."
Later, she worked briefly at Axa Life Insurance in London as a sales executive and then at a supermarket where she joined as a sales executive and became an assistant manager.
In 2009 she returned to India and started an ecommerce portal along with her brother. The portal operated on a dropshipping model and sold mobile phones and books.
The siblings raised money from the bank and invested their savings as well in the venture that folded up after two years. "We had invested around Rs 25 lakh in those two years," she recalls.
It was then that Sindhu's mother convinced her to get married and settle down. Sindhu married Arun in 2012, and their daughter Laya was born a year later.
In 2017 Sindhu and Arun took a one year course under business coach Rajiv Talreja in Bengaluru. The couple used to travel to Bengaluru every weekend to attend his classes.
"It was during this course I realised I should launch a brand of my own. This gave us a good base to start a new business and gave a new dimension to the existing one," says Sindhu.
"Talreja touched upon a lot of blind spots and it opened up a lot of possibilities for us."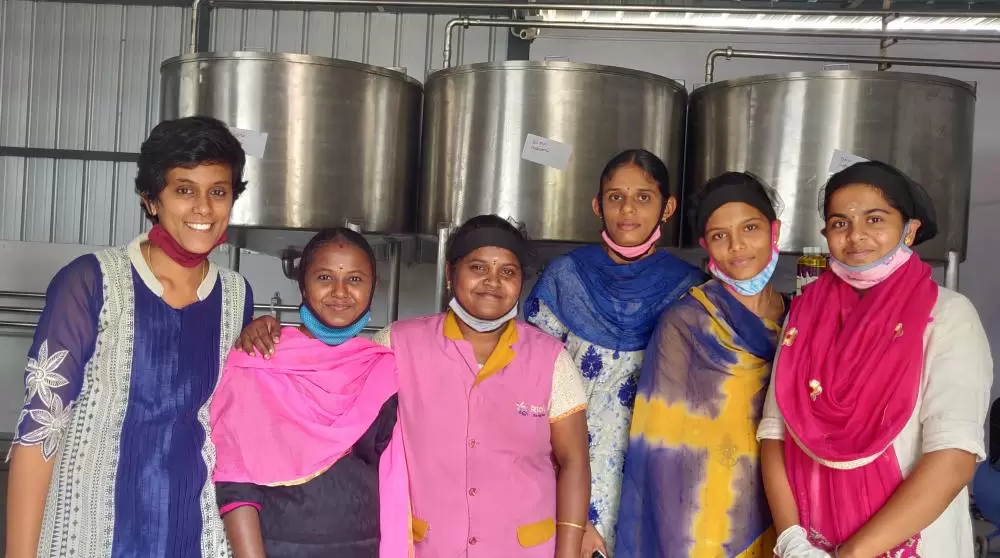 Sindhu with some of her team members at their production plant in Modakkupatti village
PRESSO was launched in Bengaluru as a pilot, with a plan to do door deliveries through the contacts they had built during the course. In those initial days, they used to get orders on WhatsApp and phone calls.
Today, PRESSO has around 100 distributors and resellers across India. "Our vsion is to help one lakh people start a business or diversify," says Sindhu, who currently works with a 15-member women dominated workforce.
"Helping humanity have fresh and natural products is our mantra," she signs off.

Trending Now: