How a salesperson with Rs 5,000 salary turned to farming and built a Rs 2.5 crore turnover company
22-June-2021
Vol 12&nbsp|&nbspIssue 25
Dreaming of a well-paying job for a secure life, Umesh Deokar did his mechanical engineering with distinction in 1999, but could only get a salesman's job of selling wireless phones for a monthly salary of Rs 3,500 in Mumbai.

Hailing from a family of very modest means, Umesh realised by 2006 he was not going to go far working under someone and decided to start a transport business investing in a tempo that he purchased on a loan amount of Rs 80,000.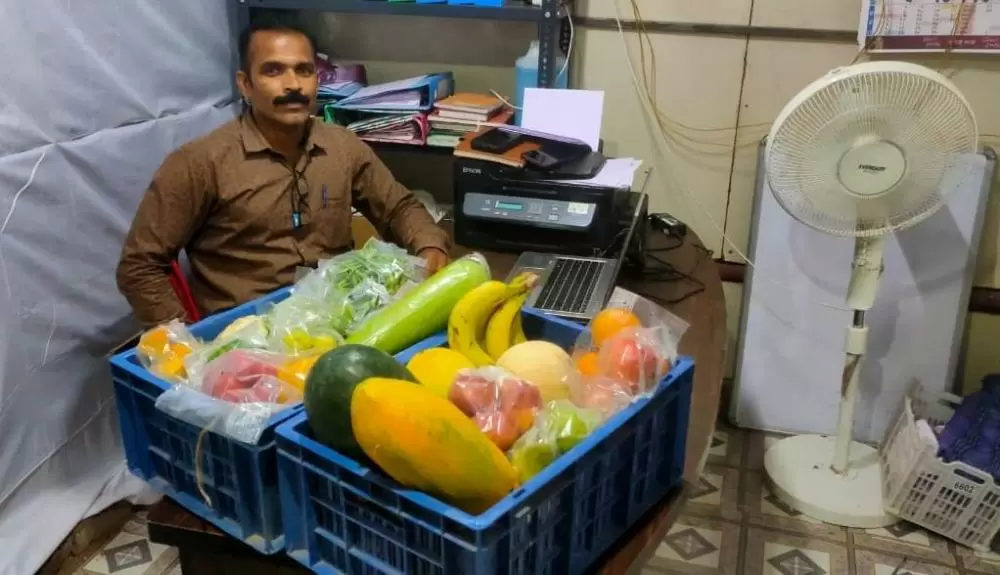 Umesh Deokar, a mechanical engineering graduate, left his salesperson job in Mumbai and returned to his village to do farming (Photos: Special Arrangement)

In 2010, to supplement his monthly income he started cultivating vegetables on his six-acre farmland at his village Wadgaon Anand near Pune.
"I started selling the vegetables at the wholesale market in Pune," says Umesh, who continued to slog hard and slowly shifted the focus primarily on agriculture using his tempo to transport his produce to the market.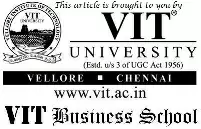 How Umesh dealt with the challenges that came on the way, and hung on till a good break came in 2017 that took his business to Mumbai and Thane, where he is now having more than 3,000 customers, many of whom order online, can inspire every aspiring entrepreneur and startup owner.
"The online orders took off after the Covid lockdown was imposed last year," says Umesh. "In 2020-21 our turnover was Rs 2.5 crore. Around 7% of the turnover is our profit."
Umesh, who started with vegetables, now also delivers many grocery items such as wheat, rice, and edible oil at the doorsteps of customers in Mulund, Bhandup, Sion and Wadala.
He brings the vegetables in vehicles from Pune. The vegetables are procured both from his farm and from other farmers in the region.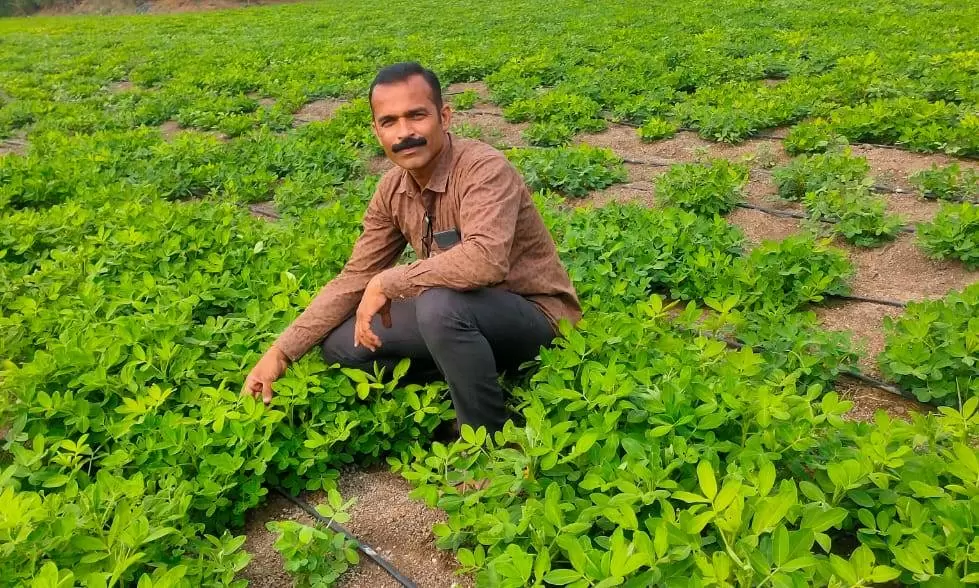 Umesh grows vegetables at his farm and supplies them to consumers in Mumbai

A team of 30 employees are involved in collecting the vegetables from the farms, packing them as per the online orders and then delivering them to customers in Mumbai.
"In the early days, my family members (it's a joint family) including children and women helped in the packing," says Umesh, 45. "I am grateful to them because they helped me when I had no money to hire employees for the work."
Umesh studied in a government school at Wadgaon Anand till Class four before he joined his father who worked in sales tax department and stayed in Mumbai along with his uncle's family in a small tenement.
"My uncle's family and my father lived in a Mumbai slum area called Hanuman Nagar in a 8-by-10-ft room. I also moved in with them for further studies," says Umesh.
His father always wanted Umesh and his two siblings (a brother and a sister) to seek better education and find jobs in private companies to lead comfortable lives.
Umesh completed his engineering from Amrutvahini College of Engineering at Sangamner in Ahmednagar district.
He could not find a job related to his qualification. His first job was in Mumbai at Reliance, where he sold wireless phones for a salary of Rs 3500.
He was not happy with the salary because it was not enough for his expenses and to support his father financially who was not earning much to run the house with ease.
"My father never spoke about the financial stress, but it was pretty much evident to me," shares Umesh. "We would not go out to eat, or go on a vacation, or have any kind of recreational activity. We were always told to save money as much as possible."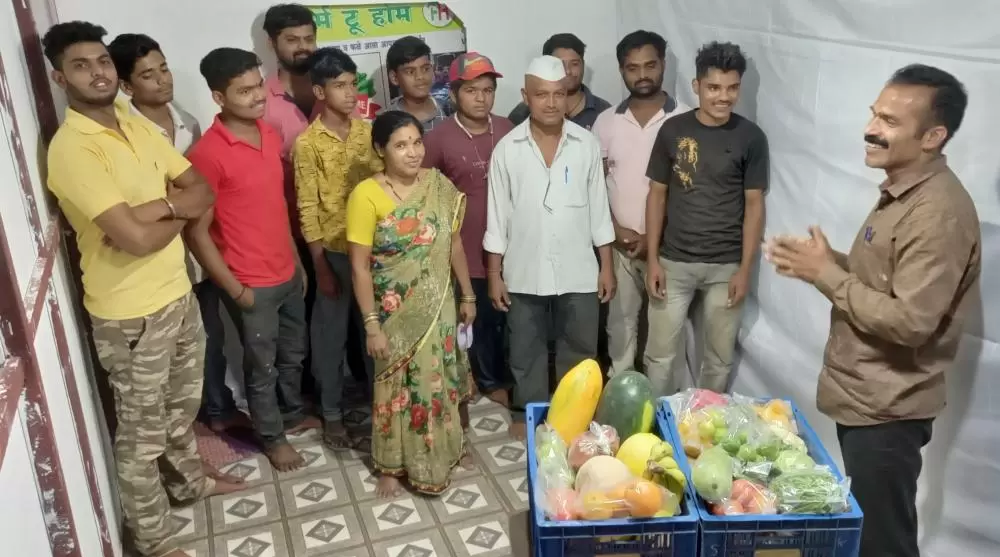 Around 30 employees work with Umesh today

After about two and a half years in Reliance, Umesh got a sales job in a healthcare company, where his salary was slightly higher at Rs 5,000.
But he quit the job after a couple of years. He started a transport business in Pune with a tempo he purchased on loan for delivery of goods. Later, he bought one more tempo.
"I thought the business would end the financial crisis at home, but I was wrong," he says. "After deducting the vehicle loan EMI, driver's salary and other expenses, I ended up having not more than Rs 5000-6000. Sometimes I did not get anything to support my family."
In 2010, Umesh started cultivating vegetables and other crops at a six-acre field they had in the village. He sold the onions, tomatoes, pomegranate, cabbage and a few other veggies harvested from his farm at the Pune wholesale market.
Later, he also sourced vegetables grown in other farms and sold them. "Though it was not initially very lucrative, I was determined to succeed and persisted. I burnt my CV so that I would not go back seeking a job again," he says.
In 2017 the state government lifted a ban on farmers selling their produce directly to consumers, and Umesh got the break he was working for. He immediately took his produce to Bhandup in Mumbai on his tempo.
The two vehicles he already owned reduced the transport cost. He would park his vehicles in Bhandup and sell the vegetables directly to consumers.
"On the first day we made a sale of around Rs. 12000- Rs. 15000. I was happy to see the response and I started visiting Bhandup twice a week," says Umesh. "I had three employees, including a driver, who would come to Mumbai with me."
He registered his company called 'Farm-to-Home' as a proprietorship.
It used to be tough waking up at odds hours and driving in the wee hours to reach Mumbai. "We would carry homemade food during our trip to Mumbai. In the city we had a tie-up with a tiffin service for our meals," says Umesh.
As he won the confidence of customers, he began to take orders on WhatsApp and also built a website - Ekrushak.com - to take online orders. Today, apart from vegetables, the company delivers various grocery items including snacks, pulses, spices and milk products.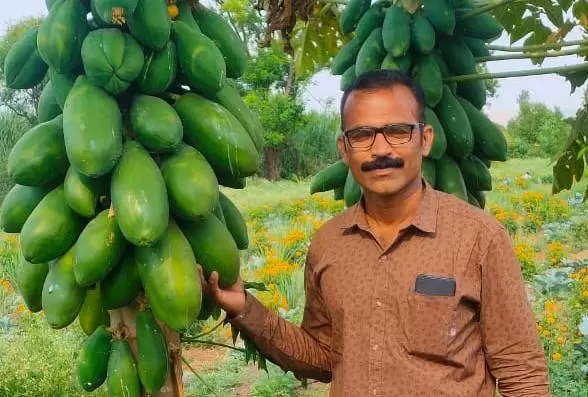 Umesh says his vegetables stay fresh for a week since they come straight from the farm to the consumer and he doesn't wash them with water, which he says would reduce their shelf life.
From a struggling salesperson in Mumbai to having a profitable business of his own and providing jobs to many people, Umesh has come a long way indeed.
"Without hard work, you can't achieve anything in life. I worked hard to achieve what I was dreaming of. I am happy that it all paid off," Umesh signs off with this powerful quote.
Wish to share your story?
Trending Now: