Adding biryani to the menu transformed a family's small eatery into a Rs 15 crore turnover restaurant chain

Partho Burman
&nbsp | &nbsp Kolkata
13-March-2021
Vol 12&nbsp|&nbspIssue 10
The authentic aroma of Awadhi biryani wafts through the air as you step inside the busy 'Dada Boudi' restaurant at Barrackpore, Kolkata.

The outlet is popular with biryani lovers since the late 1980s when brothers Sanjib Saha and Rajib Saha, in their mid teens then, introduced the mouth watering dish in their family's modest 200 sq ft eatery that was started by their grandfather in 1961.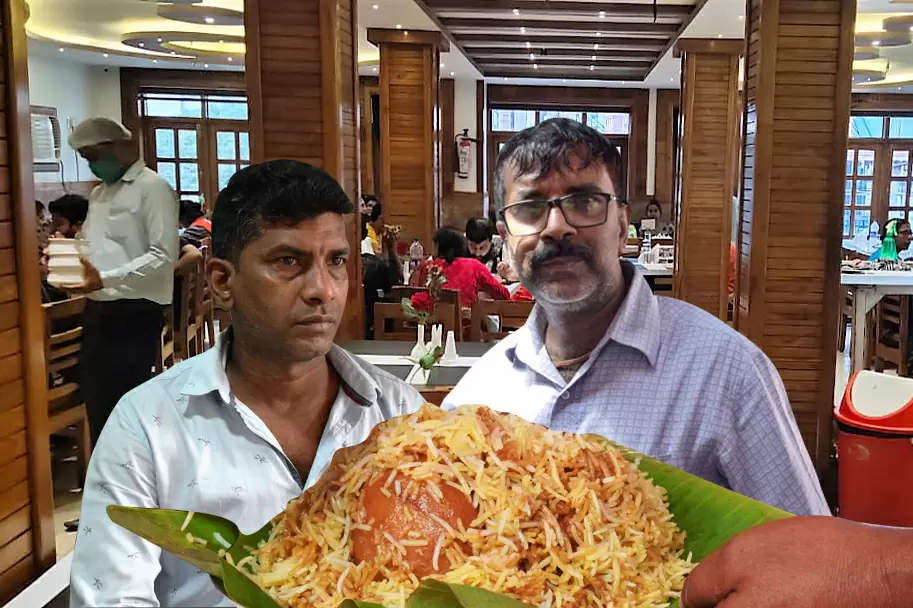 Sanjib Saha (right) and Rajib Saha introduced biryani at Dada Boudi in 1986 and their business started soaring (Photos: Special Arrangement/ TWL)

"We invested Rs 5,000 in the business and bought some vessels for preparing the biryani, and some kilos of basmati rice and meat. Initially, we made about three kilos of mutton biryani daily," says Rajib, tracing the journey of Dada Boudi after they started serving biryani in their outlet in 1986.
Today, they have three outlets, all of which are packed during meal times. They sell 700 kilos of biryani daily, with mutton biryani priced at Rs 260 per plate and chicken biryani at Rs 200 per plate.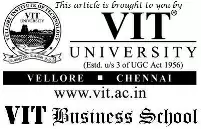 Dada Boudi's annual turnover has touched Rs 15 crore now and it is growing year on year.
Their customers include many celebrities including former Indian cricket captain BCCI President Sourav Ganguly. A couple of years ago, the then US Consular General, Kolkata, Craig L. Hall, had visited their outlet with his family along with US Senator Jamie Dragon.
Dada Boudi's success is a result of the hard work of the siblings, who have taken the family business to new heights that neither their grandfather nor their father could achieve earlier.
While Sanjib has completed Class 12, his brother Rajib could not study beyond Class 10. But the brothers ensured that the biryani they made was of good quality and supplied in good, ample measure so that customers would keep coming back to them.
Each plate of biryani consists of 800 grams of biryani rice that includes 200 grams of mutton (or chicken), and consists of a piece of aaloo, which is a trademark of Awadhi biryani.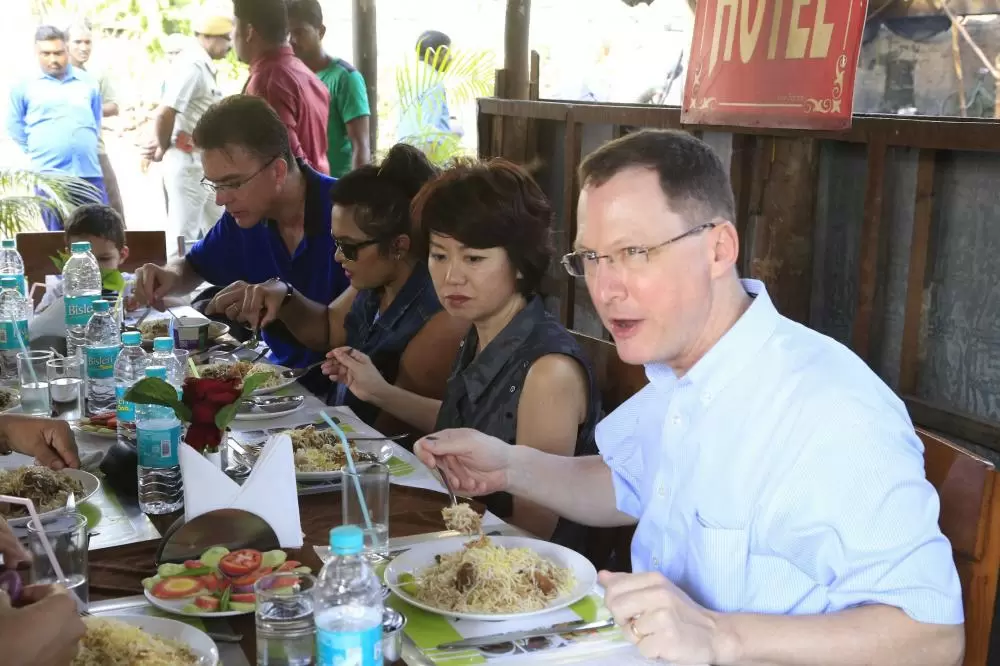 Then US Consular General, Kolkata, Craig L. Hall at a Dada Boudi outlet with his family

Rajib says when they started they used to sell a plate of mutton biyrani at Rs 11 per plate. But as prices of meat and other raw materials kept rising, they had to revise the prices periodically.
Interestingly, their first eatery on Ghosh Para Road near Barrackpore railway station was started in 1961 by his grandfather Ramprasad who had migrated to Kolkata with his wife and six children from Motihari at East Champaran District in Bihar.
The eatery didn't have a name for many years and used to serve just dal-roti and sabzi (vegetables) initially.
But nearly 15 years later, Dhiren Saha, Ramprasad's son took charge of the eatery and he expanded items in the menu. From boiled rice to fish curry to chicken and then red meat curries, he added new dishes.
In course of time, Dhiren's wife Sandhya Saha too joined forces with her husband, earning the couple the title of Dada Boudi. (Dada means brother and Boudi means wife in Bengali language.) The eatery soon came to be known as Dada Boudi.
Dhiren and Sandhya managed the eatery with just two others and their school-going children Sanjib and Rajib used to help them after school hours.
"Those were difficult days," Sandhya reminisces. "We used to hand-grind spices on a grinding stone to maintain taste of the food. Both my sons used to assist us in our work."
Rajib adds, "We served food, cleaned tables and washed the plates. We felt it was our responsibility to help our parents. We never felt shy of doing such work."
Sanjib remembers that they used to serve customers until 11 pm and it took a toll on their studies. "Against all odds, we managed to finish our basic education," he says. "We went to Debi Prasad Higher Secondary School in Barrackpore. I finished Class 12 in 1987 but Rajib did not continue after Class 10."
Dada Boudi's biryani has been maintaining the same taste over the years because of Salim Khan, their main chef who has been in charge of their kitchen since they introduced biryani in their outlets.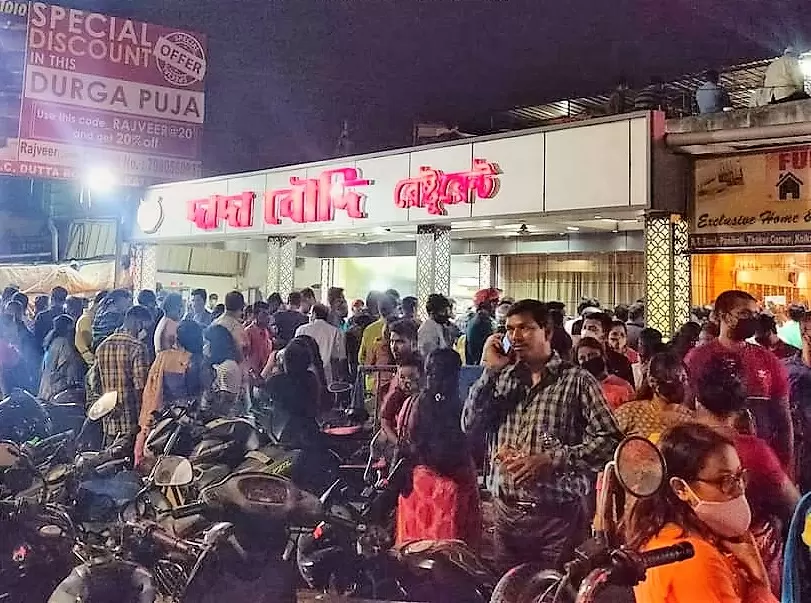 Crowds thronging outside a Dada Boudi outlet
Under his supervision, biryani is prepared daily in 15-20 large vessels. Besides mutton, chicken and vegetable biryani, many other Indian, Chinese and Mughal cuisines, including tandoor items are available at their outlets.
The Saha brothers opened their second outlet in Barrackpore about five years ago, while the Sodpur outlet was inaugurated in July 2019. They have total staff strength of 35.
Residing at Shyamasreepally in Barrackpore, which is about 10 minutes' drive from their restaurant, the two brothers are living a happy, comfortable and contented life today.
Sanjib loves to travel and has visited almost all the European and South-East Asian countries while Rajib is a pet lover. He has a number of pedigree dogs, a range of birds, including cockatoo, and a wonderful aquarium at home.
Both are married and blessed with children. Sanjib has a son and a daughter, while Rajib has a daughter.

Trending Now: