Starting with Rs 7 lakh, duo finds money in honey and are close to touching Rs 3.5 crore turnover

Usha Prasad
&nbsp | &nbsp Bengaluru
12-March-2021
Vol 12&nbsp|&nbspIssue 10
Ramya Sundaram and Mithun Stephen were both 24 years old when during one of their treks to the Western Ghats in Dandeli, Karnataka, they encountered an indigenous tribe harvesting honey in the forest.

The year was 2014 and the incident remains etched in the memories of the duo, who got married the same year and launched a business of forest honey the next year under the name 'Honey and Spice' with Rs 7 lakh from their personal savings.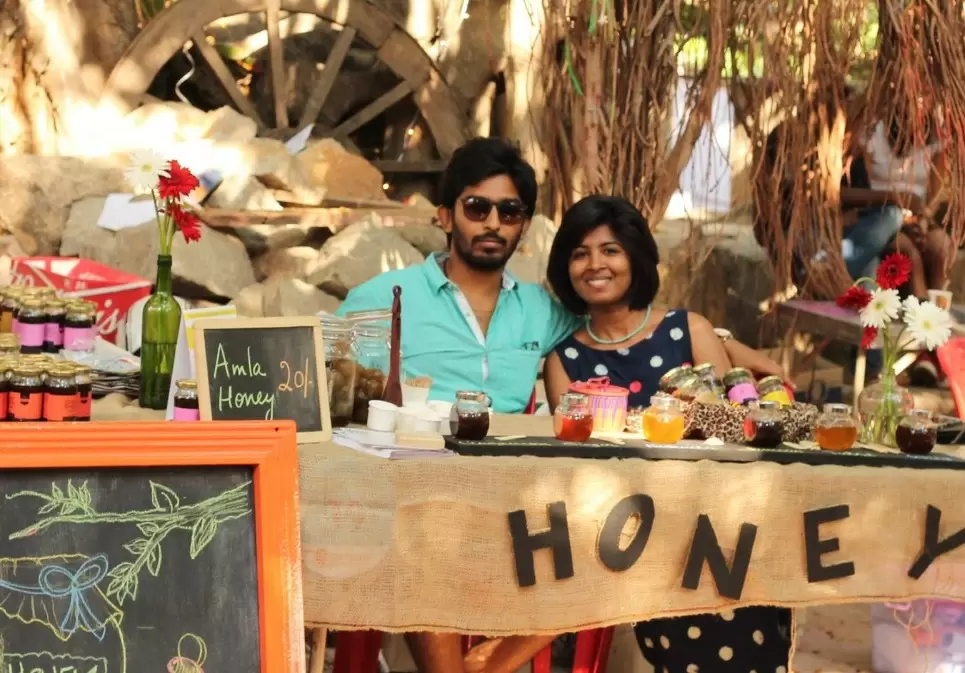 Ramya Sundaram and Mithun Stephen launched Honey and Spice to market raw forest honey in 2014 (Photos: Special Arrangement)

Honey and Spice, which works on a direct-to-customer model selling through its website and e-retail outlets such as Amazon and Flipkart, clocked a turnover of Rs 2 crore last year, and is poised to touch Rs 3.5 crore this year.
People from all over the country buy from them and in last two years, they have also started supplying to customers in the US, and Singapore.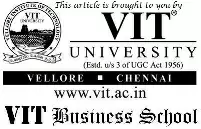 After seeing how the honey was harvested in the forests of Dandeli, Mithun and Ramya, based in Bengaluru, spent six months researching why the honey sold in stores was different from the ones harvested in the forests.
"Till we met the tribals in Dandeli, we only knew about the bottled honey sold in the retail market," says Mithun, recalling the experience that sowed the seeds of their venture.
"We realised that the forest honey tasted a bit sour and bitter and had a different texture and colour, while the various brands sold in supermarkets and big stores tasted the same and were very sweet."
He later found that the mass-produced honey is subjected to ultra-filtration and a heating process that destroys all the beneficial properties of pure honey.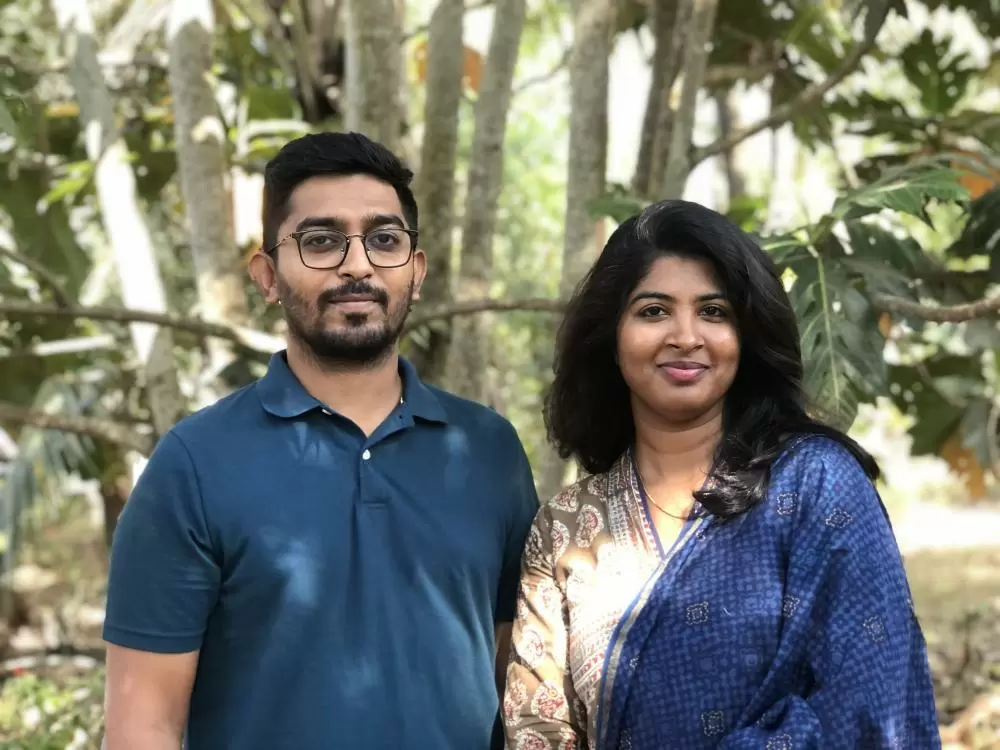 Mithun and Ramya met in Bengaluru in 2010 and went out together on treks
"We understood that honey varies in taste, colour, and texture depending on the floral source," says Mithun.
"Honey from major brands tastes the same as they maintain a certain consistency in the product, and the consumers have also got used to it."
Mithun and Ramya felt that there must be a market for honey in its natural form and the business idea took root in their minds.
"We used to sit for long hours in cafes to ideate. We also understood that most tribals, including the Jenu Kurubas (who live in the Nilgiris district of Tamil Nadu and Kodagu and Mysuru districts of Karnataka), mainly depend on income from bee harvesting for their livelihood," says Mithun.
The idea of making a social impact by working with the tribals and buying honey from them seemed attractive to the young engineers, who decided to plunge into the venture that would take them into deep forests and work with small farmers, NGOs, self-help groups, and indigenous tribes from diverse regions of India.
For Honey and Spice, Mithun and Ramya procure honey harvested from forests in Kerala, Uttarakhand, Chhattisgarh, Odisha, and forest reserves around Bengaluru, including Krishnagiri and Shoolagiri.
"The first year went into getting feedback from the customers. We used to attend flea markets and farmer markets to market our products," says Mithun.
"Most people who used our honey came back to us for more. That's when we realised that there was a huge opportunity for us to tap this market."
In the first year, Honey and Spice India Private Limited, did a business of around Rs 10 lakh. They started online sales by mid-2015 and the business began to grow at 100% every year since then.
By being an e-retailer, they got to talk about their products to customers directly and explain about the uniqueness of their honey.
"We educate the customers on why our honey tastes different from the bottled ones," says Mithun. "Big companies follow the ultrafiltration process, which even removes the pollens. We sell raw honey, which is heated, and only basic filtration is done."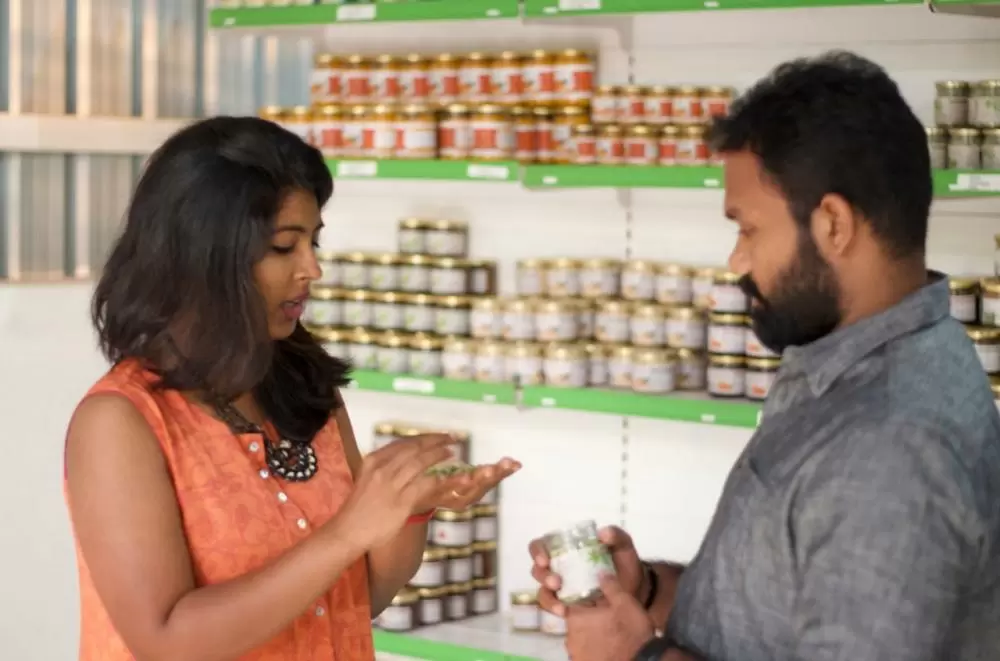 Ramya has been involved in the business full-time since 2015
An important improvisation they have made in the business is to share with the customers the origin of the honey.
"We have a QR code on the bottle. When customers scan the code, they can see the month and the place where the honey was harvested from," says Mithun.
They have also come up with some value-added honey-based products by infusing spices such as ginger and tulsi in honey.
Today, they offer a range of products including wild forest honey, raw honey, cliff honey, superfoods such as apple cider vinegar, health juices, and even personal care products such as lip balms and shampoo.
While the making of personal care products has been outsourced to a company in Uttarakhand as it requires a separate processing method, the rest of the products are processed at their 4,000 sq ft rented facility near Yelahanka in Bengaluru with a team of 14 members.
Mithun hails from the small town of Marthandam in Kanyakumari district, Tamil Nadu. His dad works for the state agriculture department, while his mother is a college principal.
Marthandam has a tradition of beekeeping and there are many honey farmers in the region. But in spite of having the land, Mithun's family did not venture into the honey business.
"We had bee boxes in our backyard placed by beekeepers," shares Mithun. "Our farm needed pollination and beekeepers wanted honey. I had grown up seeing this and that's the only knowledge I had about honey."
Mithun did his schooling in his hometown, and completed his engineering in Electrical, Electronics, and Communications from St Joseph's College of Engineering in Chennai.
Ramya is a native of Bengaluru. She did her schooling at Kendriya Vidyalaya, and engineering in Computer Science from Rajiv Gandhi College of Engineering in the city.
Her father was a scientist at Central Power Research Institute, Bengaluru, and her mother is a housewife.
The couple met in 2010 when Mithun moved from Chennai to Bengaluru planning to start a career. They would go on treks often and that's how their relationship grew stronger.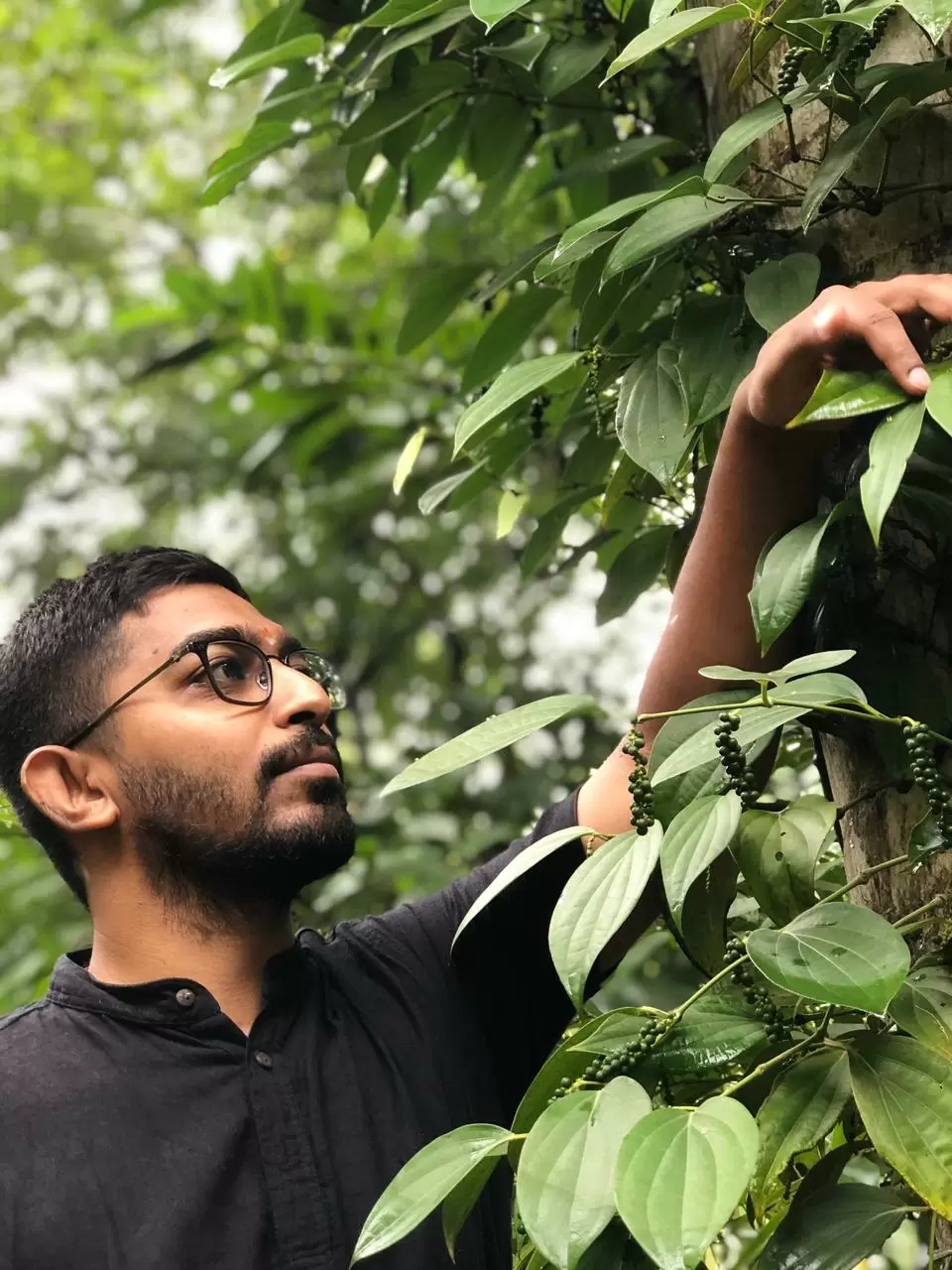 Mithun hails from Marthandam in Tamil Nadu, where beekeeping is common
Despite being engineering graduates, both wanted to do something on their own and were not keen on 9 to 5 jobs.
Mithun got into freelance software development working for various start-ups and Ramya became a freelance event planner for corporates.
In 2015 Ramya quit her job and began to focus on Honey and Spice, while Mithun took three more years to get into it full-time.
The couple has a three-and-a-half-year-old son Nidhish.
With ambitious plans for 2021, the couple is looking at entering the offline space as well in all the modern trade outlets and supermarkets, and are also looking at markets in the Middle East and European countries. They are looking at external funding as well and are in touch with some investors.
The couple is also excited that Akash, a mutual friend, who had been part of their founding team and who later took a break to complete his MBA, has now rejoined them.

Trending Now: