Former IBM engineer builds Rs 4 crore turnover homegrown business starting on Facebook with Rs 25,000

Usha Prasad
&nbsp | &nbsp
11-February-2021
Vol 12&nbsp|&nbspIssue 6
Former IBM engineer Anjali Agrawal quit her high paying job and started her own venture Kota Doria Silk (KDS) with just Rs 25,000 in 2014.

Today, she has not only built KDS into a Rs 4 crore turnover company, but has taken the traditional Kota Doria fabric - native to Kota in Rajasthan - to a global market and has provided many jobs for weavers and artisans.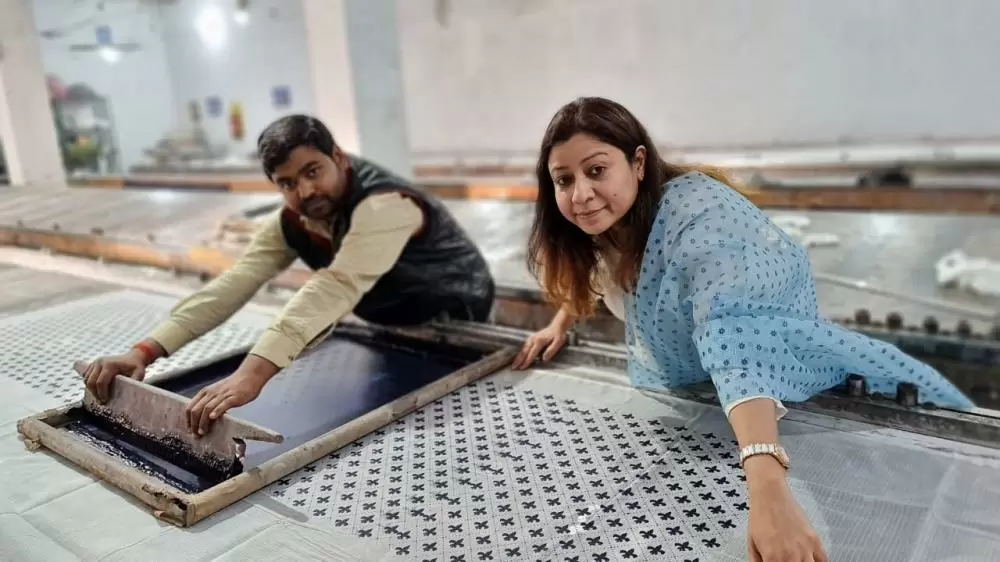 Anjali Agrawal launched Kota Doria Silk in 2014 with Rs 25,000 (Photos: Special Arrangement)

Anjali sells sarees, dupattas, and home décor including curtains, cushion covers, and table clothes through KDS, a proprietorship concern.
Her products are sold online through her website and social media platforms such as Facebook and WhatsApp.
Kota Doria is an airy fabric, which is soft and lightweight. An ideal summer wear, it is native to the desert region of Rajasthan.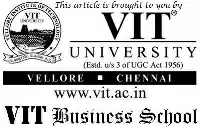 "The fabric is available in both cotton and silk," says Anjali, who first started to sell on Facebook and soon began to receive enquiries from abroad.
"I used to receive queries from the US at 3 or 4 a.m. and I would respond to them immediately. Initially, it was sheer madness and aggression to achieve big as a start-up and succeed," she reminisces, looking back on the exciting early days of her entrepreneurial journey.
Anjali says 70% of her sales come through salwar suits, 20% from sarees, and 5% from dupattas and home décor respectively.
The products are priced between Rs 299 and Rs 3,999 for normal Kota fabric and from Rs 4,999 to two lakh for a pure zari Kota handloom saree.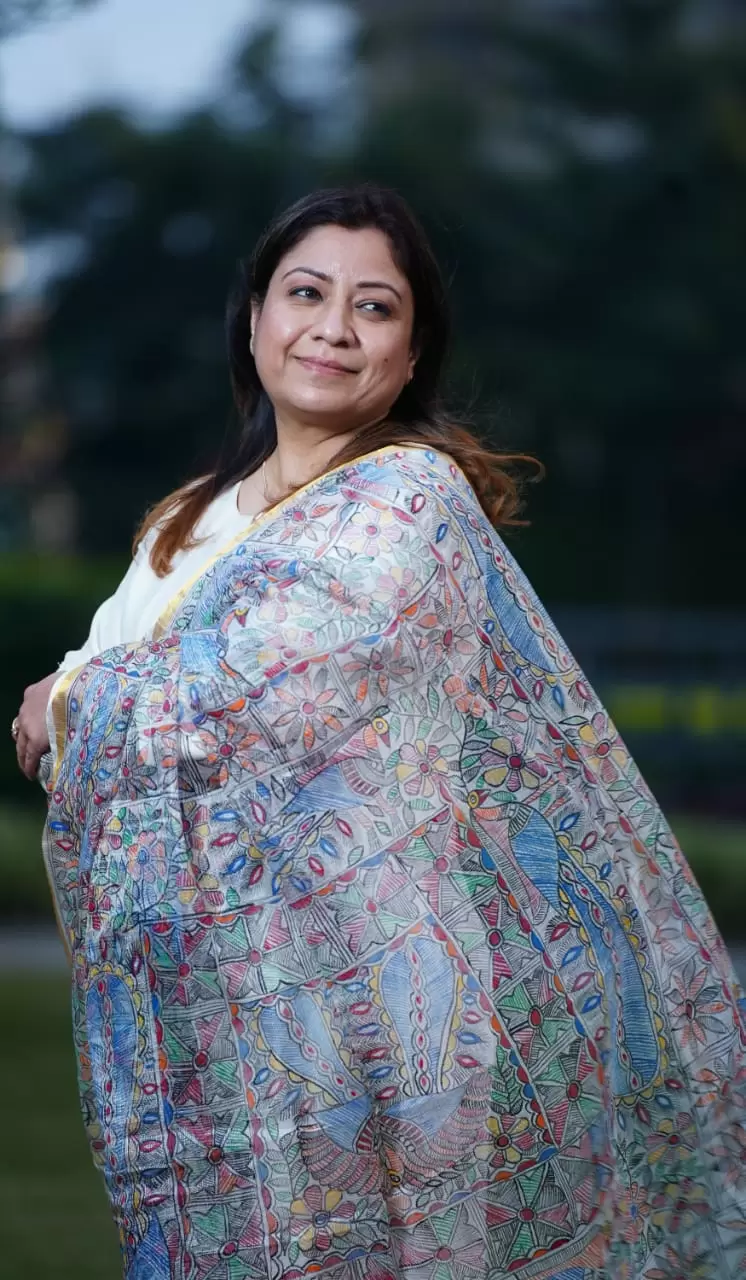 Friends and colleagues always heaped praises on Anjali's Kota fabric clothes

Today, she has built a network of around 1,500 resellers, mostly spread across South India. "Many of them are housewives, though we also have some working women, boutique and shop owners as well," says Anjali.
Operating on an asset-light model, she works from her home office in Gurugram, with just nine employees - eight of them women.
She also has a warehouse in Kota set up for wholesale and export despatches, which is managed by her father-in-law Subhash Agrawal, to whom she credits her success for his unstinted support.
With 15 percent of the total business catering to exports, KDS has more than five lakh customers spread across India, the US, UK, Australia, Dubai and Malaysia.
Anjali deals with a mix of both power loom and handloom fabrics.
While she works with weavers from Uttar Pradesh and Madhya Pradesh, she has tied up with around 30 looms in Uttar Pradesh as well. The craftsmen who work on the designs for the fabric are spread all over India.
"When I decided to bid adieu to the corporate grind and turn an entrepreneur, I went straight to the weavers in Kota, who were in dire straits, and engaged them to weave the Kota Doria fabric for KDS. I have been working with them closely in coming out with exclusive designs," says Anjali.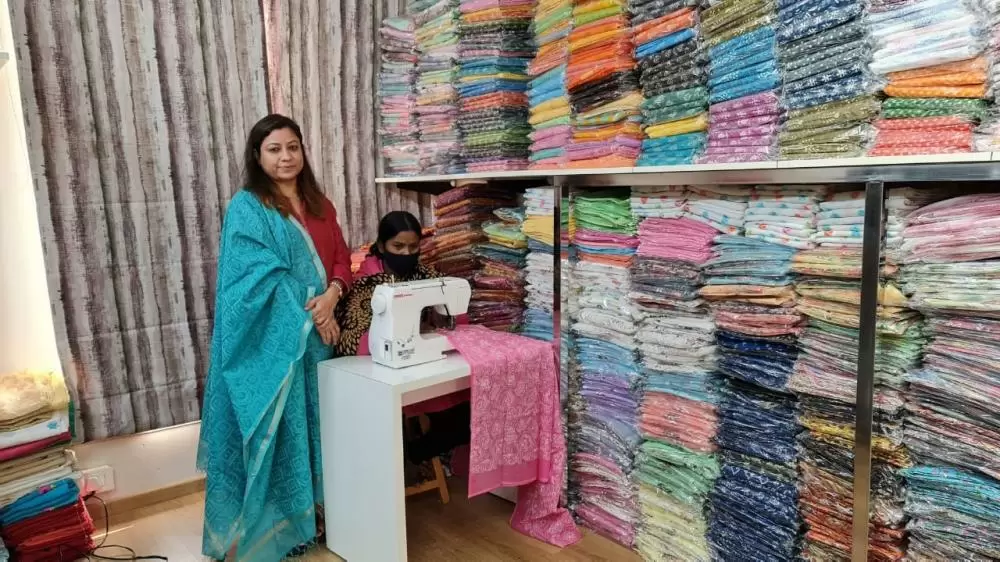 Anjali works with nine employees at her home office in Gurugram
"For Madhubani creations, my fabrics go to Bihar, and digital prints are done at UP, Noida, Surat, Mumbai, and Andhra."
As Anjali gained understanding of the textiles industry, she began to work closely with the weavers in experimenting with the fabric by making changes to the base anywhere from 10 to 90 percent – both in cotton as well as silk mix.
Anjali is a self-taught painter, and her flair for creating beautiful designs can be credited to her artistic skills.
"During my college days as well as at workplace, I would get compliments for my outfits. Many would even request me to source the same for them.
"I never realised then that the same dressing sense would push me to become an entrepreneur and contemporise the traditional Kota Doria fabric," shares Anjali, who initially sourced Kota fabric outfits for her friends and colleagues in Delhi and Gurugram. This was the starting point that propelled Anjali's thoughts to seriously set up KDS.
"I realised that Kota Doria fabric was confined to Rajasthan alone. This is when I decided to embark on the journey of creating awareness about this beautiful, light fabric as well as making it accessible to other parts of India and across the globe," she adds.
An Electrical Engineering graduate from University Engineering College, Kota, Anjali was born and brought up in Jodhpur, Rajasthan.
After completing her engineering, Anjali joined as a trainee Electrical Design Engineer at Emco Ltd. in Jalgaon, Maharashtra in July 2003.
She quit Emco after a year and a half and joined the State Electricity Board in Jodhpur as Junior Engineer.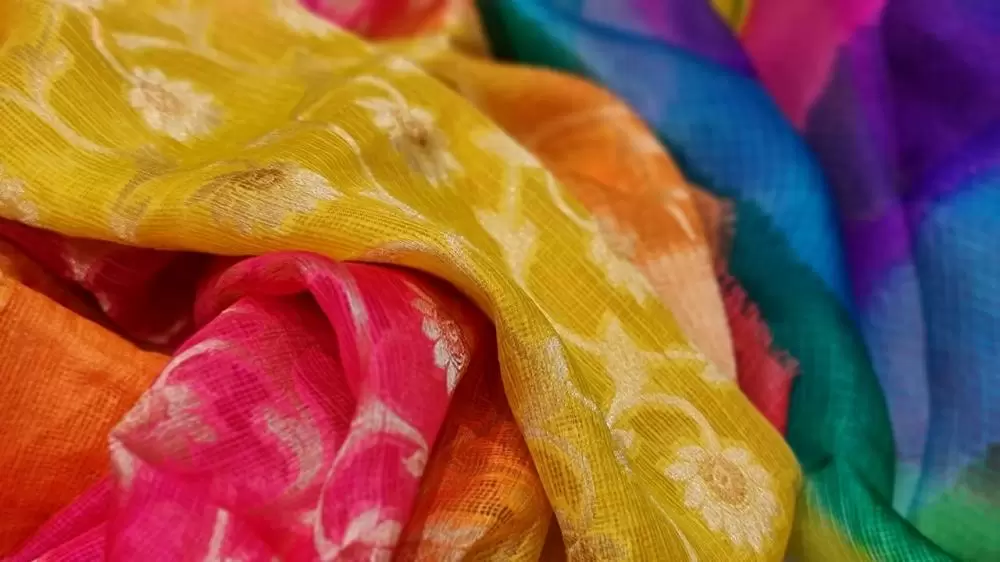 A colourful spread of Kota fabric
However, she had to quit that job as well within a couple of months as she got married and had to shift to Gurugram with her husband. She then joined Bombay Suburban Electric Supply (BSES) in Delhi as Electrical Procurement Engineer.
After a year in BSES, she joined IBM in 2007 as SAP SCM Consultant in Gurugram, where she worked until 2014, before quitting to launch KDS.
Though quitting a corporate job with a salary of Rs 50,000 was not easy for Anjali, she listened to her inner voice and took the entrepreneurial route.
"I was confident that I will succeed. I had this gut feeling that I will make it," she says.
Her home venture grew on the strength of a Facebook page, and by 2015 she launched a full-fledged e-commerce website.
Anjali got her first order from a Kerala customer who placed an order for salwar materials worth Rs 5,000. She soon started getting a lot of inquiries and business started to grow.
In the first year, Anjali made a business of around Rs 15 lakh. Year-on-Year, KDS witnessed more than 100 percent growth.
"I was surprised to see this kind of demand for Kota fabric," says Anjali. By the end of 2015, she had more than one lakh customers, mostly from South India.
The original Kota fabric was hard to maintain and Anjali had to work on it to make it strong. She got the fabric changed a bit in the looms and it clicked well.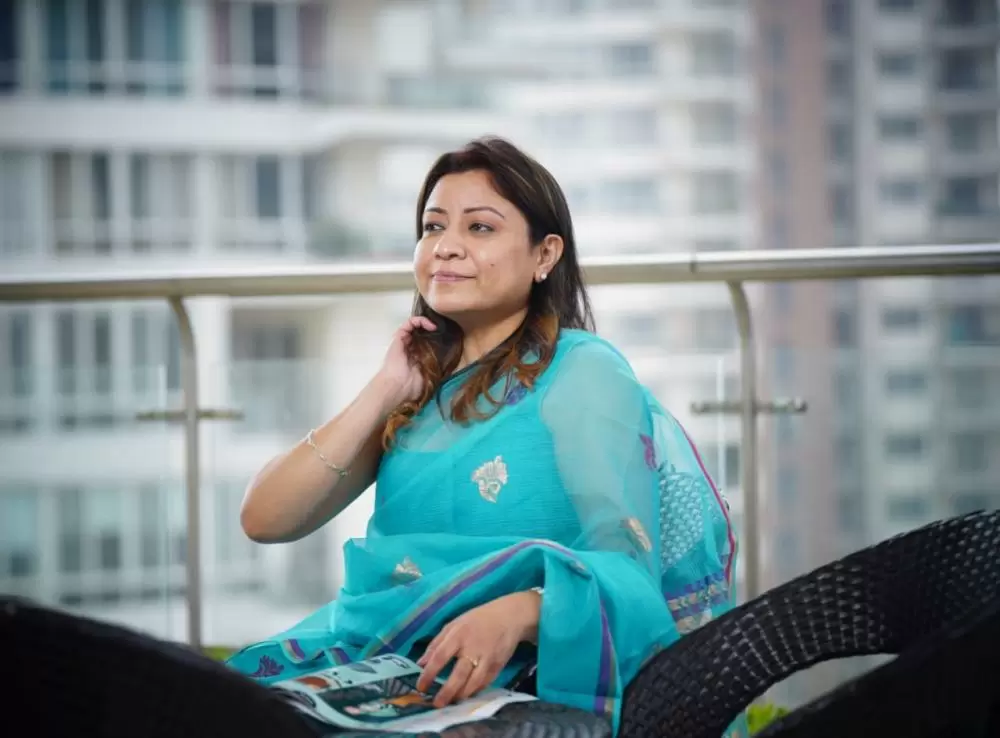 Anjali plans to open her first KDS store at Chennai soon

"Dry cleaning of the fabric was expensive and middle class women couldn't afford it. I had to work on making the fabric strong," she reveals.
According to Anjali, Kota is generally famous for the pure zari saree, where pure gold is used. It takes one to three months to weave a single saree of its kind.
Anjali is planning new launches in Kota Fabric such as men's wear. She also plans to expand her home furnishings to European countries and open stores this year in Chennai, followed by Jaipur or Delhi.
Anjali wakes up daily at 4 a.m. to work on her designs, to send them off to her weavers, first thing in the morning. She lives in Gurugram in a beautiful house with her husband Sudeep Agrawal, and 11-year-old son Abhyudaya.
Wish to share your story?
Trending Now: