How three brothers grew a humble ice-cream shop into a Rs 259 crore turnover FMCG company
Gurvinder Singh
&nbsp | &nbsp
12-January-2021
Vol 12&nbsp|&nbspIssue 2
Four brothers from a village in Gujarat who shifted to a small town called Amreli, about 100 km from Rajkot, started a humble cold drinks and ice-cream shop which has now grown into a Rs 259 crore turnover FMCG company.

Dinesh Bhuva, the oldest sibling, was just 27 when they opened the shop about a year after a roadside paan stall the family had owned in a nearby location had been demolished by the municipal authorities.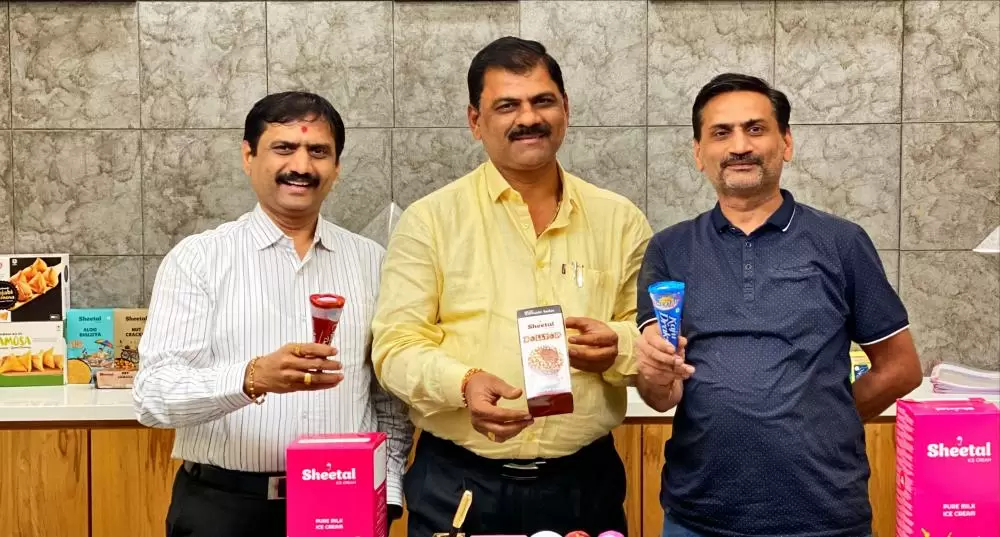 Brothers (from l to r) Bhupat, Dinesh and Sanjay have built Sheetal Food Cool Products from a humble cold drinks store in Amreli (Photos: Special Arrangement)
From modest beginnings, the siblings developed the business gradually, making varieties of ice-creams under the brand name of Sheetal (a Hindi word which means cool). The venture grew from strength to strength, from a proprietorship to a private limited and eventually to a listed company in 2017.
Today, Sheetal Cool Products Limited is one of the top companies in Gujarat with a diverse portfolio of more than 300 products in different segments, such as milk and milk products, Ice-cream, snacks, bakery, frozen food, ready to cook vegetables, chocolates and sweets.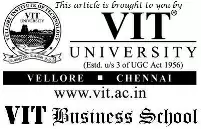 Sheetal is now helmed by Dinesh, 55, and his two younger siblings, Bhupat, 43, and Sanjay, 41. Jagdish, the second brother, who had played a pivotal role in starting the business while just in his teens passed away in a road accident in 1997 at the young age of 25.
The brothers began their entrepreneurial journey in 1985 after their father, Dakubhai, who was a small farmer in a village called Chavand, migrated to Amreli, the district headquarters, in search of better livelihood.
"My father's income from agriculture was not enough to meet the family's expenses," says Dinesh, the eldest of the four siblings, who could not continue his education after Class 12 due to the financial situation at home.
"He decided to shift the family to a bigger town so that his children could study as well as explore other means to supplement the family's income," says Dinesh. "Jagdish opened a makeshift stall at the bus stand in Amreli in 1987. It was a pan (beetle) and cold drinks shop, which I and Jagdish looked after.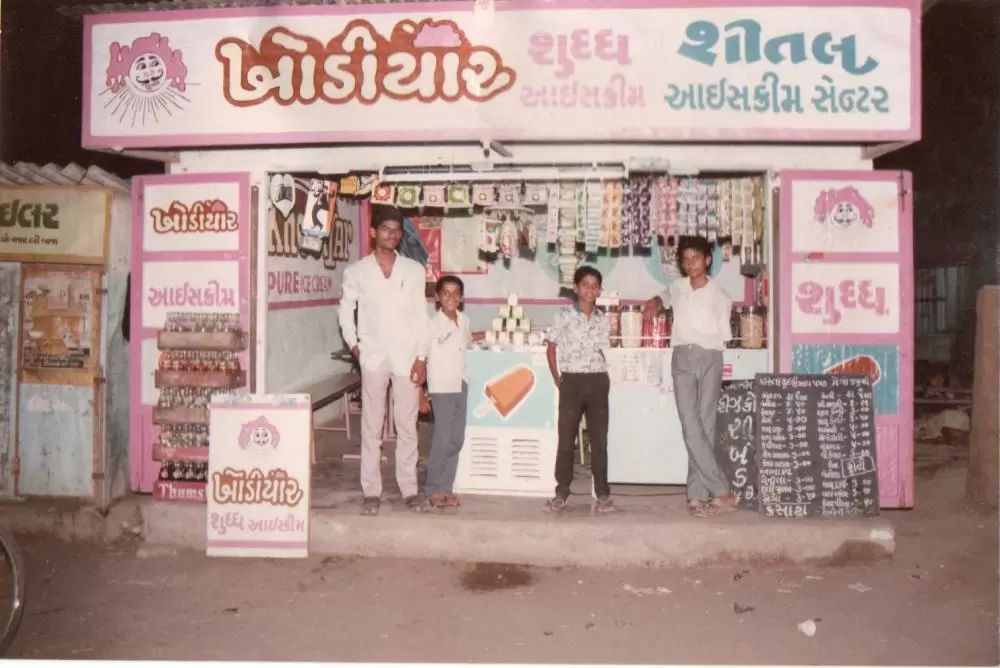 The four brothers in front of their first cold drinks and ice-cream shop at Amreli
"My father shuttled between the village and the town as he was involved in farming too. But sadly, our shop was demolished by municipal authorities in 1992." It was a hard blow on the family that had just become financially stable with the income from the shop.
Deprived of their major source of livelihood, the family was looking for a fresh opportunity when the annual Janmashtami fair at Amreli that year provided a break that would lay the foundation of their ice-cream business.
"After discussing with our father, we decided to set up a small stall of lassi (yoghurt) and ice-cream. We bought the products from a local shopkeeper and sold them at the fair," Dinesh recalls. "Everyone loved it and the products virtually flew off the shelves. We felt that the items had a huge market and decided to get into the business."
In 1993, they purchased a small shop with 5 ft by 5 ft space near the Amreli bus stand at a cost of Rs 2 lakh dipping into the family's savings. The shop sold betel leaves, cold drinks and ice-cream.
By then Bhupat and Sanjay too started assisting their brothers in the business. "We divided our time between education and work. We sat in the shop soon after returning from school and helped our brothers," says Bhupat, who graduated in commerce in 1994 from KK Parekh Commerce College, Amreli.
"In 1995, we started making milk products like lassi and ice-creams. Jagdish and I made the products at home. They were delicious and the demand picked up," he says.
"We also started making choco and orange ice-cream candies. Soon, the products became popular. People began to buy the products from us and resold them. We named our brand Sheetal, which also became the name of my daughter who was born in 2000."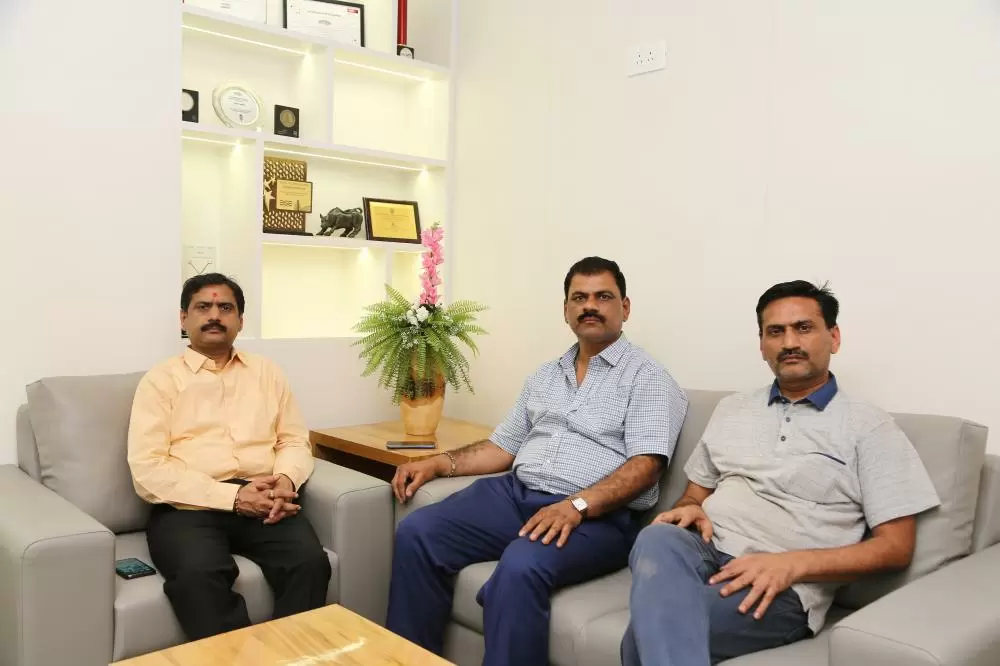 Sheetal's success and growth has been made possible due to the united efforts of the three brothers who fought every battle that came their way with grit and determination
In a tragic incident in 1997, Jagdish, who was just 25 then, died in a road accident. It was a great shock for the brothers. "He had worked very hard and tried his best to make the brand popular," Dinesh reminisces.
However, the loss only made the other siblings more resolute to achieving Jagdish's dream of taking the company to new heights.
Three years later, they registered the business as Shree Sheetal Industries, a proprietorship firm, and also purchased around 1,000 sq m space in Amreli.
"We invested around Rs 17-20 lakh and built a plant with processing capacity of 150 litres of milk daily. We made ice-creams and other milk products," says Sanjay, who had completed his LLB from Shantaben Dayaljibhai Kotak Law College in 1994.
"We visited shops in bikes and auto-rickshaws, took orders, and made deliveries."
Among the challenges they faced in their early days in the business was the frequent power cuts at Amreli that affected their sales.
"There were fewer shops in Amreli selling ice-creams and hardly any major brands came in because the state was suffering from severe power outages that lasted for several hours a day," says Sanjay.
"Shopkeepers didn't keep the ice-cream in their stores fearing losses. Some kept inverters and power-backups, but not everyone could afford it.
"However, the situation improved when Narendra Modi, the then chief minister launched Jyotigram (electric lighting) Yojana to electrify entire Gujarat in 2003."
Their ice-cream sales increased as more shops began to sell them. The company began to increase its production capacity every three to five years.
Five years ago, the company became private limited from a proprietorship firm, and in 2017 it became a public limited and got listed on BSE.
In 2019, Sheetal invested around Rs 15 crore in expansion and diversified into frozen foods and snacks items. But the same year, a major fire accident at their snacks unit caused losses to the tune of around Rs 2 crore.
"It was a major loss, and most of our equipment was destroyed in the blaze. But we didn't lose heart and worked hard. Within two years, we recovered our losses," says Bhupat, with the assurance of a man who had successfully encountered many challenges in life.
At present, the company manufactures more than 300 items like sweets, snacks, different kinds of ice-creams, rasgollas, and lassi.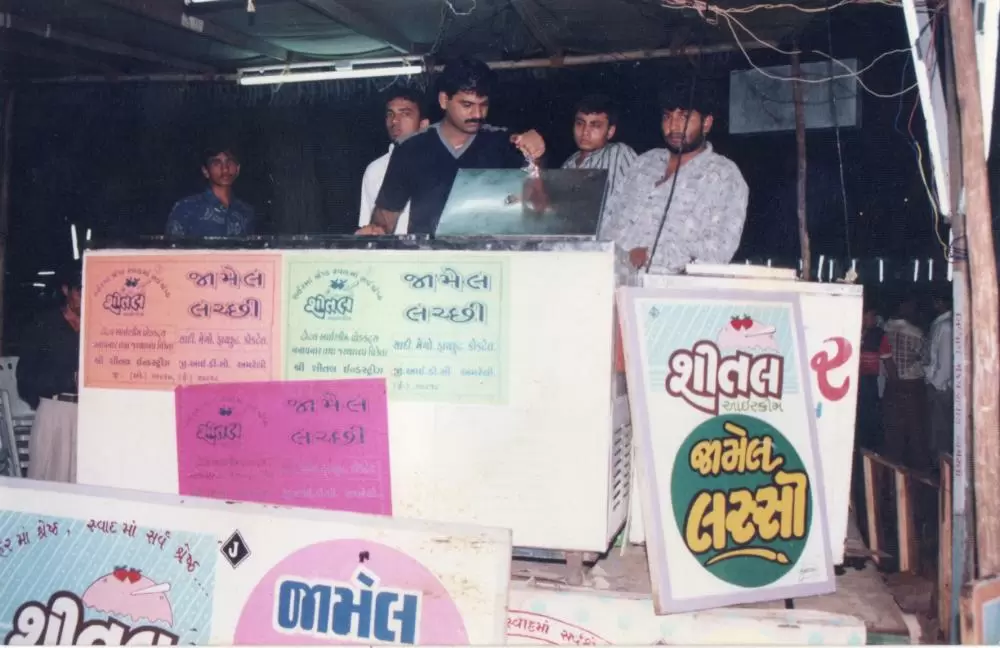 The brothers in the stall at the Janmashtami mela in Amreli that turned their fortunes

Their market has expanded beyond Gujarat and now they have a presence in other states including Madhya Pradesh, Rajasthan, Maharashtra and Karnataka.
"We are among the largest employment providers in Amreli district. More than a thousand people work with us today. It has been a long journey from our inception in 1993 when we started with just four people at our betel shop," says Bhupat.
"We have got our products registered in Western railway two years ago and we have our stalls at 10 railway stations in Gujarat. We have also exported to Australia, Indonesia and Singapore."
The company works with 250 distributors and its products are sold at more than 30,000 outlets spread over many states.
In the family, the next generation too has joined the business. Dinesh's son Hardik, 30, and Bhupat's son Yash, 20, have been given responsibilities.
"We are working on 2030 mission with an aim to achieve a turnover of Rs 1,500 crore by then. We also want to grow to be among the top five FMCG companies in India," says Yash.
The founders' message to budding entrepreneurs: Ups and downs are part of any business. But don't lose heart; keep chasing your goals, and you would eventually taste success.
Wish to share your story?
Trending Now: