Unfazed by failures, he built a toilet-cum-cafe chain that became a Rs 18 crore turnover business in just two years
Gurvinder Singh
&nbsp | &nbsp
23-December-2020
Vol 11&nbsp|&nbspIssue 52
Abhishek Nath's initial ventures did not bring him success, but he kept trying and came up with a brilliant idea that translated into a Rs 18 crore turnover business in two years providing employment to around 1,000 people.

His company operates about 450 luxury free-to-use public toilets under the brand name of Loo Cafe - mostly in Telangana - and makes money through a cafe that comes attached with every toilet and sale of advertisement space in their properties.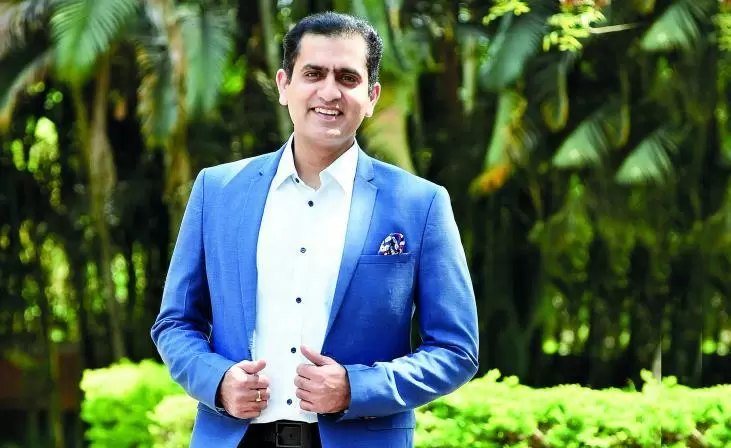 Abhishek Nath, founder, Loo Cafe (Photos: Special Arrangement)

The bio-toilets are maintained by trained staff round-the-clock who keep track of the hygiene levels in the premises through IoT (Internet of Things) enabled stink sensors.
The spark for the venture came while Abhishek was on a road trip to Goa and the terrible condition of public toilets he had encountered made him think of a solution, which led to the birth of Loo Cafe.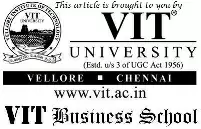 "I immediately got in touch with the municipal commissioner of Hyderabad," says Abhishek. "He took keen interest on our proposal to construct bio toilets with facilities such as a cafe, WiFi, sanitary napkin dispenser and a ramp for the disabled."
The Greater Hyderabad Municipal Corporation (GHMC) offered the space to construct the toilet on a private-public partnership model. "We spent nearly Rs 25 lakh in constructing the first toilet that came up in May 2018," he says.
As the model became successful, more toilets were constructed in partnership with various local bodies across Telangana and one in Srinagar.
The number of toilets increased rapidly and touched around 450 within a short span of 2.5 years. Each unit comes with separate toilets for men, women, and the disabled, for whom a ramp is also provided for easy access.
While his luxury toilets have put him in the limelight, with media attention as a bonus, Abhishek had faced failures and disappointments in life before he built the Loo Cafe chain.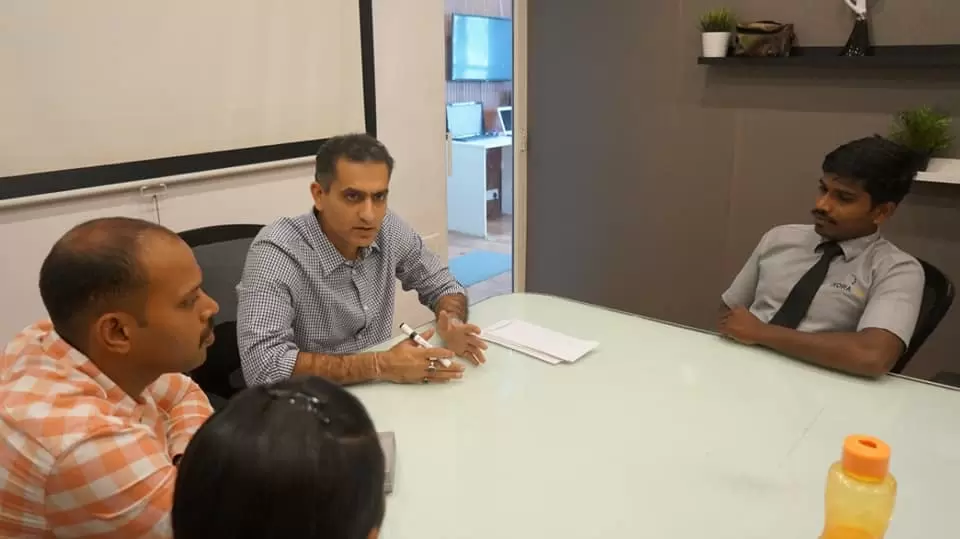 Abhishek runs his business in corporate style

The Hyderabad-based Abhishek, 40, has been creatively inclined from an early age and he liked to make innovative structures. But his family wanted him to become a dental oral surgeon like his father and forefathers who had been in the profession from five generations ago.
In 1997, after completing Class 12 from Little Flower Junior College, he joined SB Patil Dental College at Bidar in Karnataka. It was a four-year-course but he quit within seven months and returned to his home city.
"I felt that I could never be a great surgeon," he says. "I always wanted to do something creative and innovative. I studied science in school because I loved making structures and modules for which I had won several awards.
"I found it difficult to adjust with something I was not passionate about. I quit and returned to Hyderabad within seven months of taking admission," he says, reflecting on his early tentative years of adulthood.
He then decided to study Hotel Management and enrolled for a three-year course at Shri Shakti College of Hotel Management in Hyderabad.
In 1999, he got a campus placement at Taj group of hotels in Bengaluru as a management trainee. Later, he was transferred to Mumbai and promoted to the post of manager at Taj President.
Despite his growth in the corporate world and a job with one of the reputed hospitality brands in the country, Abhishek felt he was missing something and wished to do something of his own.
"I was drawing a good salary at an early age. But I wanted to start something of my own. I put in my papers and returned to Hyderabad in 2003. My family was obviously unhappy with my decision," he shares.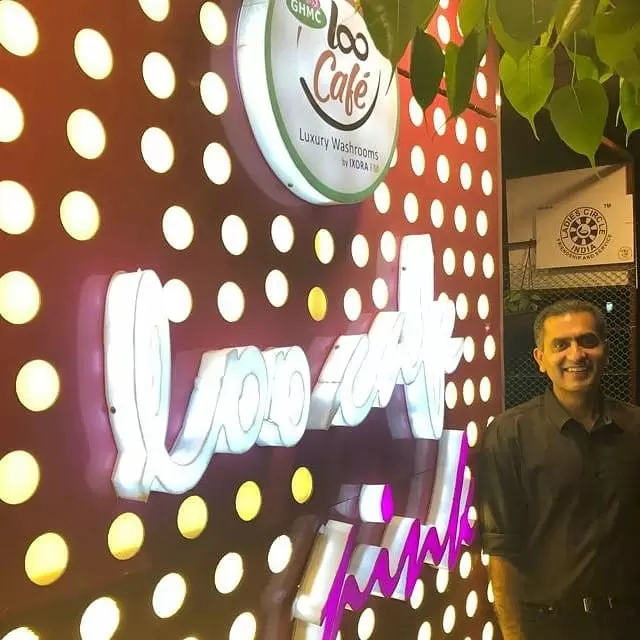 Loo Cafes present a bright and colourful facade not usually associated with public toilets in India
Soon, he opened his catering business in Hyderabad supplying packaged food to corporate offices "The city was witnessing a tremendous boom in IT sector. I began selling packed meals to offices," he says.
"I operated with two employees from a rented office of about 300 sq ft, paying a monthly rent of Rs 5,000. The business grew well and I had 40 employees by the end of 2003," he says. He had named the venture Food Republic.
However, he had to shut his business in 2004 due to severe losses running into several lakhs of rupees.
Abhishek decided to shift to Goa since he felt there would be more business opportunities as it was a tourist destination.
"I had to start from scratch due to the severe losses I suffered in my previous venture. I took a 200-sq-ft space on rent at Calangute and set up an eatery," he reminisces.
"The situation was so bad I could not afford to have employees. I could barely manage a cook. I virtually became a waiter, serving food to people and doing other odd jobs at the eatery."
His hard work paid off and the business began to take off as he had also turned his restaurant into a back kitchen for nearby small hotels.
"Several accommodations in Goa offer living spaces but they don't offer food and we became their back kitchen supplying food to their guests," he says. He opened one more restaurant in Goa the same year.
In 2006, he helped an investor who was building a hotel in Goa. "I was assigned the responsibility of building the hotel and I planned everything starting from the decor to food menu."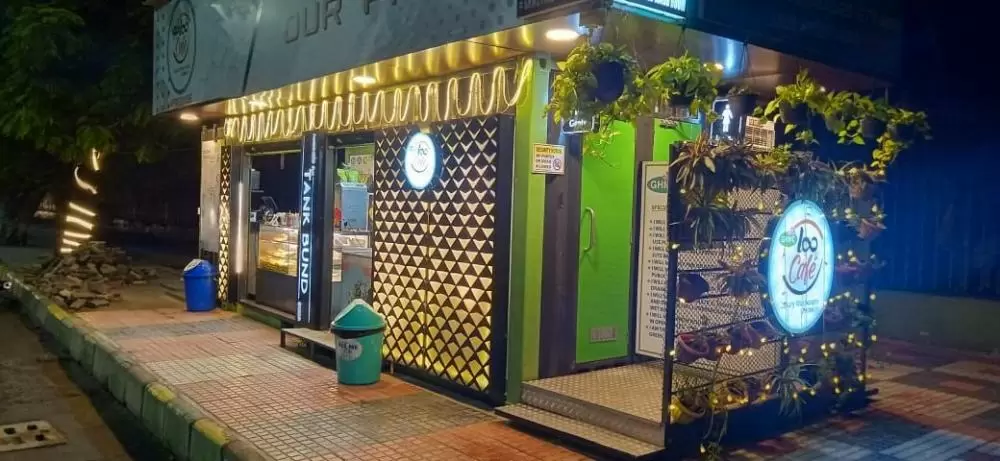 Each toilet comprises of a cafe and separate restrooms for men, women and the disabled
His experience in the hotel and food industry would help him while launching his Loo Cafe chain in Hyderabad in 2018.
Abhishek returned to Hyderabad in 2007, after handing his two restaurants in Goa on lease.
He then joined a facilities management MNC as area manager and became the company's director of South East Asia by 2010 and was shifted to Mumbai.
Two years later, he joined a marine and offshore services company as director of business development and operations in Mumbai. He worked there for four years before quitting in mid 2016.
He returned to Hyderabad, and started Ixora Corporate Services Pvt. Ltd., a facilities management company with around 10 employees. Two years later Abhishek hit upon the idea of Loo Cafe, where he put to good use his flair for building innovative structures, and also his experience in the F & B industry and facilities management.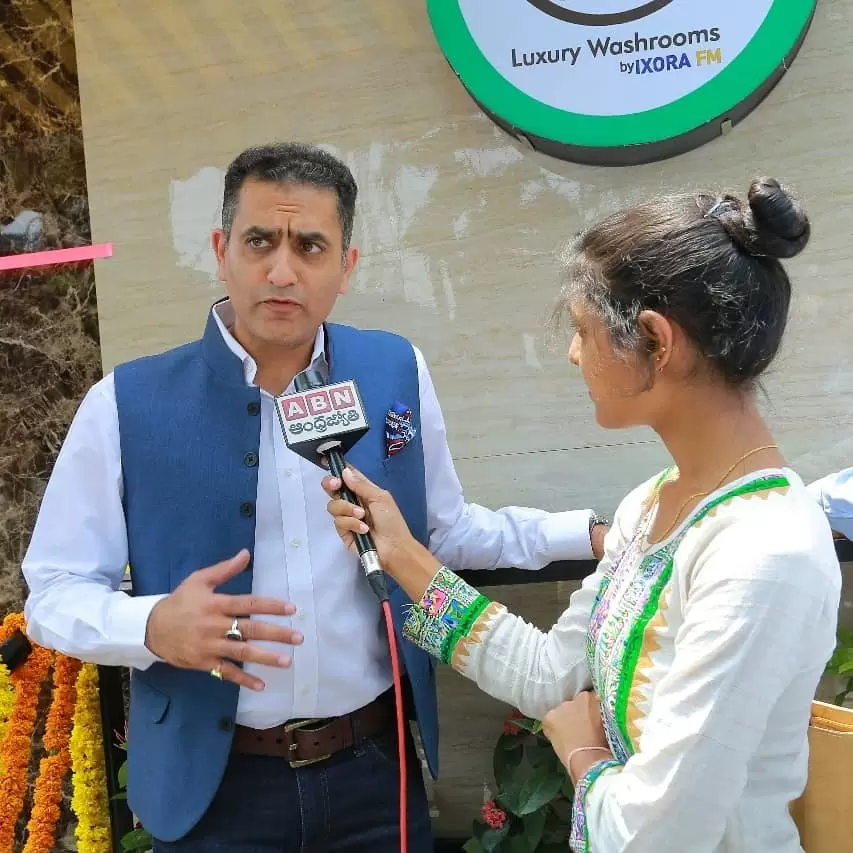 After years of toiling, Abhishek now gets his share of the limelight
He used pre-fabricated materials to construct the toilets, which can be dismantled and reassembled elsewhere. His experience in the food industry helped in setting up a good cafe that brings in a portion of the revenue to sustain his business.
His advice for budding entrepreneurs: Be passionate in whatever you do. Every failure is a learning and a step closer to success. Be determined and go all out to chase your dreams.
Wish to share your story?
Trending Now: