How a 12th-fail from a small town in Tamil Nadu built a USD 2.5 Million turnover company in the US

Usha Prasad
&nbsp | &nbsp
07-November-2020
Vol 11&nbsp|&nbspIssue 45
From a small town of Virudhachalam in Tamil Nadu to Virginia in the United States, 36-year-old Saravanan Nagaraj, who could not complete even Class 12, broke several barriers on the way to building a USD 2.5 million (Rs 18.5 crore approximately) turnover company, Vanan Online Services.

The company, which offers services such as translation, transcription, voice-over, captioning, and subtitling, has offices in Chennai and Virginia and works with global talent and outsources its projects across the globe.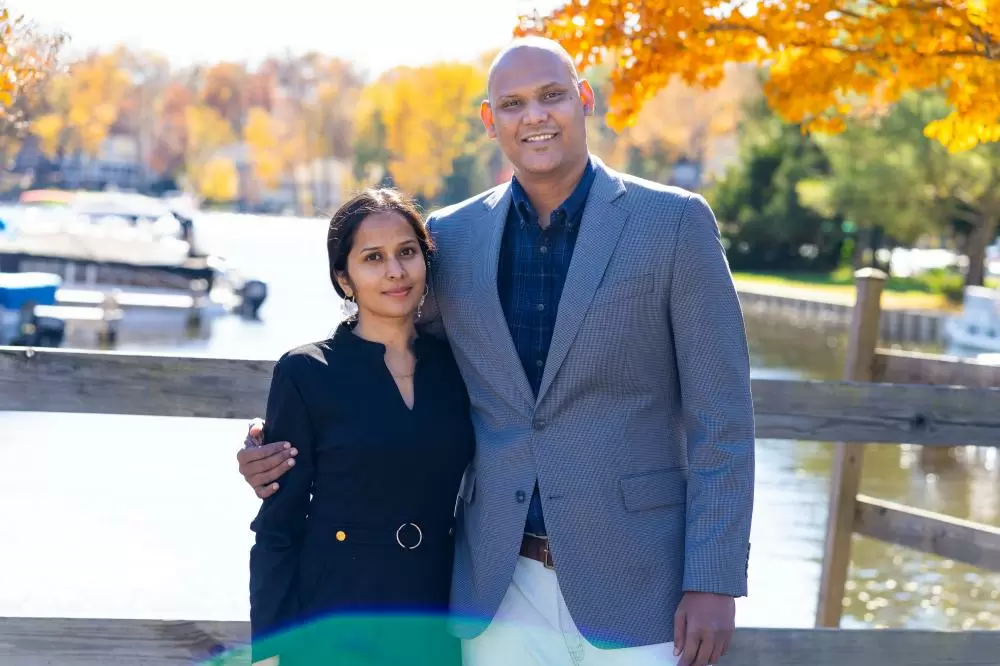 Saravanan Nagaraj set up his company in the US in 2016. He is seen with his wife Srividya, who supports him in the business (Photos: Special Arrangement)
Saravanan's life has been a roller-coaster ride - enjoying the best of education during his early childhood years, then shifting to a government school, failing in Class 12, finding a job at 18, moving to Chennai, and eventually setting up a company where more than 100 people are now employed.
Born in a middle-class family, Saravanan's father had a cycle rental shop and a travel agency in Virudhachalam, about 225 km from Chennai.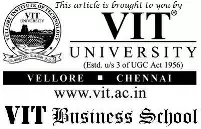 The family fell into hard times after his father made losses in his business. "He invested in real estate, set up a bottled water unit, and dabbled with chit fund business as well," says Saravanan. While the travels cars met with accident one after the other, two employees associated with the chit fund business escaped with huge money.
"My father had to sell the water bottling plant and other assets to repay the people," says Saravanan, who was then studying in Class eight at a residential school in Cuddalore, a nearby town.
Due to the financial stress in the family, he could not continue his education in the residential school and was brought back to Virudhachalam, where he was admitted in a mission school and later into a government school for Classes 11 and 12.
Saravanan focused his attention on computer science, which was his favourite subject in Class 12. He joined NIIT computer coaching centre and spent most of his time there, even skipping his regular classes at school.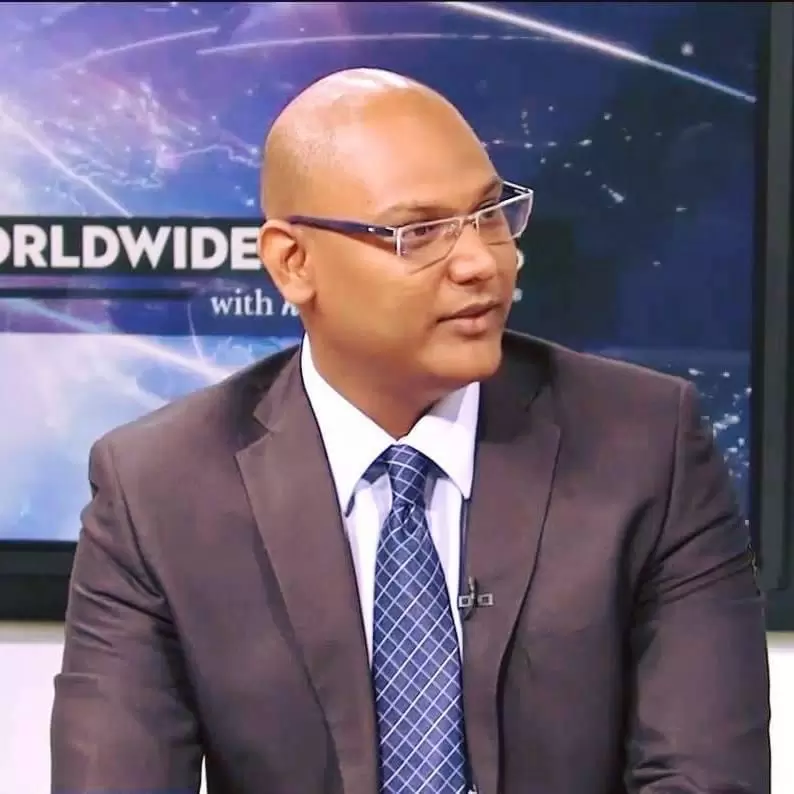 Saravanan started working as an instructor in a computer coaching centre at the age of 18
The result was he failed in Mathematics in Class 12. When he could not clear the subject even after two attempts, he decided to quit studies and started looking for a job.
"I got a job as a faculty in a local computer centre based on my knowledge in computers," he says. Saravanan, who was just 18 then, taught computer languages to students doing engineering, MCA, and under graduation. Later, he joined NIIT Coaching Centre in Virudhachalam as an instructor for a salary of Rs 2,500.
Although he couldn't speak English well those days – unlike now when he has excellent command of the language - his vast knowledge of computer languages made him a good teacher.
After working in NIIT for a year, Saravanan moved to Chennai as he wanted to become a programmer. In Chennai, he joined a two-month course in English speaking and developed his communication skills in the language.
It helped him secure a job with Mobilink at their customer service desk for a salary of Rs 1,700 and later at Airtel for a salary of Rs 4,500 in their complaints resolution team.
"With my knowledge in computers, I was able to bring down the turnaround time for resolution of complaints in Airtel (Tamil Nadu) from 36 hours to eight hours and then to just two hours," he says proudly.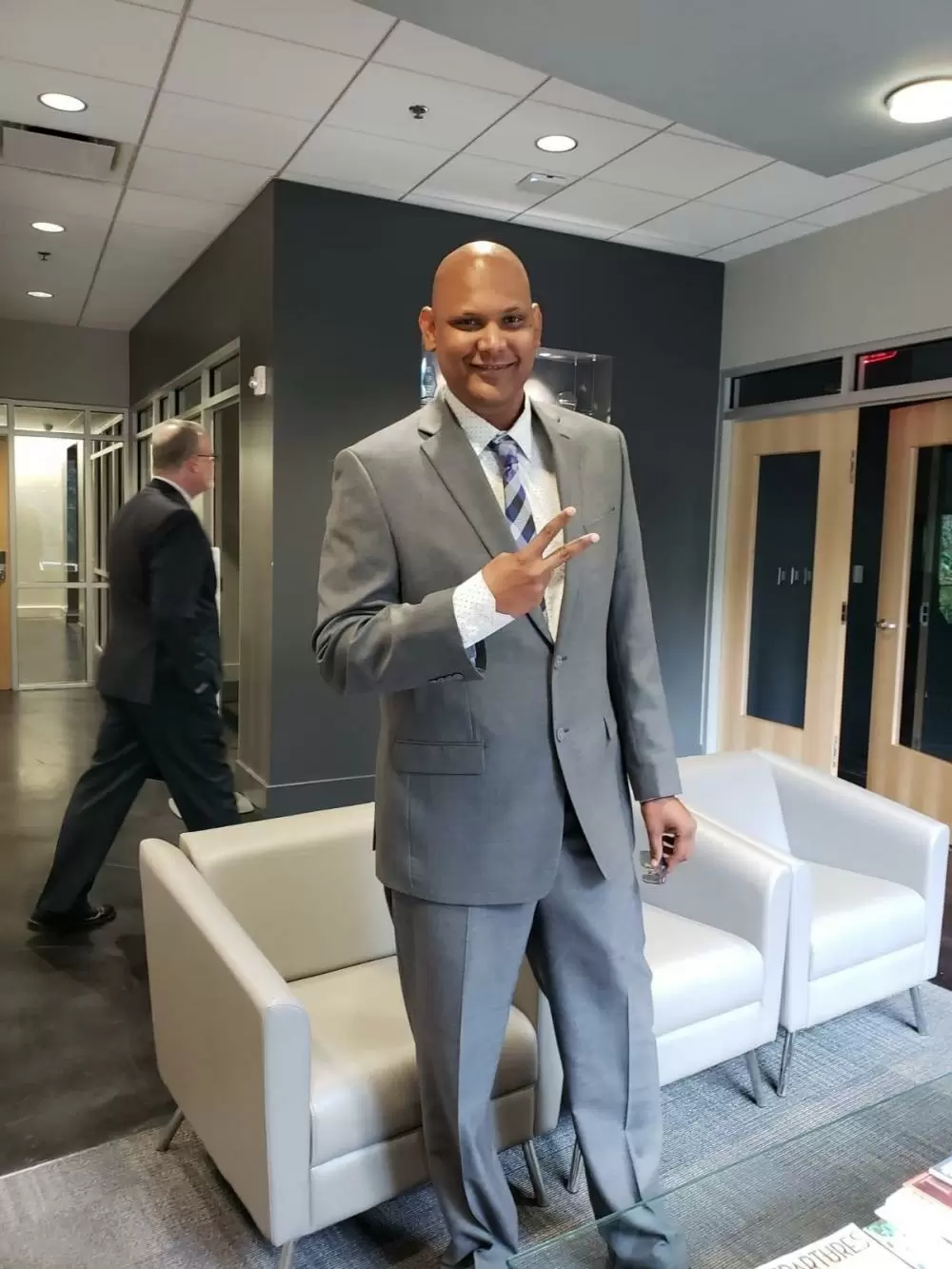 Saravanan visited the US for the first time on a company sponsored trip in 2010 while he was working at Sutherland
Though it was a rewarding experience, he quit Airtel to join an international call centre, a stint he had been looking forward to for a long time. But he was fired from the job for bad pronunciation within a month from joining.
He got a job again in Airtel, this time in their marketing division, where he sold SIM cards for six months, until he got the big break at Sutherland (in customer services) for a salary of Rs. 13,000 in 2004.
At Sutherland, Saravanan soon got promoted as a team leader and after five years bagged an opportunity to go to Fredericksburg, Virginia for 15 days.
There, he met Kristiana Beard, one of the managers from a different division of Sutherland, who sowed the seeds of entrepreneurship in him.
"When she drove me to New York, on the way she learned about my life's struggles and experiences. She suggested that I start a business in the US," he says.
Back in Chennai, Kristiana's words constantly played in Saravanan's mind and he took the bold decision to quit his job in Sutherland in 2010 when his salary was Rs 55,000.
At 26, he set up Vanan Innovative Services (VIS), a data transcription company in Chennai, and packed his bags and left for the US with just a dream and faith that he will be able to bring projects from the US for VIS.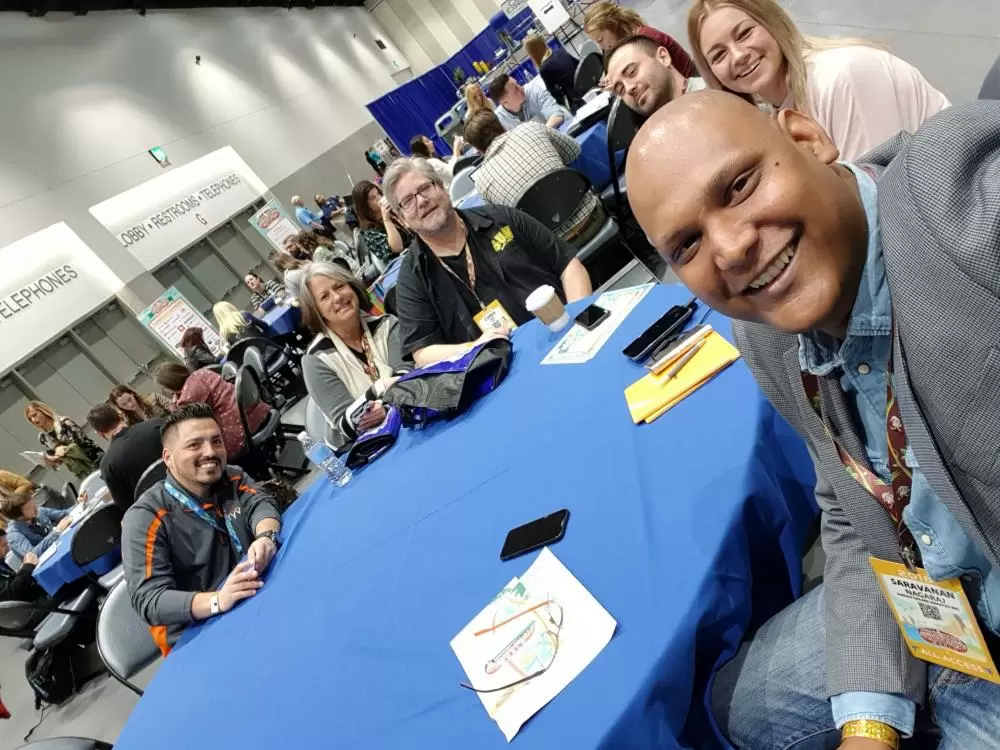 In New York, he found a job in a manpower consultation firm, but before he could settle down in the job he was fired when he sought permission from his reporting officer to leave early one day because he planned to move from a hostel where he was staying to a shared space.
"Though she knew I had come here (to the US) risking everything, she was tough on me. Tears rolled down my cheeks when I stepped out of the office," he recalls.
Saravanan began to hunt for work, in a foreign country, where he hardly knew anyone, visiting offices and meeting people. That's how he met Frederico at an office in Seventh Avenue in Manhattan, who offered the job of redesigning a website to him.
"Fred, who is my best friend now, gave me an opportunity I was eagerly looking for and handed a $250 cheque to get started with the work," he says with gratitude.
"I would visit Manhattan in search of new jobs almost every day and would call on Frederico. During one such visit, Fred suggested that I pick up a space in Manhattan to operate from. On realising I had no money for that, he offered me a desk at his office for free," he adds.
Saravanan started getting more projects and hired two people to support him. As he was shuttling between the US and India, his younger sister Bharathi Priya started taking care of the Chennai office.
As business started growing, in 2013, Saravanan moved his office in Chennai, which now had 25 employees, from Gummidipoondi to Annanagar. In 2015, they moved to a bigger 7,000 sq ft space in One Indiabulls Park at Ambattur Industrial Estate.
Saravanan set up Vanan Online Services in Virginia in 2016 with 12 people. He also set up Vanan Healthcare, which offers medical billing services for small practices.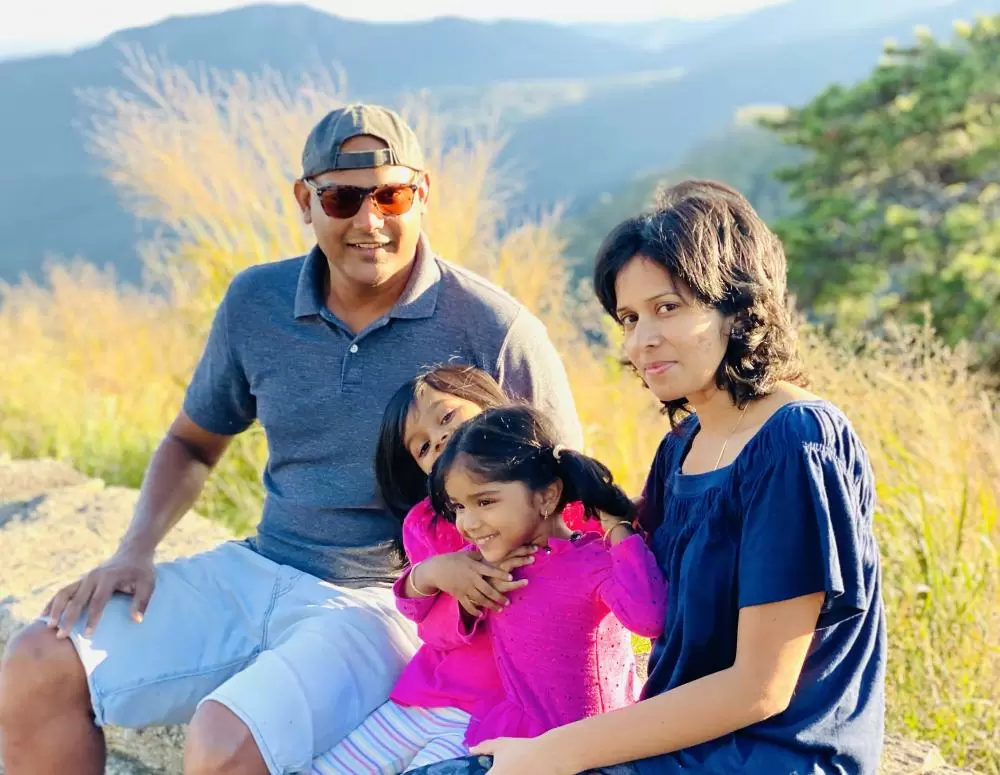 With wife Srividya and daughters Samantha and Diya
Saravanan is married to Srividya, a software engineer, who supports him in the business, and the couple has two daughters, Samantha Shree (4) and Diya (3).
Going forward, Saravanan is aiming at positioning Vanan Online Services as an Amazon of services. "We want to connect people and provide more services to a global audience. Our goal is - When you want to get something done digitally, you must think of Vanan."
Besides, he is also planning to come up with short YouTube videos in English which will be on general knowledge, history, and various subjects.
Wish to share your story?
Trending Now: