Corporate honcho shifts to poultry farming, starts with Rs 5 lakh and hits Rs 1.2 crore turnover in 2 years

Usha Prasad
&nbsp | &nbsp
28-October-2020
Vol 11&nbsp|&nbspIssue 44
When one's career is at its peak it takes gumption to hang up the corporate boots.

Having climbed the career ladder much faster in life, at age 40 Senthilvela K decided to quit his job at IBM - where his annual earnings crossed Rs 1 crore - and take the plunge into poultry farming.

The man with a Midas touch is now shining as a poultry farmer.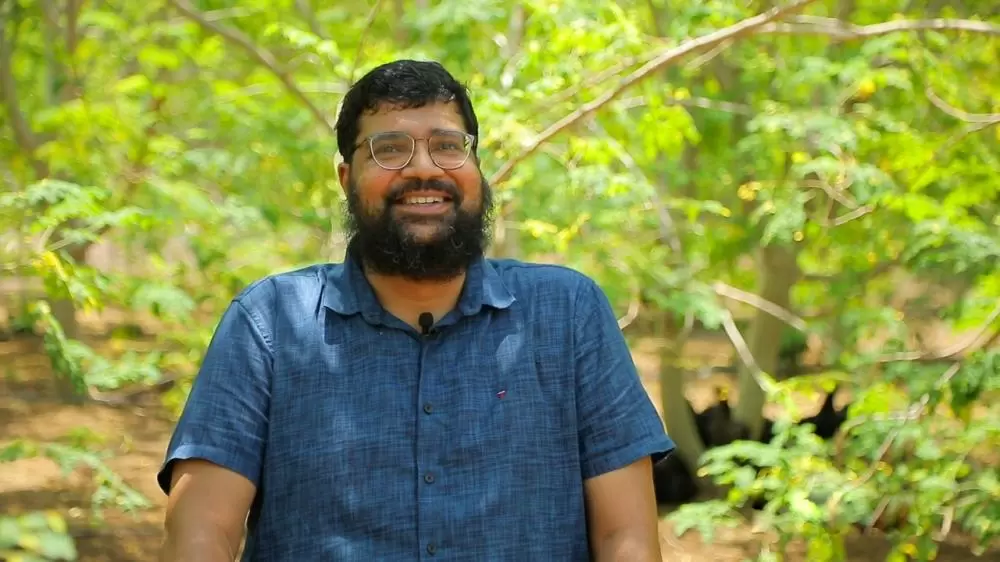 Senthilvela K chucked a high flying corporate career and plunged into poultry farming (Photos: Special Arrangement)
The poultry farm - Nirmala Nature Farm - he set up in 2018 with an investment of Rs 5 lakh at a village near Tirukalukundram in Chengalpet district, about 70 km from Chennai, is now yielding an income of Rs 1.2 crore annually.
Senthilvela breeds four varieties of chicken –Siruvidai, a native of Tamil Nadu; Nicobari, a pure breed of Andaman & Nicobar Islands; the naked neck, which is native to Karnataka and Andhra Pradesh, and the Kadaknath or Kali Masi – the black chicken, originally bred by the tribals of Madhya Pradesh but now being increasingly seen in poultry farms across the country.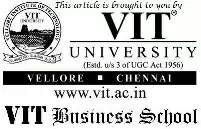 "I chose poultry for two reasons. Firstly, in today's world a lot of native breeds are gone and there's nobody to revive them. And secondly, I wanted to provide good food to at least my family or the next generation which comes in," says Senthilvela, 45, whose business is set for a 20 % growth during 2020-21 despite the COVID-19 pandemic.
After quitting his job in 2015, for about two years Senthilvela attended training programmes conducted by both government and private agencies in the fields of dairy, poultry, fisheries, and integrated farming.
Eventually, Senthilvela started his poultry farm on a 1.5-acre land he took on lease from a friend with 200 chicks in a 450 sq ft shed, and resolved to avoid antibiotics or vaccines on the chicken and rear only country breeds.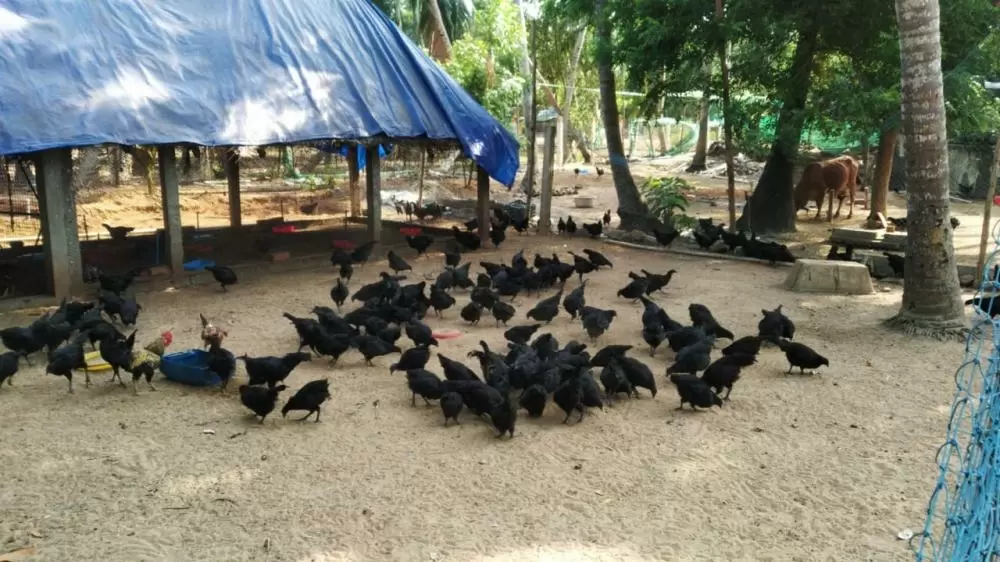 Senthilvela rears around 11,000 chickens at his three-acre farm. Seen in photo are the black chickens
He regularly pumped in money into the farm, which is now spread over three acres with a 7000 sq ft shed. He rears around 11,000 chickens and sells approximately 40,000 eggs, 2,500 live chicken and 1,500 chicks per month.
His market that earlier comprised of the locals, has spread far and wide now and includes around 50 to 60 wholesalers from Tamil Nadu, Karnataka, Kerala, and Andhra Pradesh. Some of the top hotel chains and hospitals in Tamil Nadu are also his customers.
He sells black chicken egg at a premium of Rs 30 and eggs of other country breeds at Rs 15 per unit.
While the live country chickens are sold at Rs 350 per kg, the black chicken fetches Rs 750 per kg. Each chicken weighs around 1.5 kg, and the chicks are sold at Rs 65. Black chickens account for 25 per cent of his total chicken and egg business.
While business appears to be booming, Senthilvela seems to have explored only the tip of the iceberg. He estimates that he has been able to meet only five to six percent of the demand in Chennai and there is a big market out there waiting to be tapped.
"There's a huge unmet demand. Hence, I am planning to set up a co-operative by bringing in more like-minded farmers to produce (chicken and eggs) and sell in bulk," says the computer science graduate, originally from Coimbatore, now settled in Chennai.
Senthilvela did his Masters in Information Technology from the University of New Castle in Australia while working for a company in Singapore. In 2003, he joined Motorola in the US as a technical consultant for its handset division.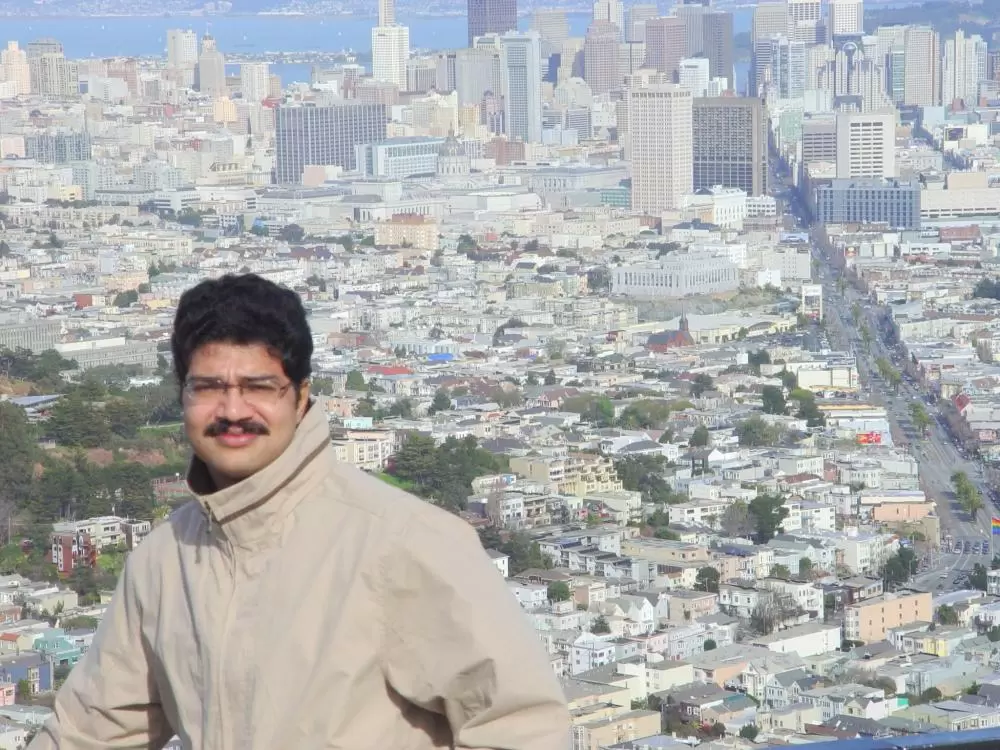 On top of the world: Senthilvela during his MNC days
He quit the company by the end of 2005 and joined Sasken Technologies in Bengaluru, where his first project was for Panasonic Mobile Corporation in Japan.
In November 2006 he married Vetrikodi with whom he spent nearly a year in Paris, while working on a project with the French defence department.
"We came to Chennai for the birth of our first son, Aditya. Vetrikodi wanted to stay back in India, so I went to Paris and convinced my bosses to relieve me," he recounts. "I came back and resigned from Sasken Technologies in 2008 as they could not give me a suitable post within India."
Senthilvela joined Citibank in Chennai as Assistant Vice President - Wealth Management, for Asia Pacific, comprising 18 countries. Two years later he became Vice President.
In 2014, he quit Citibank and joined IBM as Director – Telecommunication Development. A year later he quit IBM as he became disillusioned with his corporate career
His interest turned to agriculture and he started reading books on organic farming.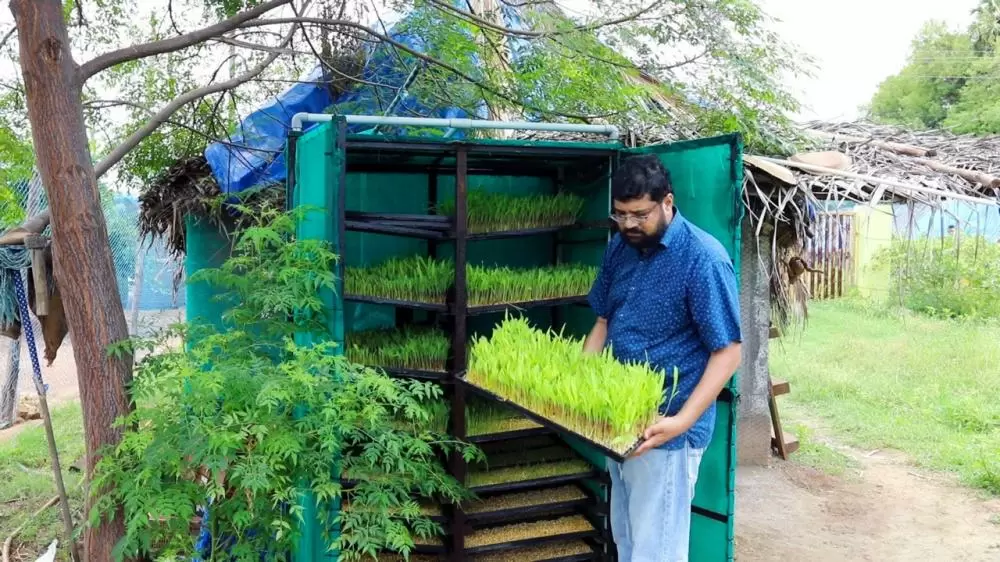 During the weekdays Senthilvela stays at the farm and visits Chennai during the weekends
"By this time, my second son Akilan was born. It was hard to convince my wife on taking up farming," recalls Senthilvela, who finally chose poultry above all other farming activities.
While he has gradually expanded his farm and enlarged his consumer base, Senthilvela is also seriously planning to develop a poultry co-operative with likeminded farmers.
"My farm will be the base and I want to develop something like contract farming," he says. "I will provide farmers with chicks and the feed and guide them on the breeding process. It would help them in supplementing their income and also create rural employment.
"If a small farmer can raise 50 chicks of native breeds on his 10 to 15 cents of land, he can easily make around Rs 400 every day. Through digital media, I can reach out to as many as possible, and help them learn the best practices," he adds.
Senthilvela's farm is recognised as a Model Farm by Tamil Nadu University of Veterinary & Animal Sciences (TANUVAS) under the 'One Health Poultry Hub' project, with the UK as the nodal country.
Twelve countries across the world are chosen under the project to revive the native breeds by raising backyard chicken. In India, they have identified Gujarat and Tamil Nadu.
Also, professors from the Poultry Research Station from TANUVAS are working with Senthilvela's farm conducting studies to get a GI tag for Siruvidai breed.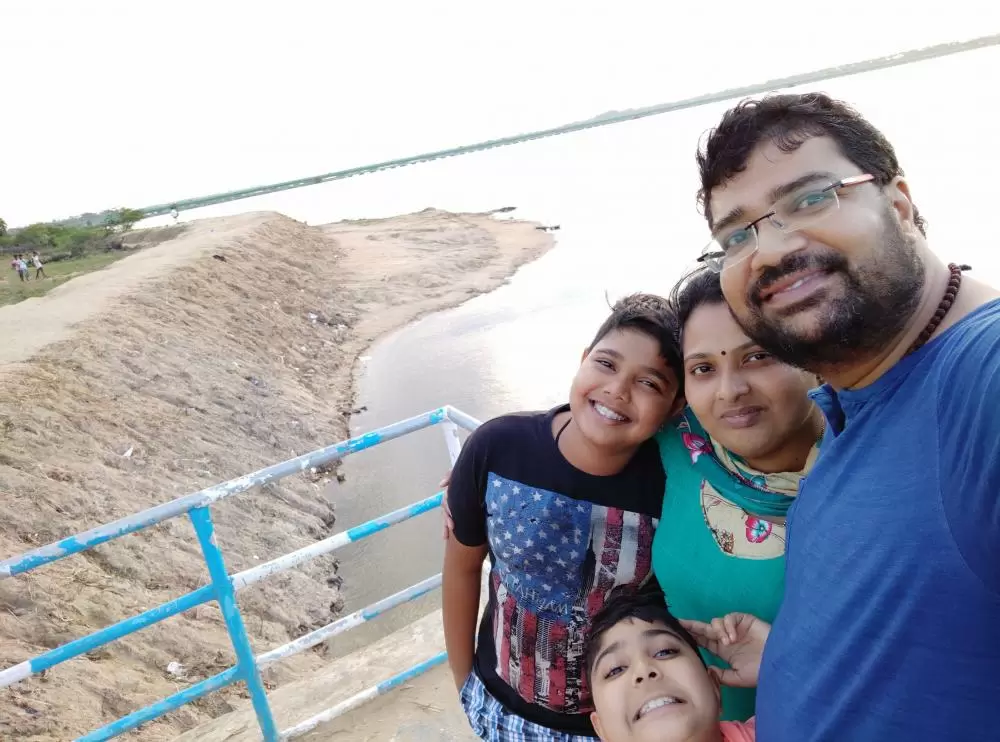 Selfie with family: Senthilvela with his wife and sons
He has also started producing organic Moringa and Lemon at his farm to increase income generation. With four permanent labourers working on his farm, he gets daily wagers as and when needed.
Senthilvela says he has been getting calls from as far as Maharashtra, with people evincing interest to get into poultry farming. He stays with his wife on the farm for five days a week and goes to Chennai during weekends, where his children are studying in a residential school.
After taking to farming, Senthilvela says his lifestyle has changed. "In the corporate sector, we start living for others. That barrier is broken here," he signs off.
Wish to share your story?
Trending Now: