How to run a successful Heifer Rearing Business

Usha Prasad
&nbsp | &nbsp Bengaluru
21-August-2020
Vol 11&nbsp|&nbspIssue 34
Extraordinary situations demand extraordinary responses. The COVID-19 lockdown has robbed livelihoods, destroyed businesses and triggered massive layoffs.

If this paints a grim picture of the world, for the diehard optimist, now is the time to chalk out a new path, a path that would give you freedom, give you fresh air to breathe and make you your own boss.

If you wish to return to your roots or willing to relocate to the outskirts of your city, you can start a heifer rearing business on a small patch of land - as small as five cents – investing just Rs.5,000 on a single calf.

A heifer is a cow that has never had a calf. So, heifer rearing is nothing but rearing of female calves.

You will spend around Rs. 1,700 per month to rear the calf into an adult for 18 months before you can sell it for 100 per cent returns or more, says Bengaluru-based Santhosh D Singh, who quit a well-paying job as an IT engineer and took up dairy farming.

Santhosh has implemented a successful business model of Heifer Rearing at his farm that he set up on a three-acre land in Doddaballapur, near Bengaluru, in 2010.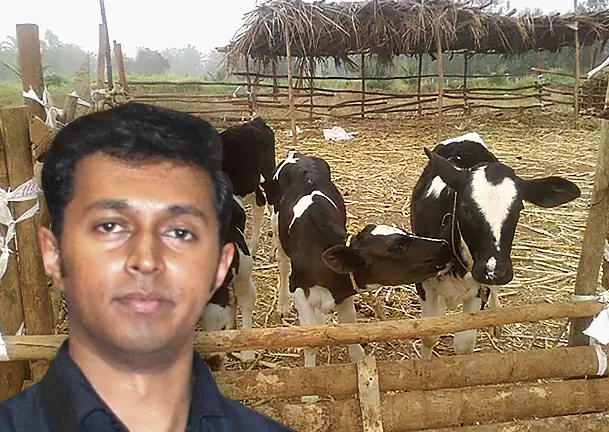 Santhosh D Singh, a former IT professional, is now into heifer rearing at his farm near Bengaluru

Based on your capacity you can add any number of calves you want, at one shot or month on month, and rear them in batches, he says.
Amrutha Dairy Farms used to produce and supply milk to Karnataka Milk Federation and Hatsun in Tamil Nadu, but now the farm has started rearing Heifers.
Santhosh has been happily living at his farm since quitting his corporate life, free from the city-stress and tension. He is also a much-sought-after dairy farming consultant in the country, which provides him extra income.
Santhosh had invested around 20 lakh from his savings and availed a loan of 45 lakhs in 2011 from the then State Bank of Mysore to set up his farm. At 43, he is a debt -free man today, taking life easy and motivating many others to follow in his footsteps.
Santhosh
spoke to
The Weekend Leader
on how to rear heifers and grow the business.
Excerpts from the interview:
You have been rearing HF heifers. Can you tell us more about this breed?

HF cow is a cross breed between the Indian cow and the one that came from Europe. Farmers are breeding HF cows in India since 1970. Majority of dairy farmers in India go for cross breeds such as the HF or Jersey as they give more milk and you can even use machine to milk them. I have been rearing HF heifers since 2015.
Can you explain the business model and the actual process of rearing HF heifers?

I must say that this is a successful business model. Your initial investment on a single HF calf – between three to six months old - is just Rs. 5,000. It is better to begin with a single calf and then keep adding one calf every month.
It will take a little over 18 months to rear the calf into a grown-up cow. Taking 18 months into consideration, you will be investing a maximum of Rs. 30,000 to 35,000 per unit including the purchasing cost, fodder and labour.
You can sell the grown-up cow, which will be around two years in 18 months, for anywhere between Rs. 70,000 to Rs. 80,000. You can choose to re-invest all the profits or retain 25% to 50% for personal use. I recommend heifer rearing because it is a simple process and we are not getting into breeding here.
Which are the most common breeds reared in India?
Majority of dairy farmers in India go for cross breeds such as the HF or Jersey. The popular desi breed in India is known as Gir. However, there is an increase in numbers in the HF cow because it gives more milk.
The milk produced by cross breed HF is known as A1 while Gir produces A2 milk. Milk co-operatives throughout India majorly procure A1 milk or buffalo milk. The desi cattle milk is generally not sold to co-operatives but sold separately at a higher price. They are also used to make ghee.
An adult HF cow will fetch around Rs. 75,000 in India. The Gir cow can fetch anywhere between Rs. 75,000 to Rs One lakh.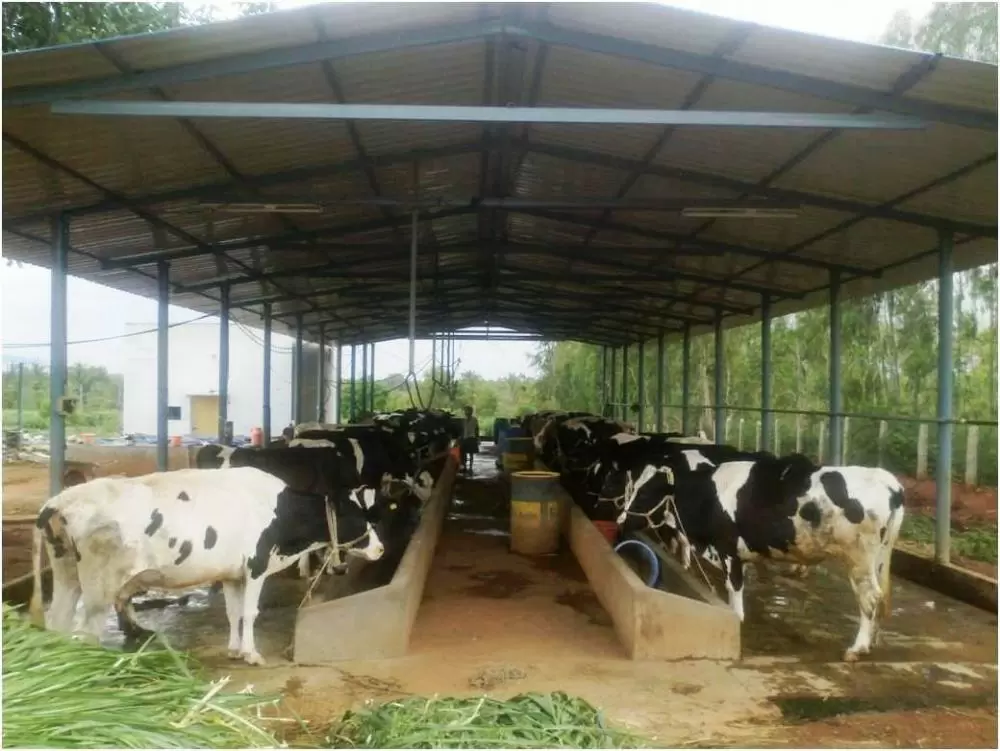 In India majority of heifer farmers prefer cross breeds such as HF or Jersey

How easy is it to get fodder for the heifers?
Farmers with a small patch of land cannot grow grass. But today by making just one phone call, you can get it delivered at your doorstep.
In rural areas, farmers take the cattle for grazing. They also feed them with food waste, leftover vegetables, fruits and some dry fodder such as ragi and paddy straw. Minus the food waste, big farm owners give their cattle all these plus the green and dry fodder.
If an urban farmer has to grow green grass on his own, he needs one acre of land for just five cows, to feed them 365 days a day.
Green fodder is nothing but a hybrid grass like your sugarcane, which are 10 to 15 feet tall. When you plant one stem, it multiplies to many. When you chop it, it grows again.
To store green fodder for a long time, say like one year, there is a process called silage making. Let's say for example, we put a maize plant in a shaft cutter. The chopped plant is then compressed, baled and stored in anaerobic condition.
If green fodder is not available, dry fodder is available 365 days.
What kind of support does NABARD extend for heifer rearing?
For heifer rearing, there is a fantastic scheme from NABARD known as Dairy Entrepreneur Development Scheme (DEDS), where you can avail a loan for RS. 9 lakh, for which NABARD gives 25% subsidy for men and general category people, and 33% subsidy for women and SC/ST category.
The promoter must bring in just Rs. 90,000 (10%) margin money for Rs. 9 lakh and the bank will fund the balance 65% of the loan amount. So, you will be repaying the loan for an amount of only Rs. 5.85 lakh at an interest rate of 9 to 11% with a repayment period of six years.
Santhosh provides weekend workshops on dairy farming and heifer rearing at his farm

You also conduct workshops at your farm. Can you give us more details on that?
I realised that calf rearing is a totally easy activity unlike the earlier farm activity. So I decided to hold one-day training programmes at my farm during weekends. Many have attended the programme.
The attendees include small farmers as well as those from working background. Indians working in Dubai, Malaysia, and Singapore have attended my workshop. A few took early morning flights from Singapore to attend the workshop and went back the same night.
I charge Rs. 3,500 for a day's workshop conducted at my farm or anywhere else in the country.
In addition to heifer rearing, you are currently busy in consulting. How profitable it is?

Many who attended my workshop sought my support to set up dairy farming. I have trained around 1500 people in the last five years. Of these, at least 50 have seriously got into dairy farming. I am offering consultancy to a few projects in Gujarat, Manipur, Bihar, Odissa and Maharashtra, where I provide basic handholding for the startups.
You are planning to set up a Centre of Excellence? What is the progress on that?

Around six months ago, I realised that I have grown a lot horizontally than vertically. In terms of my network, I have connected with some best dairy experts in Israel, Germany, Australia, US, Canada and New Zealand.
Training experts from Germany and people from Holland, Sweden, US and Bangladesh have visited my farm. There were proposals for training collaboration. That's when I thought I should set up a Centre of Excellence (CoE) in dairy farming.
Many attendees at the workshop wished to stay back for two to three days to a week at my farm to get more knowledge and information about dairy farming. I had all the technical know-how, but I didn't have the facility to house them.
That's when I thought of taking the training to the next level by setting up a CoE. At the CoE, we will impart training and knowledge in dairy farming along with ethnoveterinary practices. Currently, I am looking for investors as setting up a CoE requires Rs. 3 to 5 crore.
Wish to share your story?
Trending Now: