Partnering with farmers, she has built a Rs 50 crore turnover venture selling flavoured dips, sauces and mayonnaise
Sofia Danish Khan
&nbsp | &nbsp New Delhi
13-January-2020
Vol 11&nbsp|&nbspIssue 2
A tender-hearted 13-year-old girl who volunteered at an ashram before school hours moved by the ubiquitous deprivation that she encountered on the roads of Mumbai, hangs on to the same bleeding heart 45 years later even after launching a successful social enterprise whose turnover touched Rs 50 crore in 2018-19.
Wingreens Farms Private Limited, founded by 58-year-old Anju Srivastava, sells flavoured dips, sauces, baked chips, bakery chips, tea, pita bread and a lot more but primarily helps women and farmers lead a financially secure life.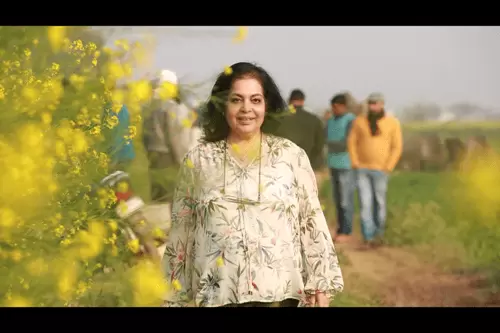 Wingreens Farms that partners with farmers is fruition of Anju Srivasatava's innate desire to be of help to people (Photos: Special Arrangement)

Back in 2008, Srivastava had embarked on a unique agrarian venture renting half an acre of land from a farmer in Gurugram. She raised culinary herbs in the land and sold them at Rs 150 per pot at exhibitions in and around Delhi.
"We sowed parsley, thyme and marjoram - which can be easily potted - under the brand name of WIN (Women Initiative Network)," says Srivastava of the early years of her venture in which her elder son Vikram Aditya has been associated from the beginning.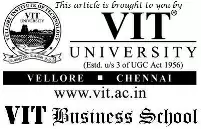 Later, Srivastava tweaked the business plan and got into products with basil dips with chips, which was the turning point in her venture.
"In 2012, winter was about to set in and we had an extra stock of basil. Since dew kills basil, we decided to make basil dips with chips that became a hit," she recalls.
When they had a good stock of garlic in March- April, they introduced garlic dip, which set the stage for making more such products in the subsequent years. Currently, Wingreens offers 150 products from its stable.
As Srivastava expanded the business, she rented more land – which has touched about 100 acres now - and increased her partnership with farmers offering them more income.
"Farmers worked the entire year to earn hardly Rs 10,000 earlier," she says. "They faced high risk as they were dependent on rains and lacked the ability to do business. We rented their land and asked them to take care of the herbs. Now the farmers earn Rs 1 lakh annually. "
What started with just 4 employees has grown into a community of 1,200 strong members that includes 300 women, with 150 of them working in the farms and 150 working as promoters.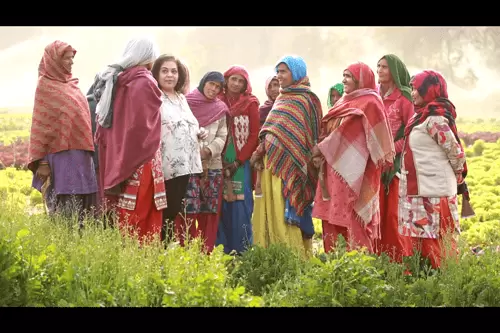 Anju has created livelihood opportunity for 1,200 people, 300 of them women

Their products like flavoured dips, tzatziki dip, chipotle dip, hummus, sauces, bakery chips and tea, are sold through 9,000 stores across India, besides their website and online shopping portals like Big Basket and Amazon. The dips comprise 50%, sauces and flavoured mayonnaise about 40% and bakery chips and tea 10-15 % of the sales.
In the first year, the company made a turnover of Rs 12 lakh, which jumped to Rs 6 crore in 2015 and Rs 50 crore in 2018-19. The company is looking at crossing the Rs 100 crore mark this financial year.
Sequoia Capital invested Rs 12 crore in 2015 and pumped in another Rs 20 crore in 2017. "Recently Zurich base private equity fund responsAbility Investments AG invested Rs 90 crore as part of Series B funding while Sequoia Capital invested another Rs 25 crore," says Srivastava elaborating on the financial position of the company, which was started with an investment of Rs 10 lakh.
Despite the phenomenal success of her venture, Srivastava, is down to earth, cool, vibrant and friendly with a positive aura around her. Deeply philosophical, she believes her religion is humanity and she is a 'citizen of the universe.'
Talking about her growing up years in Mumbai, she says: "I studied in CJM School in Byculla and used to take the local bus on route number 63, which would pass through Nagpada, one of the poorest localities in Mumbai."
Srivastava, then 13 years, preferred to be seated in the upper floor of the double-decker bus and loved to look out through the window, observing places and people.
'It would pain me to see people sleeping on the road. I would feel guilty for having the privilege to pay 10 paise for the luxurious ride on the bus when there were people who couldn't even afford a roof over their head."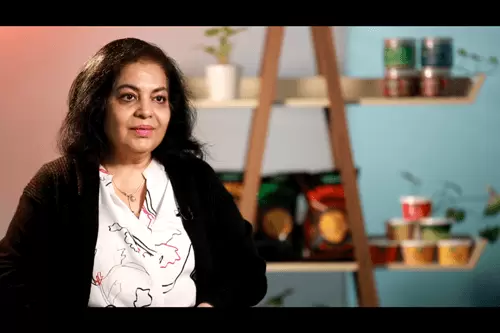 Srivastava, a former advertising copywriter, used her skills to develop the Wingreens brand

It was that sense of guilt that impelled her to volunteer at an ashram. "I would leave home at 6 am, help the people at the ashram in cooking and chopping veggies and then leave for school to reach just in time. This enabled me to sleep peacefully at night as I knew I had done something to make a difference in somebody's life."
She would tell her parents that she had early morning football practice. She also wrote a poem, 'Black little figure accentuates the night', describing the people sleeping on the road and how she felt about it.
"It was also a phase when I wrote voraciously and hid the writings, which were discovered much later by my parents, who were pretty amazed," she shares.
If her father, who worked for Hindustan Lever as one of the first professional marketers in the industry, taught her compassion, her mother, a medico, taught her to work hard academically.
Srivastava completed her graduation in Sydenham College for Economics and Commerce and did a PG Diploma from Xavier Institute of Communication. She later worked for a small agency 'Sobhagya' as a copywriter for a salary of Rs 350 per month. Her advertising background would help her later in developing the Wingreens brand.
In her younger years, she practiced alternate healing for cancer patients, autistic and spastic kids, as well as Reiki and Tantrik healing.
Now she has changed the lives of the 35 women, who are working in Wingreens plant as chefs, making the various products. "These women came here in ghoonghat (veil covering the face) and would scream if a man entered their area. Now they are fiercely independent."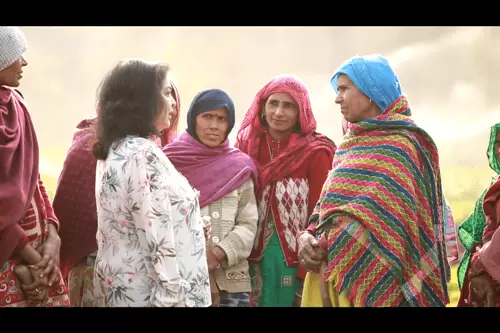 Wingreens has provided financial independence to many women employees

Dipika Mishra, who has been working as production manager at the unit for the past five and a half years, says that the women are given regular counseling to overcome day to day issues.
"Coming from underprivileged backgrounds they are not just earning but also learning," she says. "Two supervisors studied while working here and can now handle bank work while another woman saved money to buy a piece of land, on which she wants to build a paying guest accommodation and be self-dependent in old age,"
Srivastava's husband, Arjun, a former marketing director at PepsiCo, is a director in the company and is actively involved in the business. Elder son Vikram continues to work with her, while her daughter Zoha joined her recently. The youngest son, Omar, is pursuing his education at University of Toronto.
Arjun gives the entire credit for the success of the brand to Srivastava. "I worked with FMCGs all my life but building your own brand and business is very satisfying," he says.
Srivastava intends to introduce ready to drink healthy beverages and wholesome snacks in the form of chip and dip combination and is looking at exporting her products. Besides, she wants to open a state-of-the-art healthy food café in sync with the needs of Generation Next.
This Article is Part of the 'Amazing Entrepreneurs' Series
Wish to share your story?
Trending Now: