He had worked as a watchman and valet driver, but now makes dancing shoes for celebrities
Anagha Sawant
&nbsp | &nbsp Mumbai
21-December-2019
Vol 10&nbsp|&nbspIssue 51
A migrant Bihari teenager arrived in Bombay in 1996, fusing his desperation for a livelihood with a compelling desire to meet Hindi film actors, and realised not just those two dreams but also turned a millionaire by designing dancing shoes.
Shah, now 37 years old, is the owner of Shah Shoes, an enterprise that specialises in providing pedial comfort for dancers, including top film stars.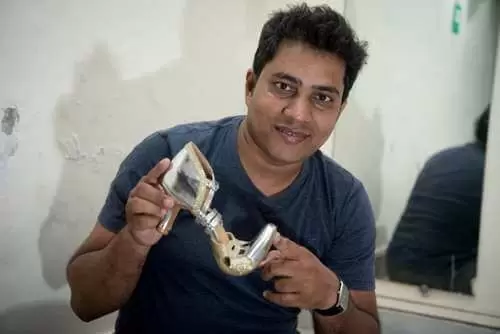 Jameel Shah, who had worked as a watchman and valet driver, now makes dancing shoes for many Bollywood celebrities (Photos: Manoej Paateel)

Shah launched shoemaking as a business enterprise in 2007 by taking a personal loan of Rs 5 lakh and buying a 120 square feet shop in Dharavi, one of the largest and well-known slum of Mumbai.
Now, he also owns a store in Bandra, an upmarket area of the city, and makes customised shoes for Bollywood stars for dance sequences in movies and ad shoots.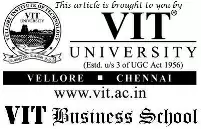 Recently he made shoes for actresses Kangana Ranaut and Kriti Sanon for one of their recent projects. "I have been making different types of shoes for Priyanka Chopra for some years," he says.
Among the other celebrities who had approached him for shoes are Alia Bhatt, Katrina Kaif, Aamir Khan and Karishma Kapoor. Shah also bagged a contract to make shoes for background dancers in IIFA Awards.
Shah gets his orders in Bollywood through word of mouth publicity. He stays in touch with the managers and stylists of celebrities and most of the time he is approached with orders as per the needs of the celebrities.
But to reach this stage, Shah had to travel a long way. Before becoming a self-made entrepreneur putting to use the skills he gained at a small-scale leather company that made wallets, he had also worked as a watchman, doorkeeper and valet driver.
Born in Doghra village in Darbhanga, Bihar, Shah attended a local Madarsa till Class 5 and did not attend a regular school though he wanted to. His father was a daily labourer and the family reeled under extreme poverty.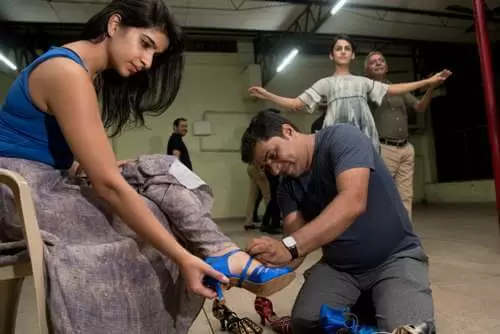 Shah has made shoes for leading Bollywood actresses including Priyanka Chopra, Kangana Ranaut and Kriti Sanon

"Many a time, there would be no food at home," he recalls the struggles he underwent during his childhood days. "I still remember cycling for an hour to reach my grandmother's house just to take some food back home. I loved reading, so she provided me my uncle's books to read."
Once he asked his father for 25 paisa to buy a ballpoint pen refill as he had to write an exam in the Madarsa. "He didn't have enough money because of which I was not able to appear for the exam," he says.
So, like many unskilled labourers from Bihar, he too traveled to Delhi in search of work in 1995 without telling his family. He got a job at a leather unit and made Rs 500 to Rs 700 a month but was not able to send any money back home.
That's when he decided to shift to Mumbai with dreams of meeting the movie stars and hoping to get a break in films. His search of Bollywood celebrities first took him to Bhiwandi in 1996, where he worked in a power loom.
Least impressed by the narrow by-lanes of the locality, he wanted to explore other parts of the city with high-rise buildings, hoping to land better jobs and bump into celebrities.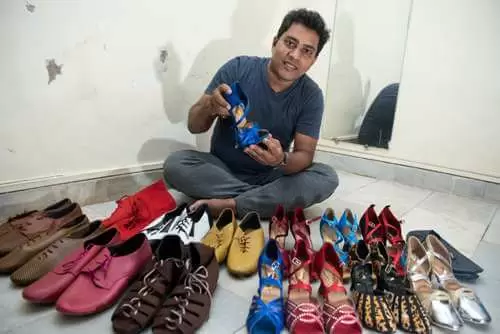 Shah charges Rs 2,000 to Rs 5,000 for a pair of bespoke dancing shoes

The exploration of Mumbai took him to Dharavi. With the help of his uncle, he secured a job in a leather unit, which made wallets and bags, for a salary of Rs 1,000. Two years later, he lost all his personal savings of around Rs 25,000 when a co-worker's brother ran off with the money after promising to introduce him to Bollywood celebrities.
In pursuit of the trickster, Shah went to Bengaluru. Not only did he not find him but also got stuck in the new city without any money to get back to Mumbai or Bihar.
So he took up a job as a security guard and worked for two years saving up the money to reach Mumbai. He also worked in this period as a valet driver in his spare time and had his first formal brush with dancing, which would later propel him into the Bollywood circuit.
A kind-hearted man in the building where he worked as security guard sponsored his fee to attend a two-day dancing workshop. "I had told that uncle that I wanted to learn dance, go back to Mumbai and dance with celebrities," he says.
In 2000 Shah returned to his old job at the wallet making unit and two years later he joined Bollywood choreographer Sandip Soparrkar's dance classes.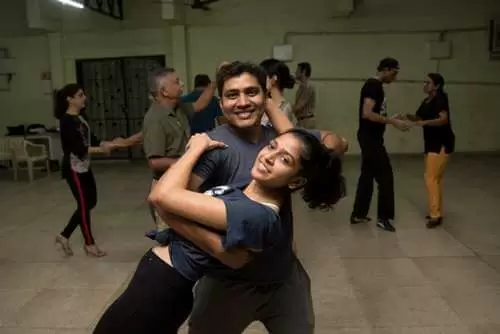 Shah attended a two-day dancing course in Bengaluru and later learned Latin dance from Bollywood choreographer Sandip Soparrkar

He learned Latin dance from Soparrkar, who teaches Indian Latin and ballroom dance, besides his work in the film industry. Soparrkar had taken Shah as a student on seeing his extraordinary interest to learn dance.
"In 2005, we had to participate in a competition and I had to purchase dancing shoes that were made in America," Shah recalls. "I asked Sandip sir how can a person who is not able to afford the fees for the dancing class buy shoes for over Rs 10,000. He then advised me to employ my skills in making leather products and fabricate my own shoes
"With the help of co-workers at the wallet making unit in Dharavi, by looking at a sample pair of shoes used for Latin dance, we were able to make a pair of shoes," he says.
Though the first pair of shoes did not meet the standards, Shah worked on it and subsequently made 14 pairs that got sold for Rs 400 each to students at the dance class who could not afford to buy US-made shoes that cost Rs 12,000.
Slowly, the quality of shoes improved as he used different kinds of leather and other materials and sold them for Rs 1,200. Now, Shah charges Rs 2,000 to Rs 5,000 for a pair of dancing shoes, depending on the material used and the artwork that goes into it.
In 2007, he had eight to 10 clients a month as he was marketing the shoes only in the dance class he was attending. Now, he gets around 50 clients every month with many dancers approaching him from faraway places.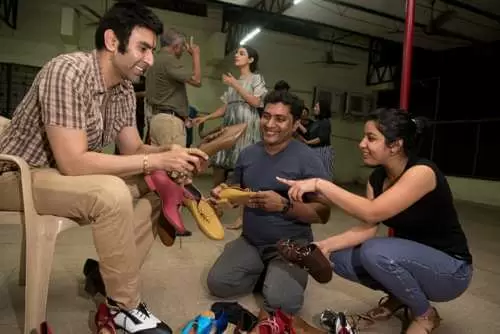 Sandip Soparrkar (left) continues to be Shah's friend and mentor

"I make shoes for all types of dances, customising the heels and soles according to the dance form. My aim is to make the shoe comfortable for the dancer. Often we see dancers taking off their shoes during breaks at shows," says Shah, who doesn't have a walk-in store as of now and takes up to 10 to 15 days to deliver a pair of bespoke shoes.
Recounting his first meeting with celebrities, he says, "Sandip sir called me one day to his house where actors Kajol, Amisha Patel and Sonali Bendre and director and choreographer Farah Khan Kunder were already present. He asked me to show some dancing steps wearing my shoes and introduced me to them."
Farah later referred him to Kylie Minogue, an Australian singer, songwriter, and actress. There has been no looking back for Shah since then.
"My dream is to open a one-stop dance store for people to buy anything and everything related to dance. Not just shoes but costumes and other materials. It is a big dream and will take a few years to realise," says the man who has shown that nothing is impossible for those who dare to dream big and work hard to achieve it.
This Article is Part of the 'Amazing Entrepreneurs' Series

Trending Now: