From a tourist guide to selling paints to building a Rs 3.5 crore turnover two-year-old startup, it's been a real journey
Sofia Danish Khan
&nbsp | &nbsp New Delhi
09-November-2019
Vol 10&nbsp|&nbspIssue 45
Convinced about the business potential of electric vehicles, 43-year-old Nischal Chaudhary ventured into making e-scooters and drove his way up the slope, turning his BattRE Electric Mobility Pvt Ltd into a Rs 3.5 crore turnover company in less than two years.
"Despite the slowdown in the automobile industry, electric vehicle sale is growing at 100%, though it does not create a great impact on the entire automobile sector," says Chaudhary putting the growth of his sector in perspective.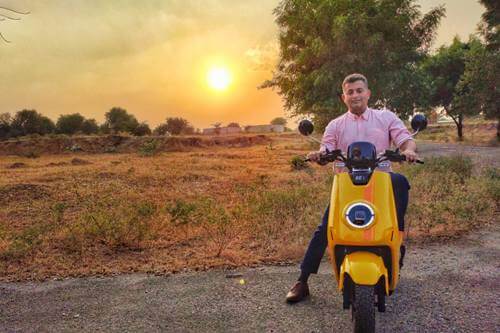 While in college Nischal Chaudhary, founder of BattRE, used to borrow his father's scooter for personal use, but today he is making electric scooters for a national market (Photos: Special Arrangement)

He figured out the potential in the e-vehicle industry through research and took a deep plunge into it, though he had worked for decades in the telecommunication sector.
"There is stagnation in the telecomm industry," he observes, adding, "growth has started going down and there is negative revenue per customer as consumption has increased."
Chaudhary, who does not hail from a business background and started working part-time even as he was studying for his B Com degree, is convinced that scooters would drive the growth of electronic vehicles instead of cars.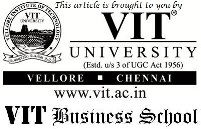 Perhaps that explains his foray into the electric vehicles sector in 2017 after going on trips to Japan and China to 'figure out the next big idea technology wise.', along with friend Ashwini Mehta, who would later on became an investor in his venture.
"After coming back I spoke to around 200 owners of electric vehicles and held 25 focused group discussions," says Chaudhary. "I tried to understand the problems in their vehicles. I also held telephonic conversations with 500 potential buyers of two-wheelers and enquired about their preference for petrol over electronic vehicles."
He figured 15 to 16 things that customers missed in an e-scooter and classified them into major categories like convenience, affordability, safety, efficiency and styling. Then he conceptualised his own product which would address all those concerns.
Also he realised that leading auto majors like BMW, Nissan and Mahindra had launched only e-cars. "So I seized the opportunity (to fill in the gap)," says Chaudhary, who first manufactured e-cycles, costing Rs 25,000, after launching his company in Jaipur in 2017.
He sold 100 cycles over the year and made Rs 25 lakh in 2018-19. "With maximum sales in Maharashtra, followed by Telangana, Tamil Nadu and Gujarat (Surat), I decided to go deeper into these states when I launched the e-scooter, BattRE, in June 2019," he says.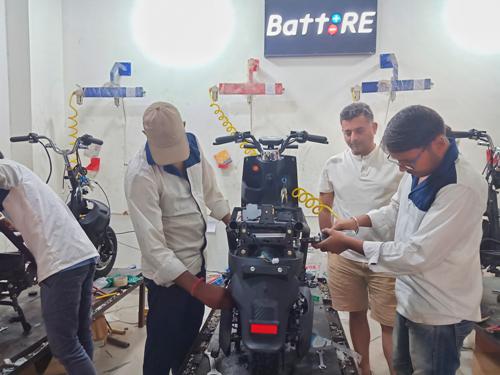 Workers assembling a scooter at the BattRE plant in Jaipur

By the end of the first quarter, the company sold 700 BattRE scooters and achieved a turnover of Rs 3.5 crore.
"Priced between Rs 64,000-72,000, it is the best in the market in terms of features," Chaudhary says. "It caters to 'aspirations' of the target audience with a contemporary design, remote keys, LED lights, reverse gear, rear and front lights."
The company has a strong dealership network in Maharashtra (17), followed by Telangana (7), Tamil Nadu (3) and Gujarat (2).
"The Lithium Ferro Phosphate battery in the scooter has a life of 2000 recharge cycles which comes to approximately 4 years, though we promise only 3 years. Likewise in one recharge it can go up to 100 km but we promise a mileage of 80 km," says Chaudhary, talking about the plus points of the scooter.
Besides, the fast charger that can fully charge the battery in 2 hours 45 minutes is detachable and can thus be charged at home. It means there is no need for charging stations.
"The focus is on Made-in-India products though we do import some parts from China. Efforts are on to make the product fully Indian. Okaya battery charger and CEAT tyres are the biggest partners in this endeavor," Chaudhary says.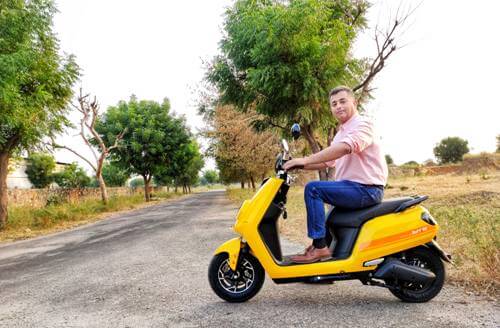 Chaudhary resigned his job at Essel Group to launch his company in 2017

Chaudhary's last job was with the Essel Group as Business Head, which he quit in 2017 to start his research on the e-vehicles project.
His father worked at RPG group as a Production Manager while his mother took care of him and his younger sister as a housewife. Life was comfortable, yet the parents instilled in their kids the desire to stand on their own feet.
The Birla Temple in Jaipur was one place that he visited regularly during his student days in Rajasthan University as he worked there as a tourist guide.
"It was a part time job," he shares. "I would go there after classes and work from 4 to 7pm, making Rs 40 a day. My father had given me his scooter to travel but I had to bear the petrol expenses."
He was attached to his mother. When he joined Asian Paints as Territory Sales In-charge based in Jodhpur for a salary of Rs 4,000 per month in 1996, he lived on his Daily Allowance for travel and saved his salary, buying a Titan watch for his mother in the first month.
After a year, he enrolled for his MBA in Amity Business School, Noida and later did an Executive Program in Business Management from IIM- Kolkata.
Post his MBA he joined Koshika Telecomm, one of the first few telecomm service operators in 1999, opening a long innings in the sector.
"Once I went to sell a SIM card to a potential customer, and after making a pitch, the customer replied, 'I would rather go visit my friend 6 km away than call him for something trivial'," he remembers those days when cell phone owners paid for in-coming calls, too.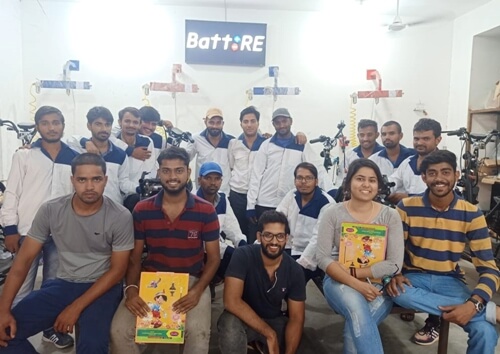 The BattRE plant in Jaipur has capacity to produce 1,000 vehicles per month

But such meetings with customers gave him an insight into consumer behaviour and he was able to understand people and their needs. And this basic understanding of the customer's needs and demands guides him in his business till date.
Working in telecomm industry, he had a ringside view of the changes that dictated the rapid growth of the sector. "From the time when incoming voice calls were as expensive as Rs 16 per minute to introducing SMS, MMS, caller tune, and now internet packs, this industry has grown beyond our own imagination," he says.
The manufacturing unit of BattRE in Jaipur has a capacity of 1,000 units per month. And there is a plan to set up another 1,000 capacity unit in Hyderabad, given the popularity of BattRE in South Indian states. Two new products are in the offing - a low end product to be launched for rural India by December end and a high speed scooter by March 2020.
Chaudhary was able to achieve his dream of starting his own company, thanks to a clutch of Angel Investors, including the ex-President of Tata Motors, Gajender Chandel. Chaudhary himself pooled in 50 per cent of the overall investment of Rs 5 crore in the project.
Today, Chandel, with his experience in the industry, guides Chaudhary at every step. Pankaj Sharma, Chaudhary's colleague since his days at Essel and Airtel, who later joined as co- founder, takes care of the sales.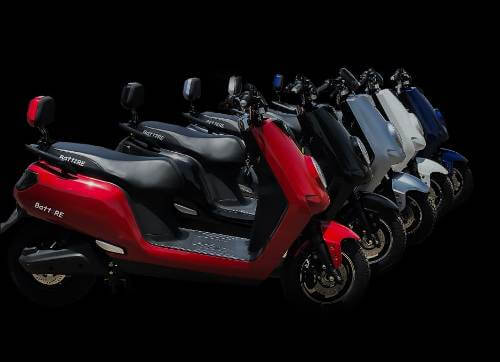 BattRE scooters are available in the price range of Rs 64,000-72,000

Chaudhary calls Sharma "the magician behind the jump in sales. He is the best the industry can have. He takes care of front end- sales and distributorship as well as expansion. I look after the backend and operations now."
Though the government is giving this eco-friendly industry a push by reducing GST from 12 to 5% and from 18% to 5% for chargers, Chaudhary does is not too excited about subsidies as he believes that an industry cannot survive and flourish solely on subsidies.
This Article is Part of the 'Amazing Entrepreneurs' Series

Trending Now: