US-born Bengali girl returns to her roots and sets up a Rs 3 crore turnover business selling food and artefacts
Gurvinder Singh
&nbsp | &nbsp Kolkata
30-October-2019
Vol 10&nbsp|&nbspIssue 43
When the US-born Bengali girl could not immediately find a job in 2009 due to the Great Recession, she took a break and returned to her roots in India, only to discover her real passion in artefacts and entrepreneurship.
The girl who aspired for a job in the US is now her own master running a unique store in Kolkata that made revenue of Rs 3 crore in FY 2018-19.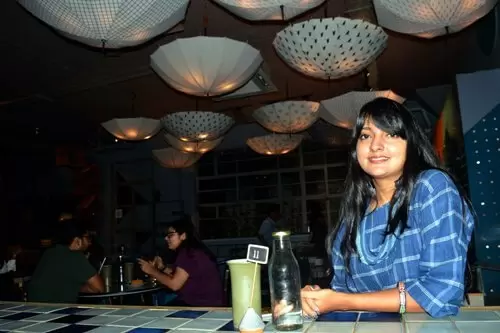 Sulagna Ghosh wished to find a job and settle in the US, but she ended up as an entrepreneur in India (Photos: Monirul Islam Mullick)
"I had made up my mind to settle in the US as my elder sister also stays there but the economic downturn crashed the world market and put a break on vacancies," recalls Sulagna Ghosh, who completed her Bachelors in English literature from Columbia University in 2009.
Back in India, her life took a new turn when she saw the creations from Confetti, a handicraft workshop that her mother, Shanta Ghosh (65), ran in Shantiniketan, an institution founded by Nobel laureate Rabindranath Tagore.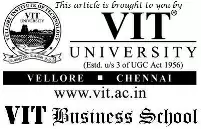 Ghosh quite smartly realised that the beautifully crafted ceramic mugs, tea pots, plates, bowls, dinner sets, diffusers, urns, and wooden handicraft products like spoons and other items being sold at Confetti – located about 160 km from Kolkata - would have a tremendous market in Kolkata.
She decided to start a store exclusively dedicated to the rural craft products and create a market for the craft. She also dropped her plan of returning to the US. "I had actually come down to Kolkata to stay for just six months and let the storm blow over," she says a smile.
In September 2010, the mother-daughter duo set up a store at City Centre in Salt Lake, a mall in Kolkata, launching the business in a humble way.
Earlier, Shanta Ghosh had supplied the artefacts to individuals and corporate houses, though the orders from the latter were rare.
"The shop at Salt Lake did brisk business initially but soon other stores came up with a similar concept and sales declined sharply in the next two years," says Shuli, as the younger Ghosh is called.
They soon shut the shop and explored fresh options. That's when the food and craft combo idea emerged. As Ghosh remarks, "It is important to have an interaction with the customers to explain them about the products and generate an interest in them for such artefacts."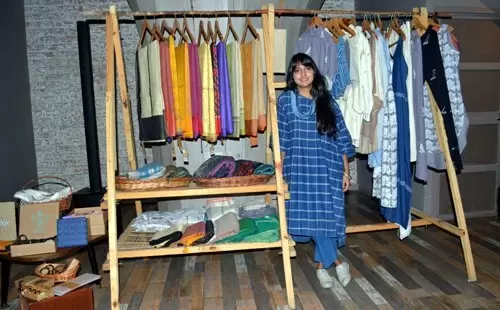 At Sieena Store one could shop for clothes and find something to eat in the same place

She decided to mix food with the craft so that prospective buyers have time to sit and understand the products. Her vision turned into reality in 2015 when she refurbished an old bungalow at Hindustan Park, a bustling south Kolkata neighbourhood, and launched 'Sienna Store and Cafe.'
Thus the Bengali woman, now 32 years, was able to amalgamate handicrafts and indigenous artefacts with freshly brewed coffee and healthy nutritious food.
"We bought an old and dilapidated bungalow in 2013, renovated it, and opened the store in around 1100 sq.ft with four employees," she shares.
The brand name, 'Sienna' signifies earthy colour. Ghosh's view on interacting with customers was vindicated as the store became an instant hit with people swarming to spend some quality time while also glancing at the handicraft items.
"We did a business of around Rs 70 lakh in the first year. The response was overwhelming," says Ghosh. "We used to chat with customers and explain about our products while serving fresh food."
Despite having no formal training in designing, she designs most of the handicraft items at the store thanks to the knowledge and experience she had gained at Confetti, where she had spent most of her childhood vacations.
Equal attention is paid to the food served at the café. It is ensured that the food is rich, nutritious and made of home-grown ingredients. And it is no surprise that the first chef was Shanta Ghosh.
Sienna store has come to be known for Shanta Ghosh's signature dishes

"My mother is an excellent cook and we decided to make use of it. She used to make the food and send them to the cafe just few metres away from our house. Our food items like Avocado tortilla salad, Mediterranean quinoa salad with house made ricotta became popular," says the proud daughter.
Soon the 30-seater cafe proved too small to handle the crowd. So in June, 2019, Sienna opened a branch in Park Street, the famous thoroughfare in Kolkata. They converted an old office of the engineering firm that Shanta Ghosh, an architect, was running for long, into a 5,000 square feet café-cum-store.
"We refurbished it into a 70 seater café, which also has two cubicles and a conference room. We take bookings for cultural events, book launches and conferences. We also sell women's garments like saris and tops," says Ghosh, adding that they had pumped in more than Rs 2.5 crore into the two stores.
The turnover of the Sienna brand that employs 46 persons in both the stores was Rs 3 crore in 2018-19. They keep the price of their food items in the range of Rs 150 to Rs 750 with a view to make it attractive for the middle-class customers.
"We get over 100 footfalls every day at our first store but the numbers are lesser at the second outlet because it is newly opened and we do not spend much on advertisement," says Ghosh, whose husband Rewant Lokesh recently joined them as a consultant.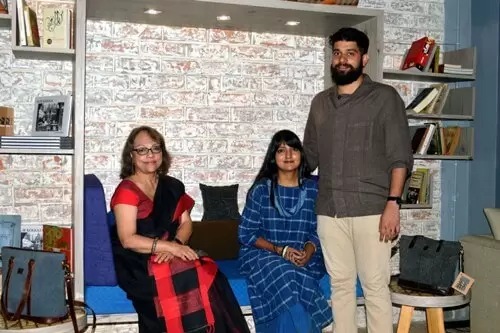 Sulagna Ghosh (centre) with mom Shanta Ghosh and husband Rewant Lokesh

Lokesh plans to take the brand outside Kolkata. "We are working to make our products available online and also planning to expand to other states and abroad," he says.
In Kolkata, Sienna as a brand has become a hit among food lovers and patrons of art and rural craft, who flock to the store-cum-café outlets to get the best of both the worlds. Lokesh is all fired up, as he gushes, "We have realised that the brand has tremendous potential to thrive and excel elsewhere, too."
This Article is Part of the 'Amazing Entrepreneurs' Series

Trending Now: