Besides inspiring IAS aspirants, it was a speech that made many consider civil services as a career
Our Correspondent
&nbsp | &nbsp Chennai
24-October-2019
Vol 10&nbsp|&nbspIssue 42
Two carpenters, who were in the final lap of their career in a construction company, were suddenly called by their managing director and assigned their last job. They had to do interiors of two different houses, for which the civil work had been just completed.
One carpenter put in his heart and soul in beautifying the house with the best fittings and artefacts while the other was lackadaisical and did nothing as the company cannot haul him up anyway.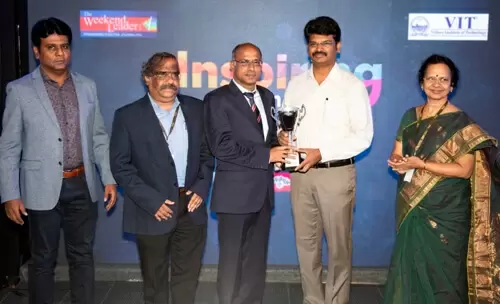 G V Selvam, VP, VIT Chennai (second from right) presenting the 'Inspiring Indian' award to Free IAS Coach Prof P Kanagaraj. Also seen from far left, P C Vinoj Kumar, Editor, The Weekend Leader, Dr S K Sudarsanam, dean, VIT Business School and Dr Kanchana Bhaskaran, Pro VC, VIT Chennai (Photos: Raghu)

On the day of their retirement, after the company settled their accounts, the MD surprised them by gifting hem each the house they had worked on in appreciation for their long service.
The one who wantonly did a shoddy work was crestfallen for he lost an opportunity to live in a well done home.
G V Selvam, Vice President, VIT Chennai, narrated this parable to underline the importance of hard and sincere work, at an event to mark another edition of the 'Inspiring Indians' series at their campus.
The 'Inspiring Indians' award and talk show series is conducted by The Weekend Leader in collaboration with VIT Business School and co-presenters Alcis, Milky Mist and Peps.
Coimbatore based 'Free IAS Coach' P Kanagaraj, the recipient of the 'Inspiring Indian' award, had an interaction with The Weekend Leader's editor, P C Vinoj Kumar, and enlightened the students and faculty on how to prepare for Civil Services examinations, conducted by the Union Public Service Commission (UPSC) to select candidates for IAS, IPS, IFS and a host of other Central government services.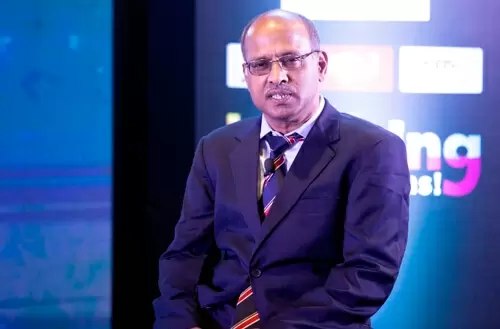 P Kanagaraj had helped 88 candidates clear the UPSC exam and enter various services

"UPSC has deliberately framed a very comprehensive syllabus… not only everything under the sun, everything inside the sun, outside the sun,.. is there. If anybody reads the main syllabus thoroughly, they can get through.
"If they don't… with the kind of knowledge.. they can become a leader and achiever in any walk of life," said Kanagaraj, who himself was an IAS aspirant many years ago, but had failed to realise his dream.
Now working as a professor in a government arts college in Coimbatore, he provides free IAS coaching to students for the past 13 years and 88 of them have passed the exam.
"I do this free coaching service because I believe that India is sitting under the threshold of a great moment in history. After many, many centuries India is going to be a leader among nations of the world," he explained about his service.
Now, while reading names of cities in newspapers or hearing them on television - Delhi, Amritsar, New Delhi, Calcutta, Nagpur, Imphal, Bangalore, Thiruvananthapuram, Tirunelveli, Chennai and so on – he is reminded of his students working in those places as IAS, IPS, IRS, IFS officers or in other services.
"I went to Delhi to study in Jawaharlal Nehru University around 30 years back. My ambition at that time was to become an IAS officer," he recalled. "But I could not get through the exam in the final stage. So, I decided to serve the society by sharing my knowledge, it is a great pleasure for me, working with youngsters."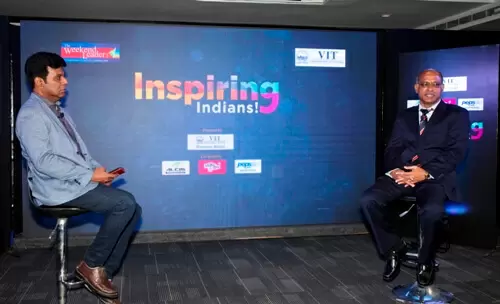 Kanagaraj offered various tips for civil services aspirants

To a question by Vinoj Kumar on the disappointment he faced when he did not enter the civil services, he replied: "Actually, for three, four years, I could not handle that disappointment." But now, after meeting around 4,50,000 students, he tells them: "Failure is not a setback. It is actually a feedback to future success."
Kanagaraj explained in detail, the format of the Civil Services examination, which is conducted for recruiting officers to around 24 services, and the selection process.
The conversation was peppered with inspiring stories and anecdotes on aspirants confronting the interview panel, which is the final of the three-stage selection process, after the preliminary and main written examinations.
"I always remember one particular student, Aravind Kumar, who is now Deputy Commissioner of Muktsar district in Punjab," Kanagaraj said, adding that when in his fourth and last attempt, he marked only IAS as his preference of services. When asked he had said, "I'm very positive I'll get through the exam and become an IAS officer."
As the packed hall exploded into applause, Vinoj Kumar said: 'Wonderful. He seems to be such an inspiring person. I think we should bring Mr Aravind Kumar here to VIT,' drawing another round of applause.
Though Kanagaraj gave a broad statistics of around eight lakh candidates taking the preliminary exam and about 15,000 of them being selected for the mains and other details of age limits for various categories, it was the stories from the interviews that were enthralling to the students.
When a candidate from Bihar went for the interview 20 years back a former woman diplomat, who was the chairperson of the board, suddenly pulled out a cigarette and started smoking. When she offered a cigarette to him with the question, 'don't you smoke?' he replied: "Ma'am I smoke, but this is not my brand," and declined the offer.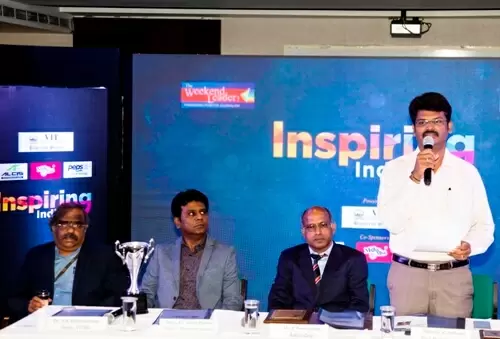 G V Selvam emphasised on the importance of hard and sincere work for success in life

Another candidate from Uttar Pradesh was involved in a deep discussion on dowry when the chairman of the panel, out of the blue, said that he had a daughter and that he would not mind marrying her to an IAS officer and shot the question out of the blue: 'how much dowry would you expect from me if you get selected?'
"Sir, it is a very personal thing. At the end of the interview, I will wait for you in the canteen, we will discuss the modalities there," the candidate had said, scoring high marks in the interview.

Kanagaraj narrated these stories to drive home the point that presence of mind is highly essential for a bureaucrat and it is invariably tested in the interview.
Another question put forth to a civil service aspirant was: "(Let's assume) when you are the district collector, there are two subordinates. One is very competent but morally not good and the other one is incompetent but of impeccable character. If you were to pick one of them whom would you choose?"
The IAS aspirant went for the person of good character, saying that moral turpitude can never be condoned, and that was indeed the expected answer.
"Interview is conducted only for 275 marks and countable marks in the exam mains and interview put together is 2025, but actually the interview is the most deciding stage," Kanagaraj explained. "Interview would be a conversation, an impressive conversation, to identify your personality, whether you are suited for a career in Civil Services."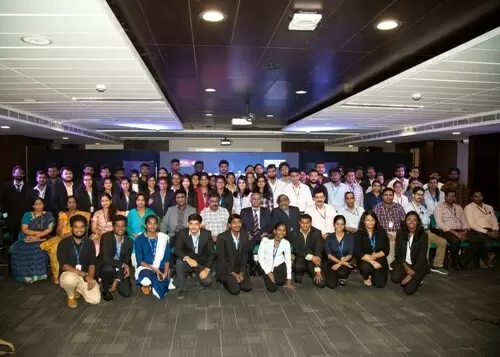 VIT Business School students and faculty members posing for a group photo with the awardee, editor of The Weekend Leader and special guest senior journalist Babu Jayakumar (sitting, sixth from left)

Today aspirants are allowed to take their civil services examinations in their mother tongue, Kanagaraj said – though the questions are set only in Hindi and English even now - and explained how Tamil Nadu had a role in bringing about the change, for which the first demand was from the state, in the mid-1960s.
"It was originally conducted only in Hindi and English," he said adding that it was changed at the behest of K Kamaraj, former Tamil Nadu Chief Minister and Congress President.
Kanagaraj, who answered a plethora of questions from students, including one from a civil service aspirant and gave tips on time management, stress management and other things, still nurtures an ambition.
It is to pick 50 people from all over India, two from every state, take them to Coimbatore, provide them free boarding and lodging and coach them to clear the civil services. All that the 50 youth would have to do is to give him a promise that they would 'contribute to the betterment, to the development of our nation.'
Earlier, VIT Chennai Vice President G V Selvam had presented the Inspiring Indians award and citation to Kanagaraj.

Trending Now: