Rs 2 lakh venture to sell camel milk is Rs 4.5 crore turnover business three years later
Sofia Danish Khan
&nbsp | &nbsp New Delhi
14-October-2019
Vol 10&nbsp|&nbspIssue 41
Propelled by an entrepreneurial urge, Hitesh Rathi, an engineering graduate from a middle-class home quit his job in the construction industry to start a company for selling camel milk with a capital of Rs 2 lakh around four years ago.
He set up Aadvik Foods as a proprietorship firm in 2015 in Delhi. From selling camel milk, he diversified into a range of camel milk based products including chocolates and in the last FY his company touched a turnover of Rs 4.5 crore.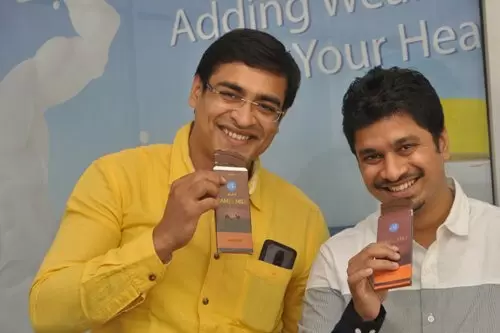 Hitesh Rathi (left) saw an opportunity in camel milk and started a company in 2016. He roped in Shrey Kumar (right) to grow the business (Photos: Navnita)

"Having started as the only worker for the firm, I was managing orders on the website as well as delivering the milk to clients all across Delhi NCR," recalls 30-year-old Rathi when asked about his initial days in business. "I forayed into a market that was largely untapped and was able to get orders through ads in Facebook and Google and social media."
Rathi was born to simple middle class parents. His father worked as an LIC agent and his mother is a housewife. He completed class ten from Bikaner in Rajasthan and went to Kota to prepare for engineering entrance examination. He eventually graduated in civil engineering from Punjab Engineering College, Chandigarh.
In 2015, he went to work as a construction manager in Myanmar, after working initially for Punj Llyod Infrastructure Company, and then for PE Analytics, Gurugram.
"In Myanmar I realised that I cannot spend the rest of my life working for somebody. I left the job and started researching the market," says Rathi, tracing his journey into entrepreneurship, which did not receive support from his parents.
They felt he was earning a comfortable salary and thought that if he got into business, it had to be in some familiar territory for the civil engineer, like real estate.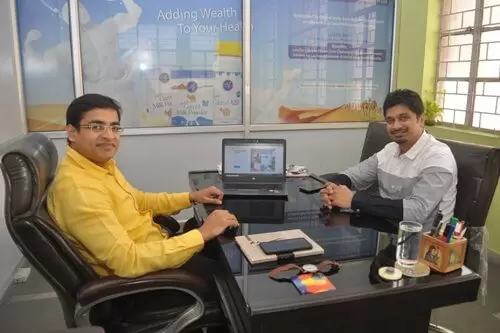 Shrey Kumar brought his own skill sets that became an asset to Aadvik Foods

But the camel milk business idea had been sown in Rathi's mind during his college days. "My friends would talk about camel milk and the business opportunity it offered since I was from Rajasthan, where camels were rampant," he recalls.
"However, when I was ready to start working on the idea, all of my friends were busy with their own work and I had to go alone, tying up with suppliers across Rajasthan and delivering camel milk and other products at the doorstep of customers."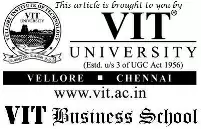 Business took off right from the word go as there was demand for camel milk in the market. In the first year itself the company achieved a turnover of Rs 67 lakh and Rathi began to look for a co-founder, who could help him take the company to the next level.
"I spoke to my friend Vakul who was working at Reliance and he connected me to Shrey Kumar, who came on board in 2017," he shares.
Aadvik Foods sells a range of products like camel milk (Rs 500 a litre), powdered camel milk in various flavors as well as non-flavored (a 200 gm powdered packet costs Rs 1,250 which would give 2- 2.5 litre milk), a variety of chocolates and camel milk based soaps which is the latest rage in the beauty industry.
As the pioneer in this product category the company has reached out to customers in various ways like taking online orders and exporting to countries like the US, Japan, and Malaysia via Amazon and eBay as well as through institutional tie ups in Malaysia and the US. Currently, 10-12% of their sales are overseas.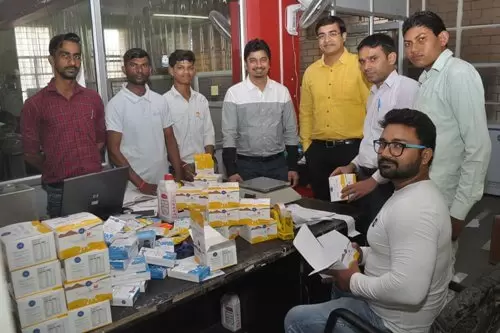 Rathi and Kumar with the staff members in their Delhi office

They sell across India via e commerce platforms, and have distributors in Chennai, Hyderabad and Chandigarh. With the head office situated in the industrial area of Delhi, the founders take care of Delhi NCR region.
Rathi had initially jumped at the business opportunity as some studies had reportedly found camel milk to have certain qualities that makes it consumable for lactose intolerant people and helped in curing autism and diabetes.
So in the initial months, Rathi approached doctors and Autism centres and spoke about the health benefits of camel milk, impelling some health practitioners in Delhi-NCR to spread the word about Aadvik Foods.
However, it was the enhancement of the product range and the customer base that helped the company – which was converted into a private limited company after Shrey Kumar joined it - achieve a turnover of Rs 4.5 crore in 2018-19.
"My parents have been running a catering business for the past 30 years, but joining them was out of question as they have a particular style of operation. So I looked out for joining the startup bandwagon and do something of my own," says Kumar, who hails from Delhi.
Kumar, who has done his BE from Delhi College of Engineering, first joined BSES-Reliance in 2010 as Engineer Trainee for a salary of Rs 30,000, and slowly moved up to become Assistant Manager in 2014. Later, he took an MBA from Indian School of Business and worked at JK Lakshmi Cement as Manager till 2016.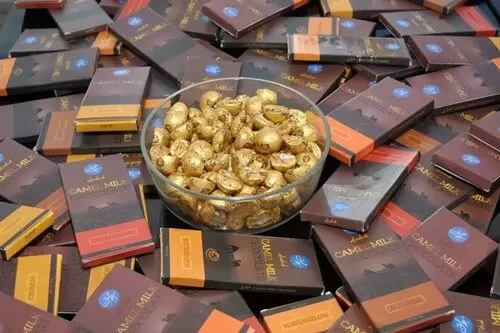 Camel milk based chocolates from Aadvik Foods

Vakul, his colleague from Reliance told him about Rathi who was looking for a partner. "Initially my father was a little sceptical as he felt that running a business was a hard task when compared to getting a salary every month end, though my mom was very supportive," he recalls.
Needless to say, Rathi was more than happy when Kumar joined him: "I was in a phase where I needed a partner to pinch me when I was wrong. He brought with him his business contacts, a vast bank of alumni network that would help us when needed," he shares.
"We could connect with his batch mates working at Amazon backend when we faced some problem. His way of working is very different as he takes care of e-commerce, international clientele and HR work while I handle production, supply, finance, operations and marketing."
With the roles clearly etched out, the two make sure that they find amicable solutions to all their problems. Rathi speaks about one such incident: "Shrey wanted us to do print media advertising, while I wasn't very sure of it. We jumped into it together and when we saw that it was taking us nowhere we immediately pulled out and learnt our lesson."
Aadvik Foods operates from a 2,000 square feet rented warehouse in Delhi, where the founders keep a close eye on quality of the products. Any product returned, or complaint received is thoroughly looked into by the founders themselves.
"Since we only pasteurise the milk and don't homogenise it to keep the quality at best level, a layer of fat is seen at the top. If any costumer complains about it, we replace the product," says Rathi.
He also says that a few malpractices by e-commerce portals had come to light when miscreants replaced the milk powder with a cheaper quality. The team is looking into ways to deal with such malpractices.
Camel milk is procured for Rs 50-70 per litre and the payment to farmers is made directly to ensure that they are the key beneficiaries. They have two milk collection points at Bikaner and Kutch. From the collection points milk is transported to drying centres, where it is converted into powder. This work is outsourced as setting up a drying unit is expensive.
Though their products like flavoured milk, chocolate and soaps are doing well, they have recently introduced goat milk, cow milk ghee and colostrum. There is a plan to introduce more super foods in the near future.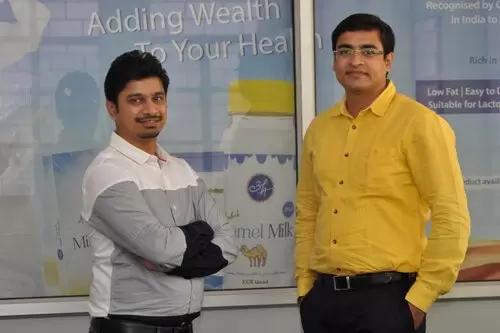 Rathi and Kumar have chalked out plans for expansion of Aadvik Foods

With 25 employees working in different departments, the company has ensured that every process is done to perfection.
"Though we are running in profit, growth is always the prime focus to run any business," says Rathi. "Our foreign clientele is coming back, and we have started focusing more on spreading the word about our website through which orders are taken. We have deliberately stayed away from introducing an app."
The duo also has a plan for expansion by either seeking funding or getting loans. Initially the biggest challenge was to create awareness about the product, but now that people know about it and know the benefits as well, the challenge is to reach deeper into the market.
Now, the company sells about 8000-10,000 litres of camel milk every month. But with the dwindling camel population, it is not clear if they would be able to meet the demand in future.
And for those who would like to know the technicality behind camel milk's exalted status, the Lactose in it does not break down into beta lactose. So it does not affect lactose intolerant people and is also good for those allergic to gluten.
This Article is Part of the 'Amazing Entrepreneurs' Series
Wish to share your story?
Trending Now: