A twist to modern wedding: Seek not just blessings but also the precise presents you want
Radhika Sudhakar
&nbsp | &nbsp Chennai
05-June-2019
Vol 10&nbsp|&nbspIssue 22
Call it a sort of crowd-funding to set up your new nest. Call it as your way of telling your well-wisher what you wish to receive from them. Call it a means to make presents purposeful. Welcome the 'wedding gift registry' to India, brought to you by Kanika Subbiah.
When Kanika got married to Vellayan Subbiah, a scion of the Chennai-based Murugappa group of companies, in 1999 and went to the USA, she first came across the 'online gift registry' that enabled her friends and family members invited for the function organised there to shower the newly-weds with presents that they could use.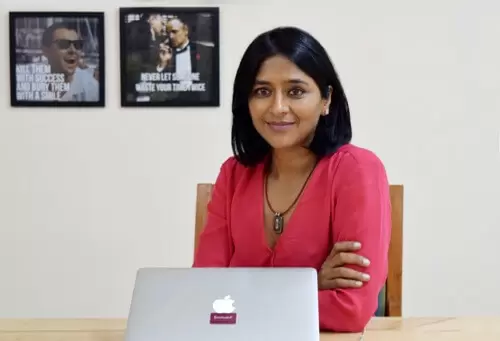 Kanika Subbiah's venture aims at making wedding gifts a meaningful experience to both the couples and their friends (Photos: Special Arrangement)

Well, that was, however, not an inspiration for Kanika, to bring to India the gift registry, a concept through which the would-be couple could convey their gift preferences to their close friends and relatives, who in turn could ensure that their own presents do not turn redundant or a waste.
Kanika, who did her graduation in bio-chemistry and post-graduation in management, worked for over a decade in the US, beginning with a tech startup, to later handling corporate strategy and eventually launching an online platform for Gymboree, a global retailer for kids.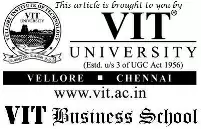 In 2007 she returned to Chennai when her children were aged five and three, with her husband rejoining the family business.
Not the type to sit quietly at home, Kanika soon launched a centre for supplementary learning for school children. But three years later she realised it was a bit ahead of its time because the school system in India kept children preoccupied through the day.
"There was no point in burdening the children anymore," she observes. After a one-year hiatus, she started Cherrytin Online Pvt Ltd, in 2013 along with her husband. Their first product was a gifting website that delivered personalised gifts on all occasions, and it drew a good response from corporate clients.
Wedding Wishlist, an exclusive website for wedding gifts, was launched in 2016. "Not all gifts are what the bride and groom want. They are duplicated, and left with the parents who wonder what to do with it," says Kanika, reflecting the sentiments of many Indians who face similar situations during weddings in their families.
"Our calculation is that something like Rs one lakh crore money worth of gifts go waste in the big fat Indian wedding," shares Kanika, 48, the founder-CEO of Wedding Wishlist.com.
Kanika started the website with a team of 20 people, including those drawn from Cherrytin, with an investment of Rs 2 crore from clients of Cherrytin and friends.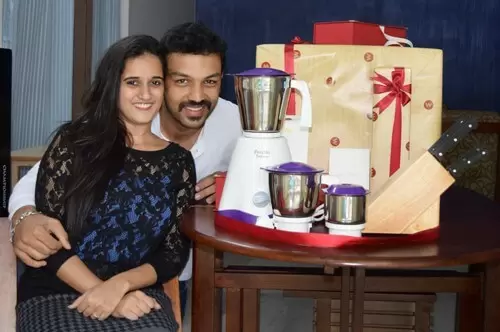 A happy couple with the gifts received through Wedding Wishlist.com

The concept has found acceptance among educated, broad minded and well-travelled couples, who have used the registry in different ways. Some use it among friends and relatives who are open to the idea and some have used it as an option and printed it in the wedding card itself.
Three years on, there is increased patronage and there is a change in the kind of questions asked by a prospective couple on the wedding registry, explains Kanika.
Initially, couples wondered if it was rude to keep the wedding registry open for friends, recalls Kanika, adding that now couples are asking how to do it without appearing to be rude.
Though it took a year for the website to see 10 couples registering on it, the numbers have been steadily growing. In fact the market in now opening up, says Tanvi Saraf, co-founder and marketing director. Around 130 couples have made use of the gift registry so far.
Apart from tie-ups with about 100 brands and vendors to deliver the wide range of gifts like home appliances, art and décor and so on, the website offers other wedding solutions like an app for pre-wedding preparations, guest bookings, pick-ups, coordination with wedding planner and making of digital invitation, including video invite, says Sathish Subramanian, a co-founder of Wedding Wishlist, who also heads technology.
The allied services bring in a revenue of Rs 2 lakh a month, while the gift registry makes commercial transactions to the tune of Rs 1.5 lakh to Rs 12 lakh, on which they receive a 5 – 10 percent as their margin in managing the services.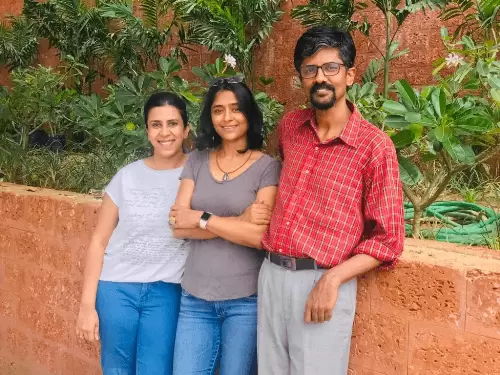 Kanika (centre) with co-founders Tanvi Saraf and Sathish Subramanian

"It is a market place like Amazon. It might look rude to a conservative to have been directed at a gift registry, but we have had some older guests who have appreciated it for the convenience of choice," shares Kanika.
The prices of gifts range from a few hundreds of rupees to half a lakh or even more. Guests can also make cash payment or contribute an amount to a high priced appliance on the list.
There were a few couples who opted for a complete no merchandise gift option and chose to receive cash that they donated to welfare organisations. In one case it was for the Madras Crocodile Bank and in another to a charity for street dogs run by Cyrus Broacha in Mumbai.
There was one couple, Shreya and Praveen, who preferred to take cash gift and donated Rs 2 lakh to an NGO for the underprivileged, Maitree, and still had money to go on a honeymoon to Bali.
Shreya Krishnan and Siddharth, hailing from Tamil Nadu and Punjab respectively, got married in Mahabalipuram, a popular tourist town near Chennai, and set up their home in New Delhi. They opted to receive their gifts at their new home and the guests received personalised 'thank you' notes digitally, a service that is part of the package.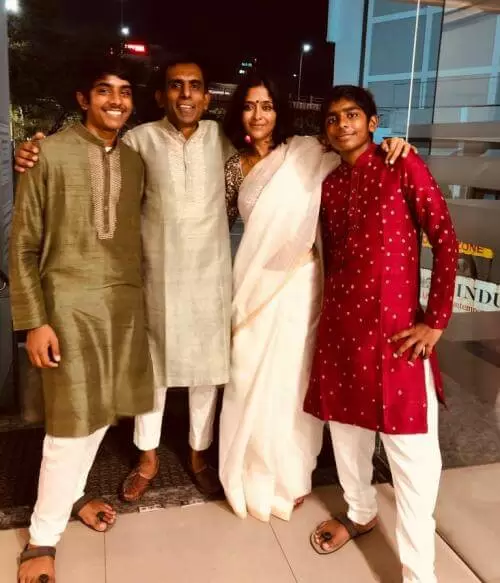 Happy family: Kanika with husband Vellayan and children

Wedding Wishlist had its first client through Facebook and the company believes in online marketing. "First we have to educate about the concept," says Kanika and it is done through digital marketing which include blogs and wedding write-ups, and tie-up with online sites for content. The reach however is throughout India. Social media accounts for most of their inquiries.
The pioneers of the gift registry concept in India have found more takers in south with Tamil Nadu and Karnataka in the lead.
So far they have sunk Rs 10 crore on Wedding Wishlist. Kanika expects the website to break even in two years' time from now and also see the company capitialise well on the Rs 2.2 lakh crore wedding-gifts market in India.
Wish to share your story?
Trending Now: