Earning by helping kids learn is the motto of these seven youthful, self-made entrepreneurs
Sofia Danish Khan
&nbsp | &nbsp New Delhi
01-June-2019
Vol 10&nbsp|&nbspIssue 22
Starting off from a small play den that could hardly hold all of them together, seven friends remained together in their business adventure, fabricating 3D printers and then taking them to schools. In just four years their turnover has touched Rs 3 crore.
Friends for years and sharing similar dreams, the gang of seven splintered after passing out of Bal Bharti Public School in 2012 with each going his own way, pursuing different courses. But they kept in touch and reunited to travel.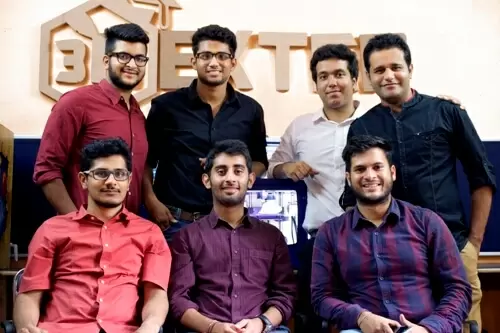 3Dexter founders: Standing (from l) Nikunj, Raunak, Shantanu and Parth; Sitting (from l) Smarth, Raghav and Naman (Photos: Special Arrangement)

The pictures of their adventure trips on social media elicited enquiries from other friends. "So we launched a registered company Smapsters in 2014 to facilitate adventure travel," recalls Raghav Sareen, one from the septenary.
They organised trips for groups of 20 to 25 travel enthusiasts and in a short time made a cool profit of Rs 2 lakh. With that money the group launched 3Dexter from the crammed room of Raunak Singhi, where they otherwise played PS3 games.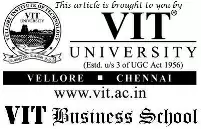 Naman Singhal, 25, one of the co-founders recalls: "We did some R&D and imported a Chinese 3D printer. Once the printer reached us, we set down to dismantle it and see its working. We were finally able to create our own version using parts available in India and some imported parts from China."
3D printers produce solid objects from pre-programmed software files. Leading consulting firm McKinsey has estimated the global 3D printing industry market at $20 billion by 2020, with the Indian share of it valued at around $79 million.
"One can draw any image on special softwares like Makers & Buyers and Sketchup and the printer will start printing it by creating horizontal layers on top of another," says Singhal. "The final product will be in 3D form, made of plastic. We started with a 3D printer made of wooden frame and sold it at Rs 45,000, earning a marginal profit."
Singhal's name figures along with Sareen (25), Singhi (25), Nikunj Singhal (22), Smarth Vasdev (25), Parth Batra (25) and Shatanu Kwatra (25) in the list of directors of 3Dexter Education Private Limited, along with Narender Shyan Chukha.
Chukha, director of ICA Eduskills, an accounts and finance training institute, invested Rs one crore in the company in September 2016 as he was impressed by the vision of the seven friends. "He is more of a mentor who guides us in the right direction. His advice on controlling the expenses has helped us all become polished entrepreneurs," says Singhi.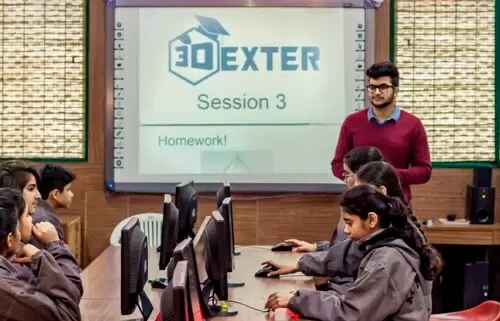 A 3 D printing training session at a school

The real challenge for them, though, was marketing the product. "This product has immense potential in the fashion and automobile industry, besides helping architects, who can see their sketches in 3D before going for production," he adds.
But the friends, who were all part of the NGO 'Make a Difference' that works with children in orphanages and shelters, decided to focus on the education sector.
"So we went to about 20 schools and did free workshops for them to teach about the use of this new technology. We did a three-month pilot project at Maxfort School, Dwarka in Delhi and devised a curriculum to include 3Dexter in their syllabus," says Singhi about their innovative way of marketing their product.
They received good response. That set them up on the right track and the team started visiting schools with a proposal to include 3D printing in their course curriculum so that students could learn something new.
Currently they offer packages of Rs 2 lakh to Rs 7 lakh, where the number of printers on offer varies according to the demand of the school.
"We train the teachers or station our own qualified teacher at the school. There are regular classes and the economics comes down to Rs 1200 per child per year, which is as less as Rs 100 per month or Rs 40 per class. The students have made innovative products which amuse the grown- ups no end," says Singhi, chuckling.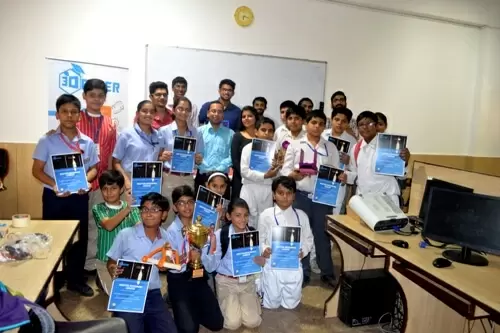 3Dexter has tied up with around 150 schools across the country to train children in 3D printing

Students of classes three to five use Makers & Buyers, a simple Australian company licensed software to make their 3D designs, while classes six to nine use Sketch Up, an open source software by Google.
With Sightline Maps students can search any topography on Google maps and make a 3D model, be it mountains, volcanoes, plateaus and monuments.
"Currently 3Dexter is catering to 150 schools across India, and selling about 300 units per year. Even tier-II city schools have shown great interest. However we are aiming at schools that have chains as it means lesser effort and profit in multiples," says Singhal.
The focus is now to reach out to more channel partners, who handle the sales and marketing in each city.
There are channel partners in Kolkata, Chennai and Madurai who have been trained by the core team. Apart from exploring the shift from B2B to B2C, they are looking for franchise options as well as chain schools.
Their 3D printer that started with a wooden frame structure now comes with a sleek and stylish metal frame finish. The material used for making 3D images has also changed – from plastic to the more environment-friendly PLA, ABS, Nylon and biodegradable plastic.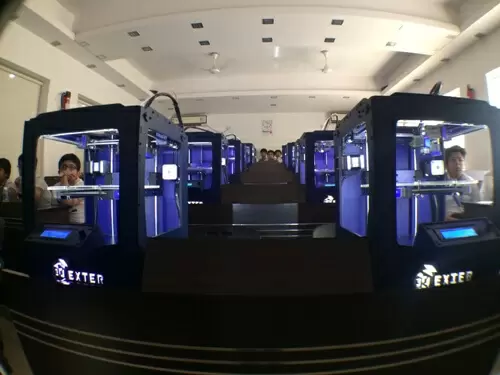 From a rustic wooden frame to a stylish metal frame finish, the 3Dexter team has come a long way

The company that was started in 2015 with the seven friends and five employees now has 40 full time employees. From a modest turnover of Rs 40 lakh in the first year, it has grown into a Rs three crore turnover company.
The founders, who initially took Rs 20,000 as salary, are now pocketing Rs 50,000 each. The two Singhal brothers, Singhi, and Sareen work full time now while Vasdev, Batra and Kwatra join for meetings and important days as they have other commitments as well.
The friends are more like family, with the parents knowing each other and all of them being part of family functions. They never wanted their parents to invest in the business and the parents have always supported them.
They have their share of difference in opinions. Door banging and fist thumping are common. But the friendship has withstood the test of times. Rigorous discussions mean that the end result is nothing but fantastic.

Trending Now: