From Rs 50,000 in the first year to an annual turnover of Rs 25 crore, it was an eco-friendly march
Sofia Danish Khan
&nbsp | &nbsp New Delhi
10-May-2019
Vol 10&nbsp|&nbspIssue 19
Aghast at the use of plastic and aluminium for packaging food, Rhea M Singhal, on her return to India, came up with an eco-friendly alternative. To manufacture and market the bio-degradable products, she launched a company, whose turnover has touched Rs 25 crore in a decade.
'Ecoware' is the brand name of the range of cutleries and containers that have already caught the fancy of the expanding Quick Service Restaurant (QSR) industry. The venture has also thrown up a slew of positive spin offs like reduction of carcinogen in the food chain, women empowerment, encouraging an eco-friendly lifestyle and helping farmers.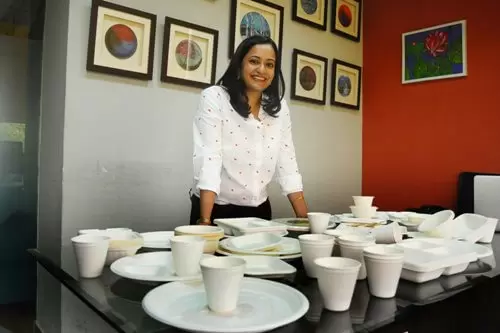 Rhea SInghal, founder of Ecoware, a company that makes food containers from agricultural waste (Photos: Navnita)

If Ecoware is now poised to become a Rs 100 crore company, it is only because of the perseverance of Singhal, 37, who studied in the UK and had lived most of her life abroad.
She was not bogged down by her maiden venture making just Rs 50,000 in the first year. She pursued the business with passion and determination; for her prime concern was the growing incidence of cancer.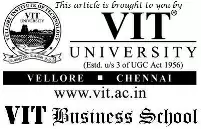 Her mother was diagnosed with cancer when Singhal was just 19 years. "Seeing cancer so close I started seeing things in a different perspective, combined with my knowledge and experience of pharmacology in Oncology sector," she explains the inspiration behind Ecoware.
"I realised people needed more awareness about plastic use from health as well as environment perspective. The idea of Ecoware, using biodegradable material which decomposes within 90 days was born from that."
The biggest challenge of the QSR industry, which has grown exponentially over the years with so many food delivery apps capturing the imagination of people, was packaging since the food needed to be delivered hot and in leak proof containers. Most of the time, people ate directly from the containers that were made out of plastic, tin or aluminium.
There was not much awareness of the fact that plastic, tin and aluminium bleach toxins, mostly carcinogens, when coming in contact with hot food or when reheated. That precisely was Singhal's concern. So she wanted to do something about it when she came back to India in 2009 after her marriage in 2007 to Nishant Singhal, whom she met in UK.
In the UK, people were so conscious about the environment and the ill-effect of eating out of plastic containers that they have begun using environment friendly cutlery made out of wood pulp.
By employing the same technology in the Indian context, Singhal turned agricultural waste into bio degradable, disposable packaging boxes and plates.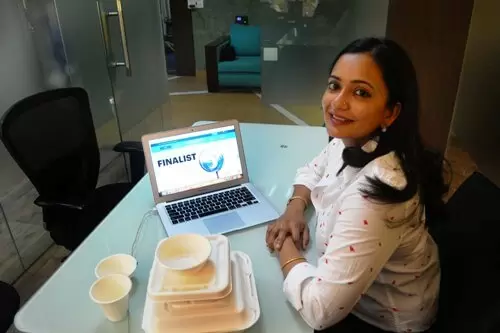 By procuring agri-waste from farmers, Rhea is contributing to reduction of pollution arising out of burning of agricultural waste

"India is a bio mass nation where agriculture waste is burnt every year which leads to pollution," she says. "I tried to nip the problem in the bud and find a solution for the environment as well as the farmers. We source the agri-waste from farmers and turn them into disposable boxes and plates to pack and eat food from."
Ecoware has an immense social impact as it provides livelihood to people by creating direct and indirect jobs. "An even bigger benefit is the health impact as it provides safer alternatives to eat from and when disposed the boxes turn into soil within 90 days," Singhal clarifies.
But when she launched Ecoware, there were not many takers. The turning point, however, came in the form of Commonwealth Games in 2010. She got an opportunity to supply her products for serving food at the games, which gave the initial fillip to the company started with a US$ one million funding from family and her own savings and just 20 employees.
Now, with 115 persons in the employ, Rhea Singhal and her husband, who joined the company as COO after quitting his bank job, have no intention of getting funded as they don't want to dilute their business.
"Not many people understand that great profits aren't everything. We must save the planet for mankind to survive," says Rhea, emphasising on her core focus area.
Among the prominent clients of Ecoware are IRCTC (Indian Railways), QSR chain Haldiram's and Chaayos. They have 28 distributors. "We retail online through our web portal as well as offline through Modern Bazaar outlets and to vendors in the wholesale market of Sadar Bazar in Delhi. The split up between wholesale and retail is 80-20," shares Rhea.
Wholesale market was very difficult to breakthrough as they had to educate the sellers about the advantage of Ecoware, and how despite it being just 15 per cent more expensive than regular tin foil and other plastic containers, the advantages were plenty.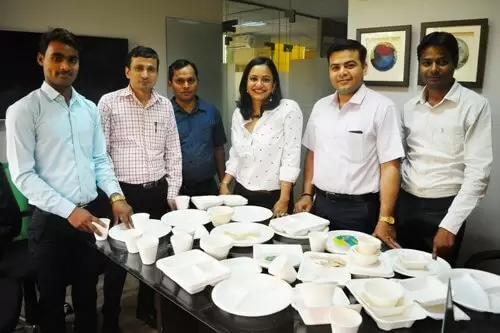 Rhea at the Delhi office with her team

"It is microwave safe, freeze safe and can be decomposed in an environment friendly manner," says Rhea.
Ecoware spoons and forks start at Rs 90 for a pack of 25, while Ecoware cups cost Rs 195 for a pack of 50. A pack of 50 clamshell boxes costs Rs 740, while a stack of 50 round plates would cost Rs 147.
So, one can buy an entire range of bowls, boxes, glasses, spoons and boxes in the price range of Rs 90-Rs 800. And this is all you need for a great party where you want to use disposable ware.
In the last 18 months, there has been a buzz around Ecoware and people are enthusiastic about it, Singhal says, adding: "So to achieve our set target of becoming a Rs 100 crore company soon, we need to find more applications for the same products, find more products that will be beneficial to the farmers as well and set up more factories across the nation, wherein uplift of women will be the key focus."
No wonder, she recently received the 'Naari Shakti Award" from President Ram Nath Kovind. The world Economic Forum has also recognised her as a Global Leader and the Women Economic Forum conferred the 'Woman of Excellence' award on Singhal, who was born in Mumbai but grew up in Dubai where her parents are still living.
She was sent to a boarding school in UK. She went on to do her Pharmacology Honours from University of Bristol, UK, in 2004. For four years she worked in the Oncology team of Pfizer Pharmaceuticals across various centres in London. After her marriage, the couple moved to India to be with her husband Nishant Singhal's parents.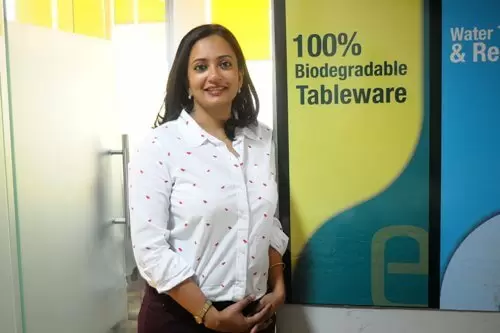 Rhea is now focused on making Ecoware a Rs 100 crore turnover company

Now the duo focuses on the company operating from a simplistically done office in the posh GK2 market of Delhi - which they own - and from a 5,000 sq ft factory in Noida.
A mother of two children, her day starts at 5:45 am. She drops the children in school at 7:15 am and goes to the gym which is her 'me time' and great stress buster.
She picks the children from school in the afternoon and goes back to office after lunch. After 5:30 pm, evenings are spent outdoors, playing various sports with the children
As a family, they make it a point to travel regularly. She loves reading but hardly has time for that, so she indulges in her other love, cooking, with friends serving as guinea pigs to test her culinary experiments!
This Article is Part of the 'Amazing Entrepreneurs' Series

Trending Now: