How a couple built a Rs 64 crore turnover company selling paper flowers
Usha Prasad
&nbsp | &nbsp Bengaluru
27-April-2019
Vol 10&nbsp|&nbspIssue 17
Do you remember the joy you felt when you created a beautiful flower from the colour paper during your craft class at school?
Bengaluru-based couple Harish, 53, and Rashmi Closepet, 52, have turned this simple childhood activity into a Rs 64 crore turnover business, spreading fragrance in the lives of around 2,000 women employed with them and providing fun-filled activities to thousands of people around the world.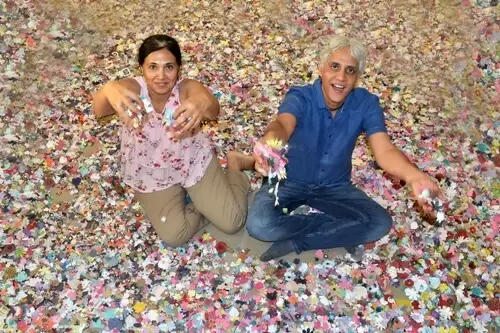 Harish and Rashmi Closepet started a paper flower making unit in Bengaluru in 2004, which has now grown into a Rs 64 crore turnover business (Photos: Special Arrangement)

The couple is into the manufacture, sales, and export of art and craft products through their two companies, AEC Offshore Pvt. Ltd and Itsy Bitsy Pvt. Ltd.
They almost entirely employ women, who are mostly from villages in Karnataka, though some are based out of the rural areas of Haryana, UP, and Rajasthan.
While half of the workforce are direct employees earning around Rs. 10,000 to 12,000 per month, the rest are indirect employees who get paid product-wise and the number of pieces they make. Five per cent of their workforce is physically challenged.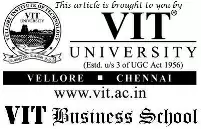 Set up in 2004, mainly for the export market, AEC manufactures paper craft products like handmade paper flowers and stickers, which are used in activities such as card making and scrap booking.
In 2007, they entered the domestic retail market with their first Itsy Bitsy store in Bengaluru. Now, there are 21 Itsy Bitsy stores located in seven cities across the country, with 11 in Bengaluru alone, and the rest in Chennai, Mumbai, Hyderabad and Delhi.
Rashmi, who is basically a homeopathy doctor, is the CEO and MD of Itsy Bitsy and handles the retail business, while Harish, a civil engineer, is the CEO and MD of AEC and looks after manufacturing and exports. Today, AEC and Itsy Bitsy contribute almost equally to their combined turnover.
With more and more parents seeking healthy alternatives to children glued to computer screens and smart phones, Itsy Bitsy expanded rapidly as activities such as scrap booking and card-making found more takers in India.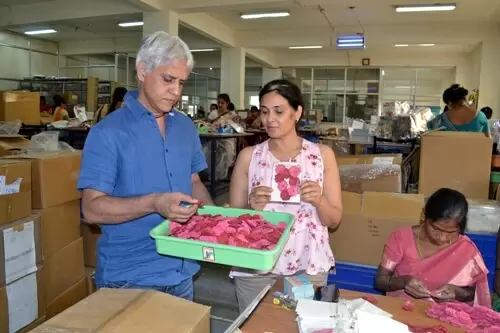 The paper flowers made in Bengaluru are exported to several countries around the world

These hobbies originated in the west. "Scrap booking originally came from a place called Utah in the US and became very popular in the 1960s," shares Harish. "Card making also became popular in the UK around the same time. Mixed media (an art form created through a mix of different media such as paint, ink, water colour), has been around for centuries. But it had a revival in the last two years and has become hugely popular."
The Closepets, who come from middle-class families, have seen their life and career take interesting turns. They lived in Singapore and Australia for about 10 years, doing different jobs, before starting a business in Sydney, Australia.
Coupled with hard work, they made the smart moves, so that by the time they decided to return to India in 2004 they had a whopping USD 220,000 (then valued around Rs. 1.25 crore) to invest in their business in Bengaluru.
Harish had always been street-smart. While doing his engineering in civil transport at BMS College of Engineering, Bengaluru, he started helping North Indian students in his college with engineering drawings.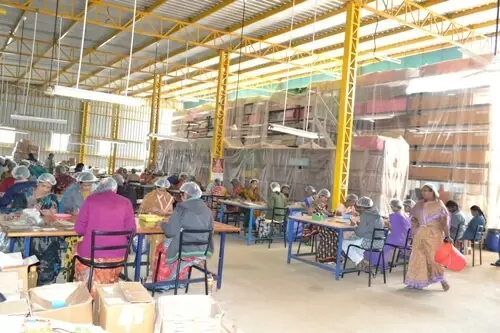 AEC employs an almost 100 percent women workforce

He made use of a small room in his house by getting some draughtsmen to do the drawings for Rs. 100 per drawing and sold them to his fellow students at a profit. "This was in fact my first business," he says with a chuckle.
After graduation, he started a construction company, but wound it up soon as the payments were getting delayed. "When I decided to close it in 1989, I got a good offer from Starco Trading Pte Ltd., a Chinese company, in Singapore," he recalls. At Starco, Harish was in charge of developing trade with India and sourcing building materials from India.
Rashmi and Harish came to know each other as classmates during their pre-university course (PUC) days. After PUC, Harish went on to do his engineering and Rashmi joined the homeopathy course at Government Medical College, Bengaluru.
"While I was working in Singapore my mother put pressure on me to get married. I told her I would marry some known person," recounts Harish on how he married Rashmi. "During one of my visits to Benagluru, I met Rashmi and took her out for dinner. I proposed to her and we got married in 1992. I was 26 and Rashmi was 25 then."
Back in Singapore, based on Harish's suggestion, his company set up a showroom for selling Indian handicrafts. Rashmi started working with Harish. While she managed the retail, Harish concentrated more on importing building materials from India.
In 1994, the couple moved to Sydney, Australia, for better opportunities. Rashmi started teaching at a Naturopathy college there.
Not finding a job immediately, Harish took up selling accident insurance knocking on the doors of people. "Despite my best efforts, I was successful in selling just one policy," recalls Harish, whose misery ended after he got a job at Clint's Crazy Bargains, a discount retail chain in Sydney.
"The company said they hired people who thought out of the box and who were crazy. Since I went to the interview wearing a neat suit, which was not the culture in Australia, they thought I was one such crazy person," says Harish, laughing.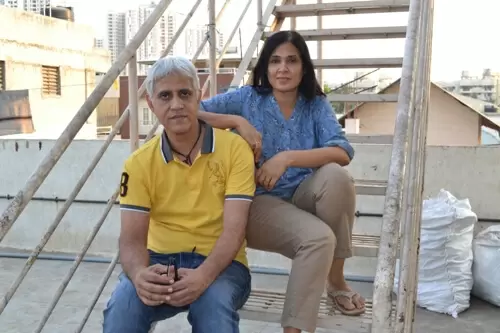 Until three years ago, Harish and Rashmi were drawing a salary of Rs 20,000 each and ploughing back the profits into the company

Harish was hired as a buyer for the confectioneries division and products of Indian origin. "Working in the confectionery line was totally new to me. However, I learnt a lot about it travelling the whole world and sourcing products during my six-year stint," he adds.
Rashmi also got a job in Clint's in their wholesale division. Harish says that he took the confectionery business at Clint's from USD 300,000 to USD 5 million in two years.
But when he got an attractive offer from Heritage Chocolates, Melbourne, he signed an 18-month contract and joined the company. At Melbourne, Rashmi worked in a plastic hose manufacturing company and also did a course in graphic designing.
When the contract at Heritage Chocolates ended, the Closepet couple moved back to Sydney and set up their own company, Australian Export Connection (AEC). AEC imported Indian products into Australia.
They shut the business in about a year and a half and came to Bengaluru in 2004, selling their house in Australia and bringing with them their hard earned savings.
The couple took up a small factory on rent at Bannerghatta Road to make paper flowers. "Having stayed in Australia, we were exposed to the scrapbooking industry. We had seen a variety of paper flowers coming in from Thailand," says Rashmi.
Rashmi, who has a good eye for colours and a creative bent of mind, also put in her knowledge from the graphic designing course she did at Melbourne, into good use here.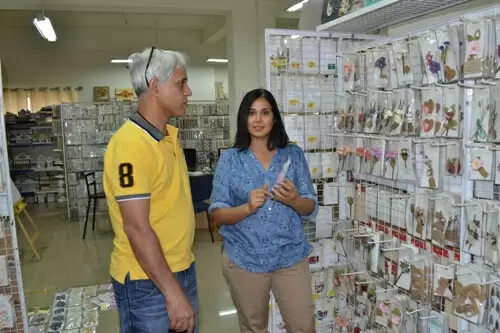 There are 21 Itsy Bitsy stores located across the country

"We came up with our own designs and trained the rural women to make handmade paper flowers for us," says Rashmi. They set up their first factory in Bengaluru with 20 workers. There were initial hiccups, which resulted in heavy losses.
They had almost decided to wind up the business when a customer from UK placed a huge order and gave an advance of USD 100,000, which helped them to get back on their feet. "He was our saviour," says Harish.
Harish's former boss in Sydney at Clint's also helped him with USD 100,000 when Harish approached him for help. "I just can't imagine how things fell in place for us," he adds.
There are only four companies around the world who make handmade paper flowers - one in China, two in Thailand and one is AEC in India. The paper flowers and other craft items from Itsy Bitsy are sold under the brand name, Little Birdie.
They also sell handmade beads at their outlets. Women buy the beads – which are made of plastic, glass, terracotta, and porcelain - and string them together to make their own jewellery.
The Closepets have received no external funding so far. "Since we were in a niche market, we had no competition. We grew organically. We both took just Rs. 20,000 each as salary from the company till three years ago. Whatever profit we earned was ploughed back into the business," reveals Harish.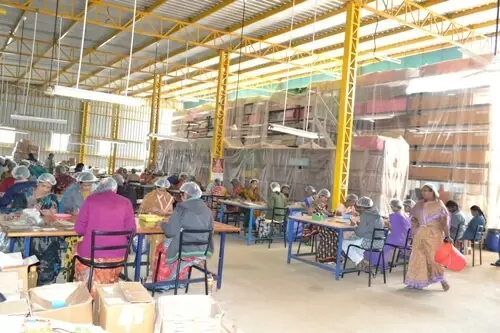 AEC and Itsy Bitsy provide direct employment to around 1,000 women and indirect employment to another 1,000

The paper used to make handmade flowers at AEC is made from recycled t-shirt waste. "There are factories that convert old t-shirts into yarns. We procure t-shirt waste from those units and use them in making the paper to create our beautiful flowers," says Harish.
The Closepets' elder daughter Vibha, 23, who graduated in Industrial Engineering & Management in 2017, has joined her parents in taking care of the marketing, e-commerce and social media part of the business.
Their younger daughter Isha, 16, is in the second year of her PUC, and is a businesswoman in her own right. She makes cupcakes under the brand name of 'Ovengers' and earns around Rs. 20,000 a month.
Nurturing their dreams, the Closepets are truly spreading the fragrance of their paper flowers in the lives of many people.
This Article is Part of the 'Amazing Entrepreneurs' Series

Trending Now: