From Insurance Agent to Owner of a Juice and Restaurant Chain, the Journey of a Self-Made Businessman
Anvi Mehta
&nbsp | &nbsp Pune
19-April-2019
Vol 10&nbsp|&nbspIssue 16
Hemang Bhatt is a self-made businessman. He started out on his own at the age of 18 with nothing in his pocket. Today, his HAS brand of restaurant chain and juice outlets are popular in Mumbai. And he achieved it only by dint of hard work, dedication and adaptation of right investment strategies.
Bhatt was in fact born into an affluent Gujarati family that lived in a classy locality in South Mumbai. When their business flopped and the family suffered severe losses, they decided to leave Mumbai. But the 18-year-old Bhatt stayed back. He took up a job as a general insurance agent, which fetched him an income of Rs 1,000 to 2,000.
Hemang Bhatt started as a general insurance agent and became an entrepreneur later (Photos: Special Arrangement)

"I continued my education and completed my Bachelors in Commerce. But I never took money from my parents," recalls Bhatt, who was making around Rs 90,000 per month by the time he was 25 years.
The turning point in his life came after he joined the Rotary Club of Nariman Point in 2005. "At the age of 25, I was one of the youngest Rotarians. I met a lot of people. Most of them were influential businessmen or corporate leaders. By being around them, I understood the way they think and make decisions in life," says Bhatt.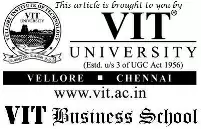 He was invited to join the Rotary movement by a couple, Devang and Rekha, who were friends with him. At the club he met Suraj Sarogi, an investor and stockbroker.
"He was my mentor and his way of looking at businesses was terrific. We did research on various sectors and invested in product-oriented businesses in almost all them as an experiment," recalls Bhatt.
The exposure and early access to earning money prompted Bhatt to decide that he would never take up a job. So he went ahead investing in different businesses even as he was working as an insurance agent.
When Bhatt saw a potential business idea failing to capture the market, he decided to give it a chance. He opened a centre of HAS juices at the Inorbit Mall, Vashi, in 2010, though the brand, launched in 2007, was not doing well.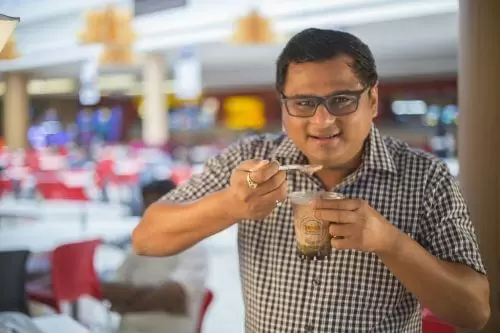 Bhatt currently owns 15 profit making HAS Juice Bars

"At that time it was owned by someone else and they were going to scrap the brand. I bought his equity," says Bhatt, who invested Rs 10 lakh in their first outlet along with Suraj 50:50. Even now they are equal partners; Bhatt looks after marketing and sales and Suraj the finances.
"When I started the centre at Inorbit mall our monthly sales was Rs 2.5 lakh, which hardly covered the expenses. But within 6 months, with minimal marketing and more efforts in improving product quality and customer service, we increased the sales to Rs 6 to 7 lakh a month," says Bhatt.
Due to the risk that Bhatt took then, the brand was revived and presently HAS has 15 profit making branches across Mumbai, Pune, and other cities.
"The juice market is small and niche. To make the business profitable, we had to experiment with flavours. We used the highest quality/grade of fruits for the juices. Starting from 2010, we started fresh cold pressed juices, which is the USP of the brand," he adds
He has also started a restaurant chain called South Bombay and six of its branches serve south Indian cuisine with a Mumbai twist. "We have the restaurant at Mumbai and Pune. We aim to expand it and make it a renowned restaurant brand," says Bhatt.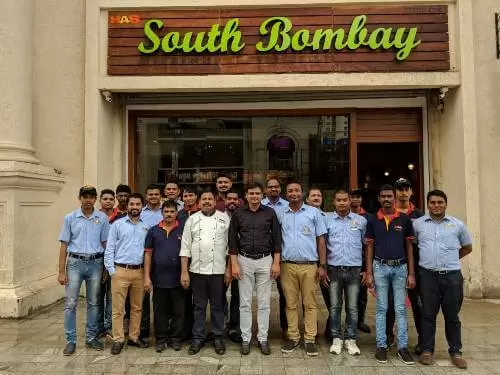 Bhatt with his employees in front of a South Bombay restaurant

It also has a live kitchen for customers to see the cooking themselves. "We want the place to be a small café for people to spend time and have good food. It is not just a serving joint," he concludes
When Bhatt ventured into the food industry, the Mumbai based centurion brand of B Bhagat Tarachand was his inspiration. He met the owner Prakash Chawla and they discussed about modern retail format of putting up restaurant chains in malls and retail streets.
"Since then, he is my mentor. I learned how his family has run the business for so many years. One can learn from them the ethics, values and principles of running a business. They have maintained the quality and taste of the food.
"Together, we also started restaurant outlets in malls across the city. We own seven outlets, three individually and four in partnership with B Bhagat Tarachand," says Bhatt. It was from Bhagat Tarachand that Bhatt learned the most important lesson in food business, which is focusing on different types of customers and their needs.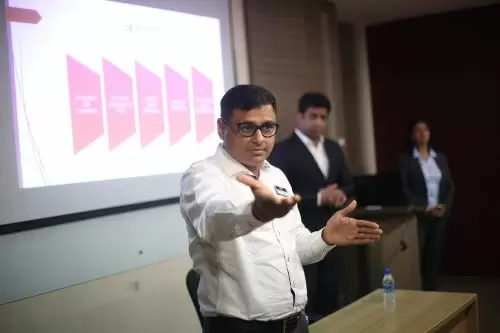 Bhatt's entrepreneurial journey is an inspiration to many

His wife Ekta Bhatt has been a strong support - she is involved in handling the accounts and administration of HAS and South Bombay. Like him, his son Havvish (7) and daughter Keshaavi (6) are also foodies.
And Bhatt plans to open at least one centre every two years in a different city. He also wants to make Indian food brands have as many franchises as Pizza Hut or Dominos. Given his track record, he may well realise his dreams.

Trending Now: