A novel business dream that made a crorepati out of a 23-year-old
Gurvinder Singh
&nbsp | &nbsp Kolkata
10-April-2019
Vol 10&nbsp|&nbspIssue 14
By the time Satanik Roy came to know of Steve Jobs, the legendary geek who pioneered the personal computer revolution was no more. But the latter's life and work was so inspiring for the young student, doing his graduation in mechanical engineering in Chennai, that he decided what he wanted to be: An entrepreneur, at any cost.
So from his college dorm, the boy from Kolkata went beyond merely day dreaming about becoming a successful entrepreneur and started looking out for potential partners.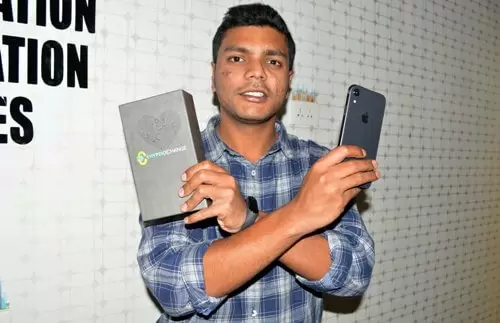 Satanik Roy founded HyperXchange along with three other older men when he was in his third year at engineering college (Photos: Monirul Islam Mullick)

And the youngster found not one but three other co-founders and established a company – while still in his third year engineering - that has now achieved a turnover of Rs 18 crore in a span of just three years
Today, at the age of 24, if Roy revels in the glory of being the youngest kid among the four founders of HyperXchange, a successful company that deals in refurbished electronic gadgets, mostly cell phones, it was because of that first link he established with Dipanjan Purkayastha, interestingly through the networking website Linkedin.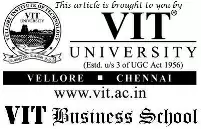 Purkayastha was already a big name in financial services - a global technology professional with about 18 years of experience working for multi-national companies in the US, Canada and India. Roy, though, was not intimidated by his profile, but reached out to him on Linkedin.
Purkayastha vividly remembers the persistence and perseverance of the young Roy that finally fructified in the launch of their company, Yibeal (an acronym of Yes Its A Big Deal) Tradex Private Limited, with a brand name HyperXchange, on 10 February, 2016.
"At first, I didn't take him seriously because I receive pitches from several people every day for their start-ups. But I realised that he was serious about his venture when he came from Chennai to meet me in a hotel in Bengaluru where I had gone for some work," recalls Purkayastha, 44, co-founder of Drishtycone, a business incubator for startups.
Few more meetings happened in Kolkata before they zeroed in on the idea of selling refurbished cell phones and Purkayastha decided to join hands with Roy. .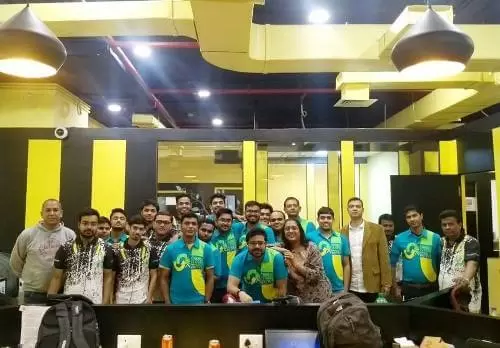 HyperXchange founders Satanik Roy, Dipanjan Purkayastha, Dwijadas Chatterjee, and Asish Chakraborty with their employees in Kolkata office

The eldest of the founders is 54-year-old Dwijadas Chatterjee, a soft-spoken Chartered Accountant with 25 years of experience in the manufacturing sector. He was a bit sceptical when Roy mooted the idea but he gave in subsequently.
"Initially, I was not very convinced about the idea, but I decided to give it a try," says Chatterjee. "I knew Purkayastha beforehand and so he convinced me to join. Honestly, I had never thought that we would achieve so much success in such a short time."
Prior to roping in Chatterjee, Roy had convinced 32-year-old Asish Chakraborty, who was working as a system analyst in Tata Consultancy Services, to give up the job and be part of his dream project.
"I and Roy were neighbours in Kolkata and I used to teach him science and Maths during his school days. But who knew that one day we would be business partners?" says the B Tech (computer science) graduate.
The unusual coming together of the four Kolkata men from a wide range of age groups only brought in a rare blend of maturity and energy to the company started with an investment of Rs 2 crore. It made rapid strides in three years for they all shared one trait: hunger and passion for success.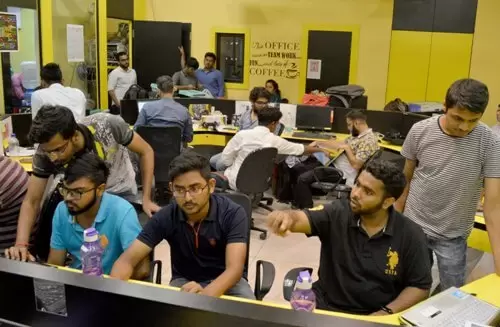 Around 35 persons work for HyperXchange
Now the company is selling 50 refurbished cell phones a day after starting with the same number for a month in 2016. What's more, the company aims to sell 50 cell phones in an hour in 2019.
The founders claim that that their company is the first of its kind in the country selling refurbished and sealed mobile phones with a warranty of one year. They market their products through both online and offline platforms.
"We wanted to be different from others as refurbished cell phones were already sold online. We wanted to create our own brand in this segment," says Purkayastha.
"What makes our product special is that a person can easily buy an expensive cell phone, even an iPhone, at just 50-60 percent of its original cost. We offer the product with a seal and warranty to give a sense of feeling to a customer that he has bought a new product and not merely a used one."
Besides cell phones, HyperXchange also offers refurbished laptops and other gadgets, though cell phones account for 80 percent of their business.
They have also forayed into selling new television sets under the brand name EcoGlass, which comes with built-in Wi-Fi, 65 inches screen and with latest features like a1 GB and 8 GB internal memory.
Though the idea of dealing with refurbished products was born out of the prevalent culture of buying used products in India, HyperXchange effectively addressed the challenges that come with the business, like winning people's trust, by maintaining quality and making it convenient for users.
So, it stressed on ensuring that the products were delivered in great condition and offering an industry-leading 12 month warranty, 15-day replacement, assured buyback and doorstep services. Their business model makes it easy for customers to order the products online through websites like Flipkart, Amazon, Qukr, Olx, Shipclues and Udaan or just walk into one of their partner stores.
Quality of the company's finished products - which are primarily sourced in bulk from e-commerce returns or factory seconds from OEMs or global traders and from customers - is maintained at a high level because they go through a stringent refurbishment process.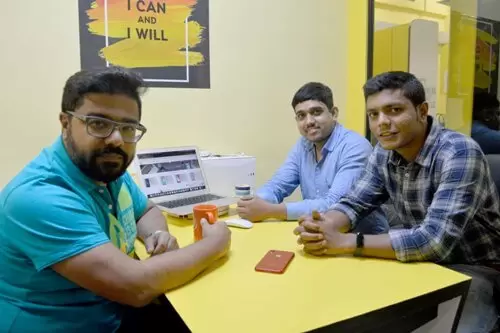 Roy (far right) in a meeting with co-founders Purkayastha (left) and Chakraborty

HyperXchange's proprietary 'HX eVal platform' helps set the purchase price and define repair needs. The diagnostic AI assesses the products on quality parameters.
The company, having its head office in Salt Lake in Kolkata, has branch offices in Pune and Mumbai and employs around 35 persons.
"We are now also focusing on offline sales and have tied up with dealers in Delhi, Kolkata, Mumbai, Indore and Chhattisgarh. We are also soon launching our first brand store in Kolkata and trying to tap the tier 2 and 3 cities in India where the demands for smartphones are massive," says Chatterjee.
The founders, whose mantra is 'Always Believe in your dreams and Never Give up', hope to move forward by raising more funds and also rope into its advisory board business leaders like C P Gunani, CEO of Tech Mahindra, Govind Uttamchandani, CEO of Syska, and Debu Mukherjee, Executive Director of HT Media.
By end of August, they plan to tie up with university campuses in the USA to include gaming consoles in their portfolio and also become the country's largest refurbished mobile seller by the end of 2019.

Trending Now: