How a Family Weathered Life's Storms to Build a Rs 700 Crore Turnover Sweets Chain
P C Vinoj Kumar
&nbsp | &nbsp Chennai
05-January-2019
Vol 10&nbsp|&nbspIssue 1
Back in the 1970s, an agricultural family in Rajapalayam in south Tamil Nadu was completely broke after a rare dust storm hit the village and devastated their farmlands making it uncultivable.
Thirupathi Raja, the head of the family, was heart-broken. He used to cultivate paddy and sugarcane in their eight-acre land and had only recently borrowed money to lease more land to expand his farming activities.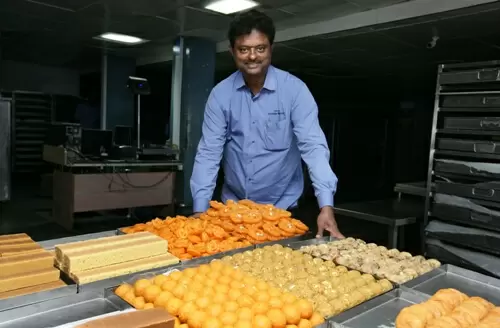 K T Srinivasa Raja (in pic) and his brother K T Venkatesan dropped out of school to assist their father in his sweet shop, which has now grown into a Rs 700 crore turnover business under the brand name of Adyar Ananda Bhavan (Photos: Ravi Kumar)

He owned a small sweets shop in the town, which was not doing well either. In the absence of income from agriculture, he landed in deep debt.
"My father even contemplated committing suicide along with other members of the family. It was the time when we experienced hunger and poverty," says K T Srinivasa Raja, the last of four siblings, sharing the struggles the family underwent before launching the now popular sweets chain, Adyar Ananda Bhavan, which was valued at a whopping Rs 1,800 crore two years ago.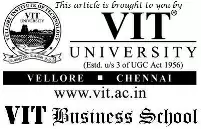 Thankfully, his father did not carry out his plan, but chose to live on and succeed. The family weathered the storm and emerged stronger, because it seems they were destined to make delicious sweets, set up shops around the country, spread globally, and create jobs for thousands of people, who would get free food and accommodation as well.
Thirupathi Raja had faced tougher situations in the past. When he was around the age of 10, he had run away from home to Chennai where he initially worked in an eatery cleaning the tables. Later, he began to assist in cooking and learned to make all types of sweets from a senior cook.
"He returned to Rajapalayam after a couple of years and then left for Mumbai when he was around 19 years," says Srinivasa Raja. "In Mumbai, he worked in a grocery store owned by a Tamil in Matunga area and later took up a job in a textile mill. For a while, he also tried his hand in a small business, buying idli making vessels from Kumbakonam in Tamil Nadu and selling it in Mumbai."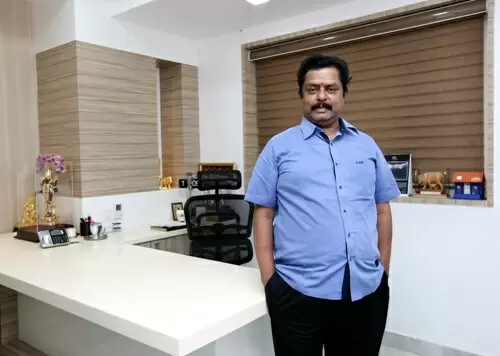 K T Venkatesan is in charge of the business operations of Adyar Ananda Bhavan group

Thirupathi Raja heeded his father's advice to return to Rajapalayam and remain with the family. Starting with paddy and sugarcane cultivation, in the course of time he decided to put to use the sweet-making skills he had learned as a young boy, and started a hole in the wall sweets shop in Rajapalayam in 1960 and named it Guru Sweets.
Meanwhile, buoyed by the good returns from agriculture, Thirupathi Raja had got on lease more land to expand his farming activities. But the freak dust storm shattered his plans and left his family, which now comprised his four grown children, in dire straits.
Overcoming the initial shock, Thirupathi Raja decided to move to Bengaluru in mid 1970s and rebuild his life from scratch. He started a sweets shop in Srirampuram in Bengaluru, which gave a good break to the family.
The shop was called Srinivasa Sweets and this time around Thirupathi Raja could count on the support of his wife and two sons - who had dropped out from school – for running the shop. The family developed the business brick by brick living out of a tiny house, which had a bedroom, hall and kitchen.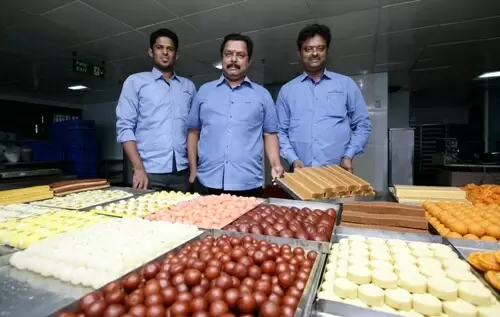 The brothers with V Vishnu Shankar (far left), Venkatesan's son who has been inducted as a director in the company

"I discontinued my studies after Class 10," says Srinivasa Raja, who had studied in a government school in Rajapalayam in Tamil medium. "My father would make the sweets and my mother would help him. I would go around supplying sweets to shops in the neighbourhood. My (elder) brother K T Venkatesan looked after our shop."
From such humble beginnings, the family has come a long way. The family now lives in a huge 12,000 sq ft three-storey house in a posh locality in South Chennai. Srinivasa Raja owns a few high-end cars and his favourite one is a Volvo XC90 petrol-electric hybrid SUV.
His parents might be no more, but he continues to cherish their memories and has installed their busts right at the entrance to his residence and also inside the spacious drawing room of the house.
Adyar Ananda Bhavan Sweets India Private Limited is now a Rs 700 crore turnover company having more than 8,000 employees. It has branches worldwide, with its outlets located even in the US, Malaysia and Singapore.
"We have around 140 outlets, including two in the US and one each in Malaysia and Singapore. Many outlets have an attached A2B vegetarian restaurant," says Srinivasa Raja. "The first A2B restaurant was started in Pondicherry in 2000."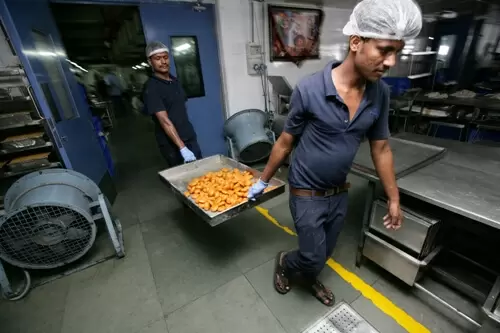 Workers at Adyar Ananda Bhavan's centralised kitchen in Ambattur

The family might have got stuck with Srinivasa Sweets, but for the anti-Tamil riots that rocked Bengaluru in 1979. Their business got affected then and the family shifted to Chennai, leaving behind Srinivasa Raja to take care of the Bengaluru shop.
In 1979, Thirupathi Raja and his elder son K T Venkatesan set up their first shop in Chennai, Sri Ananda Bhavan, in Washermanpet. Srinivasa Raja shut the shop in Bengaluru in 1988 and joined his father and brother in Chennai.
They opened their second Chennai outlet in Adyar in 1988, and since then they have grown rapidly. Sri Ananda Bhavan became Adyar Ananda Bhavan. In 1992, the third outlet was opened in Purasaiwakkam and other outlets followed in quick succession.
"We introduced new varieties of sweets," shares Srinivasa Raja, on how they differentiated from their competitors in the business. "We brought people from Rajasthan, Bengal, Punjab, and UP to make the popular sweets in those places and they became a hit with customers here."
By 1994, their turnover crossed Rs 100 crore. By the year 2000 they had opened 20 branches in Chennai and achieved a turnover of Rs 150 crore.
"We did not take the franchise route to grow," says Srinivasa Raja, explaining their business model. "We either make our own investment, or have a revenue sharing arrangement with the landlord, who would give us the building (with no advance or rent), and we would invest in the employees, and products."
Out of the 140 outlets, around 15 outlets follow the revenue sharing model, while the rest are company owned. The company owns around five properties out of the remaining 130 outlets. All other outlets are operated on rented premises.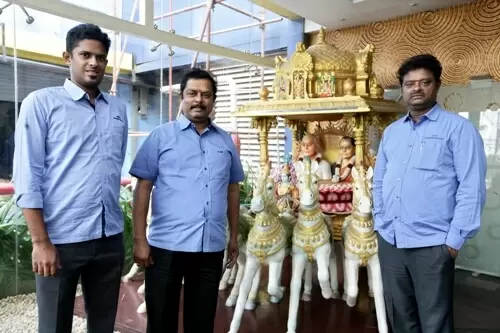 Adyar Ananda Bhavan honchos besides the bust of the founder and his wife

The strategic move to enter the restaurant business in 2000 and set up A2B restaurants alongside Adyar Anada Bhavan sweet stalls not only contributed significantly to the company's topline, but also brought in more footfalls to their outlets and increased the brand visibility.
Around 25 Adyar Ananda Bhavan outlets are located on national highways in Tamil Nadu, Karnataka and Andhra Pradesh. "Our aim is to have one of our outlets at every 200 km on all national highways across India," says Srinivasa Raja.
Chennai (50 outlets) and Bengaluru (36 outlets) are the two cities where Adyar Ananda Bhavan has its largest presence. Both the cities have a centralised kitchen from where food is prepared and delivered to the various outlets.
In Chennai, the kitchen at Ambattur is more like a factory with automated machines making most of the sweets with very little human intervention.
At 55, Srinivasa Raja says that he has of late realised that life is much more than chasing big money and living extravagantly. "The 2015 Chennai floods changed my perspective of life after we went without power for about a few hours. Water entered the ground floor and we had to switch off the power for safety reasons."
By the time his staff erected a generator on higher ground and power supply was restored at his house, he was a changed man. "We could not have food when we wanted it and I learned a lesson that money can't do everything all the time," he says, with all modesty.
His future plan is to leave his mark on this generation as a world renowned chef for making healthy food items. "I am doing research on making nutrient rich food which will give you all the essential protein, minerals, and omega 3 needed for a healthy body," says the father of three daughters, Pooja, Pavithra, Prarthana, and a son Sri Vishnu.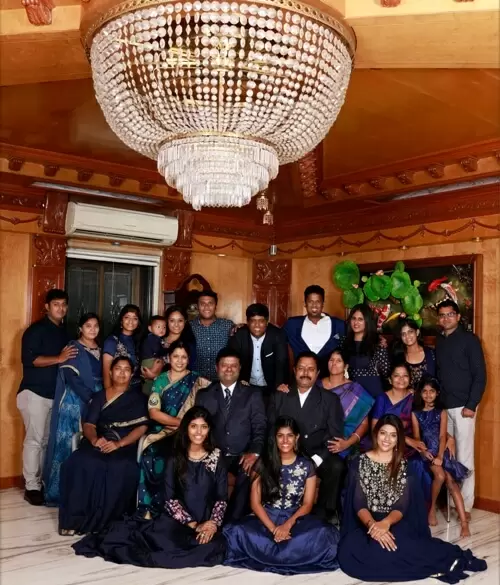 Brothers K T Srinivasa Raja, K T Venkatesan with their spouse, sisters, children and their families

While three of his children are likely to join him in the business, the youngest one, Prarthana, studying in Class 12 is keen on joining the defence forces. "We can give one child for the nation," he says, almost thinking aloud.
His brother's son, V Vishnu Shankar is already a director in the company and is involved in the day to day activities of the company.
Srinivasa Raja says his purpose of life is summed up in a simple 4-point prayer before he gets out of bed daily. "I should be a good husband, a good father, a good employer, and a useful citizen to society." Well prayed!
You might also like
Starting with an investment of Rs 5000, he has come a long way selling chicken


Trending Now: