This restaurant in Bengaluru lets you dine at 160 ft mid-air
Usha Prasad
&nbsp | &nbsp Bengaluru
14-December-2018
Vol 9&nbsp|&nbspIssue 51
Dining on a deck, mid-air! Does it make you think what would it be like? Yes, Fly Dining, a restaurant in South India's Bengaluru, offers you the experience of dining 160 ft above the ground.
Located close to Nagavara Lake in Hebbal, the 22-seater flying restaurant offers a breathtaking view of the lake in the night against the backdrop of the city's skyline glowing in shimmering lights.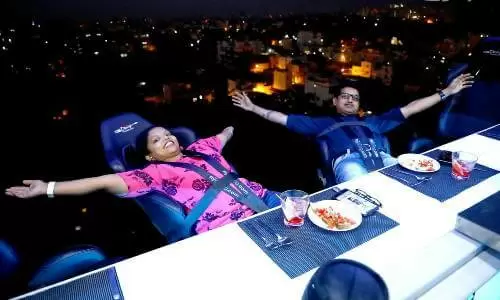 Customers at Fly Dining enjoying the night view from the top (Photo: Special Arrangement)

"More than enjoying the food, I enjoyed the beautiful view when the sky started changing its colour at sunset," says Tanya, a college student, sharing her experience at the restaurant. "The cool breeze, taking selfies and the live video I shared on Facebook was thrilling."
"The business of experiential dining is growing fast in India. Today, almost all restaurants work on the concept of ordering on the table. But you need to realise that when people go out to eat, they are not just looking at filling their stomach, they are looking for an experience," says Pankaj Dhingra, co-founder of Jumpking India, the company that owns the restaurant.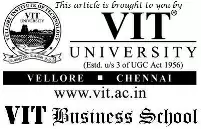 Jumpking India is one of India's largest manufacturers and suppliers of adventure products such as trampolines and bungees. Fly Dining, which opened two months ago, is Jumpking India's most recent product.
Pankaj feels there is a great potential for ventures like Fly Dining in India. "The delivery segment, where you order online and get the food delivered to your door, and any form of experiential dining is growing fast in India," says Pankaj, who aims to start Fly Dining restaurants in other Indian cities as well through the franchise model.
The Fly Dining restaurant consists of a deck with a 22-seater table, which is lifted with the help of a crane and suspended mid-air.
Adding to the thrill factor, the deck also rotates as it remains suspended mid-air giving its occupants a 360-degree view of the sights. While this concept of dining is new to India, it is already popular in around 62 countries across the world.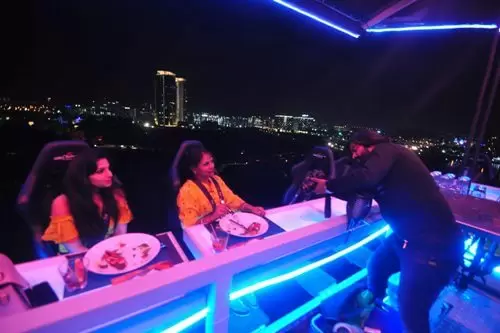 Staff Photographer at Fly Dining taking pictures of customers (Photo: H K Rajashekar)

Customer safety is top priority for the owners. "From the seat belts that customers are provided, to the type of crane we use, everything has been carefully scrutinized, to ensure maximum safety for the clients and employees," says Neha Gupta, CEO of Jumpking India.
All aspects of safety features have been tested and certified by the German agency TUV Rheinland, says Neha, who is married to Pankaj.
There are two dining options for the guests - first is a half-hour mocktail session that starts from 5 p.m. and another is an hour-long dinner session that starts from 7 p.m. While the mocktail session costs Rs. 3,999 per head, the dinner session is priced at Rs. 6,999 per person.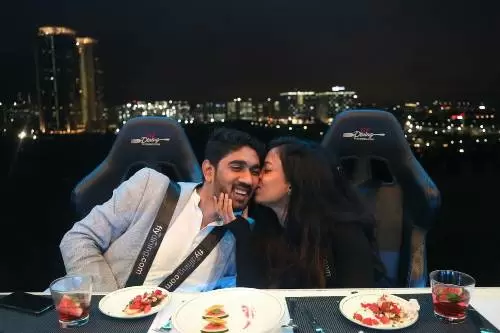 Romance in the air (Photo: Special Arrangement)

Fly Dining has a set menu for evening as well as the dinner slots. The food is prepared beforehand and is served mid-air.
While the 30-minute mocktail session comprises a drink and snacks, dinner consists of grilled chicken or sautéed-vegetables with herb rice, croquettes and bruschetta. A fruit bowl and mocktail are also part of the menu. They do not serve liquor on the deck.
"Even if the entire deck is not booked, we accommodate individual or couple bookings too," says Neha. The chef, bartender, and a photographer accompany the customers. The photographer shoots pictures of the guests - who often manage to strike very creative poses – and shares it with them later. There is no extra charge for the photos.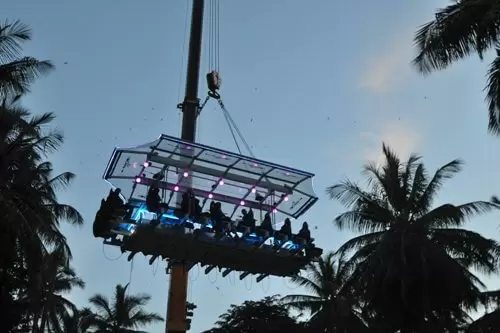 The Fly Dining deck with customers and crew being lifted up by a crane (Photo: H K Rajashekar)

"Though people come to eat, we see them busy taking selfies and videos enjoying the scenery around. That's when I need to remind them to enjoy their food as well," says chef Amandeep.
Pregnant women and children below 13-14 years of age are not allowed on the deck and you need to be at least 4 feet 5 inches (135cm) tall to go Fly Dining. There are no weight specifications.
Fly Dining has witnessed some interesting moments during its short existence. "A girl came here all the way from Ahmedabad to meet her boy friend from Chennai, who proposed his love to her mid-air," says Neha. She also recalls an occasion when an elderly couple from Hyderabad had the entre deck for themselves to celebrate their 50 years of married life.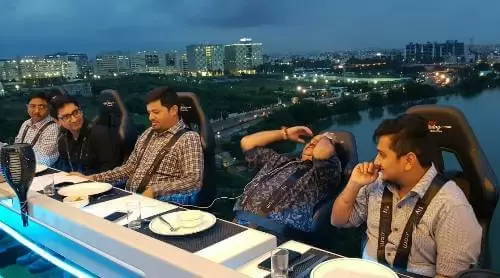 A group enjoying the experiential dining (Photo: Special Arrangement)

Does the restaurant operate when it rains? "If the guests wish to enjoy being up in the air during rains, we will accommodate their wish if the rain is moderate," says Neha.
"We are planning to come up with an under-water restaurant, a tree-house restaurant, and a cave restaurant. All this is based on one common principle – we don't want to just sell food, we want to sell the experience," says Pankaj.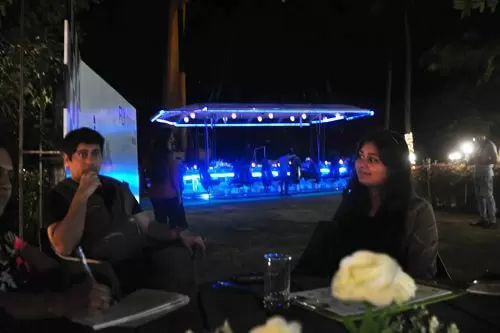 Jumpking India Co-Founder Pankaj Dhingra and CEO Neha Gupta have many plans for expansion (Photo: H K Rajashekar)
Fly Dining is planning to come up with a breakfast session soon. "While we want this experience to become a bucket-list activity for everyone, we also want to see ourselves as a market leader in India for experiential dining," says Pankaj.
Wish to share your story?
Trending Now: