'It Takes 60 to 90 Days for Four Weavers Working Together to Recreate a Single Vintage Sari'
Rama Devi Menon
&nbsp | &nbsp Hyderabad
01-December-2018
Vol 9&nbsp|&nbspIssue 49
For Shravan Kummar, the journey into the fashion world began at the age of 17, when he took a bold decision to stop attending medical college and instead start a career in fashion with just two tailors and a master.
"I was supposed to be a medico," reveals Shravan, 42, whose passion for 'reincarnating' vintage saris has brought the sari back into reckoning as a fashion wear among the urban elite, and is also helping hundreds of traditional weavers who work closely with him.
Shravan Kummar with a bevy of women wearing his designer saris (Photos Courtesy: Shravan Kummar)

"I had secured 363rd rank in my medical entrance test and got a seat in Gandhi Medical College, Hyderabad. On my first day to college I saw a lot of dead bodies at the anatomy class. That day I decided I wasn't going to be a doctor," says Shravan, who went on to do a designing course from NIFT, Hyderabad, and began his tryst with haute couture.
Shravan became enamoured with vintage saris and started studying the weaves of saris belonging to his mother and grandmother - some of them as old as 100 years. His passion led him on a hunt for saris from a bygone era and soon he stumbled on some priceless saris dating back to the 18th and 19th centuries.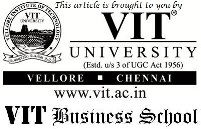 His prized possession is an 1823 garment that he acquired from a royal family in Hyderabad. He has also sourced garments from the royal families in Jaipur, Patiala and Gwalior.
Once the saris are acquired, he begins the arduous work of recreation. "I first study the kind of weaves used in the saris," says Shravan. He then sets out to recreate the saris with the help of traditional weavers who have expertise in the same genre of weaves.
"At least 26 days go in preparing the design and 60 to 90 days to complete a single sari. It takes four weavers to make a single sari," he shares. "The saris are not mass produced. We don't even go for a limited edition, but just one sari per era."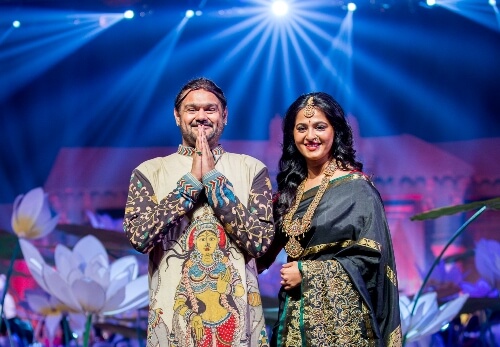 Anushka Shetty wearing one of Shravan's saris, with the designer

So how does he preserve his vintage collection? "I sprinkle camphor and pepper and place them in a wooden box covered by newspapers," he says.
Shravan sources old saris from far and wide, from Tamil Nadu to Kerala to Gwalior, Bikaner and Jaipur, among other places. "Basically I'm not a curator but a designer who is trying to revive a lot of fashion to bring back the charm of those eras and make people experience, and understand the whole league of past time," he clarifies.
Some of the motifs close to his heart are butterflies, annapakshi - a mythical bird that Hindus believe descended straight from heaven - horses, elephants and Mahalakshmi, a Hindu deity.
Shunning the power loom, Shravan's creations are completely hand woven and the SK (Shravan Kummar) brand embodies luxury, class, wearability and comfort. "Indian women look graceful and beautiful in a sari," says Shravan, waxing eloquent on the merits of the sari.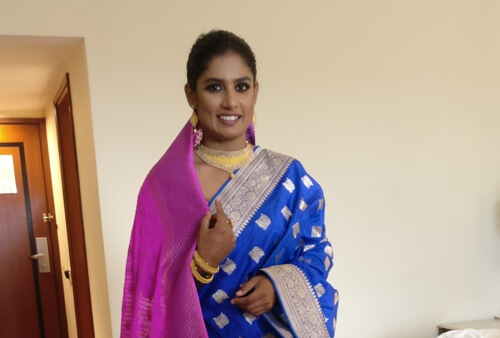 Cricketer Mithali Raj is wearing hand-worked Japanese Swarovski filled lehanga with antique zardosi lotus floral hand work - a Shravan costume

Pointing to a mannequin draped in a grandiose lehenga in his studio at Lakdikapul, he says that it took 20 Narayanpet saris to create it.
Shravan's Studio, which was set up in 1996, has a clientele that is a mixed bag of young and old for whom he designs lehenga choli, salwar suits and gowns, although saris remain close to his heart.
He has 100 designers interning with him at any given time of the year and is working with 800 weavers from around the country, constantly innovating and improvising on his weaves.
Actors Anushka Shetty, Nandita Das, Shabana Azmi, Nayantara and Huma Qureshi are his regular clients as are the families of superstars Kamal Haasan, Rajnikanth, Mammootty and Chiranjeevi.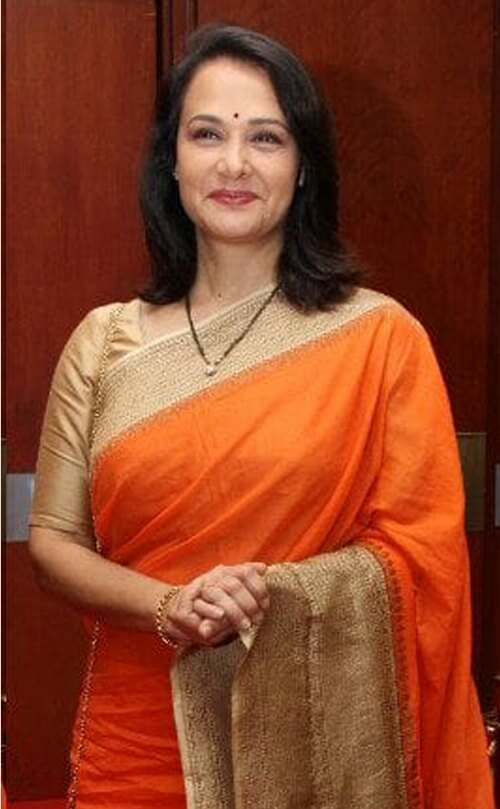 Actress Amala Akkineni is draped in a Shravan sari - an orange Gadwal linen sari with a golden zari border

In 2013, Shravan launched 'Aalayam - Temple of Weaves,' a 1,000 sq ft showroom located in the plush Jubilee Hills modelled after the famous Guruvayur temple, to showcase handloom saris procured from weavers from across the country.
The Aalayam collection includes a wide range of silk saris like Kanjeevaram, Banaras, Kanchi, Kerala, Phulia, Gadwal, Bengal Cotton, Mangalagiri, Dharmavaram, Madhavaram, Salem, Jamdhani, Paithani, Gadwal, Pochampally, Uppada, Venkatagiri, Chanderi, Coimbatore and Kalamkari.
Aalayam strives to keep alive and restore various weaves of the country, which are rapidly losing their significance.
A major portion of the store's profit goes to the Weavers' Association of Aalayam Society. The weavers mass produce handloom saris that are displayed in the showroom. His limited edition handloom collection titled "Bygone Era" is inspired from the Banarasi ethnic wear made in pure silk and zari in the period between 1939 and 1956.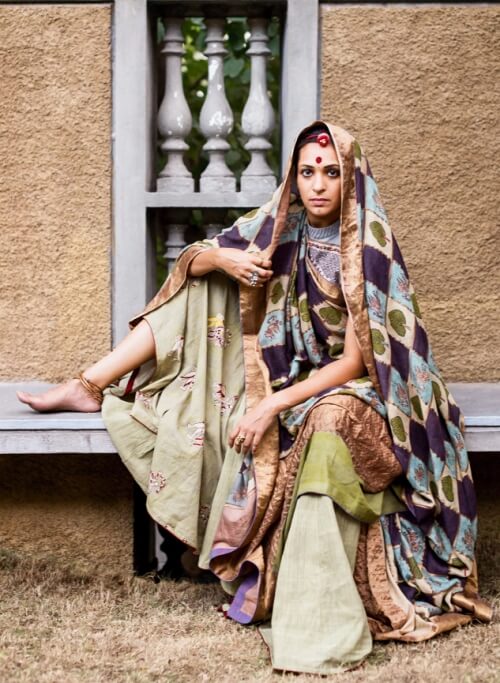 Prashanti Tipirneni, who is the costume designer for the movie Baahubali, is in a lehanga choli and a sari which is draped in pure Indian tribal style

The same year, Shravan began supporting the Sri Padma Jyothi Khadi Village Development Association comprising over 1,000 weavers in Peddanna in Krishna district of Andhra Pradesh. Weaver families were provided with sliver, charkas and working capital to undertake new orders.
Shravan says he is focusing on "timeless and classic" pieces because fashion for him is a religion. "I don't follow up something which is called a 'fad', but follow that which remains 'eternal' that can be passed on from one generation to the other. When I make an outfit for my client, I make sure that it accentuates their look."
Shravan went to London School of Fashion Designing and specialized in color psychology. He also holds an MBA degree.
In addition to participating in fashion shows across the globe, Shravan has been designing the costumes for Femina Miss India South. He uses his fashion shows to raise awareness of the need to support handloom textiles and traditional craft.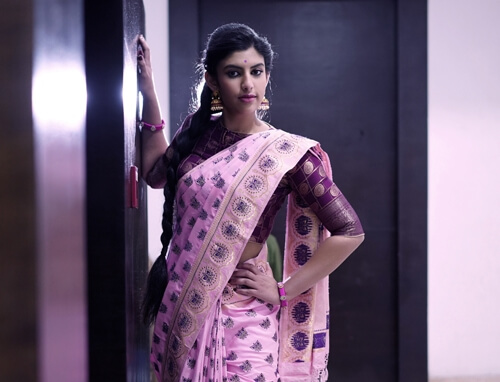 A model wearing a sari from Shravan's vintage collection

Shravan aspires to make his studio the best work place and he believes that only creativity is the head of his studio and not the creative head. He is also a visiting faculty at NIFT, Hyderabad.
Coming from a family of restaurateurs and realtors, Shravan is not the lone person in his house with the "designer" gene. His sister Jyothi has been his constant companion through the ups and downs of his career. He lives with his wife Lakshmi, seven-year-old son Utthisht and four-year-old daughter Sahasra.
"Family values have taught me what I am today," says Shravan. "I think it's not about being humble, polite or being anything, but being yourself and respecting others more than yourself is very important in today's world."
This Article is Part of the 'Amazing Entrepreneurs' Series
More Amazing Entrepreneurs
K Madhavan, Co-founder, Peps Mattress

Trending Now: