Starting with Rs 5 lakh the brothers commuted by bicycles to build a Rs 33 crore solar business
Gurvinder Singh
&nbsp | &nbsp Kolkata
01-September-2018
Vol 9&nbsp|&nbspIssue 36
Brothers Vinay Jaju, 35, and Piyush Jaju, 32, own a business that literally lights up the lives of people living in rural India. Launched in 2010 with an investment of Rs 5 lakh, ONergy has completed a combined capacity of 10MW solar rooftop projects and solarised over 300 institutions including schools. ONergy has installed over 250 solar micro grids, over 5,000 solar street lights and sold over 500 solar irrigation pumps till date.
With a separate training division, ON Skills, for training rural youth in service and maintenance of the vast solar infrastructure they have set up in villages across West Bengal and Jharkhand and creating jobs for them, and an organic food business, ONganic Foods, set up in 2016, their group company ON Conglomerate has a current annual turnover of Rs 33 crore.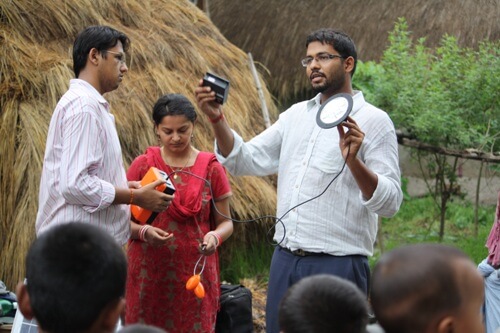 Piyush (left) and Vinay started ONergy in 2010 with an investment of Rs 5 lakh to light up rural homes with solar energy (Photos: Special Arrangement)

But it took a leap of faith for the youngsters to resist the temptation of taking over the family's modest agro-processing business, and pursue their passion to choose a field that would make some positive impact on the environment.
It has not been an easy journey. Piyush mentions the difficulty of the initial leap – venturing into an unknown territory with no safety net. "Our family members wanted us to continue with the family business or look for a plum job. But we had a passion for the environment and were disturbed by its rampant exploitation," he says, chatting with us at the company's headquarters in Kolkata.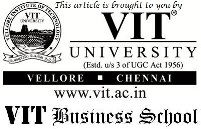 Piyush and Vinay graduated from St. Xavier's College, Kolkata. Following his graduation in 2007, Piyush spent a year working in Hong Kong in the financial sector before returning to Kolkata, where he took up employment for a few months before quitting for good in 2009.
The brothers had decided to work full-time for the environment, though back then they had no clue what they would be doing. They invested Rs 1 lakh from their personal savings to start a non-profit, Switch On - the forerunner to all their future businesses.
"We started with two interns to help with the office work and travelled to rural areas in Bengal to understand the issues facing the people," explains Vinay, who holds a management degree from S.P. Jain School of Global Management, Mumbai. He had worked with General Electric in Australia and Grameen Shakti in Bangladesh.
"We used to go to remote villages on bicycles as they did not have motorable roads. Most villages lacked basic amenities. We cycled for several hours a day and ate whatever we got," he adds.
One thing that particularly struck them was the lack of electricity in the villages. "Most rural households used to turn pitch dark soon after the sun went down. People lived in complete darkness.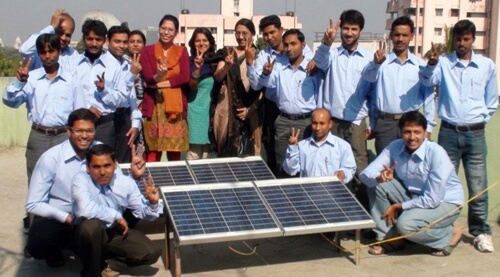 ONergy got into rooftop solar installations since 2015

"We thought solar power could be the best way to light up the rural houses. It also seemed a viable business model for us," the duo reminisces. They also felt solar power would help wean them off from fuel sources like kerosene, and wood, which are harmful to the environment.
In 2010, Vinay and Piyush convinced their family to invest Rs 5 lakh into their venture and ONergy Solar (Punam Energy Pvt. Ltd) was born. Initially, ONergy Solar collaborated with Australian company Barefoot Power and imported solar lamps and home lighting systems.
"We began to roam in the villages, trying to convince people to buy our items," says Piyush. "Initially, they were reluctant and unsure whether the solar products would work. We had to convince them that the items were of good quality. We also tied-up with local non-profits and MFIs (microfinance institutions) that helped us sell the products on credit to people who could not afford to buy them."
In just a year of operations, in FY 2010–11, ONergy Solar registered revenue of Rs 40 lakh. However, a boost was needed for the operations to scale up and they needed funds for it. They started raising funds and with agencies like SIDA Sweden, and Halloran USA pitching in ONergy was able to raise funds to the tune of Rs 1 crore by 2012.
Their unique marketing model turned the tide in their favour. "We didn't hire any dealers to sell our products, but depended on villagers themselves. We created village entrepreneurs who sell our products and receive a commission on the sales," says Vinay "It helped in making several people economically self-reliant. We have created over thousand such entrepreneurs in different states where we are working,"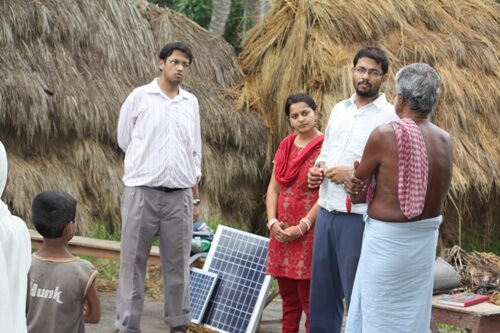 Piyush and Vinay have started an organic food business working with farmers taking advantage of their extensive rural presence

ONergy Solar now operates in 12 states in the country with over 8 lakh customers using their solar products. In 2015, ONergy started solar rooftop installations, which became popular as well. The installation pays for itself within 3–5 years. At present, the company has done over 800 such installations.
ONergy's preference for specific market research and ability to understand all levels of consumers helped them greatly. "We found that the farmers were losing lot of money by investing in irrigation pumps that ran on diesel. It was also harmful to the environment. So we decided to invest in solar pumps. The response was good and it boosted our topline. We achieved a turnover of Rs 4 crore by 2014–15," Vinay says with a smile.
ONergy Solar received global recognition when, in 2013, the Swedish Government awarded ONergy an Award for Innovations against Poverty.
In 2014, ONergy received the United Nations SEED Global Award in Nairobi (Kenya) for promoting entrepreneurship for sustainable development. They were also awarded with WWF – India Climate Solver Award, The Telegraph INFOCOM SME Award, UNDP Award for Best Start-up and many more.
In 2016, they ventured into organic food items and named their new subsidiary as ONganic Foods. The Jajus were already deeply involved with farmers and the leap from being suppliers to buyers was organic (pun unintended) as it turns out.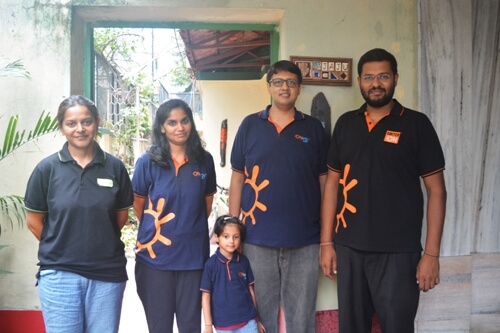 Piyush (third from left), Vinay, with their spouses who are involved in the business as well

The initial investment was only Rs 4 lakh. "We produce over 50 organic products like rice, spices, oilseeds, pulses and jaggery among others. We aim to find a market driven solution for the small organic farmers. We give farmers access to premium markets and market information ensures that the farmer makes an informed decision on what to grow," says Ekta Jaju, Vinay's wife who helms ONganic foods. Shweta Jaju, Piyush's wife is the communication head of the group.
From the initial staff of two interns, Piyush and Vinay have come a long way. Now, they have staff strength of 140 people and the Jaju brothers aim to reach a turnover of Rs 300 crore in the next one decade.
Their mantra for budding entrepreneurs: Work hard and have a firm belief in yourself that no dream is too big to achieve.
Well said, indeed.
This Article is Part of the 'Amazing Entrepreneurs' Series
More Amazing Entrepreneurs

Trending Now: