From Utter Poverty Shakila Sheikh Discovered Her Talent and is now an Internationally Known Collage Artist
Gurvinder Singh
&nbsp | &nbsp Kolkata
26-July-2018
Vol 9&nbsp|&nbspIssue 30
The life of Shakila Sheikh cannot be dismissed as just another rag-to-riches story. The daughter of a vegetable vendor, Shakila was once living on the streets in unimaginable conditions, but she is now an internationally known collage artist.
Her works have travelled to countries like France, Germany, Norway and America. Avant garde designer Pierre Cardin too possesses one of her works.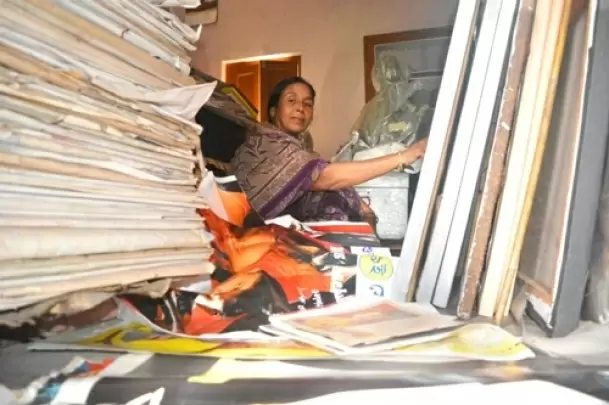 Shakila Sheikh discovered her talent in art by chance and there has been no turning back since (Photos: Samir Verma)

Shakila is grateful to Baldev Raj Paneser, retired government employee and a painter, whom she fondly calls as Baba, for encouraging her to pursue art. "I have worked hard and with passion but I thank Baba for what I am today," she says. "My husband has also been supportive throughout my life."
Shakila (45) lives in Surjapur village in South 24 district of Bengal, around 30 km from Kolkata, and is married to Akbar Sheikh, a vegetable seller.
She has slept on pavements and made thongas (paper bags) for hours daily before she achieved her dream of becoming a collage artist.
Born in 1973, Shakila was the youngest of six siblings. "I was just a year old when my father left us and went to Bangladesh. I never saw him again. My mother, Zaheran Bibi, took care of us and sold vegetables in Kolkata to make ends meet."
The family reeled under utter poverty and often slept on hungry stomachs. The income was very meagre and there were too many mouths to feed.
"Mother used to travel from our house in Mograhat to Kolkata (about 40 km) to sell vegetables. She had no time to think of anything else. We couldn't study due to financial constraints," says Shakila.
When she was seven, Shakila started accompanying her mother to the vegetable market. "She didn't allow me to work but used to take me to the city for a tour. I loved seeing trams and buses plying through the roads and slept on the pavements while she worked," remembers Shakila.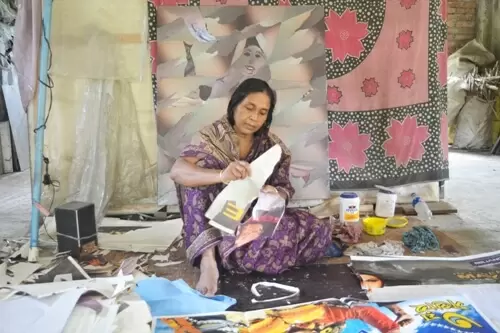 Shakila at work in her home studio

It was during one such trip that she met the man who changed the course of her life. Panesar used to visit the market every day to buy vegetables.
He used to distribute chocolates, eggs, pencils and magazines to children who lovingly called him "dimbabu" (dim means egg in Bengali) and followed him around.
Panesar had his own signature style. He used to wear kurta pyjamas, carry a cotton jhola (cloth bag), and an umbrella to support his aching knees. "I met him in the early '80s, in the market. He was distributing chocolates and eggs to children and also offered it to me but I refused," shares Shakila.
Panesar was impressed and he took a liking for her. He got her enrolled in a school, provided her study material and also promised to take care of her family.
"A chance meeting with him changed our lives…" Shakila recalls with gratitude. "He not only got me into a school but also provided some financial support to the family. Initially, my mother was apprehensive and thought that Baba might traffic her daughter but was later convinced about his integrity."
Shakila studied in Kolkata till Class three before Panesar decided to educate her at her village in Mograhat. "Baba felt it was not safe for a girl to travel every day to the city. He gave my brother Rs 300 to admit me in a local school in the village… but my brother never did that," she says.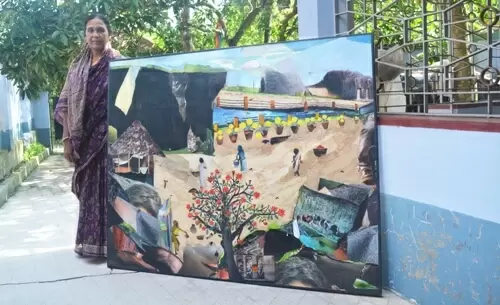 Shakila's works have traveled to many countries

She, however, didn't reveal this to Panesar. In 1987, she got married to Akbar Sheikh who was 15 years older than her and was already married.
Akbar brought her to Surjapur where the couple settled. "He used to travel to Kolkata to sell vegetables, but his income was not enough to look after his two wives," says Shakila, who then took up making thongas to supplement the family income. She made Rs 20-30 per day.
In 1989, they were invited by Panesar to attend a painting exhibition at the Academy of Fine Arts in Kolkata.
"We were not enthusiastic about going as we knew nothing about art but had to go because of Baba. While I just gave a passing look to the paintings, Shakila looked at them very keenly," recalls Akbar. "She told Baba the four paintings she liked the most. It turned out that the same paintings were the most popular. Baba was very excited and happy that his daughter had an eye for the arts!"
That exhibition gave birth to Shakila's dreams of becoming an artist. Back home, she began joining papers of different shape and sizes and made them into collages of god, goddesses and contemporary art.
Akbar took the collages to Kolkata and showed them to Panesar who was shocked. "He was so impressed with the work that he not only gave more newspapers and magazines to make the collages but also decided to organise an exhibition to display Shakila's work," says Akbar.
In 1990, Shakila held her first solo exhibition in Kolkata. She made Rs 70,000 from it, a big amount in those days, and definitely a huge amount for her family.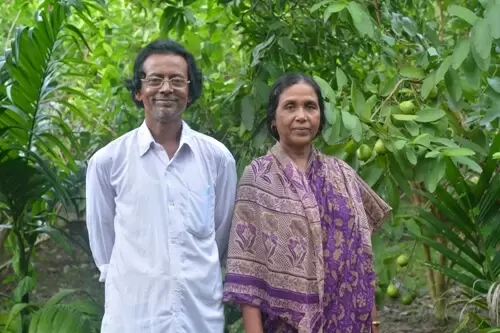 Shakila's husband Akbar has been a pillar of support in her journey as a collage artist

Since then, there has been no looking back. She now lives in a modest but comfortable house in her village and has three children. She is proud that her son Bappa Sheikh (22) occasionally makes collages too.
Panesar introduced her to CIMA (Centre of International Modern Art) art gallery in Kolkata who now manage her work; selling her collages in India and abroad.
Shakila has received various awards, including the 2005 Charukala Award from the Academy of Dance, Music and Visual Art in West Bengal and a Lalit Kala Akademi felicitation in 2003. She attributes her success entirely to Panesar, who sadly passed away in 2014.
Her story is proof that nothing is impossible in life.
Wish to share your story?
Trending Now: